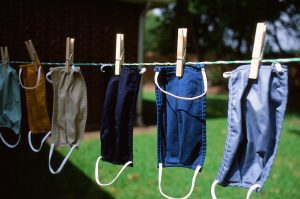 Asset managers who oversee the finances of an affordable housing stock for about 5 million households have had to reevaluate every aspect of their workflows in response to the economic and operational risks associated with the COVID-19 pandemic. Unlike their counterparts who oversee the portfolios of market-rate housing developments, both for-profit and nonprofit affordable housing providers must maintain cash flows while abiding by rent restrictions, and being mindful of not just the needs of investors, but the needs of their residents, who are more likely to be in rough financial waters.
That's what Harold Nassau, president of the Consortium for Housing and Asset Management (CHAM) and senior director of asset management at NeighborWorks America, refers to as "the double bottom line." It's not about stewing over spreadsheets as you await a monthly meeting with your property managers as much as it is about making sure the well-being of residents remains intact.
That has meant numerous changes over the past 10 months. For starters, meetings with staff on the ground now occur weekly, sometimes biweekly, as the frequency of contact between asset management and property management has increased almost sixfold, Nassau says. (Property managers handle day-to-day operations of a property, such as maintenance, repairs, and rent collection. Asset managers typically oversee a whole portfolio and make decisions about long-term financial viability, major renovations, and recapitalization.)
In addition, resident service coordinators, who have previously been left out of these sorts of talks, are now getting a seat at the table not only as advocates for resident needs, but because the services they provide (referrals, creating community events, social support) are starting to become part of the operating costs of a property instead of secondary expenses funded by leftover profits. During the pandemic, these resident services are not just a lifeline for the individuals, but essential to keeping the resident population overall in good enough physical and financial health to keep the properties viable.
These services are necessary to the long-term viability of the property and long-term stability of the residents, but they are not always recognized as allowable property management expenses by HUD and state housing regulators, Nassau says, something he'd like to see changed. Besides regulations, investors and lenders also need to shift their priorities to include resident services. Nassau says that's starting to happen as these essential services are finding space within operating budgets. Surveys taken during a CHAM seminar on resident service relations last year show that asset managers' top priority has been preventing evictions while still maintaining an income stream for their properties. Access to financial and social services was a close second. For 2021, however, access to those services takes the lead.
Making sure proper building functions are maintained still makes up the majority of the workload. For for-profit providers whose portfolios might include market-rate and/or mixed-income housing, the more reliable revenue stream allows for some flexibility in keeping people who can't pay in their homes. Nonprofits such as Minneapolis-based provider Aeon, which manages 5,600 affordable housing units in the state of Minnesota, however, have thinner margins and a mission to guard, and so have to watch more closely for sudden changes.
[Related: How Scaled Affordable Housing Asset Management Helps in the Time of COVID]
"Our operating costs continue to increase just like market-rate housing, but our mission to maintain affordability means the properties are revenue constrained," says Stacy McMahon, vice president of asset management at Aeon. "Additionally, residents need services to support their housing stability. Service funding is woefully hard to come by." New expenses like additional cleaning services totaling $1,000 a month in their largest buildings, plus price hikes and delays on developments under construction, have exacerbated the estimated $4 million to $5 million loss in rent revenue Aeon is facing. Their rent nonpayment rate has risen above 10 percent.
"[The] nonpayment [rate] has jumped significantly since the expiration of the unemployment boost," says Alan Arthur, president and CEO of Aeon. "That's less [of a loss] than we had projected in March, and we will be able to weather the storm through the end of 2020. However, we expect 2021 to be harder for both our residents and our properties."
McMahon says getting in touch with lenders, investors, and public agency partners in the early days of the pandemic helped establish a clear line of communication they can use if and when they get to the point of needing to call on them for flexibility or financial relief. For national investors like the New York-based Community Development Trust, keeping tabs on partners like Aeon is essential; with over $2 billion in CDT's current portfolio, any outbreaks in key markets can change their decision making, according to chief investment officer Brian Dowling.
"When an opportunity arises we need to zero in on a specific market, and how they're dealing with the COVID crisis in that market is now part of that analysis, at least for the short term. We need to look at what are the chances that there's going to be another shutdown right now that would lead to further job loss," Dowling says.
Rather than waiting until a property needed a mortgage modification or forbearance, CDT and Aeon have taken an asset management lens and pursued some deals this year that will put some properties in a better position to weather continued pandemic-related financial strain. For example, a $42.5 million refinancing of the 422-unit Seasons Parks Apartments in Richfield, Minnesota, earlier this year came with new agreements with the Minnesota Housing Authority that will keep 100 percent of the units affordable at 60 percent of the state's median income, while still leaving $6 million to invest in recapitalization and property improvements and protecting said units from rent increases.
[Related: Affordable Housing Providers Fear the Worst Pandemic Impacts Are Yet to Come]
As many other providers did, Aeon shifted maintenance work at its residential homes away from daily work orders to emergency situations at the height of the pandemic, but operations are slowly beginning to return to normal. In the midst of unexpected price hikes from vendors, aesthetic improvements or minor issues could fall by the wayside in favor of fixing more immediate issues on the premises. The trick is to make sure that deferred maintenance as a result of the backlog doesn't turn into serious capital costs down the line.
"If you haven't fixed the roof enough, it does more damage and now you have to replace the roof," Nassau says.
Overall, the increased communication between asset managers and other staff bodes well for all parties involved. The director of property and asset management at TREK Development Group, Tricia Corwin, and her colleagues had to be creative when reaching out to residents in the for-profit provider's market-rate, mixed-income, and affordable housing units they manage in Western Pennsylvania, mainly in and around Pittsburgh. She worked with Bethany Friel, the director of mission, culture and people at TREK, to evaluate what would work best for various residents.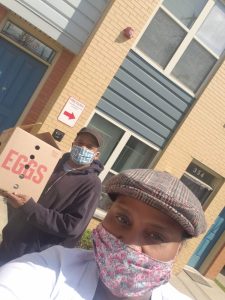 "We started thinking about the fact that we have senior citizens in our portfolio that live in rural communities, who maybe aren't on the internet constantly like some of our families in other communities," Friel says. When the time came for tasks like recertifying families for eligibility, a blend of old-school paperwork and video chats sometimes worked better than an all-digital approach.
"We're finding that sending out packets to them and setting up appointments from a remote perspective is actually more efficient," Corwin says. TREK intends to continue to remain flexible in this way with their recertification process going forward. Across their properties, they've also been hitting 98 percent rent collections, comparable to pre-pandemic levels. Corwin attributes this to their willingness to over-communicate with the staff on the ground at their income-based rental properties.
In terms of maintenance, Corwin and company have had to shift the focus of their operations to meet CDC guidelines without drastically cutting into other resources or dipping into funds reserved for HUD-driven properties. "We operationally looked at what our demands were from a maintenance perspective, and focused really just on the emergencies and left some of our preventative maintenance or daily work orders," Corwin says.
Despite the adjustments, that doesn't mean everything is in the clear; CHAM surveys still point to the majority of housing asset managers experiencing at least some additional stress and an increased workload since March. Thinking about long-term prospects and risks is part of the game, but that becomes difficult when factoring in rent restrictions unique to those in the affordable housing space, says Dustin Read, associate professor and assistant director of the program of real estate at Virginia Tech. The majority of the affordable housing stock in the country is owned and operated by for-profit providers; between 1987 and 2014, for-profit developers spearheaded 78 percent of the Low-Income Housing Tax Credit properties put into service during that period. But even they aren't immune to unforeseen circumstances.
"Whether they're for-profit or nonprofit, the margins are thin in affordable [housing] because you can't raise your rents beyond the regulatory guidelines," Read says. A few months ago, Read co-authored a list of recommendations on how affordable housing providers can help their residents best weather the pandemic with Sherise McKinney, a research assistant at Case Western Reserve's National Initiative on Mixed-Income Communities, and Frankie Blackburn, a partner at Trusted Space Partners. One of the recommendations includes working with residents on a case-by-case basis if they can't pay, and extending various modifications and accommodations.
For advocates like Blackburn, who've been calling for these types of changes for some time, the current moment serves as an important wake-up call. "My hope is, when things like this happen, people are jolted into behaving and leading in ways that we needed before the crisis," Blackburn says. She's long been openly calling for affordable housing providers to take an interventionist approach to improving the lives of residents in a way that's cooperative rather than condescending. Greater contact between asset management, resident services, and property management in general meetings is the first step in a path that eventually leads to a greater awareness of the needs of the people in the communities they work in.
"If I were in those shoes, I would be convening a different kind of gathering of all the staff involved for a particular property more frequently, and I would bring a human quality to that gathering in order to have these frontline essential workers feel that support and the accountability of being on this team in a different way," Blackburn says.
At TREK, both Corwin and Friel have done just that by establishing a deeper line of communication with on-the-premises staff like Montia Robinson-Dinkins, a senior community builder and diversity and inclusion manager. Robinson-Dinkins blends her social work experience with her work coordinating resident services to build bonds between the roughly 200 residents she oversees at two buildings in Pittsburgh. This comes in the form of support groups for the single working mothers she regularly interacts with and other resident gatherings. When lockdowns were in effect, she continued to promote these connections by hosting meetups through Zoom or some other means of communication, with support from those up top. Earlier this year, Corwin budgeted a small stipend for the formation of a stewardship team aimed at fostering resident social life, which was moved online in February. The first six-month cycle of the program finished up not long ago and a new one is already underway.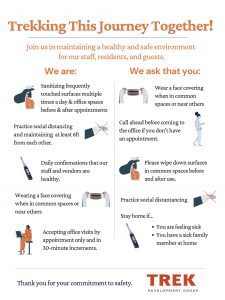 "We can meet our obligations, cooperate as a management company, have great communities, have residents be happy with their living [situations], and still meet operations on both sides. I think that's a really unique thing to have," Corwin says.
Besides direct fundraising, partnering with local organizations (food banks, YMCA, churches) can be a way for affordable housing providers to gather resources without adding to their financial strain, Nassau explains. Earlier on in the pandemic, for example, Robinson-Dinkins worked with the Greater Pittsburgh Food Bank to create in-house food drives to combat the rise in food insecurity that has hit her residents just as it has the rest of the country.
Renewed calls for racial and social equity—especially in housing—spurred on by the Black Lives Matter movement and nationwide protests are also causing changes in asset management. While asset management as a whole is still predominantly white, asset managers are pushing for equity in other ways by hiring more diverse vendors for projects at properties in their portfolio. In her role as diversity and inclusion manager, Robinson-Dinkins assists Friel and Corwin in searching for and vetting vendors and service providers owned and operated by people of color. The choice of hiring a local Black electrician, for instance, puts money and power back into the neighborhoods where their buildings are located. The economic health of the surrounding area is tied up with the performance of a building just as an individual's physical health is linked with whether or not they have stable housing.
"Housing is health. Whether or not a person has a place to be is directly tied to their physical and mental health, so it goes hand in hand with all those other factors," Robinson-Dinkins says.
If the pandemic has made one thing clear, it's that checking in on tenants outside of just collecting rent is crucial to maintaining the overall health of a community; an ounce of prevention outweighs a pound of whatever cure could be offered up for a tenant's problems. "It's easy to pay attention to a squeaky wheel but sometimes you overlook the ones that aren't squeaking," Robinson-Dinkins says.
Editor's Note: This article was updated to reflect the correct number of affordable housing units Aeon manages.