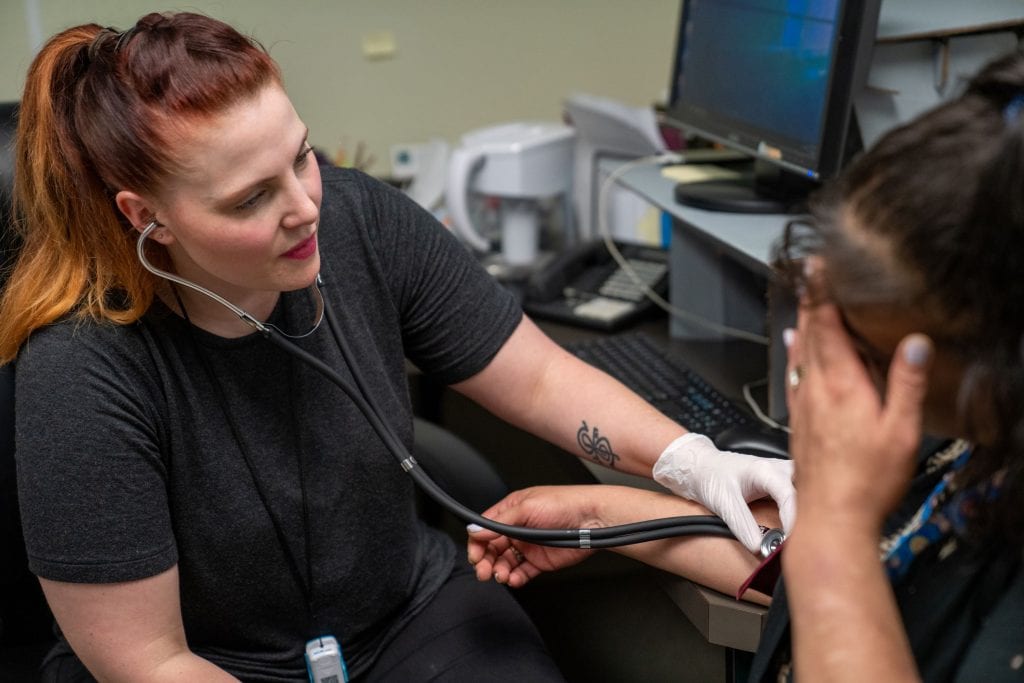 UPDATED Friday, Aug. 21, 2020—Dr. Nancy Connolly, a physician who works at UW Medicine's Harborview Medical Center, which primarily serves the area's homeless population, has worked for a while with a patient who experienced childhood trauma. "She has delusions that prevent her from moving on with her life," says Connolly.
But something changed recently for the better. Somewhat ironically, that change was spurred by the pandemic.
As part of preventive measures against the spread of COVID-19, Connolly's patient—along with many others—was temporarily moved from a congregate-style shelter to a hotel room. "When she moved into the hotel, I noticed such a dramatic improvement," says Connolly. "She feels safe, she's getting sleep. The ability to sleep without worrying is so essential for health. She has more mental and physical bandwidth. She can now name her trauma and can actively identify tools that will help her. The strides she's making are remarkable."
Congregate-style shelter is still the dominant approach to homeless services, but as the danger of COVID-19 became apparent and hotel and motel properties all over the country found themselves vacant while the tourism industry ground to a halt, many government officials were able to take advantage of CARES Act funding to negotiate lower nightly rates and effectively take over entire properties to house homeless individuals.
"This was the approach most shelters shifted to when it became clear that congregate housing would become a problem early on," says Steve Berg, vice president for policy and programs at the National Alliance to End Homelessness. Through his organization's work, Berg has spoken with countless homeless services providers across the country to get a deeper understanding of how the pandemic has shifted our approach to caring for this vulnerable population. It turns out that despite the stress of the pandemic, individual housing has had an enormous impact on unhoused people's overall well-being—for the better.
 "The big change," says Berg, "has been more privacy and the feeling like you have some control of your life when you aren't sharing space."
Organization leaders and service providers alike extolled the enormous benefits they've seen since shifting away from a congregate housing model, prompting a broader conversation about how we approach homelessness in America. By eliminating fundamental issues impeding more positive outcomes for their clients, providing clients a safer environment and alleviating emotional and mental health concerns, and strengthening their own ability to provide long-term treatment and care, shifting to a more individualized temporary housing model might be a key strategy for service providers in ending homelessness.
Overall, homeless services organizations that have shifted their congregate style housing to individualized care in motel settings are broadly reporting a significant quelling of emotional and behavioral health issues that they normally encounter frequently.
Dan Malone, the executive director of the Downtown Emergency Service Center in Seattle, was able to shift roughly 230 people out of congregate housing into hotel housing on a 90-day lease. With tight quarters and minimal security, the environment in the congregate shelter was one of rampant chaos, with squabbles frequently erupting into violence. Malone stressed that this issue has been all but eliminated since they made this crucial shift.
"What we've realized is that the physical environment contributed to the stress and difficulties that people were under, and we had a lot of crisis events," he says. He notes that comparing a recent month in the individualized setting to the same time period last year in the congregate setting lays bare the stark contrast.
"For the period of June 1 through July 8 last year we had 128 emergency calls placed, 54 related to medical emergencies, and 74 for the police," he says. "For the same period of time this year, at the hotel, there were less than [one-fifth] the number of calls—25 total, 15 for medical emergencies, and only 10 to police."
Connolly of the Harborview Clinic says safety plays a major role in her patients' emotional and behavioral health. "In a congregate setting, my patients hardly ever feel safe. They have to be concerned with their things being stolen, have no privacy, and that leads to trouble sleeping and feeling like they're always on edge," she says. "Once they moved, you just noticed how people could relax and have the bandwidth to start healing."
In addition to increased safety, shifting to treating patients at a hotel versus a congregate shelter allows the ability to offer personalized services in a private setting. At the congregate shelter, Connolly saw patients in a large room with multiple other patients present. Now she can see them in their own hotel room. Having that private space allows them the psychological space to be calmer and better articulate what they are experiencing. This in turn allows service providers and caregivers like Connolly to care for their patients in a far more effective manner.
"At the beginning of the pandemic we recognized that there were significantly different health outcomes" depending how much privacy people receiving services had, says Dan Wise, the director of homeless services at Catholic Community Services (CCS) of King County in Washington.
While the organization has long offered both individual temporary housing and congregate sheltering, it shifted during the pandemic entirely away from the congregate model to move clients into five different hotels across the region. Each client received their own room with private bathroom and had meals professionally prepared and delivered three times a day.
The hotel residents engaged with services more deeply, in part because they stuck around longer. The increased safety, privacy, and comfort of their new lodgings encourages these lengthier stays, which allows care providers to observe clients over a longer period and better identify what it is that they need. "Oftentimes in congregate shelters, you might have people stay for four nights and then leave for the next three, so it's hard to get them on a long-term solution," says Wise. "In the hotels, we have folks staying every night, so we have daily contact with them that fosters connections with case managers and helps us get a better understanding of their service needs."
Since CCS transitioned to individual housing in March, about 80 percent of its clients have successfully moved out and into permanent housing. A congregate shelter would have seen more like 20 to 40 percent of its clients transition to permanent housing over that time frame, says Wise.
With more consistent access to services and wraparound care because of the longer stays, "we had folks stay engaged with shelter services and on a path to housing," says Wise.
In addition to being able to finally solve ongoing issues that generally plague the homeless community, like body lice, because clients have easier access to showers, Connolly has made marked strides in diagnosing underlying health conditions in her patients that were preventing their rehabilitation and ability to find permanent housing.
"I'm seeing more sobriety, less substance abuse, and more people reaching out for detox and rehab. Hip and shoulder mobility issues that would have once been hard to identify are now readily noticed and treated. I had one patient who I was finally able to diagnose as suffering from Parkinson's disease, which I couldn't do before because he was never around for long enough," Connolly notes, adding that "this increases his priority for housing, and that's something we wouldn't have been able to do" had he not received such a diagnosis.
Health and homelessness cannot be divorced from one another, says Wise. "Housing is a component of health care. Elected leaders can vote against enhanced shelters and come out against people in poverty and at the same time they'll tout the importance of health care. We also have to look at what plays into the overall health of our community."
Can We Keep Individualized Housing Up?
The anecdotal and statistical evidence certainly proves that an individualized temporary housing approach has enormous benefits as compared to congregate shelter, for the unhoused population and ultimately for the elimination of homelessness in America. Should homeless services organizations across the country focus on implementing it, and if so, how can it be sustained over the long term?
Individualized housing is more costly, there's no way around that. "Poverty is so high in King County that going the path of offering deeper services means that some people will get nothing," acknowledges Wise. "We're wrestling with that every day as an agency." Still, she notes, by and large her organization's staff members are advocating for a pivot to individualized, 24-hour service.
We must come to terms with the fact that congregate sheltering isn't the most effective approach for dealing with homelessness, says Berg at the National Alliance to End Homelessness. "We now know that that model is not safe, not healthy, and not effective. If we're going to have a short-term shelter, the model needs to be different," he says.
But that's also a big if. Berg suggests that organizations should be focused on how they can use operational dollars from closing congregate shelters to shift to rapid rehousing programs, which move people very quickly into permanent housing, providing initial subsidies to landlords rather than shelters or hotels.
"Communities that have honed the 'housing-first' approach have built ongoing relationships with landlords so they can move them immediately into housing," Berg notes, adding that the rental market crash that is sure to occur once pandemic moratoriums run out will mean that homeless services providers will be in a position to negotiate for very reasonable rates.
"The real issue is whether this system of privately owned rental housing can work in the long run or if we need to shift to a publicly funded system. Our local and federal governments need to take responsibility for understanding how much housing is needed, how many people need it, and then build that housing and subsidize it so people with the lowest income can afford it."
In the meantime, Malone believes, more use must be made of hotel and motel properties that remain largely vacant. "As a community we should make far more use of hotels that are consistently underoccupied," he says. "We should refuse to go back to the status quo of cramming people into crowded congregate emergency shelters. They work against their purpose, which is to keep people safe and healthy."
Editor's Note: This article has been updated as comments made by Steve Berg, vice president for policy and programs at the National Alliance to End Homelessness (NAEH), were initially attributed to another NAEH representative. Shelterforce apologizes for the error.