Shelterforce's 2022 Impact Report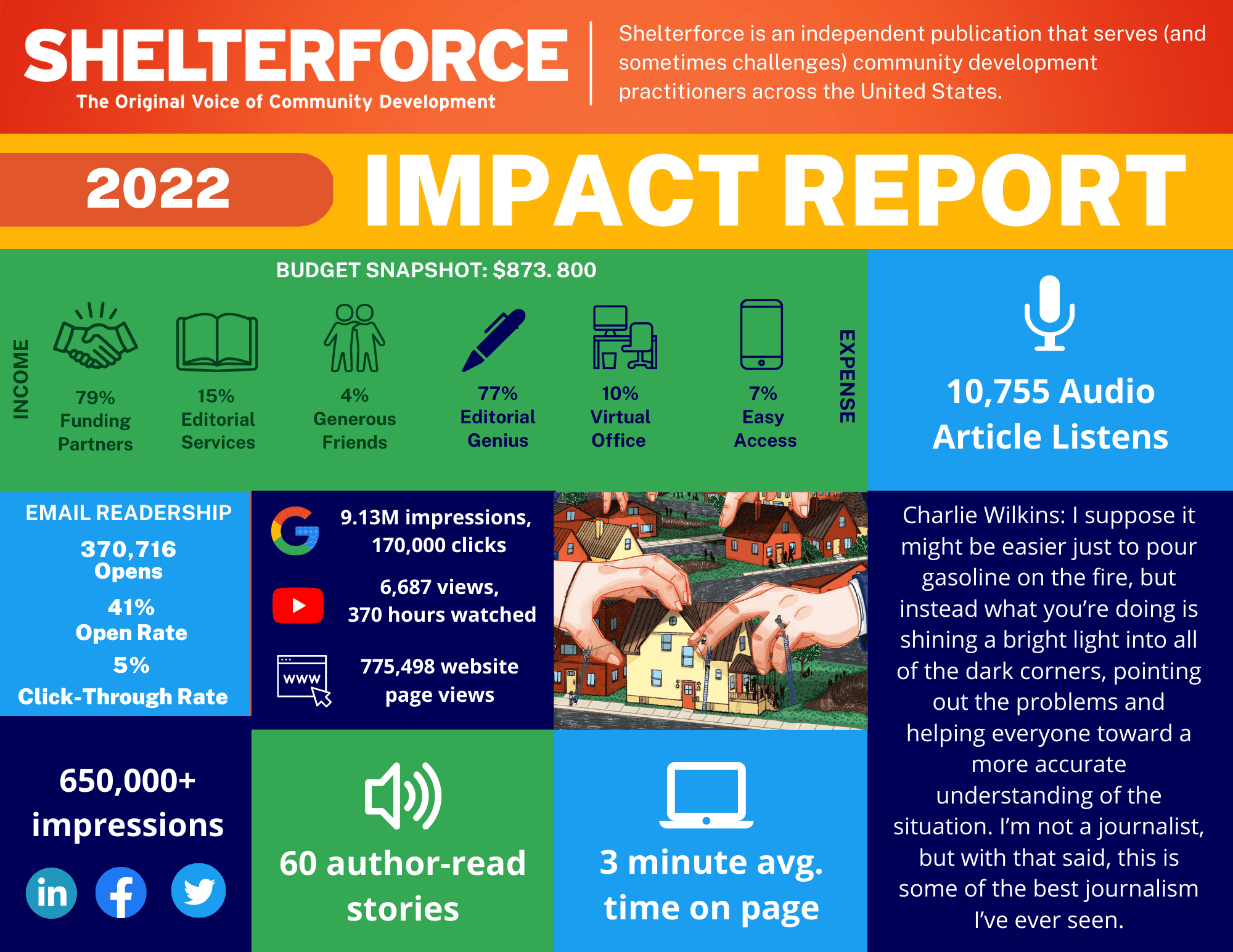 Shelterforce is the only independent, non-academic publication covering the worlds of community development, affordable housing, and neighborhood stabilization.
You guys are just incredible.
The information that you put out every week—we're blown away by it.
— Wayne Meyer, former president and CEO, New Jersey Community Capital
Dedicated from the beginning to everyone working to empower and support low-income communities, Shelterforce provides a venue for conversations that need to be had—on topics from community planning to racial equity, housing affordability to homeownership, and the future of community development.
I love Shelterforce! No whining, no sob-sister weakness, just lots of kick-butt attitude and great articles!
— Melissa McWhinney, former director of advocacy, Community Action Agency of Somerville
Shelterforce supports and challenges the community development field. We provide insight on policy, stories about what works and what doesn't, and connections to related work, such as community organizing, health, immigrant rights, arts and culture, and financial well-being. We interview HUD secretaries and resident organizers, and open our pages to those on the frontlines and those behind the scenes. We provide clear and understandable analysis of important policy issues to grassroots activists and practitioners, while channeling input from the grassroots to local, state, and national advocates and policymakers.
Without doubt the most current, penetrating, powerful, and comprehensive
publication in our community.
—Conrad Egan, former CEO of the National Housing Conference
Working for You
Shelterforce began in 1975 as a "how-to" publication for tenant activists. Over the years our focus expanded and we began to examine a wider range of place-based community-building issues. But we've always kept the goal of empowering people to make real change in their communities. 
… reading the articles renews my hope, faith and energy for our work.
—Joan Carty, president and CEO, Housing Development Fund
Accountable to You
Shelterforce is a nonprofit publication, published by the National Housing Institute. We are not beholden to a particular program, theory, approach, or constituency. We are dedicated to being useful to our readers and to fostering strong, vibrant, just, healthy places for everyone. Join the conversation—subscribe to our weekly email.
Our members and stakeholders love it.
—Terry Chelikowsky, executive director, Florida Alliance of Community Development Corporations