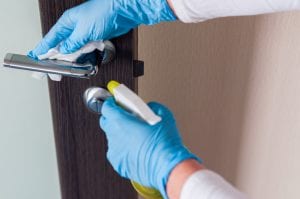 Affordable housing providers are waiting for the other shoe to drop. So far, the fallout from the COVID-19 pandemic has not been the catastrophe many were preparing for when the United States started shutting down in March.
There has been a dip in rent collections, to be sure, but not the precipitous plunge off a cliff that seemed plausible in the early days of the pandemic. That is in large part thanks to a patchwork of federal, state, and local aid that helped keep renters afloat, including the $1,200 stimulus checks in the spring, enhanced unemployment benefits, and local and philanthropic rent relief programs.
As the pandemic lurches into its seventh month, however, those housing providers are once again expecting the worst. For many, that surprisingly stable rent collection rate has started to slip. The $600-a-week enhanced unemployment benefits have long since ended, and the extended $300-a-week benefits expired in at least 17 states in October. Negotiations in Washington over a second federal relief bill briefly moved forward before the president called them off via tweet on Oct. 6. If the federal government fails to provide additional relief and the economy continues to falter, providers worry that the popsicle stick–and-glue safety net that's held things together so far will fail completely, and the consequences could be dire.
"As more and more residents are unable to pay rent, it really puts [affordable housing providers'] very operations and mission in a bind," says Amie Fishman, executive director of the Non-Profit Housing Association of Northern California. "If they don't collect rents that allow them to pay for operations and services and maintenance, if they go into default or foreclosure, it means the affordable covenants are lost and we lose that asset for the community today and into the future."
Measuring the Impact
A new report from MRI Software, a property management tool used by market-rate, affordable, and public housing managers, helps quantify the experience of affordable and public housing providers during the pandemic. MRI looked at national data from more than 350,000 units of income-restricted affordable housing and more than 1 million units of public housing to compile a report on rent collection, applications, move-ins and move-outs, work orders, and more from January to August 2020.
For rent collection, the report measures total dollars collected and compares it year over year to 2019. From January to June this year, rent collection in affordable housing hovered between about 85 percent and 90 percent of 2019 levels. In July rent collection dropped down to 75 percent of 2019; in August it was 77 percent.
"I can't explain with any empirical data why July and August dropped," says MRI Software's Brian Zrimsek, who compiled the report. "I can infer it is from the stimulus running out, continued unemployment, and people burning through their savings."
Rent collection in public housing, on the other hand, has largely remained stable, the report finds. Since January, it has fluctuated between 95 percent and slightly more than 100 percent of 2019's rent collection levels. In August, it dipped to its lowest point of 94 percent. Zrimsek attributes that to a combination of more public housing residents living on fixed incomes that haven't been affected by the pandemic and to the deeper subsidies provided by public housing agencies.
In addition to rent collection, the report found that August work-order volumes in both affordable and public housing are down about one-third from the previous year, move-outs are down 40 percent and 80 percent in public housing and income-restricted affordable housing, respectively, and new move-ins are down about 40 percent year over year in both housing types.
Though rent collection has remained more stable than feared, Zrimsek is still worried that the slide that began in July could continue its downward trend.
"I think we're going to see continued slow erosion because we're going to see continued unemployment," he says. "I'm sure the folks in D.C. will provide some additional assistance. But that can only go for so long. We have to figure out on the macro level how to rebuild what was lost [in the economy]."
Janine Sisak is senior vice president at DMA Companies, a developer and property manager with about 2,500 units of affordable housing throughout Texas, and board president of the Texas Affiliation of Affordable Housing Providers. She says DMA Companies has seen a roughly 10 to 15 percent dip in rent collections. "We've been pleasantly surprised that we've been able to collect enough rent to meet our operating reserves," says Sisak. "Things could be getting worse in this environment, but for now we're feeling pretty good about our ability to meet the challenge."
Sisak says DMA worked closely with residents to set up payment plans and took a proactive approach to connecting residents with municipal and philanthropic rent relief programs in Texas.
Catholic Charities of Central Washington operates 20 affordable housing sites serving low-income Washingtonians in a rural, agricultural region. They have collected about 94 percent of rent throughout their portfolio during the pandemic. That is in large part because 80 percent or more of their residents are farmworkers who've continued working throughout the pandemic, even if it hasn't been at the same levels as normal years.
Bryan Ketcham, Catholic Charities' director of housing services, worries that could change as fall gives way to winter. "Families are already scraping by. They're making it work. But their resources are strained and these are normally the months where they're earning and saving for slow periods in agriculture through the winter. What's the impact going to be in the off season?"
A Reshaped Housing World 
Though rent collections have kept up better than expected, the pandemic has reshaped how affordable housing providers operate. For Ketcham, one of the biggest struggles has been maintaining resident services at the level needed. In normal times, Catholic Charities holds a variety of services on site such as parent education classes, early childhood education, after-school education, exercise programs, and more. 
"We've been developing some plans on how to provide resident services, which is so reliant on establishing trust and personal connection," says Ketcham. "That's so difficult to establish and maintain over the phone."
With school back in session, but fully remote, Ketcham says they've been scrambling to figure out how to get families Wi-Fi access so kids can log in to their classes, something that further strains their already strained budget. "We're looking into how we can provide Wi-Fi, but that is a cost we have to figure out."
The pandemic has also forced providers to spend more even as they take in less. Sisak of DMA Companies in Texas says they've increased payroll costs with extra cleaning and housekeeping staff to keep up with sanitizing and other COVID-related cleanings. Because of social distancing requirements, service visits are more challenging as well. "Everything takes longer and is more expensive," Sisak says.
At the King County Housing Authority in Washington State, the pandemic has raised costs and cut into revenues in three ways. As Housing Choice Voucher holders lose income, the Housing Authority's contribution to the rent has gone up. Housing Authority Executive Director Stephen Norman says it's hard to put an exact number on how much more the agency is contributing to voucher holders' rents because the number is changing week by week. But, he says, "those increases have started to go up steadily. . . . As the federal supplement to state unemployment went away that exacerbated things for people. I think unless we get a new COVID relief bill we're going to see a steady increase in people coming in to report lost income."
The housing authority's rent contributions have similarly gone up in the public housing it operates as residents' incomes drop. Between March and September, it lost $141,262 due to rent concessions. In that time period residents accrued $327,586 in delinquent rent. And, as for many housing providers, operations costs have gone up with disinfecting efforts, meal deliveries to seniors, and other additional staffing requirements.
One pandemic adaptation Norman is particularly proud of is the conversion of 15 after-school community facilities at housing-authority buildings into daytime "learning pods" where kids can access the internet for their school work, get supervision while parents work, socialize, and generally replicate the school environment that's missing from distance learning.
Long-term Consequences
 The true scope of the pandemic's economic impact will take years to be fully unveiled, but for some developers and housing providers, it's already reshaping how they're thinking about the short- and middle-term future.
New Mexico Inter-Faith Housing is a relatively new affordable housing provider with one low-income development open and another under construction. Executive Director Daniel Werwath says construction costs have ballooned at their Santa Fe project. Thanks to increased materials costs and slower construction, the cost of the project jumped by $800,000, an 8 to 10 percent increase. Thanks to some grants and extremely low-interest rates, New Mexico Inter-Faith was able to still make the financing work. But Werwath says the cost increase translates to a loss of about $200,000 in profit for the organization, or about four-fifths of its annual operational budget.
"It makes us more cautious about putting projects in the pipeline right now," says Werwath. "There's volatility in interest rates. There's huge volatility and availability problems with construction and construction materials. . . . Just when we need to be building affordable housing the most, the incentive is to sit back and see how things shake out."
The demand is certainly high. Werwath says they haven't done any proactive outreach yet for their project under construction, but still field phone calls and emails nearly every day from people hoping to nab a spot in it.
The economic fallout around housing construction is going to ripple far and wide. In response to the pandemic, New York City cut the budget of the Department of Housing Preservation and Development by more than $1 billion over two years. The nonprofit New York Housing Conference calculates the impacts of that will be immense, with 21,000 fewer units of affordable housing produced over the next two years. In turn, the decreased production will mean 22,176 fewer construction jobs, 12,096 fewer jobs in related industries, and $7.98 billion less in total economic spending.
"The cuts are devastating," says Rachel Fee, executive director of the New York Housing Conference. "They're going to be really painful for the affordable housing community in New York. But it's really New Yorkers who need housing who are going to lose out in the long run."
If the loss of rent collection continues apace for King County Housing Authority, it will likely start to hurt its ability to keep up with maintenance and capital improvement projects.
"We have very good housing because we devote the resources to maintaining and upgrading it," says Norman. "It is penny-wise and pound-foolish to start cutting back on that, but that's one of the first things we'd have to do if we have deep budget shortfalls."
He continues, "It's not an immediate concern. But you start to dig yourself a hole that month by month is hard to get out of. . . . You just have to look at New York City Housing Authority where they skimped on maintenance and repairs [and have a $40 billion backlog] to see it doesn't take long to fall behind."
In the worst-case scenario, where residents continue to suffer underemployment and unemployment and can't pay their rent for the long term, some fear that affordable housing providers will start running the risk of foreclosure.
"We don't want to see a massive wave of people losing their homes and capital investors coming in and buying it up," says Fishman of the Non-Profit Housing Association of Northern California. "We know what that looks like. We saw it in 2009, 2010, 2011. . . .  [We] know how horrifyingly terrible and unnecessary it is to have people be evicted because of this pandemic only to have the properties sit empty. Our communities, our neighbors, our family members, are left to fend for themselves without a home."
Fishman and others argue the solution has to come in the form of federal rent relief and other stimulus. It was that early stimulus from the CARES Act, after all, that helped facilitate some of the surprising stability affordable housing and public providers experienced through the spring and summer.
For a brief moment, it looked like those glacial-paced negotiations between House Speaker Nancy Pelosi and Treasury Secretary Steve Mnuchin on a second relief bill were reaching fruition. News broke on Oct. 2 that the parties were coalescing around a $1.6 trillion package that likely included another round of $1,200 checks for Americans, money for state and local governments, and bailout money for the airline industry.
But just four days later, President Trump torpedoed those hopes when he tweeted, "I have instructed my representatives to stop negotiating until after the election when, immediately after I win, we will pass a major Stimulus Bill that focuses on hardworking Americans and Small Business."
With relief money unlikely to come any time soon, housing providers, advocates, and tenants are once again left fearing the worst.
"It's extraordinarily reckless and irresponsible for Trump to blow up negotiations now, when so many renters and small landlords are struggling and when there is growing bipartisan agreement on the urgent need for emergency rental assistance," said National Low Income Housing Coalition president Diane Yentel in an email. "The longer the federal government waits to act, the steeper the financial cliff that renters will be pushed off when the eviction moratorium expires this winter."