Amid the nation's housing shortage, accessory dwelling units (ADUs) have been touted as a way to create new and comparatively affordable units in traditionally single-family neighborhoods. Everyone from the Biden administration to pro-housing groups to AARP loves them. ADUs have become so popular over the last decade or so that cities, counties, and even entire states have rejiggered their zoning laws to allow for them, hoping that homeowners who are looking to make some extra income or maybe house an aging parent would start building them. But despite their popularity and utility, ADU projects remain too expensive for many homeowners to afford.
Not only are design, development, and construction costs at record highs, the loans currently available to homeowners typically require a sizeable downpayment, a good chunk of equity in the main home's mortgage, restrictively high credit scores, or other things that can disqualify homeowners.
But that could soon change.
The Federal Housing Administration (FHA) recently released a draft Mortgagee Letter, which, if approved, would let borrowers use projected rental income from an ADU to help them qualify for a loan.  
The changes should qualify more borrowers for FHA financing when purchasing a home with an existing ADU, as well as when seeking an FHA 203(k) renovation loan to build an ADU on property they already own, according to FHA Commissioner Julia Gordon.
"An updated policy has the potential to expand opportunities for low- and moderate-income homeowners to benefit from the wealth-building potential of ADUs while supporting the affordable housing needs of their communities," Gordon wrote in a statement released with the Mortgagee Letter.
FHA doesn't currently allow borrowers to include potential rental income from an ADU when qualifying for a loan to build one, or to secure a loan on a property that already has one.
[RELATED ARTICLE: How Financing Barriers Keep ADUs Expensive]
If the proposal is finalized, FHA will become the latest government-sponsored enterprise to allow ADU rental income to be part of the loan financing process. (Fannie Mae and Freddie Mac have loan programs that allow borrowers to count ADU rental income in some cases, although neither program is as flexible as FHA's proposed changes.)
"FHA serves a really broad swath of customers—first-time homebuyers, people with maybe a more challenging credit profile," says Susan G. Brown, founder of CoreSGB, a housing finance consulting agency that specializes in ADUs. "So this is a product that can finally get to that next echelon of borrowers, which is great."
Program Positives
Over the last few years, credit unions, community development financial institutions, local governments, and other affordable housing organizations have introduced various pilot programs allowing borrowers to use future rental income to qualify for an ADU construction loan, but the government-sponsored enterprises have been slower to act. Celeste Goyer, executive director of Casita Coalition, a California-based nonprofit that advocates for ADUs and other small homes, says FHA's allowance would be a "big change" that "opens the doors much, much wider" for borrowers.
[RELATED ARTICLE: Affordable ADUs: How It's Being Done]
"It's becoming a really key strategy for first-time homebuyers who wouldn't otherwise be able to make their mortgage obligations so they look for homes to purchase that have a second unit that they can rent, or they look for a home that's suitable to build one," Goyer says.
The draft Mortgagee Letter includes protocols for appraisers estimating ADUs' market rents and sets limits on how much of the rental income can be counted in the borrower's debt-to-income ratio. The changes will also apply to the Home Equity Conversion Mortgage, an FHA-backed reverse-mortgage program. Although the Mortgagee Letter hasn't yet been finalized and released to lenders, stakeholders expect it will happen soon and that the letter will be substantially the same as the draft. Brown, who's also a Casita Coalition board member, says the proposed Mortgagee Letter indicates a "monumental" change. "We've been talking about this for years," she says. "We should not undersell how important and significant this is."
Even so, FHA could do better.
Policy Pitfalls
At their most basic, ADUs must be separately habitable from the main home and equipped with full kitchen, bathroom, and sleeping quarters. They can be carved out of existing built space, added to the main home's envelope, or be fully detached from the original building.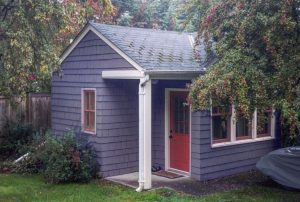 While FHA's proposed list of eligible improvements for a 203(k) loan is long and the additions are a step in the right direction, absent from the list are detached, new construction ADUs. The proposed allowances specifically include the creation of ADUs "that will be attached to an existing Structure," and renovation of existing ADUs that are "attached or unattached to an existing Structure." The omission of new, detached ADUs is "absolutely a barrier that we've been working on for some time," Goyer says.
"We're really excited that the one barrier about future rental income looks like it's handled, which is really going to help," she says. "But that allowance for detached ADUs to be eligible improvements is also critical."
Brown called the exclusion a "bizarre intricacy," and believes that excluding detached ADUs eliminates a large swath of homeowners who either don't have the space or the desire to carve an ADU out of their home's existing space or to convert an existing building.
"This will [disqualify], again, most of the people who wish to add an ADU," she says. Without adding new, detached ADUs to the list of acceptable 203(k) loan projects, "this program will not have the efficacy they hoped it would have."
The U.S. Department of Housing and Urban Development (HUD), which administers FHA, addressed the problem in a late-April webinar hosted by the Bipartisan Policy Center. When asked about the omission, HUD Policy Adviser Dan Hardcastle said the organization "recognize(s) the importance of" allowing detached, new construction ADUs, but that "statutorily, our 203(k) renovation program can only be used for existing structures on a property."
Hardcastle said there are "a number of proposals in Congress" and that President Joe Biden has included in his budget proposal for the last two years a request for the 203(k) renovation program to include construction of new, detached ADUs, but says, "that is something that would require congressional action for us to be able to do."
Advocates continue to ask for clarification, especially considering that some standards seem to contradict one another. For example, at the Bipartisan Policy Center webinar, Hardcastle stated that the 203(k) program "cannot be used to create a new, detached unit," but the Mortgagee Letter lists "constructing a garage" as an eligible improvement. Could a homeowner get a loan to construct a garage and put an ADU on top of it?
The standards for what makes an ADU "attached" are also unclear. Does the ADU have to be within the existing building's envelope, or can it be "attached" by a single common wall? Would a breezeway between two buildings count as "attached"?
[RELATED ARTICLE: ADUs—Defined, Disambiguated, and Debated]
ADU proponents are also pushing to change the amount of projected rental income FHA will allow borrowers to count toward their qualifying income. As written, that amount is capped at 50 percent of fair-market rent (set by a licensed appraiser). So, if the projected rent is $1,000, the borrower can count just $500 toward their qualifying income. Additionally, that $500 can represent no more than 30 percent of the borrower's total qualifying income. That means, depending on borrowers' salaries, they may not be able to count the entire 50 percent of projected rent.
Brown and others from Casita Coalition in early May met with Hardcastle to lobby HUD to add detached units to the acceptable project list and increase the amount of projected rent borrowers can count from 50 to 75 percent. The rent allowance increase would align ADU mortgage qualifications with other rental properties, such as duplexes and multifamily investment properties. As of publication, Brown says several vocal supporters advocated for the increase and it's "still being debated."
David Garcia, policy director for the Terner Center for Housing Innovation at the University of California Berkeley, says FHA, "being a little bit risk averse," likely wants data to see how the program works before allowing borrowers to rely too heavily on projected rental income. It'll take a couple of years to collect and analyze enough information to make that determination, Garcia predicts.
"[FHA] doesn't want to suddenly start making too many renovation loans allowing 75 percent of the income to be counted when they don't really have a track record yet of how it's going to play out," he says. On the other hand, "by only counting 50 percent of the revenue, we run the risk of not actually being able to loan enough out to make these changes create an ADU. That said, if you're thinking about this from FHA's perspective, this is a big change for them."
Appraiser Adjustments, Interest Issues
It's also a big change for appraisers, who face a steep learning curve once the draft Mortgagee Letter is finalized, says Denis DeSaix, founder and principal at Metrocal Appraisal and an instructor at ADU Academy. There are so few for-sale homes with ADUs that most appraisers lack experience valuing them. The low volume of ADUs in sales transactions also means appraisers struggle to find comparable properties to base their valuations on. Additionally, technology allows lenders to value "typical" properties without hiring an appraiser, meaning appraisers "have a smaller slice of the pie that actually needs appraisals," he says. Properties that do require an appraisal often require complex analyses and reports.
"ADUs are specialty properties, and most appraisers are generalists," DeSaix says. "Appraisers in general are still playing catch up with the techniques and methodologies to value properties with ADUs and satisfy lender requirements. It's getting better, but we still have work to do."
[RELATED ARTICLE: ADUs: Laws and Uses, Do's and Don'ts]
Even with an accurate appraisal and more flexibility in FHA loans, current interest rates hovering near 7 percent could dilute the effect the proposed policy will have. For some homeowners, it means an ADU project won't pencil out until interest rates drop. Laurie Goodman, founder of the Housing Finance Policy Center at the Urban Institute, says this "lock-in effect" often occurs with homeowners who have a low-interest-rate mortgage after interest rates increase: They stay in their homes longer and forgo large projects that would trigger refinancing because it doesn't make financial sense to borrow at current interest rates.
"A lot of people who already have a low-rate mortgage may be less apt to do this because it means refinancing your home mortgage," Goodman says. "There's no good solution. If we had a more robust second-lien market, it would certainly help."
Having a second lien means that if a borrower's home is foreclosed on and sold to pay the borrower's debts, the first lien (usually the primary home's mortgage noteholder) is paid in full before the second lienholder is paid. If there's not enough equity in the home to pay off both debts, the second lienholder won't be fully repaid. FHA doesn't insure second-lien mortgages. Instead, homeowners wanting to take advantage of the new allowances will need to refinance their current loan balance, adding on the cost for the ADU.
Despite the program's shortcomings, Goodman (and everyone else interviewed for this story) called FHA's changes, overall, "very good news." Borrowers looking to buy a house with an existing ADU will have an easier time qualifying for an FHA-backed loan, and as appraisers and lenders become more comfortable with the new allowances, more jurisdictions that haven't rezoned to allow ADUs could find this a compelling reason to do so.
"Where you've broken down zoning barriers, financing barriers are the next largest thing looming," Goodman says. "So letting borrowers count rental income from ADUs is a very, very valuable thing, even if a lot of borrowers won't be able to access the program until interest rates go down because they have low-rate mortgages."