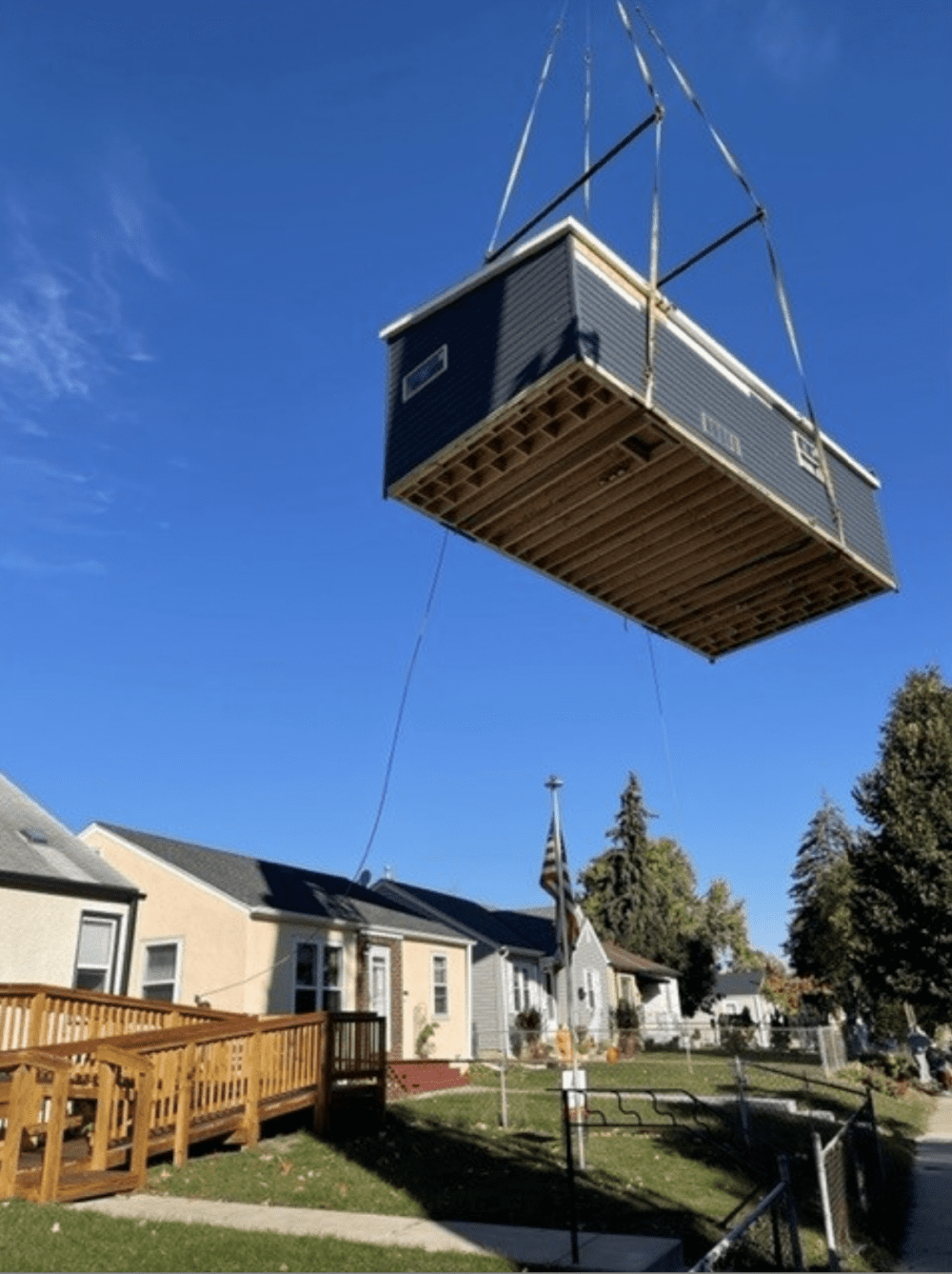 This is the fourth installment in ADUs Explained, an Under the Lens series. 
It's expensive and complicated to build an accessory dwelling unit (ADU) and it will remain so until federal government-backed loan programs offer rates and terms low- and moderate-income homeowners can qualify for. Until that happens, it will be up to private philanthropic entities to support and possibly subsidize ADU construction.
Right now, a wide range of pilot programs are underway, using various combinations of private and public dollars in hopes of finding a scalable solution to the sticky ADU financing problem.
Public-Private Homeowner Support
Oakland, California—which lost 34,000 Black residents (24 percent) between 2000 and 2010—is one of the cities currently partnering with a private organization to explore ADU development opportunities. Oakland's red-hot economy, which is largely fueled by big tech, has the city "just being punished by housing affordability, displacement, and the homelessness crisis," says Darin Ranelletti, policy director for housing security for the office of Oakland Mayor Libby Schaff.
"We started thinking of ADUs as not only a source of affordable housing, but also as a way to fight gentrification, fight displacement, [increase] community stabilization, and reduce the racial wealth gap," Ranelletti says. "And, as you know, we have a racist and discriminatory lending system that disproportionately impacts African Americans and other people of color."
The city is working with Self-Help Federal Credit Union, the Chan Zuckerberg Initiative (CZI), and other partners to implement the Keys to Equity Program, which offers financing support and tools (but no subsidy) to homeowners who are interested in adding an ADU to their property. The program provides participants with personal guidance during the ADU development process, including access to pre-permitted floorplan options, financial counseling, willing lenders, and also with tenant management support after the ADU is built.
Ranelletti says that although the program is open to anyone, "we are intentionally targeting Black homeowners in Oakland." During the program's first round of outreach, 80 percent of applicants were Black. If all goes as planned, the program will produce 10 ADUs at a time in six-month increments over the next three years—for a total of 60 units.
Ruby Bolaria Shifrin, CZI's housing affordability program director, says "tech absolutely exacerbated" the housing crisis in the Bay Area, and says CZI chose to partner with the program to be "the more risk-embracing capital to provide some [research and development] to figure stuff out. If not us, then who?"
Although the city is helping coordinate Keys to Equity, it's still a private program. And while CZI is funding some programs with grants, this isn't one of them. Instead, CZI is guaranteeing $2 million in Keys to Equity loans. Bolaria Shifrin says CZI is providing "money to backstop, basically," which is the role Fannie Mae and Freddie Mac would take if they stepped into the ADU funding sphere like so many are calling for.
And while Keys to Equity Program partners are working one-on-one with homeowners to improve their credit scores so they can qualify for a loan, homeowners must qualify for and be able to pay back 100 percent of what they borrow. Qualifying for this ADU loan looks a little different than with traditional banks, though: With CZI backing the loans, Self-Help Federal Credit Union will factor in projected future rental income to bolster the applicants' loan-to-value (LTV) ratio in the underwriting process.
CZI hopes through this aspect of the program, participants will be able to prove that future rental income is a bankable asset on this type of residential loan. If that happens, it could "change the Wells Fargos of the world to be able to do that. It also opens up a huge avenue for scale," Bolaria Shifrin says.
CZI is interested in working in this sphere because "when we talk about risk, it's also rooted in racism … it is the role of philanthropy to help shift how we think about risk and be responsible about it," Bolaria Shifrin says. Traditional residential loan products don't consider future potential rental income when determining a borrower's LTV ratio, and years of systemic racism has made it so fewer homeowners of color have the equity or capital to qualify for a renovation loan or home equity line of credit (HELOC). These factors together make it nearly impossible for lower- or even moderate-income Black or brown households to finance an ADU build. CZI and the Keys to Equity Program partners are attempting to overturn traditional banks' idea of perceived risk by disproving the idea that it's risky to lend to homeowners who don't meet traditional lending standards and need to count future rental income to make an ADU loan pencil out, which should have a racial equity benefit.
Nonetheless, even with CZI's guarantee and additional financial assistance like personalized project management support, a streamlined permitting process, affordable construction services, preapproved designs, and more lenient lending standards: this is a market-rate product.
"We don't want to saddle folks with debt because this is not a grant or a forgivable loan," Bolaria Shifrin says. "But we also want to be real about the reason why lenders are so nervous about this is because it's just an unknown thing, right? So the more data points you have, the better."
The 60 ADUs the Keys to Equity Program plans to bring to market in the next three years will certainly benefit the homeowners who build them and also the renters who live in them. But because borrowers are responsible for paying back the entire loan—which is only available to borrowers who are a viable credit risk to lenders—participating homeowners will be able to set market-rate rents. The ADUs the program produces will not be income restricted.
Keys to Equity is working with the local housing authority to provide participants with counseling and information about leasing to Section 8 tenants, but borrowers won't be required to rent to voucher holders.
Another ADU development and financing program in California—one that Ranelletti says the Keys to Equity program "learned from"—requires participating homeowners to rent to Housing Choice Voucher holders for at least five years. In exchange for doing so, participating homeowners receive reduced-cost development tools, affordable financing, and other subsidized services to help lower-income homebuyers who couldn't qualify for traditional financing get ADUs on their property. Called The Backyard Homes Project, the program is being managed by Northeast Los Angeles nonprofit LA Más and several community partners. Billed as a "one-stop shop" for ADUs "that enables the average homeowner to become a provider of affordable housing," this loan program caters both to homeowners who couldn't qualify for a traditional loan and to very-low-income renters.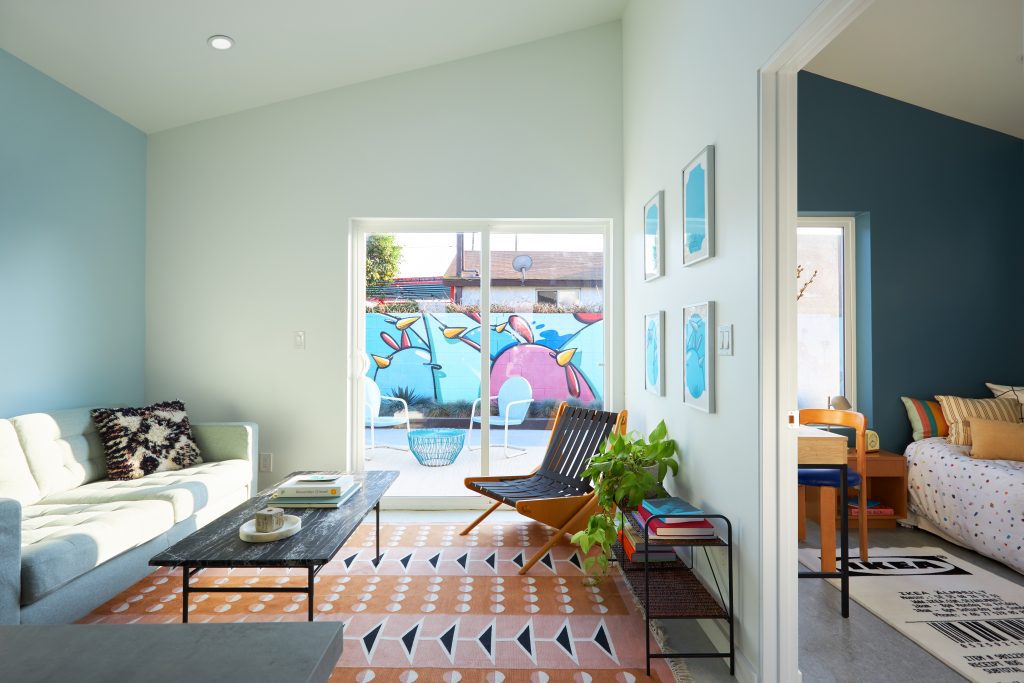 Connecting ADUs and Voucher Holders
LA Más worked with nonprofit lending partners Genesis LA and Self-Help Federal Credit Union to create a cash-out refinance loan that factors in the future value of the ADU and expected rental income generated through renting to Section 8 participants when determining a borrower's eligibility. Having that voucher guarantees a dependable source of rent for both the homeowner and the tenant. Housing providers working with the program also connect tenants with the units.
"The financial product for this program was specifically designed to support homeowners with limited personal savings and/or not enough home equity to fund construction," Hector Rodriguez, director of architecture at Office of: Office, one of the project partners, wrote in an email. "The pilot opened up the opportunity for lower- and middle-income households to participate in ADU construction who were previously unable to qualify for ADU construction financing."
The participating lenders provide homeowners with an estimated return on investment during the financing qualifying process so they clearly understand the potential financial gains the ADU could generate. After move in, participating housing providers offer tenants ongoing employment support, training in financial topics, and mental health services, as needed. In addition to receiving access to a permanent affordable mortgage product, participating homeowners are also provided with ongoing benefits, including free project management, affordable design and construction services, fair housing training, and tenant matching and case management.
Offering these additional services helps relieve some of the financing, complicated permitting and development processes, and tenant management/leasing responsibilities—all of which present significant roadblocks to many low-income homeowners and tenants, making ADUs "largely inaccessible to low-resourced communities," Rodriguez wrote. "It became clear that in order to exercise an equitable approach to utilizing ADU land use policy we needed to build a program that responded to barriers identified by the homeowners themselves in a robust way."
The Backyard Homes Project currently has two units in the permitting phase, one under construction, and two with newly moved-in tenants. Its organizers are planning to create a scalable model for building and renting affordable ADUs. Several local partners are sustaining the project by offering discounted design service, free project management, and free technical assistance.
Just Too Much Debt
Even when you count projected rental income in LTV ratios, offer flexibility in credit scores and repayment programs, and provide other support mechanisms, taking on any additional debt and the consequent monthly payments is impossible for some homeowners. For example, one Los Angeles pilot project explored methods of facilitating ADU construction for lower-income homeowners, particularly homeowners of color. The funders struggled to find borrowers who could qualify for the program even with greatly relaxed lending standards.
'We looked at hundreds and hundreds of candidates. Some people just can't borrow more money.'
Tom De Simone is president and CEO of Genesis LA, the community development financial institution (CDFI) that partnered with the Los Angeles Innovation Team on the pilot, which worked with various partners to test accessible financing mechanisms for ADU construction. De Simone's CDFI worked with an LA-based credit union to invent a loan product that low-income borrowers would be able to qualify for. This wasn't a grant program; the borrowers would be responsible for 100 percent of the loan payback.
The way the pilot was planned, Genesis LA would use grant money to "de-risk the lending," De Simone says, on a project whose ultimate goal was to fund ADU construction from start to finish in the Highland Park area of Los Angeles. But even even with the lenient loan qualification standards, very few homeowners had the financial ability to take on another payment.
"We looked at hundreds and hundreds of candidates. Some people just can't borrow more money," De Simone says. "One reason was that they have other debt—credit cards, bills, student loans, and all this other stuff."
Project-funded ADUs were expected to cost between $150,000 and $200,000, according to Pavlin Buchukov, a senior loan officer with Genesis LA. After reviewing all possible candidates, just one applicant was able to move forward. "The other candidates were either over leveraged (had trouble servicing their current debt) or already had an existing, unpermitted ADU," Buchukov wrote in an email.
The single program participant used a combination of the equity he had in his home and the Genesis LA loan to complete his ADU. He financed $172,000 at 6 percent interest for 14 years with a monthly principal and interest payment of $1,510. After the ADU was complete, the homeowner refinanced through a traditional lender to consolidate his existing mortgage and the ADU construction loan Genesis LA provided.
"I suspect some of these folks got financed before the Great Recession and they qualified for loans they probably never should have been given, and they, just by the skin of their teeth, have been able to stay in these homes," De Simone says of the unsuccessful applicants. "But when you try and underwrite them today, you're like, 'How do you even service this mortgage? Your debt-to-income ratio is just wild. It would be irresponsible for me to give you more debt even if you have a tenant paying rent.'"
The problem De Simone describes isn't uncommon, considering that many Americans, even homeowners, are saddled with significant amounts of debt. Those debt-burdened, often lower-income homeowners who can't service the payment on an ADU loan would nonetheless benefit from the wealth-building opportunity that renting out an ADU would provide.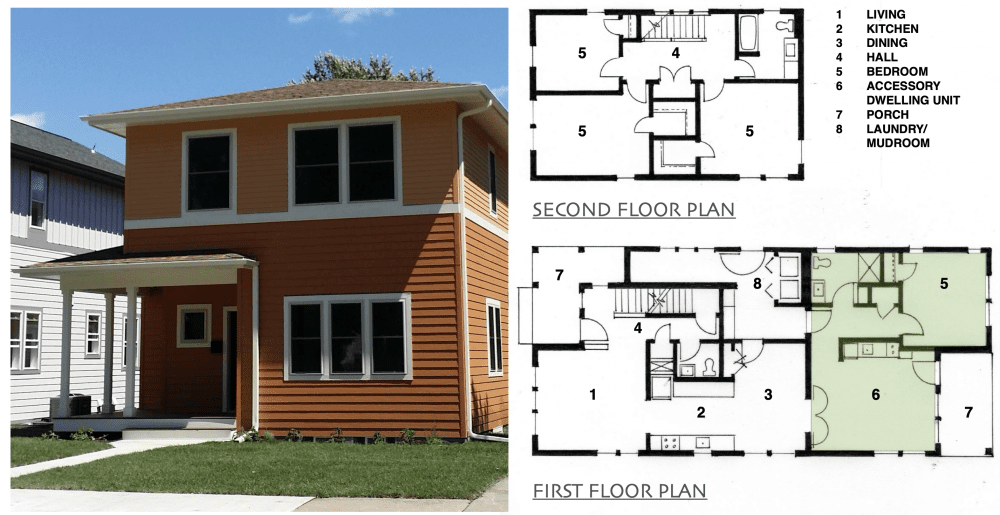 Shared-Equity Programs
Several community land trusts (CLTs) across the nation are exploring different options for getting homeowners outfitted with ADUs without much, or any, capital investment up front.
One such model is being piloted by Durham Community Land Trustees (DCLT), a North Carolina CLT that's testing ADUs' viability in a shared-equity model with a three-part project launched in 2019. Sherry Taylor, an asset manager with DCLT, says the organization began looking at ways to add ADUs to its portfolio because as Durham's property prices skyrocketed, it became difficult for the land trust to afford sales prices. DCLT received a grant for the project from NeighborWorks America and is also using fundraising, donations, grants, and construction loans for additional funding.
For the first part of the project, DCLT is analyzing its existing portfolio of rental homes—mainly consisting of single-families and duplexes—to determine which would be suitable for a backyard ADU. Adding units to existing rentals is the first step for the land trust because it should be easier, in theory, to secure financing for a project on an investment property. DCLT is conducting due diligence on a handful of properties and has not yet determined how these projects will be funded.
The second segment is the CLTplusOne Project, which involves developing new construction homes with an attached ADU. These homes will be located in or near a historically Black Durham neighborhood that was decimated in the 1960s as part of an urban renewal project and to make way for the Durham Freeway.
'When taking care of an older parent, it's so much easier to come home, knock on the door to the ADU, and say, 'Is everything OK?'  . . . Versus driving 40 minutes across town."
The finished homes will be sold under a community land trust model—meaning they'll be sold to an income-qualified buyer who will own and profit from the ADU rental, which will also be leased on an income-restricted basis to qualifying renters. DCLT plans to have both a traditional ground lease and a separate property management lease with the homeowner and would manage the ADU rental.
"In the program we've designed, our new homeowner won't be out there by themselves. They won't be both a first-time homeowner and a first-time landlord," Taylor says. "We'll collect rent and get a property management fee for doing that and for coordinating repairs. We're going to include landlord training. We're going to make sure they have all the support they need and it's really a hands-off type of operation for them, especially in the first few years  . . . We'll find the tenants; they won't need to do that."
The third part, which DCLT hasn't yet begun, will be to contact existing land trust homeowners and explore an ADU addition option. Taylor says working with existing and new-build land trust owners allows DCLT to analyze their properties, help the homeowners with financing, guide them through the development process, and aid in leasing and property management duties.
Even with DCLT's help, though, financing might be a challenge. "Existing homeowners in our market do not have access to an 'ADU loan product' at this time," Taylor says. "They must use cash, equity, or another financing source." And finding those financing sources has been a "slow climb," since "most lenders, especially the bigger ones, don't lend on land trust homes to begin with," she says. "That's another hurdle we have that other folks don't who are just in the private market." For now, DCLT will rely on a combination of individual donors, grants, and construction loans, and is "continuing to look for innovative financing sources and partnerships."
In Minneapolis, City of Lakes Community Land Trust (CLCLT) developed a different type of program to create attached ADUs specifically for multigenerational families. It took several years of work with the city zoning board, starting around 2012, to legalize ADUs in the city. After ironing out several zoning and design kinks, CLCLT completed four single-family units with attached ADUs. When the group was designing the first two around 2013, the city didn't yet have any ADU-specific zoning ordinances and officials developed their own understanding of ADUs as the project progressed. This meant CLCLT initially didn't have any design standards to work with, so CLCLT's architect met with city officials multiple times and made several design modifications based on their reactions—such as moving one ADU entrance to the side of the house instead of the front so it could be better distinguished from a duplex.
CLCLT Operations Director Staci Horwitz believes these were the first new-construction ADUs in Minneapolis, and says her team worked with the city as it created new ADU policy while the homes were under construction. By the time the first two homes were completed, CLCLT's design architects were able to meet the city's newly formulated requirements so the dwellings were considered main homes with attached ADUs instead of duplexes. This allowed CLCLT to register the homes as ADUs, and the process also helped define and refine the city's zoning designations that allowed CLCLT to build the next two homes with attached ADUs.
"Even though it did take us a while and it took a lot of back-and-forth conversation, the fact that the city walked with us through that, in hindsight, [we're] very appreciative of," Horwitz says.
CLCLT paid for construction on these four homes with ADUs with grants it had in place through the city, county, and state. Horwitz says they "didn't have any issues" finding land trust buyers who could qualify for mortgages on these homes, but that was at least in part due to the fact that CLCLT also provided "some substantial subsidy" on their homes, which were built for and sold to lower-income buyers.
By adding an ADU, "you're adding square footage, and with square footage comes more market value. The average moderate-income household isn't going to be able to step in and buy a $400,000 house that has an accessory dwelling unit," Horwitz says. "If it's a $400,000 house but there's $200,000 worth of affordability [via subsidization], now you're in the ballpark for a moderate-income household to afford that home."
Upon completion, all four of the new-build homes with ADUs sold to income-qualified multigenerational families. One, purchased by the Lee family, has three adult siblings living in the main home while their parents live in the first floor ADU. "When taking care of an older parent, it's so much easier to come home, knock on the door to the ADU, and say, 'Is everything OK? Great, have a good night,'" says Horwitz. "Versus driving 40 minutes across town to check on a parent or check on a child."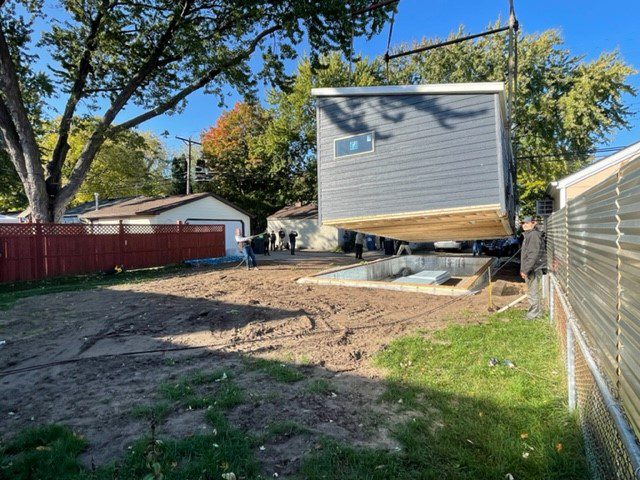 ADUs for Free?
Minnesota company YardHomes has devised a model for providing affordable ADU units that doesn't require homeowners to take out a loan. The company's mission is "more homes for more people in more places," says founding partner Nichol Beckstrand. YardHomes purchases prefabricated, factory-built ADU units and partners with a landowner in a long-term land lease, essentially renting an amount of land equal to the footprint of the ADU for a very small amount (one project has a land lease for $1 per year for the 10-year term). This allows YardHomes to lease the unit to an at-risk tenant while also managing the property. The units are available in a few standard floor plans; standardization drives down the price, Beckstrand says.
In exchange for allowing the land use for the length of the lease term, ownership of the ADU will pass to the landowner once the lease expires. The landowner puts up no capital. The loan term is based on how long it will take the rental income YardHomes earns to pay off the balance of the purchased unit. (YardHomes will also sell pre-fab units to property owners at market rate, which Beckstrand says is between $135,000 and $140,000, depending on what finishes and details the buyer wants to pay for.)
Currently, YardHomes is involved in a project that specifically houses veterans. The company has another project in the pipeline in which it's leasing land from a local church. The ADUs in that project will be offered as housing for formerly houseless teens. In both projects, the ADU rent payments will be paid via housing vouchers.
A couple of CLCLT's homeowners are also working with YardHomes to place a prefabricated unit on land trust property. Horwitz is interested "to see how that works with [YardHomes'] concept, our homeowners, and the land trust element with the leasehold and the ownership of the land." The land trust and the homeowners are still working through details, such as who would own the ADU once the lease term ended. (Horwitz says she thinks the land trust would retain only land ownership and the homeowner would own the paid-off ADU.)
YardHomes' model could be duplicated in several ways with different loan terms and structures based on what, if anything, the landowner can invest up front and how long the landowner wants the payback period to be, Beckstrand says. The projects they've got underway are on 10-year leases, but that's because YardHomes is putting up 100 percent of the initial investment capital.
"The homeowner right now, when we go into someone's backyard, they get none of that voucher payment during that 10-year period. We have to take all of that, and all of that pays us back for the ADU," Beckstrand says. "So we put that in our account and we pay the bank back and we take our share of the revenue for what we're doing, to pay for property management, and put aside some for damages. So during that 10-year period, [the landowner] actually gets nothing. But after the 10-year period, the asset is theirs. So they're earning a free asset."
Projects like these create templates that other forward-looking program developers can use, but they're still not enough to get ADUs to scale. Local and regional programs can't generate enough volume, nor are they sustainable long-term, says Laurie Goodman, an institute fellow at the Urban Institute. "What you really want to be able to do is have a large Fannie or Freddie or FHA program that does it, and none of them do."
[Correction: This article originally misidentified the pilot program Genesis LA partnered with the LA Innovation Team on; the LA ADU Accelerator Program matches homeowners who are willing to rent their existing ADUs to housing insecure older adults.]

This article is part of ADUs Explained, an Under the Lens series.
With the support of readers like you, Shelterforce has continued to expand the ways we break down what's happening in the community development world. Become a supporter today and help keep us strong.