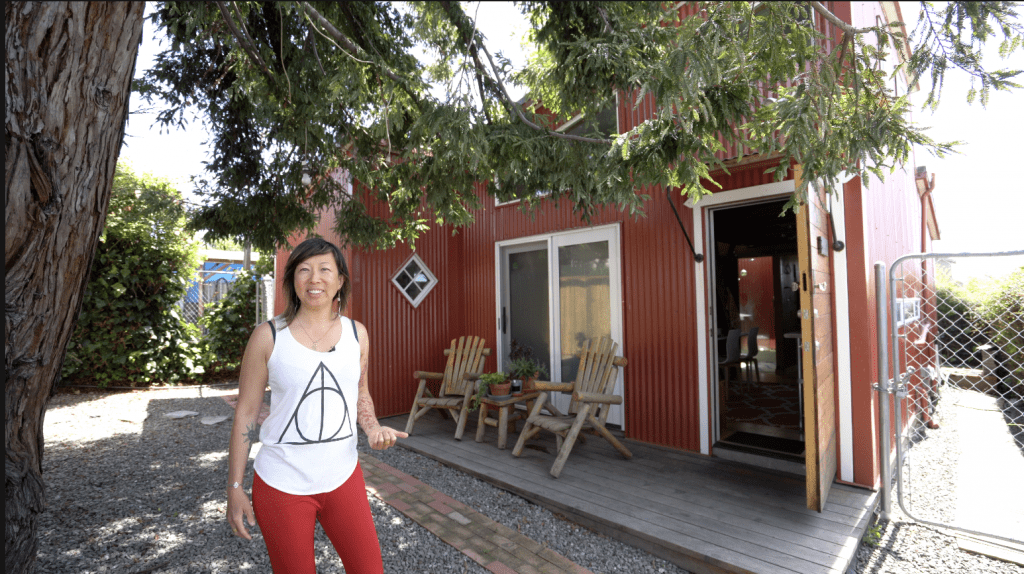 This is the third installment in ADUs Explained, an Under the Lens series. 
ADUs are having a moment . . . make that a decade: Between 2009 and 2019 the number of first-time ADU listings grew an average of 8.6 percent year-over-year, nationwide. That growth is noticeable in single-family home sales. In 2000, just 8,000 of the homes sold had an ADU. In 2019, 70,000 sold homes did. As of mid-2020, Freddie Mac counted 1.4 million ADUs in the U.S. (half of them located in California, Florida, Texas, and Georgia).
Accessory dwelling units offer three potential social benefits: (1) developing enough of them could increase overall housing supply, which in many places is sorely needed; (2) given their smaller footprint, ADUs could provide renters with cheaper places to live, especially in neighborhoods with few affordable options; and (3) their wealth-building potential could reduce housing and economic insecurity for house-rich, cash-poor homeowners.
Despite ADUs' increasing popularity, the nation is a long way from fully realizing their potential benefits. Dozens of cities (and a few whole states; more on that in an upcoming article in this series) have zeroed in on overhauling zoning codes to allow ADUs, but relatively few are being built. Why? Well, just because more homeowners legally can build an ADU doesn't mean they will.
Loans Are Expensive
ADU development and construction is generally a six-figure project when accounting for design requirements, site preparation, permitting, materials, labor, and other costs. Total cost estimates start around $100,000 for an attached conversion project and soar to as much as $400,000 (or far more) for a high-end detached new build. So for all but the wealthiest property owners, getting one built requires taking out a loan.
Right now, ADUs are still pretty exotic as a concept, and I would guess most loan officers have no idea what that acronym means.
The loan products currently available to homeowners who want to build an ADU are either HELOCs (home equity lines of credit, which require borrowers to have a good chunk of equity in their home to borrow against) or renovation loans. Laurie Goodman, an institute fellow at the Urban Institute, says to get ADU construction financed with a renovation loan, homeowners must navigate complicated and expensive planning requirements and meet development standards that usually involve hiring professional consultants and maneuvering through a cumbersome borrowing process—that is, if they can even find a willing lender.
"A lot of lenders won't take on the risk on renovation loans because the bank has no recourse until the renovations are complete and the loans are sold [on the secondary market]," Goodman says. "So if the loan defaults because the owner doesn't do the renovation properly and has to sell the home at a loss, the lender incurs that risk."
Lenders that will approve a renovation loan, such as an FHA 203(k) loan, hold borrowers to rigorous lending standards. They've got to come up with a 3.5 percent downpayment if their credit score is 580 or better. And borrowers whose credit score is between 500 and 579 must put 10 percent down. As of November 2021, borrowers looking to build an ADU can apply for a Freddie Mac-backed CHOICEReno eXPress mortgage loan, which Goodman says is a "very, very exciting" development for homeowners because the program is "much more flexible." It allows borrowers to fund construction through a no-fee mortgage refinance with interest rates that mirror traditional home mortgages. The finalized loan folds in with the homeowner's existing mortgage, resulting in a single monthly payment.
The LTV Gap
Because renovation loans are so restrictive, HELOCs are a more common approach for homeowners who need to finance ADU construction. But whether using a reno loan or a HELOC, every person we spoke with for this series said one giant obstacle makes most loans too expensive for the average borrower: Fannie Mae and Freddie Mac's lending standards.
Residential borrowers' loan limits are typically based on a combination of factors, including borrower income and property value as determined by an appraisal. To find an owner-occupied residential property's value, appraisers use the comparison approach, which means they look for comparable properties (homes in the same neighborhood or nearby with similar amenities that are either currently on the market or sold recently).
Lenders and appraisers are wary of valuing and financing ADU projects partially due to unfamiliarity, according to Denis DeSaix, principal appraiser at Metrocal Appraisal who's experienced with ADU development. DeSaix says there simply aren't enough ADUs on the market in most places for appraisers to make accurate valuation comparisons, which means many banks won't assume the risk of lending on their construction.
But ADU properties' loan-to-value (LTV) ratio presents a bigger reason for lenders to hesitate. Single-family homes with ADUs are considered residential properties and appraisers determining value for residential borrowers are not allowed to factor in potential income—the amount of money an owner/investor can expect to earn based on projected rental income. Appraisers are only allowed to factor in potential income when valuing investment properties, such as duplexes or apartment buildings. While one of the critical qualities of an ADU is its potential to bring in rental income, Fannie and Freddie don't currently allow lenders to determine an ADU property's value by factoring in projected rental income—which negatively impacts homeowners' LTV ratio and limits their borrowing power.
"The lending community has been asking for quite some time to be able to consider that projected income. It's a common and long-used process for evaluating an apartment, but there's no accommodation for doing a similar kind of analysis when you're building an ADU," says Susan G. Brown, an ADU specialist and founder of CoreSGB consulting company.
Lenders feel safest when a loan is "conforming," which means its terms meet Fannie Mae and Freddie Mac standards. So if Fannie and Freddie aren't counting projected rental income, underwriters typically won't either. Without that allowance, most homeowners can't get approved for a construction loan or open a HELOC to finance the build.
"In the finance space, clearly federal lenders—the GSEs, the Fannies and Freddies—need to decide that the future income from [renting out] an ADU can be used to size a loan for a homeowner who is house rich and cash poor," says Denise Pinkston, founder and board president of Casita Coalition. "If they don't do that, the people who will be hurt the most are the people we want the most to help: low- and moderate-income homeowners, seniors on a fixed income, communities of color."
Pinkston says without buy-in from GSEs, "this will be re-redlining, because we will be preventing people from having access to capital" while at the same time leaning on the private market, through ADU construction, to solve the nation's affordable housing crisis.
Making that change wouldn't be completely simple. "It's hard to say you're going to be able to make X amount of revenue on ADUs because there's not enough existing volume to show that," acknowledges David Garcia, policy director for the Terner Center for Housing Innovation at University of California, Berkeley. Garcia is part of a team that researched what GSEs should change in their loan offerings to make financing more widely accessible for ADU development.
Nonetheless, he says, Fannie and Freddie need to figure it out, because GSEs backing residential home loan products that consider future rental income in residential borrowers' LTV ratios is what it will take to unlock ADUs' potential contributions to the affordable housing supply. "We need GSEs to be more proactive in examining these barriers to using their existing products to get ADUs to scale and make them more accessible to low- or moderate-income homeowners," Garcia says.
Beth Hyser, chief program officer at NeighborWorks Home Partners, a Minneapolis community development financial institution that specializes in affordable housing, takes that statement a step further, saying that in addition to getting GSEs on board, both lenders and appraisers need to work to better understand the ADU market so they can appropriately value and lend on them.
"The reality is Fannie and Freddie can approve it, which would be gigantic, no doubt. But you'd still have to convince your private lending partners to use those niche products," Hyser says. "Right now, ADUs are still pretty exotic as a concept, and I would guess most loan officers have no idea what that acronym means."
Limiting Construction
Without a feasible loan product, the uptake on ADU construction has been slow in most places even after zoning changes made them legal. St. Paul, Minnesota, was home to just 12 completed ADUs as of late 2021, three years after the city passed an ordinance allowing them. The Minneapolis City Council gave the OK to ADUs in 2015, resulting in just 38 new units by 2017. By 2019, the city had issued only 137 ADU permits. One local builder said at the time that though many homeowners had called for project consultations, about 90 percent of them didn't follow through because construction costs were too high—and that was before the pandemic caused a price spike in building materials.
"It doesn't matter if the city says you can do it if there's no way to pay for it," says Ron Johnson, a program officer for Family Housing Fund, a Minneapolis-based nonprofit. "If your regular job is good enough to pay your current mortgage plus your regular bills but then you're at your debt-to-income ratio [limit], how are you going to add in this financing for the ADU?"
Johnson is a licensed real estate agent who ran his own brokerage until 2019. He says ADU construction isn't an option for most moderate-income homeowners given the loan products available to them; they need to be able to count potential rental revenue to make their loan payments affordable. This missing piece of the financing puzzle stymies construction in the Twin Cities area—which, like basically every metro area in the country, is badly in need of more housing.
As a result, where they're allowed, the bulk of the nation's ADUs are being built by property owners who can either self-finance or who have a hefty downpayment, enough equity in their property, and a high enough credit score to qualify for a renovation loan or a HELOC without relying on the future rental stream. Barring significant financial intervention of some sort, most homeowners are priced out entirely.
Affordability Issues 
Under these financing conditions, most of the ADUs that are getting are built are not particularly affordable to live in.
"It's got to have a return for [the builder], assuming they're not just completely mission-based and just have money to give away to people," Johnson says. "They need a return [on investment], and the cost of construction is just too much. Then you add on the cost of permits, the city restrictions—it just gets to be too much to get that amount of rent."
Johnson is talking about property owners who'd charge market-rate rents. With ADU construction costs often too high to make development pencil out even for homeowners predicting they'll be able to collect market-rate rents, lower-earning renters are extremely unlikely to be able to afford rent in new-build ADUs. Though ADUs are talked up by many proponents as being "naturally affordable" due to their smaller size, the rental price differences can be small.
Rent rates vary widely in different states (and also in different cities within states), but ADUs do tend to rent for less compared to traditional units. For example, in the San Francisco area, the median rent on a two-bedroom ADU is $2,800, whereas the median rent for a traditional two-bedroom apartment is currently $3,995. A 2019 study in Portland, Oregon, found that in 15 of the 24 neighborhoods surveyed ADUs rented for less than the median rent, but rented for more than the median rent in the remaining nine neighborhoods. So, while comparatively affordable, ADU rent is still more than lower-income tenants can afford.
Change Coming?
Changes could be on the horizon: In early February, the White House hosted a webinar devoted entirely to making it easier to build ADUs. It was the first time any administration had commented on ADUs as an affordable housing solution. Host Susan Rice, the White House's domestic policy adviser, called ADUs "an important component of our push to increase the supply of affordable units."
The webinar brought several powerful players and key voices to the table, including representatives from the Federal Housing Administration, the National Economic Council, and the Federal Housing Finance Agency. Most importantly, though, Fannie Mae sent its vice president of engagement and impact, Mike Hernandez, to the webinar. He said the agency views ADUs as "one of the keys to improving affordable housing supply," and that since 2012, Fannie Mae has purchased 150,000 home mortgages secured by homes with existing ADUs. Of those, 41,000 (more than 27 percent) were purchased in 2020. (Purchasing regular mortgages of properties that have ADUs is, however, different from purchasing refinance or renovation loans that allow for their construction.)
"We expect this activity to increase as more and more communities become ADU-friendly," Hernandez said during the webinar. "At Fannie Mae, we know that ADUs contribute significantly to housing affordability, sustainability, and accessibility by increasing rental opportunities and offering more affordable housing to the community where it might not have been accessible before."
The uptick in the number of homes Fannie purchased with an ADU appears to signal its acceptance of ADUs as a bankable asset. But though several months have passed since the webinar, neither Fannie nor Freddie have introduced loan products that make ADU development and construction financially feasible for the average homeowner by accounting for projected rent on the ADU in the valuation process. And although Fannie's presence at the White House webinar is considered by ADU advocates as a good sign, neither GSE has indicated any plans to change its position.
"So one of the issues is how do we push politically for Fannie and Freddie to do this?" Karen Chapple, director of the School of Cities at the University of Toronto says. "There's legislation that can be passed. And under a Biden administration we probably have a better shot at it . . . Fannie and Freddie will ultimately do what Congress tells them to do."

This article is part of ADUs Explained, an Under the Lens series.
With the support of readers like you, Shelterforce has continued to expand the ways we break down what's happening in the community development world. Become a supporter today and help keep us strong.