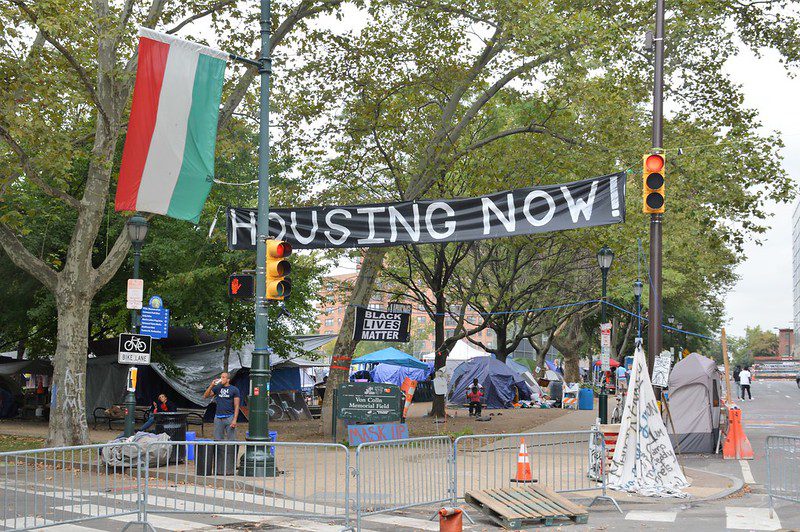 Editor's note: We followed up this story with new reporting in 2022. Read it here.
Activists in Philadelphia declared a historic victory in October when city officials agreed to give them 59 vacant buildings to house homeless people. The properties will be handed over to members of the Philadelphia Housing Action coalition as part of a deal to shut down two homeless encampments, which the activists had set up in June to protest policies they say contribute to the city's affordable housing crisis.
The group's lead organizer, Jennifer Bennetch of OccupyPHA, called the deal a "landmark agreement" that would pave the way for more transfers of disused properties to community groups. National experts on homelessness say the activists' success was "unprecedented." Keeanga-Yamahtta Taylor, an assistant professor at Princeton University who has written about racist housing industry practices, called the agreement "tremendously significant." "This is a model, a strategic model, and a tactic that should be generalized by housing groups across the country," she told Democracy Now.
Philadelphia Housing Action—a loose coalition of many groups that endorsed the homeless encampments—describes the settlement with the city as a step in the right direction in its ongoing work to prevent displacement due to rising property values and provide desperately needed housing. The deal also represents a moment of reorientation for the group, as the activists move from agitating for reforms to managing what will eventually be a large, scattered-site, affordable housing organization that could include more than 150 member-residents.
Bennetch noted that the group has already been informally managing about 15 homes since March, when it started taking over unoccupied Philadelphia Housing Authority (PHA) properties around North Philadelphia, fixing them up, and moving in homeless families. About 50 people, mostly single moms with kids, continue to squat in those homes. But the coalition is now embarking on the new work of legally acquiring 59 properties, finding funding and supplies, rehabilitating the buildings, and establishing financial and governance systems.
"I think we did a pretty good job" for the families in those 15 homes, Bennetch says. "We kept up with everything, stayed in touch with people and protected them if the PHA police showed up, and made sure that the water was always running and the utilities were always on.
"Obviously, I came to this as an activist, and I don't even really fully get how we ended up where we are," she says. "I'm used to actions and screaming at politicians and threatening to sue people and stuff." At the same time, she says, "we kind of have a duty to take community control of land to keep it affordable and preserve the culture for the neighborhood. So it's new, but it's life. You always have to move on to the next phase, so I'm ready."
Avoiding the Profit Motive
The city and the activists involved have referred to the organization that will receive the properties as a community land trust, but as of late October it was not yet clear how the group will be structured. A community land trust, or CLT, is typically a nonprofit organization that retains ownership of the land and sells or rents the housing on that land to lower-income households. Resale price restrictions keep the ownership homes permanently affordable while still allowing sellers to build some equity.
CLTs have grown in popularity in recent years as a way to ensure long-term affordability. Interest in CLTs is exploding in Philadelphia, says Justin Hollinger, an attorney at Regional Housing Legal Services who specializes in CLTs. Hollinger says he is currently helping two local groups set up community land trusts.
At present, Philadelphia has one CLT, the Community Justice Land Trust, a project of the nonprofit Women's Community Revitalization Project (WCRP). The trust has built two 35-unit complexes, one with rental units and the other with lease-purchase townhomes. Another 33-unit project is under construction.
But WCRP is not involved in Philadelphia Housing Action's work. Bennetch says she expects to create a new rental-based CLT, while the other lead encampment organizer, Sterling Johnson of the Black and Brown Workers Cooperative, says he did not imagine using a formal CLT structure. "We're not part of that movement," he says. He criticized CLTs for often being run by white administrators rather than by the people of color who live in the homes, and for participating in the for-profit housing market by allowing residents to sell their homes and walk away with equity.
"Profit creates this space for people to want to compete against each other," says Johnson, who is a lawyer and a Ph.D. student in Temple University's Department of Geography and Urban Studies. "They're competing about the value of their properties and how they're accruing, instead of us collectively getting together and fixing people's houses together. The profit motive creates that. That's not the purpose of (the work)."
Johnson says Philadelphia Housing Action is in the process of incorporating a nonprofit to accept housing authority and city properties. Organizers and encampment residents will meet in the coming weeks and months to decide on a governance structure. He says he envisions cooperative ownership with deed restrictions that prevent properties from ever being lost to the for-profit housing market. He says the group has a number of local models it could emulate, such as Greene Street Artists Cooperative in the city's Germantown neighborhood, which has 17 living/studio units in a converted factory.
Depending on Sweat Equity
The agreement with the city has two separate components tied to the two former tent encampments. In exchange for closing the larger one, Camp James Talib-Dean in central Philadelphia, which had more than 100 residents at times, Philadelphia Housing Action's new nonprofit will receive 50 properties from the city and the housing authority. The city will also set up two tiny-house villages for 20 to 24 residents by next June, provide rapid rehousing and rental assistance for 32 people, and place about 14 others in a shared-housing program.
In return for the closure of the smaller, 35-person Camp Teddy, the Philadelphia Housing Authority agreed to give activists nine long-vacant houses on one block in North Philadelphia, along with some financial assistance to help pay for renovations of seven of the properties. The local Building and Construction Trades Council will provide labor and construction training for former encampment residents.
Other than the housing authority's contribution to rehab the seven houses, funding sources to create and sustain the new housing collective have not yet been established. Bennetch and Johnson say they will not use Low-Income Housing Tax Credit funding or other government support. Johnson rejected the idea of taking grants from charitable foundations because he says such funders are often too controlling and tend to coopt social movements.
Instead, once the nonprofit is set up, the group will accept donated building supplies and financial contributions from individual supporters, they say. Future residents of the homes will rehabilitate the homes themselves, so that sweat equity, or unpaid labor, will be key to the project's success.
Across the country, sweat equity often plays a role in the creation of very-low-income affordable housing. Loans from the federally funded Self-Help Housing Program are used to build or repair more than 900 homes a year, with participants required to contribute 65 percent of the labor. Habitat for Humanity requires participants to contribute at least 300 hours of work to construction of their future homes.
In Philadelphia, past sweat-equity projects have included the Housing Association of Delaware Valley's Oakdale Street Project, which rehabilitated 17 homes in North Philadelphia in 1988. Tony Lewis, the organization's former managing director, said the participants—families receiving federal assistance—attended weekend construction trainings and worked on the homes for months, after which they took ownership of the renovated buildings. The city donated the properties and paid for construction materials, and workers from the Laborers union did the initial demolition work at no cost.
Even with unpaid labor, rehabilitating each unit cost $38,000 22 years ago, Lewis says. He estimated the figure would be $75,000 now, and said he expected the Philadelphia Housing Action rehabs would require city subsidies or other public funding. "They're going to need it. It's very expensive to do, just the sheer increase in costs of materials, lumber, plumbing. If they don't want foundations or some organizations to give them money, the likelihood they'll raise it on the market or just from the general public is probably wishful thinking," he says.
Philadelphia Housing Authority Executive Director Kelvin Jeremiah said it costs $150,000 to $250,000 to rehabilitate old rowhomes, amounting to at least $1.4 million for nine houses. He also noted that the other 50 homes the activists are set to receive will not come with donated labor and training. Johnson rejected Jeremiah's figures as inflated, saying they were bloated by corruption and by contractors overcharging public agencies. The housing authority also has to pay a prevailing wage rate that results in higher costs than private builders would pay.
"This is where the rubber meets the road. There are so many people who think they can do this job better than the professionals," Jeremiah says. "The housing stock that (the activists) are getting are units that have been long-term vacant. These are units that we received from the city, from HUD, in the 1960s and 70s. It requires real money to rehab them and make them habitable."
Deeply affordable housing that charges very low rents also requires outside funding to cover ongoing operational costs. For the Community Justice Land Trust in Philly, those include insurance, maintenance, property management, a reserve for capital repairs, and property taxes, which the organization must pay despite its nonprofit status, WCRP Executive Director Nora Lichtash says. Donations help cover those expenses.
"It's very, very hard to raise money. Eventually when we have some homeowners there will be some lease fees, but they're $25 or $35 a month, a small amount. There are CLTs that talk about economies of scale and how many units you need to break even, but we'll never break even," she says. "Basically, we're begging for money, like everyone else. Most CLTs that serve very low-income folks . . . are always going to be begging for money."
The Co-op Option
In a housing cooperative, residents directly run their community, often through an elected board. They may hold shares that they sell for profit when they move out. A version called a limited-equity co-op sets income limits on members and seeks to ensure affordability by restricting resale values; it can also be combined with a CLT to prevent privatization and ensure permanently affordability. Another arrangement is a zero-equity leasing cooperative, where residents pay the equivalent of rent and do not buy and sell shares.
Most of the country's affordable housing co-ops are in New York, but Philadelphia and other cities also have a few. Often they form when tenants join together to buy out their landlord or take over a mismanaged apartment complex, but they can also be set up with the goal of finding a building. The Greene Street Artists Cooperative that Johnson mentioned was founded in 1989 by artists who converted a factory into housing with funding provided by the Pew Charitable Trusts, the William Penn Foundation, and other organizations.
Cooperative affordable housing created and managed by previously homeless people is comparatively rare. The Cube, a 22-unit building on Second Avenue in New York City, was rehabilitated in 1988 and is described by its developer as the nation's first cooperative housing for homeless families. Like many of the 59 houses in Philadelphia, it was previously a vacant, city-owned building.
But The Cube was redeveloped by the Cooper Square Committee (CSC), not future residents, and the work was done by contractors. Funding came from multiple state and federal sources, former CSC Executive Director Val Orselli says. The cooperative depends on revenue from a ground-floor commercial space and a cell phone antenna on the roof, without which it would be "in deep trouble," he says.
In the 1980s New York had an Urban Homestead Program that gave tenants grants to renovate their buildings, but Orselli says such efforts were rarely successful. He recalled a group of tenants that spent several years trying and failing to rehab their building on the Lower East Side, until he helped them obtain a low-interest loan from the city and hire a professional contractor. He says doing such a project without outside funding and contractors is difficult.
"I'm profoundly skeptical about that approach. In the best-case scenario it will take a long time to get those properties renovated, particularly if you have to teach people how to do it," Orselli says.
Other communities with some similarities to the Philadelphia project are cooperative tiny villages such those created by the nonprofit SquareOne Villages in Eugene, Oregon. A CLT owns the land, while low-income or formerly homeless residents collectively own and control the housing through limited-equity co-ops or leasehold co-ops. Construction is funded by donations and performed by contractors, although sweat equity can be incorporated into the SquareOne model.
A similar community run by Occupy Madison in Madison, Wisconsin, requires sweat-equity contributions from all residents, including 32 hours helping build their home and 500 hours volunteering for the village. The village has a system of cooperative self-governance but is overseen by Occupy Madison's board. The organization is in the process of planning a second village and is seeking local government funding to support the project.
Organizing, renovating homes, and managing housing require different skill sets, and whatever model the Philadelphia activists settle on, they will be learning something new.
Bennetch and Sterling say the group aims to create a structure that allows for cooperative rehabilitation work on the units, collective ownership, and a long-term commitment to transparent community control of the organization.