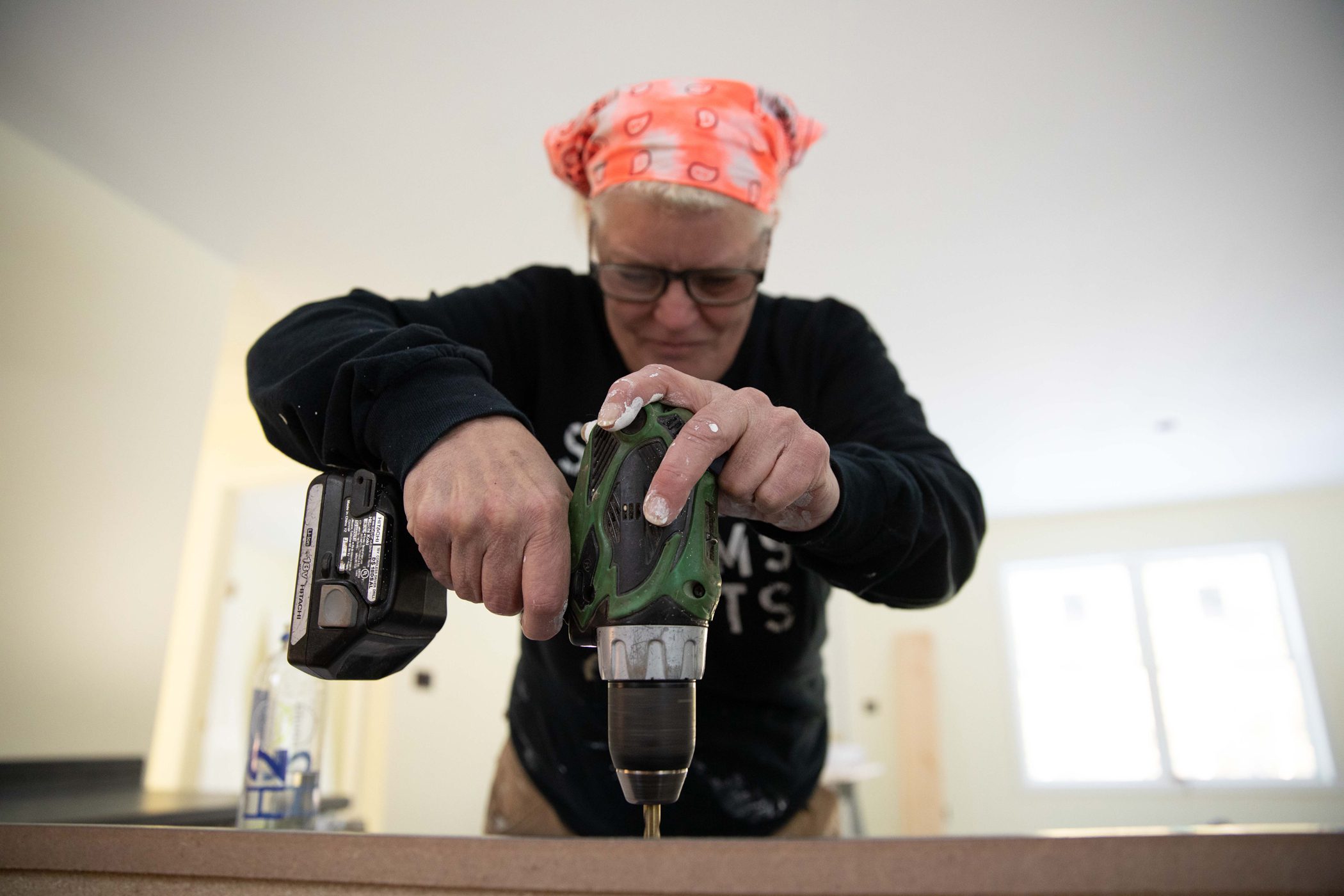 In August of 2018, six families met in a small office in Chandler, Indiana. This was the first meeting of a group that was about to embark on a challenging journey together. These families comprised single mothers, a single father, couples, and families with children, and they were going to spend a significant amount of time together over the next 12 months building their own homes with Warrick County Habitat for Humanity's federally funded Self-Help Housing Program.
The Self-Help Housing Program is funded by the United States Department of Agriculture's office of Rural Development. The program is not new; it was established 54 years ago and over 52,000 homes have been built nationwide using this method. Currently, there are just over 90 organizations across the country that use the program to build or repair more than 900 homes per year. The program serves low- and very-low-income households in rural areas, all as defined by the office of Rural Development. To reinforce support for the most vulnerable populations, at least 40 percent of the participants in the program must be very-low-income households, which, as defined by HUD, are those households making less than 50 percent of the area median income or below.
How the Program Works
With self-help housing, participants work together in groups of 4 to 10 families to build their own homes. This cooperative effort is a direct application of the church- and barn-raising traditions of pioneering rural Americans. After having qualified for mortgage financing to purchase land, building materials, and some subcontracted work on the more technical items, self-help participants supply the necessary labor to build their homes. A private nonprofit corporation, public body, or rural town can obtain a grant from USDA Rural Development to administer the program. This grant pays for the organization to hire skilled staff, rent office facilities, pay for mileage, and purchase tools. This staff then works with the participants by providing the assistance and training necessary to fulfill the goals of the self-help housing program.
'I see so many families come in beaten down by life or who just don't have other options for good housing. This takes a lot of work, but it is so worth it.'
The financing for the participants' home loans generally comes from USDA Rural Development's 502 Direct Loan Program. This loan is a key component to the success of the program. In order to qualify for a Section 502 loan, prospective self-help applicants must meet Rural Development's income eligibility requirements as low-income or very low-income. They must be considered credit-worthy, have the ability to repay the loan requested, and be unable to secure credit from other sources. (Current information on income standards and eligibility requirements for Section 502 loans is available at Rural Development local offices or at rd.usda.gov.) The repayment period for the Section 502 loan can be either 33 or 38 years, and borrowers can either pay the loan at 1 percent interest or 24 percent of their adjusted income, whichever is greater, but never high than the current USDA Rural Development market rate.
The actual rate of interest the borrower pays and repayment period depends on the borrower's income. If a borrower is eligible to pay less interest than the market rate, they can receive a subsidy called "payment assistance." The amount of payment assistance is determined by the loan amount, repayment period, and the household income. The assistance makes up the difference between the market interest rate and the rate the participant pays. A portion of this subsidy is repaid when the house is sold or the loan is paid off based on equity, time of loan, etc. Another major benefit of the 502 loan is that there is no downpayment requirement, which is often a barrier to housing for low-income borrowers. Rural Development's function as a lender is significant because private credit institutions in rural areas are relatively few in number, smaller, and often impose more rigid terms, which can also be an obstacle to homeownership.
In addition to this great source of financing, the organization operating the program frequently seeks other sources of funding to make the homes even more affordable. These leveraged resources come from HUD's HOME Investment Partnerships Program and Self-Help Homeownership Opportunity Program, the Federal Home Loan Bank's Affordable Housing Program, and from other state and local grants and forgivable loans.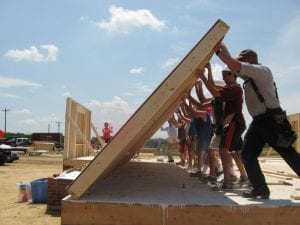 The Self-Help Housing Program requires participants to contribute 65 percent of the labor required to build a house. This percentage is determined by points derived from a list of tasks in the program's regulations. The sponsor organization determines which tasks will be carried out by the group members and what will be handled by subcontractors. For most groups nationwide, the families are involved with framing, drywall, roofing, painting, hanging windows, doors, and cabinets, and doing trim work, all while being directed by an experienced construction supervisor. Tasks such as excavation, plumbing, electrical, HVAC, and drywall finishing work are typically contracted out.
The members of a build group may spend between 30 and 40 hours weekly accomplishing the required tasks and working, not just on their own home, but on all the homes in the group. Much of the work is accomplished in the evenings, weekends and days off, so as not to interfere with participants' regular jobs. The build schedule may vary by group depending on the participants' work schedules. It is likely that the construction of a group of six homes, for example, will last between 9 to 12 months. No one in the group can move into their new home until all the homes in the group are completed.
While obtaining affordable homeownership is the primary objective of self-help housing, another major goal is for the participants to achieve some degree of sweat equity. That is equity in their home derived by hard work, time, and buying in bulk, as opposed to money, which most of the program's participants do not have. The amount of equity required is determined before construction begins by subtracting the loan amount from the appraised value. Nationwide, the sweat equity averages about $25,000.
Due to the rural nature of the program, a high amount of sweat equity is not always possible to achieve. In rural areas, it can sometimes cost more to build than the appraised value of the property. Because of all the work participants put in, they usually have some equity, but it can be as low as $2,500.
However, new, affordable, energy-efficient housing is almost always a better alternative compared to what the participants are living in before joining a self-help group. Many come from substandard or overcrowded conditions and are paying more than 30 percent of their income for housing. It is common for participants to come from mobile homes, expensive apartments, or family members' homes, and their new mortgage payment is frequently less than what they were paying in rent.
Another important component of this program is education. In addition to becoming homeowners, the participants come away with a multitude of tangible benefits in the form of home building skills, such as framing, hanging drywall, roofing, and using construction tools safely. All of these abilities can be used by new homeowners to improve or repair their homes in the future. Or they can take these skills to the marketplace to improve their employment situation. Additionally, through a process called preconstruction meetings, they learn important skills of budgeting, banking, and using credit responsibly. These classes also teach about the responsibilities of homeownership including obtaining insurance and home maintenance.
There are also a lot of intangible benefits, ones that are harder to measure or categorize. For instance, being part of the program requires hard work, dedication, courage, getting out of their comfort zone, and working with other people in a way they probably never have. They get to know themselves better and create bonds with their new neighbors. Many have described a feeling of empowerment and pride, which then spills over into other areas of their lives. They have more confidence, they become more involved in the community, and their work life improves. Having a stable place to call home also frequently helps children perform better in school.
Amy Robling, the group coordinator with Warrick County Habitat for Humanity, couldn't say enough about the positive effects of self-help housing. She went through the program herself six years ago on the heels of a difficult divorce. "Self-help housing made me realize what I am capable of. The last words of my abusive ex-husband were that without him I would be homeless, broke, and alone. This program helped me rebuild my life as well as build a home for myself and my children." Now in the role of recruiter, loan packager, and cheerleader for the organization that helped her put her life back together, she says this program is "love in action." She even convinced her oldest son, now 25, to go through the program himself. "I see so many families come in beaten down by life or who just don't have other options for good housing. This takes a lot of work, but it is so worth it. It's life-changing!"
The Program's Future
Relative to the scope of the federal budget, the current funding for this program is a fairly small $30 million annually. The program has been limited over the last 15-plus years, with little opportunity to expand current grants or enlist new organizations to join. This year, USDA Rural Development has developed a policy that has opened it up to fund current grantees at their current grant amounts, with some limited ability to consider increases on a case-by-case basis, and is also allowing the replacement of grantees that have gone out of business.
Self-Help Housing is popular with Congress. Even when administrations have proposed to reduce or eliminate it, Congress has restored it in the federal budget. Still, the future is uncertain as it has been eliminated in the budget proposal for the next fiscal year. Its advocates are pushing back and seem to have support from both Republicans and Democrats. Once someone sees this program in action, it's hard to imagine a more sensible and inspirational way to lift up the rural poor.
In order for this worthwhile program to flourish and allow more groups of families to realize their dreams of homeownership, more funding should be provided. The National Rural Housing Coalition's goal is to have the program funded at $50 million next year. This would allow new grants in areas and states that are not currently served by a program as well as expansion of existing programs. Right now, 18 states do not have an operating self-help housing program. There seems to be some interest in this in the House of Representatives. In early April, Self-Help Housing advocates met with staffers of the House Agriculture Appropriations Committee about expanding the program. In a draft of the House bill released in late May, the Section 523 Self-Help Housing Program was increased by $2 million, to $32 million, the first increase in several years.
This program is not easy: it demands an enormous amount of physical and emotional energy from its participants and is also challenging to administer. Families argue, get sick, and want to drop out. Through it all, the staff of the organization operating the program works to schedule the contractors, manage group personality conflicts, and remind participants of the rewards they get at the end of the build. Despite the difficulties, there is no other program that compares to it. The Habitat for Humanity model is a great one and works well in urban settings. In rural areas, it is difficult to raise enough funding to cover all of the materials to build the home as well as the necessary funding to keep the organization operating. Additionally, it gets hard to continually find volunteers to do the building. Many small Habitats in rural areas struggle to construct more than one home per year. In contrast, Self-Help Housing brings funding into small rural communities. It puts subcontractors to work, brings business to local materials' suppliers and other businesses, and brings in additional tax revenue to these communities.
By August, the group that began building six homes in Chandler, Indiana, last fall will be completing the construction and moving into their new homes. For them it has been a long 10 months, filled with cold and rainy days, sore muscles, and tired feet. They have missed family events and spent time away from their children or friends. But on move-in day, or shortly thereafter, their tough memories will fade and gratitude, pride and joy will replace the thoughts of sweat and tears. They have done it! What seemed impossible a year ago is now a reality. They have a place to call home, built by their own hands. Lifting yourself up with your own hard work is the achievement of the American dream in action.
With a rich, long-standing history, self-help housing is one of USDA's most effective rural housing programs. It has stood the test of time and built tens of thousands of homes in hard-to-reach communities and with difficult-to-serve populations. Many other areas of the country and many more people would benefit from homeownership options like self-help housing.