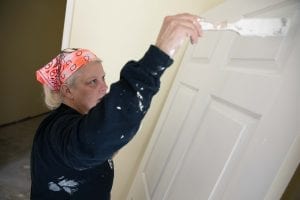 "I get no respect at all. When I was a kid, I lost my parents at the beach. I asked a lifeguard to help me find them. He said, 'I don't know, kid. There are so many places they could hide.'
— Rodney Dangerfield, comedian
For federal rural housing programs, no respect means proposed death sentences in presidential budgets. This year is no different.
Unveiled in March, the president's 2020 budget proposal—like his budgets for 2019 and 2018—would eliminate or steeply cut U.S. Department of Agriculture (USDA) infrastructure, housing, and rural development programs. And, as most housing advocates know, the Trump 2020 budget proposals also call for very steep cuts to key HUD programs. But there is good news. In the last two years—and in the Obama years—Congress has not agreed with proposed cuts to rural housing programs and will very likely reject them again.  
Rep. Sanford Bishop (D-GA) is the new chair of the House Appropriations Subcommittee on Agriculture. The day after the 2020 budget was released, he issued this statement, "I am deeply concerned with the proposed cuts and program eliminations that would adversely impact farmers, the safety of our food, rural communities, and those in need of government assistance. The White House proposes a 17 percent decrease from the 2019 enacted level, a cut of $4 billion to these agencies."
On May 23, Bishop's subcommittee passed a bill that provided level funding or increases for USDA housing programs, rejecting the administration's budget proposals. This was just the first step in the 2020 budget process, but it seems likely that bipartisan support will protect the rural housing accounts again. Next, the bill will be considered by the full House Committee on Appropriations. No spending measures have been introduced in the Senate so far. The House bill actually increases funding for a self-help program and rural rental housing preservation.
USDA's Rural Housing Service is part of the agency's larger Rural Development division. It also includes business and infrastructure programs.
When not attuned to the latest Trump tweet or the Mueller report, politicians and the media have mostly focused on the budget's in-your-face request for $8.6 billion in funding for a border wall, and on huge proposed cuts in other areas of the social safety net. Over 10 years, the proposed 2020 budget would slash $845 billion from Medicare, $1.5 trillion from Medicaid, and $220 billion in the Special Nutrition Assistance Program (SNAP). In this atmosphere, reductions to relatively small USDA Rural Development programs are not very visible.
But, under the radar, Trump's budget again proposes to eliminate or sharply cut most rural housing efforts and some other USDA rural programs. It also remains to be seen whether another government shutdown might come later this year, with the 2020 elections looming and the president again demanding border wall funding.
[Like what you're reading?

Sign up for Shelterforce Weekly

to get stories like this (and more!) delivered to your inbox every Tuesday morning.]
In the final appropriations package for 2019, which was completed only in February after a 35-day government shutdown, the USDA rural housing programs survived the Trump assault, receiving level funding or slight increases above 2018 levels. The 2020 budget again proposes to eliminate funding for single-family direct homeownership loans, self-help and farmworker housing, repair loans and grants for very low-income people, and several low-income rental preservation programs. The USDA Rural Housing Service would be left as a perhaps reluctant rental-units funder. Affordable housing advocates tend to focus on rental programs such as Section 8, Section 202, and public housing. USDA has a version, called Section 515, which provides long-term loans for private and nonprofit developers of rental units for low-income rural people.  
Those 400,000-plus Section 515 units—and Section 8-like rental subsidy for their tenants—remain a USDA responsibility. If Trump's proposed 2020 budget prevails, the only other USDA Rural Housing Service programs would be FHA/VA-like guarantees of $24.5 billion in private mortgages for moderate-income rural homeowners and for rural rental projects.
In the Trump budget proposals, there is something of a clever trick. The bottom-line amount for USDA housing declines from $29.8 billion in 2019 to $29.1 billion in 2020. So maybe this isn't so bad? But most of that total is $24 billion in single-family homeownership mortgage guarantees. Hidden in the total number is the zeroing out of small programs for the neediest. The appearance of a relatively small cut is accomplished by increasing slightly the few remaining accounts.
One little understood aspect of the USDA homeownership mortgage program (Section 502 direct), which Trump would eliminate, is that it makes loans that are paid back to the federal government. The actual budget authority cost for 2019 is $74.7 million on a total loan volume of over $1 billion. That's a very small cost for the creation of homeownership and equity for low-income families who might otherwise never achieve either.
Housing is also not the only USDA rural program on the chopping block. For example, rural water and waste disposal programs would be drastically cut from $5.24 billion in 2019 to $1.67 billion in 2020. USDA's Rural Development division would also lose 613 staff positions. HUD programs are also important to rural America, and the budget's proposal to eliminate the HOME and Community Development Block Grant programs would be a major blow. Congress rejected Trump's drastic cuts for those programs in 2019 and will likely do so again, especially with Democrats having won the House last year.
President Obama proposed some of these cuts during his tenure, and in those cases Congress also said no and retained the funding. Most presidential budgets get described as "dead on arrival." In fact, the starting point for congressional appropriators' work on the next year's funding is their final level passed in the prior year. Any president's proposal gets a brief flurry of media attention, but most of the public is unaware and sadly uninterested. The proposed budget is a political document and more advisory than real.
Why are Rural Housing Programs at the USDA?
Why exactly does the USDA have rural housing programs? Why don't the programs fall under the umbrella of the U.S. Department of Housing and Urban Development? What do the rural housing programs do, and how did they end up in the USDA? Do they provide shelter for chickens and hogs? 
The USDA's rural housing programs began with the Housing Act of 1949. In the context of today's extreme partisanship, the legislation was a remarkable document where rural housing was only one part of the equation. The bill took several years to complete, and some of its main sponsors were a remarkable political cross-section of three senators: Allen Ellender of Louisiana, a very conservative Southern Democrat; Robert Taft of Ohio, "Mr. Republican" and a regular presidential prospect; and Robert Wagner of New York, a leading New Deal liberal and ally of FDR. The bill was originally intended to help low-income farmers buy or repair their homes. This began in 1950 and was expanded in other programs later in the 1960s and 70s. (The Section 515 rental program began in 1962.) Once the programs began, their funding was overseen and supported by Rep. Jamie Whitten (D-Miss.), the chair of the House Appropriations Subcommittee on Agriculture, for decades.
Over the years these USDA housing programs have helped more than 2.2 million low-income families become homeowners; made almost 390,000 loans and grants to help very low-income homeowners repair their houses; funded over 50,000 self-help, sweat-equity homes, over 26,000 units for farmworkers, and the construction of over 530,000 rental units; and for tenants in those units, the programs provided more than $20 billion in rental subsidy assistance.
There have been proposals to move these USDA initiatives to HUD. But rural housing practitioners and advocates have opposed this for several reasons. USDA housing program are very different from HUD, they say. For instance, USDA:
Has many more local offices to work with consumers directly;
Has mostly homeownership programs, not rental;
Is the lender making and servicing these homeownership loans;
Makes small and mid-sized grants directly to consumers and organizations.
With strong bipartisan Congressional support, these programs seem likely to survive at USDA. One other bit of evidence: At the outset of the Trump administration, new USDA leaders chose not to fill the congressionally created position of under secretary of agriculture for rural development. Instead an assistant in the office of the secretary of agriculture was put in charge of all the rural housing and other rural development programs. Then in the latest Farm Bill, passed and signed into law in December 2018, a Republican Congress told USDA to re-institute and fill the under secretary position. Thank you, Congress. It appears that your help will still be needed.