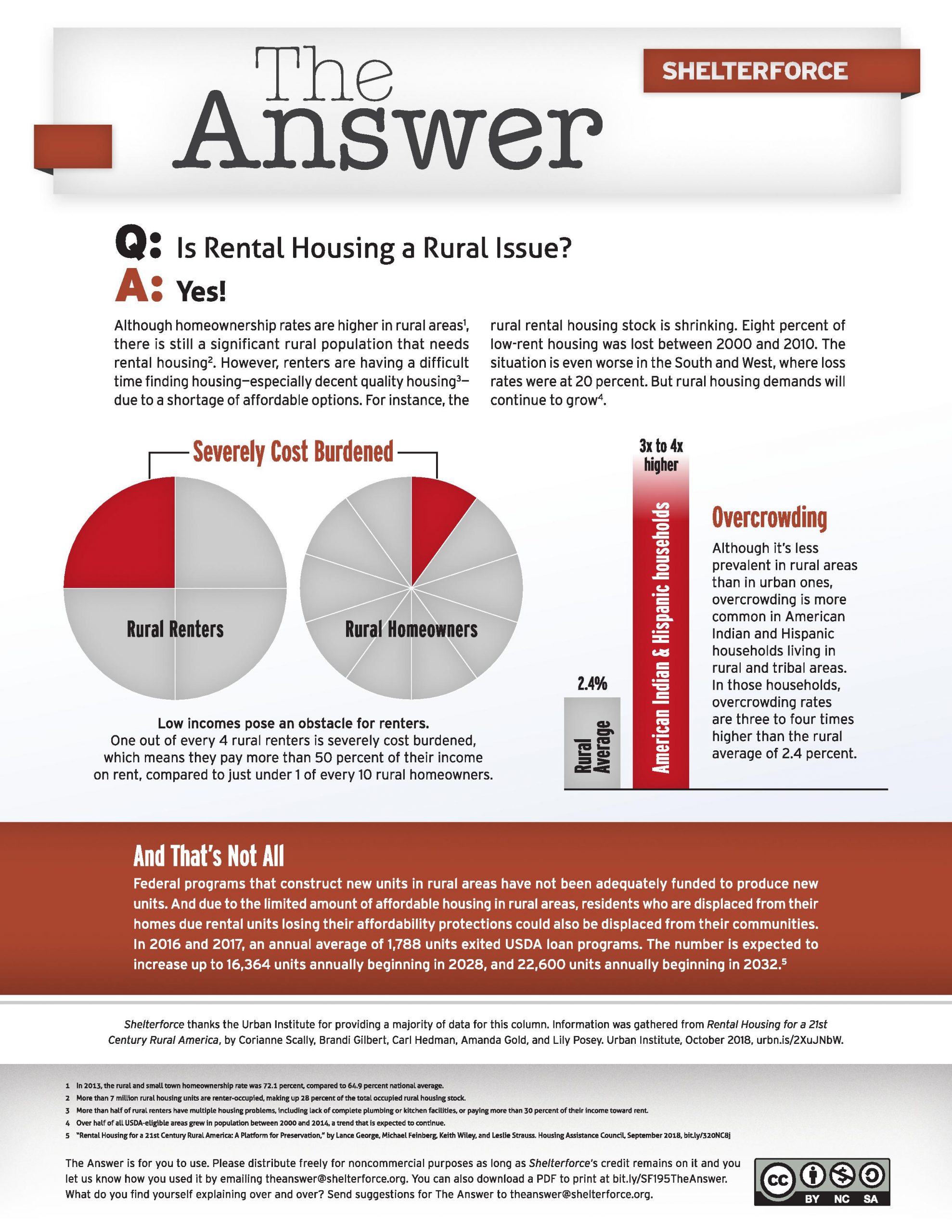 A: Yes! Although homeownership rates are higher in rural areas[1], there is still a significant rural population that needs rental housing[2]. However, renters are having a difficult time finding housing—especially decent quality housing—due to a shortage of affordable options. For instance, the rural rental housing stock is shrinking. Eight percent of low-rent housing was lost between 2000 and 2010. The situation is even worse in the South and West, where loss rates were at 20 percent. But rural housing demands continues to grow—rural renters are expected to grow to 5.6 million by 2020.
Low incomes pose an obstacle for renters. One out of every 4 rural renters is severely cost burdened, which means they pay more than 50 percent of their income on rent, compared to just under 1 of every 10 rural homeowners.
Overcrowding is an issue. Although it's less prevalent in rural areas than in urban ones, overcrowding is more common in American Indian and Hispanic households living in rural and tribal areas. In those households, overcrowding rates are three to four times higher than the rural average of 2.4 percent.
Another issue: Federal programs that construct new units in rural areas have not been adequately funded to produce new units. And due to the limited amount of affordable housing in rural areas, residents who are displaced from their homes due rental units losing their affordability protections could also be displaced from their communities. In 2016 and 2017, an annual average of 1,788 units exited USDA loan programs. The number is expected to increase up to 16,364 units annually beginning in 2028, and 22,600 units annually beginning in 2032.[3]
[1] In 2013, the rural and small town homeownership rate was 72.1 percent, compared to 64.9 percent national average.
[2] More than 7 million rural housing units are renter-occupied, making up 28 percent of the total occupied rural housing stock.
[3] This column has been compiled from information gathered from Rental Housing for a 21st Century Rural America, by Corianne Scally, Brandi Gilbert, Carl Hedman, Amanda Gold, and Lily Posey. Urban Institute, October 2018.