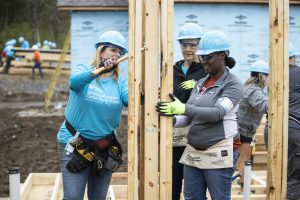 The primary image evoked by the Habitat for Humanity name remains that of President Jimmy and Rosalynn Carter working with volunteers to build or improve single-family homes. Habitat's do-gooder image and volunteer engagement model has brought the organization worldwide respect.
While this model is alive and well, Habitat chapters, which operate independently under the Habitat for Humanity International umbrella, are increasingly stepping beyond this one-house-at-a-time model to lead housing policy and zoning fights—and at times controversial ones.
The international organization is aligned with its chapters on the need to take this next step. On June 12, 2019, Habitat for Humanity International launched Cost of Home, its first U.S.-focused national advocacy campaign for housing affordability. In announcing the campaign, Habitat acknowledged how the worsening affordability crisis has led it to take on a larger role. "For more than 40 years, Habitat has been making safe, decent and affordable housing a reality, one family at a time," said Jonathan Reckford, CEO of Habitat for Humanity International. "The challenge in front of us obliges us to do even more. Not only will Habitat lift our hammers to build affordable homes, we will lift our voices as one to declare that every family should be able to afford the cost of home."
The campaign commits Habitat to mobilizing its local chapters, partners, volunteers and community members across the country to help 10 million individuals meet their basic housing needs by advocating for local policy solutions. These include but are not limited to increased funding for affordable housing, better access to credit, anti-displacement policies such as home repair and property tax relief, and many others  . Overall, Habitat is making affordable housing advocacy a much larger organizational priority.
Since many housing policy decisions are local, Habitat's move into advocacy has also extended to local land-use and zoning disputes, an area of frequent controversy. Cost of Home commits the organization to "challenging barriers that make it difficult for people to find land for construction, build the home itself, or be able to afford a place to live," and this has at times, led Habitat chapters to advocate for increased housing density in order to make low-cost housing financially viable, starting with some of its own projects.
A closer look at Habitat NYC and Austin Habitat shows how both have moved into the fraught political and rental-development arenas, and how influential the Habitat brand can be in land-use and zoning fights.
NYC's Haven Green
In 2017, Habitat NYC responded to an RFP with two development partners, RiseBoro Community Partnership and Pennrose, to build affordable senior housing on a city-owned lot in the upscale Nolita neighborhood of Manhattan. Habitat NYC CEO Karen Haycox says that she was attracted to the opportunity to bring low-income seniors into a high-quality neighborhood with nearby transit and amenities. Haycox also notes that the project was a major departure for the organization, as it is a rental project—in her nearly 20 years with Habitat, "rent was considered both a literal and figurative four-letter word."
Habitat was built around the principle of providing the opportunity for affordable homeownership to low-income families, and many chapters still focus exclusively on this goal. Yet New York City seniors desperately needed housing: Over 200,000 are on affordable housing waiting lists that are 10 years deep. Habitat NYC moved to fill that need, using its credibility to support construction for the affordable senior rental project in a high-cost neighborhood
In Generation Priced Out: Who Gets to Live in the New Urban America I describe how nonprofit affordable housing is rarely proposed for affluent neighborhoods, even in heavily Democratic cities, and Manhattan is no exception. The city had designated the Nolita site for senior housing in the 1980s, but leased the lot in 1991 to a private commercial space which used it to store outdoor sculptures. When Councilmember Margaret Chin resurfaced the housing initiative in 2012, the lessee opened what until then had been a private commercial space to the public and rebranded it "The Elizabeth Street Garden." Some neighbors then claimed that building senior housing would destroy a cherished urban green space, turning the long-neglected lot into the most contested housing site in Manhattan.
Habitat NYC knew it was entering a community firestorm when it joined the RFP to co-develop the site. Undeterred, Habitat NYC staff and volunteers engaged in a lengthy and rigorous community outreach effort: they talked to people in the community, built out a community engagement website, met with many stakeholders to learn about their needs and interests, and helped organize participatory design sessions for the future green space. What resulted was an understanding that the interests of the community were far more diverse and divergent than had appeared at face value.
Many community members and stakeholders were in fact strong supporters for increased affordable housing and for a development that could act as a compromise between the competing community needs of open green space and affordable senior housing. Some local residents specifically thanked Habitat for bringing them together and backing them so their voices could be heard. They said that Habitat's presence helped empower them to speak out for the housing after they were previously shouted down or intimidated to speak up. As Matthew Dunbar, the chapter's VP of external affairs says, "We thought Habitat could play a constructive role in resolving the community's dispute. We saw our positive reputation for housing low-income families as bringing a lot of value to the project."
Habitat's involvement came with some risk. Opponents of the housing project ignored the other two partner organizations and emailed global Habitat supporters such as the Carter Center, Habitat International, and key corporate donors such as Wells Fargo and Delta Airlines urging them to reconsider funding for the organization, which would have negatively impacted not only the NYC chapter, but potentially Habitat chapters and the communities they serve worldwide. The opposition campaign also urged chapters in cities such as San Diego, Los Angeles, Nashville and Bucks County, Pa., to pressure Habitat NYC to walk away from the Nolita project. This outreach proved unsuccessful, as those other Habitat chapters had faced similar kinds of neighborhood opposition themselves and supported their NYC colleagues.
The pushback was fierce, but a June City Council vote backed Haven Green 45-0, with 1 abstention. Habitat NYC's efforts were bolstered by Councilmember Margaret Chin's unwavering commitment to the project and strong support from housing groups like ANHD, Enterprise Community Partnership, Open New York; the faith-based service agency Vision Urbana; and other neighborhood groups and individuals. Habitat NYC's involvement at the community and citywide level as advocate and organizer undoubtedly provided a "halo effect" to the project, and the chapter also delivered robust community engagement activities. Haven Green would not have prevailed without the resultant community support. Now, 123 low-income LGBTQ+ seniors, including 37 who were formerly homeless, will soon get homes.
Austin
Austin Habitat for Humanity has also expanded its agenda beyond constructing homes. After building over 450 single-family homes over three decades, Austin Habitat was being routinely outbid for sites as land prices skyrocketed in 2015-2016. Greg Anderson, who began working as Habitat's director of community affairs in 2015, saw the combination of rising land and construction costs for single-family homes as "no longer working for affordable housing." So Habitat decided to serve its low-income and working-class population by building affordable condos, preferably near transit. To make such projects affordable, allowable height and density would have to increase, and Habitat began to advocate for those changes.
Habitat's first such project was on land in gentrifying East Austin it had owned since the 1990s. Habitat came up with a novel idea for the site. It proposed a "super density bonus" plan for the area that granted developers a lot more units, an 85-foot height limit, and fewer parking spots in exchange for 50 percent of the units being affordable. Density bonus plans are increasingly popular in high housing cost cities. Seattle, Minneapolis, San Francisco and parts of Los Angeles have all tied increased density to greater affordability.
Habitat's super density ordinance was introduced amidst a bitter land use revision fight in Austin. Although Anderson's proposal was geographically limited, had another housing group proposed such a bonus plan, it likely would have not advanced because it would have been seen as opening the door to increased density citywide. But Habitat's decision to leverage its brand and goodwill helped to ensure city council passage in April 2018.
After pro-density forces won a city council majority in the November 2018 elections, Habitat's super-density plan took on new life. It became the model for Councilmember Greg Casar's citywide "Affordability Unlocked" ordinance, which allowed up to six-unit buildings anywhere so long as they were at least 50 percent affordable. Buildings could go to eight units with 75 percent affordability. The measure passed unanimously in May 2019.
On Oct. 4, 2019, Austin released its long-awaited draft of a new land use development code. A prior attempt to revise the city's long outdated code had been tabled in August 2018 after three years of debate. Habitat's Anderson is among the most outspoken backers of the new proposal. He used Facebook to warn Austin residents "don't fall for the 'be afraid' rhetoric used by housing deniers." Habitat's strong support for the new code should help carry it to success, opening up far more parts of the city for affordable housing.
As Austin Habitat communications director Lindsay Bates says, "Austin is changing every day and Habitat is changing with it." That's why Austin Habitat CEO Phyllis Snodgrass recently told the Austin Statesman, "We've got a lot of projects in our pipeline that are different than anything else we've ever done before." Austin Habitat has expanded its mission to meet the city's new challenges, and is on the front lines pushing for increasing housing density to meet rising population and job growth. As in New York City, Austin Habitat's feedback from donors and the board on its program shift "has been positive."
Habitat's Future
Habitat NYC's Karen Haycox says that its new direction reflects its core mission statement: "We are called to do more." Habitat chapters across the United States are doing more, including taking stands on critical housing issues. Habitat CA backed California's ambitious SB50 to legalize fourplexes statewide and promote increased density on transit corridors. Steve Messinetti, the CEO of Habitat for Humanity Portland/Metro East, strongly endorsed Oregon's HB2001, the landmark bill ending single-family home zoning in Oregon and opening the door to "missing middle" housing.
Habitat's advocacy efforts might surprise those who still see the group as avoiding controversy. But Habitat staff I talked to all felt it was imperative that the group use its positive public image to affirmatively further fair housing and make a bigger policy difference—both on and off their own sites. As Habitat NYC's Matthew Dunbar put it after winning approval for Haven Green, "that's what spending political and social capital is for."