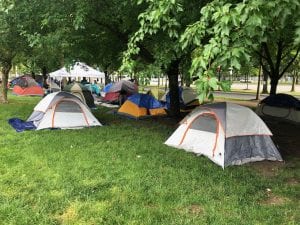 After more than a year of living in a shelter and rarely getting to see her older children, a Philadelphia woman who goes by Eeg Stremist was desperate to find a place of her own.
In mid-May a friend told her about someone who could quickly place the 41-year-old Stremist and her 8 children, ages 4 to 21, in a Philadelphia Housing Authority (PHA) home. At first she thought her family would get to jump to the top of PHA's 40,000-person waiting list, which hasn't accepted new applications in 7 years.
When she learned that her family would actually be illegally moving into a vacant PHA property, she hesitated—but only for a moment.
"I was mainly desperate to get back with my family, to get us all back together. We were separated for a long time, and the older kids were having their own troubles and they needed me. So I needed to do whatever I needed to do to get us all back together," she says. "I couldn't turn away."
Stremist and her family are among about 50 people who have taken over 12 vacant PHA properties since late March, according to Jennifer Bennetch, an Occupy PHA activist who led the home takeovers. Most are single moms and their kids. They've spackled walls, patched roofs, fixed leaky plumbing, and registered utilities in their own names, while waiting to see if the PHA will send its private police force to evict them from the homes. PHA says it knows of about 20 homes with squatters.
The move-ins are both acts of necessity and a political protest against the PHA, Stremist says. At the same time that the city is suffering from a vastly insufficient supply of affordable housing, the federally funded housing authority maintains an inventory of hundreds of vacant units. Philadelphia has a population of 1.6 million, among them about 5,700 homeless residents, including 950 who are living on the streets, according to the city's Office of Homeless Services.
"You have to do this to even bring attention to the situation," Stremist says. "PHA thinks it's OK to have 5, 10, vacant houses on one block. It's not OK, because we need those houses."
The home takeovers are part of a recent escalation of Philadelphia's decades-old homeless crisis. In January the city cleared three homeless encampments along I-676 in downtown Philadelphia, and in March about 75 people were kicked out of a site near the Convention Center, despite concerns they could be infected with the coronavirus if they moved into shelters.
[RELATED: History Shows that in Times of Crisis, Housing Activists Get Radical]
In late May people living around the Municipal Services Building plaza, across the street from City Hall, were forced out when police cleared the area during Black Lives Matter protests. Activists then set up a large tent encampment that has hosted up to 150 residents on a ballfield along the Benjamin Franklin Parkway, not far from the Philadelphia Museum of Art.
"When the pandemic came, the shelters had to cut back capacity, so a lot of people were reaching out," Bennetch of Occupy PHA says. "They couldn't get in the shelter, or take all their kids with them into the shelter, and it was just a big mess."
PHA CEO Kelvin Jeremiah says he understands the urgency of the activists' concerns. "The encampment protesters have done a masterful job in raising awareness of the plight of the homeless and the desperate need for affordable housing here in Philadelphia and more broadly across the nation," he says.
Jeremiah says he agrees with their call for more very-low-cost housing, and noted that the PHA has rehabilitated and rented out over 1,800 of its legacy housing units over the past several years, with 220 more in the pipeline. But he said his agency's budget for capital improvements, as at many other housing agencies across the country, is severely underfunded, limiting its ability to do more. PHA has a $1 billion backlog of capital needs, and Jeremiah notes that it receives no city or state aid and no funding specifically to address homelessness.
He was also skeptical of activists' demands that the PHA immediately turn over homes to residents for them to manage themselves. Jeremiah pointed to the lengthy federal regulatory process required for such transfers and the poor condition of many of the properties.
"The criticism of PHA is not one that is realistic and it's not particularly fair, given the work that we do, given our plans for providing affordable housing," he says. "I think it would better serve the protesters to align with PHA in advocating for additional resources on the city and state and frankly on the federal level."
Demands for Housing Now
Bennetch and the other organizers were inspired by the long history of squatting as political protest, including a 1981 action that saw the takeover of 67 federally owned vacant houses in Philadelphia. They are familiar with the work of veteran Philadelphia squatting activists like Cheri Honkala, Dennis Culhane, Henry DeBernardo, and Charles Burris, said Sterling Johnson of the Black and Brown Workers Cooperative.
"We are connected to people who lived in the '70s and '80s. We're from Philadelphia, and there are people alive that know what needs to be done when the city isn't doing what they should do regarding homelessness. It's quite easy to follow in their footsteps," Johnson says.
In addition to moving people into vacant PHA homes and creating the James Talib-Dean Camp on the Parkway, activists set up a smaller protest encampment near the PHA's headquarters in North Philadelphia's Sharswood neighborhood.
The Philadelphia Housing Action coalition, which includes Occupy PHA and several other groups,  issued a number of demands in late June, including legalization of encampments and city support for the establishment of self-governed tiny house villages. They also demanded that the PHA and local development agencies stop selling publicly owned properties to for-profit developers and transfer some of their buildings to a new community land trust (CLT) for permanent low-income housing.
The city has led negotiations with encampment organizers, but PHA has been a particular target for the organizers' criticism. The agency dominates the affordable housing market in Philadelphia, where it controls about 14,000 units, making it the state's biggest landlord. All together PHA provides housing or rental subsidies to more than 80,000 people.
Bennetch, a homeowner in North Philadelphia, started Occupy PHA after her family had run-ins with the agency's in-house police force four years ago. She began driving around her neighborhood and writing down the addresses of vacant PHA properties she saw. Her list now amounts to several hundred homes, some of them unoccupied for decades and others vacated more recently, she says.
"PHA isn't keeping up. They're not coming in and renovating the properties and moving people in. They just board them up and never come back to them. So the number just grows. By the time they come back to them, they've become dilapidated. Water is coming in the roof and there's water in the basement," Bennetch says.
Of Philadelphia's total housing stock, about 12 percent or 80,613 units are unoccupied, according to a 2018 U.S. Census estimate. An older survey using U.S. Postal Service data found that in 2010 the city had 29,056 homes that had been vacant for 90 days or more.
Activists say they believe PHA may own more than 1,000 vacant homes, but Jeremiah put the number at 574: 354 older, "non-viable" units that need substantial work and 220 units that are being renovated or are slated for repair. The homes being squatted currently are not the non-viable units, which often require tens or hundreds of thousands of dollars in repairs, but rather units that are temporarily vacant until new PHA tenants move in, he says.
To more quickly reduce vacancies, PHA's critics say it should spend more of its $470 million budget on maintenance and rehabilitation and less on non-housing expenses like its 30-member private police force and Jeremiah's annual salary of $350,000. They also criticize the agency's new $45 million headquarters, which opened last year as part of a half-billion dollar mixed-use redevelopment in North Philadelphia's Sharswood neighborhood.
"They're putting so much focus in Sharswood, where they got these grants and they built their $45 million headquarters, and seized all the private property through eminent domain, that they're just not even paying attention to anything outside of that area," Bennetch said.
Protest organizers also fault the housing authority for what they call a privatization strategy, in which it sells off properties to raise funds for construction and capital improvement, and partners with private developers to rehabilitate old units.
Part of the problem is PHA's construction costs. Because federal law requires the agency to pay its contractors prevailing wage rates, it costs PHA $300,000 to build one unit of housing, or in some cases as much as $400,000, which is much more than a private developer would need to spend, Jeremiah says. Bennetch and others say that instead of selling properties to afford pricey new ones, the authority should do relatively inexpensive renovations of existing units or give properties away to residents.
The coalition activists say they want to create a new community land trust that would manage the acquired homes cheaply without government support. It would depend on the contributions and labor of residents and community members, much as Stremist and the other squatters are doing now. They cite a trust created in Philadelphia by the nonprofit Women's Community Revitalization Project (WCRP) as a model they could follow.
"The community is ready to show up and ensure that these homes are restored and livable," says Tammer Ibrahim, housing chair for Reclaim Philadelphia, a progressive political group that endorsed the coalition's goals. "We see this as the fastest and clearest way to move people into homes. The alternative PHA [is] interested in doing only fuels gentrification and displacement."
While community land trusts like WCRP's have been increasingly successful in recent years, they can be difficult and time-consuming to set up. CLTs require a steady stream of funding and typically depend on grants, tax-credit funding, and other sources of support. In the past, some Philadelphia CLTs that redeveloped dilapidated buildings as low-cost rentals failed after being unable to pay their bills.
Jeremiah says the PHA is discussing with city officials the possibility of transferring some properties to a community group, as it has done in the past. But it's a long process, he says, requiring legal commitments by a nonprofit recipient organization and a HUD approval process that takes at least 200 days, and sometimes as long as two years.
A Dispute over Funding Priorities
Jeremiah argues that PHA has already been working toward the activists' goals of creating more low-cost housing. Over several years it has restored 1,800 older units that had sat abandoned for decades, at an average cost of under $200,000 apiece, he says. Since he became CEO in 2013 the agency has built seven new housing developments. It also provides 3,000 homeless individuals with Section 8 rental subsidy vouchers through partnerships with social service organizations, he says.
But with an inventory of properties that date back to the 1970s and earlier, PHA still has a $1 billion backlog of capital needs and another half-billion in planned new development, far more than it can address with the $59 million a year Washington provides for capital spending, Jeremiah says.
Rather than putting that money toward basic upgrades at aging, dilapidated structures, the agency regularly sells properties to raise cash for new construction, he says. The goal is to build modern homes that are well-integrated into neighborhoods, replacing the isolated superblocks of high-rise towers that PHA put up in the mid-20th century.
He cited the West Park Apartments site in West Philadelphia, a 1960s-era development that needs $50 million in repairs to its roofs, elevators, fire sprinklers, brickwork and other infrastructure, without even touching the living spaces. PHA plans to sell two of the three 150-unit towers, build an equivalent number of low-rise units on the remaining land or in nearby neighborhoods, and give current residents first dibs on the new houses. The third tower will be converted to senior housing.
Activists like Bennetch and Johnson of the Black and Brown Workers Cooperative, along with some members of city council, say the PHA's sell-and-build strategy will lead to the displacement of vulnerable West Park residents. Jeremiah says there will be enough units for everyone, and it makes more financial sense to take advantage of various funding sources available for new construction—including bonds, tax credits, and developers eager to buy land in West Philadelphia's booming university district—than to put scarce capital dollars into partial repairs.
"Our goal has been to preserve the affordability there, while at the same time bringing in money we could use to redevelop the site," he says. "If we're only receiving $50 million in capital funds, how long would it take for us to appropriate monies to address the long-term backlog capital needs and to renovate those sites? It makes it almost impossible."
Regarding the activists' other criticisms, Jeremiah has said his pay is justified by his responsibilities and is comparable to the salaries of CEOs at other big-city housing authorities. He says he would rather PHA not have a police force, but maintains one because in the past the Philadelphia Police Department  has declined to serve PHA properties.
As for the agency's new headquarters, he says the annual debt service is less than the agency had been paying to rent office space, saving the agency money it can devote to providing housing. The project was funded with $15 million from PHA's budget and $30 million from bonds.
Jeremiah also defended PHA's use of HUD's Rental Assistance Demonstration (RAD) program to convert some of its public housing units to Section 8 subsidized units. Section 8 funding is more financially stable than regular public housing funding, makes it easier for agencies to use low-income housing tax credit funds or borrow money for repairs, and allows for preservation of units that might otherwise deteriorate and be lost, he said.
But RAD conversions can involve investment and management by private companies, and Bennetch is among many housing activists who fear they could lead to units eventually becoming privately owned market-rate housing. Jeremiah argued that is unlikely, as the PHA retains ownership of the land and RAD contracts guarantee affordability for 20 years, with automatic renewal for another 20.
Negotiations between activists, the city, and the police are continuing. In the mean time, Jeremiah says PHA is pursuing a civil court eviction process and does not plan to have police remove the families. Stremist said her family's situation is stable; not paying rent has allowed her to save up some money from her jewelry-making business, and she's started thinking about getting the house ready for cooler weather.
"I do see a lot of cracks and stuff around the windows. It looks like it will be very drafty in here in the winter," she says. She laughed, saying, "With my luck they'll try to come and take this house from me as soon as it gets cold. That's how things go for me. But I'm prepared now. Something happens, I have a car and money to get us somewhere else.
"I expect them to come. But for now it's OK. We're just happy we're all together and we can buy some time."