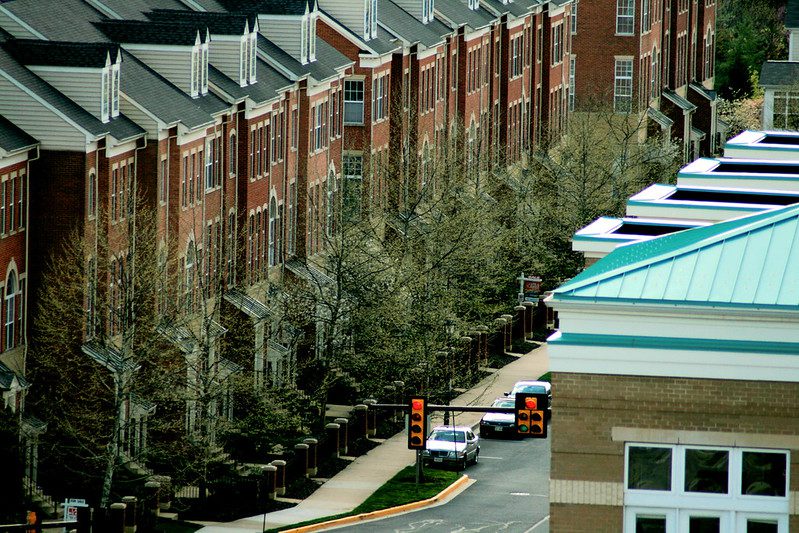 It's no surprise that all eyes have been on the General Election's presidential and congressional races. The COVID-19 pandemic has accelerated many of the preexisting conditions of inequality, poverty, and housing insecurity, and a change in leadership will represent a major shift in housing policy. President-elect Joe Biden's ambitious housing plan, for instance, calls for fully funding rental assistance vouchers, investing $640 billion in affordable housing production, and, among other proposals, creating a public credit reporting agency to lessen racial disparities in credit scores.
[RELATED: What Could a Joe Biden Presidency Accomplish on Affordable Housing?]
But that's not to minimize the importance of a number of state and local ballot initiatives that were also approved by voters across the country, measures that will have a significant effect on the affordable housing landscape. Here are some of the important ballot initiatives around the country.
California
The City of Arcata
Hundreds of Affordable Housing Units: Voters in Arcata overwhelmingly passed Measure B, which increases the affordable housing cap in the city. With the measure's passage, Arcata will raise its affordable housing allotment to 7.5 percent of units in the city, up from the previous limit of 5 percent. The city says the change will result in more than 220 new units of affordable housing being built over the next three decades.
Humboldt County
No Increases in Taxes: Measure I allows the county to obtain state and federal funding to develop affordable housing for low-income families, seniors, and individuals with disabilities. "This would allow the county to utilize 2.5 percent of all housing in the unincorporated areas, either through acquisition of current properties or development of new ones, strictly for residents of the aforementioned qualifications," according to KRCR. The measure was approved by over 67 percent of voters. 
Los Angeles 
Shifting Resources from the Criminal Justice System: In a big win for Los Angeles residents, voters passed Measure J, allotting between $360 million and $900 million per year to address systemic racism. With voters' approval, at least 10 percent of the county's unrestricted revenue in its general fund will be invested in affordable housing and rental assistance, mental health services, and substance abuse treatment for low-income and underserved communities, among other programs and initiatives. The funds cannot be invested in the criminal justice system—no monies will go to local police departments, jails, or prisons. "While Measure J isn't directly a defund-the-police initiative, it was designed as an important first step toward the public health and investment-based model of public safety that animates the defund movement," reports Vox. Activists working for passage of Measure J used the hashtag #reimagineLA
San Francisco 
Proposition 1 will generate almost $200 million a year through increases in the transfer tax rate on sales and on real estate leases of 35 years or more with a price of at least $10 million. In August, the San Francisco Board of Supervisors affirmed by a vote that emergency rent relief and permanently affordable housing was a top priority for any new revenue the city sees. Hopefully these funds will go to support that priority. 
10,000 Low-Income Housing Units: Proposition K, which passed with 73.5 percent of the vote, authorizes the city to build 10,000 units of low-income housing. Half of Proposition 1's revenue would go toward funding Proposition K, according to the San Francisco Examiner.
Proposition A is a taxpayer-funded investment in housing that authorizes the city to issue up to $487.5 million in bonds to fund parks and streets improvements, as well as permanent investments in transitional supportive housing facilities, shelters, and/or facilities that serve people experiencing homelessness, mental health challenges, or substance use. About $207 million will specifically be for homelessness projects. The measure passed with a little over 70 percent of the vote.
More Support for the Housing Trust Fund: With the passage of Proposition F, the payroll expense tax will be eliminated while many other fees and tax rates will increase to support several funds, including the Housing Trust Fund. The fund, established in 2012, provides a permanent source of revenue to fund the creation of affordable housing for low- and middle-income households.
Rental Housing for Teachers: Measure N allows the Soledad Unified School District to issue up to $13.75 million in bonds to fund technology improvements and the construction of staff/teacher rental housing. The monies will be raised through a tax increase of $25.52 per $100,000 in assessed home value.
Truckee
Measure K authorizes a 2 percent hotel tax increase for 20 years, generating an estimated $700,000 per year for general services including affordable housing, preservation of open space, and wildfire/disaster preparedness. According to the Sierra Sun, the measure has received 8,018 votes in favor versus 1,469 votes against, with 9,795 ballots counted out of a possible 11,356 registered voters. The local government plans to use the new revenue stream for gap financing. Efforts to pass Measure K began in 2018, when the town noticed rising housing costs being a major burden on many low- and middle-income households. The town started to assess the possibility of a funding source for affordable housing and assembled a community advisory board that recommended a raise in the hotel tax from 10 percent to 12 percent. 
El Monte 
8,500 Affordable Housing Units: Measure HN allows for 500 affordable housing units to be built each year for 17 years. Unbuilt units can carry over to the next year, for a total of 8,500 units overall. This doesn't guarantee that the units will be built, simply that construction of the units is permitted. California state law requires that the majority of voters approve before a public agency can begin developing, acquiring, or constructing affordable housing units. 
Colorado
Statewide
Can Cigarettes Build Affordable Housing? Coloradans think so. Earlier this month, Colorado voters came out in support of a tobacco and nicotine tax that would partially go toward funding affordable housing, as well as a universal childcare program, public schools, and community health programs. The tax will go into effect in 2021 and is expected to generate approximately $176 million in its first year. Of this money, $33.5 million will be dedicated to the state's affordable housing fund and $1.5 million will go to the Colorado eviction defense fund. However, this measure didn't pass without criticism. Some opponents pointed out that the tax burden would fall disproportionately on low-income communities of color. Still, the measure passed with more than 67 percent of the vote.
Denver 
Measure 2B raises the local sales tax by .25 percent in order for the City and County of Denver to fund housing, shelter, or services for people experiencing homelessness. Cathy Alderman, vice president of the Colorado Coalition for the Homeless, says that the tax increase would help fund the construction, acquisition, and/or rehabilitation of approximately 1,800 homes with the extra $40 million that it generates. The money will be administered by the recently created Office of Housing Stability, which aggregates housing and homelessness resources in a centralized location, instead of dispersed across multiple city agencies. The measure passed with 64 percent of voters in support.
Georgia
Statewide
A victory for nonprofit housing organizations: Nicknamed the "Habitat for Humanity" bill and introduced in the Georgia House of Representatives by Rep. Matthew Gambill (R-Cartersville), referendum A exempts 501(c)(3) organizations from paying property taxes on real estate if the property is used for the development or rehabilitation of single-family homes and the homebuyers receive interest-free loans. More than 73 percent of Georgia voters were in favor of the measure. 
Atlanta
Community Land Trust Homestead Exemption allows CLT homeowners to reduce the taxable value of their property, meaning that they would only be responsible for paying the difference between their home's assessed value and the exemption amount. Tax policy can make a big difference in the affordability of CLT homes, and this is the first tax exemption to be made available to those who own homes on CLT property in Georgia.
North Carolina
Raleigh 
Making History—Raleigh residents overwhelmingly supported an $80 million affordable housing bond, the city's largest ever. About 72 percent of voters approved the measure, which allows the city to spend $16 million to purchase land for future affordable housing development, mostly along transit corridors. Another $28 million would go toward public-private partnerships in which nonprofits also get a portion of the funds for homeless assistance programs. A total of $24 million would be allocated to developers for gap financing in order to help cover the costs of construction, $6 million would go to the city's first-time homeowner program, and another $6 million would go to housing rehab. It's expected that the new funding will pay for more than 3,000 affordable residences over the next five years, according to WRAL.
Maryland
Baltimore
Affordable Housing Program Bond Issue: Question A's widely supported passage of a $12 million bond measure to fund the city's affordable housing program won with 87 percent of the electorate in support. According to the city's planning department, eligible uses for the money include acquisitions, rental assistance, housing counseling, demolition, gap financing, and construction of new units.
Washington
King County
Charter Amendment 2 removes an outdated restriction and allows the county to sell land for a below-market price if the land will be used for affordable housing. The King County Regional Affordable Housing Task Force determined that 244,000 housing units will need to be built or preserved by 2040 in order to meet the region's growing housing needs. The measure passed with more than 68 percent of the vote.
Almost Passed
San Diego, California: $900M for Affordable Homes 
The Majority, But Not Two-Thirds Threshold—If Measure A in San Diego had passed, it would have earmarked about $900 million to fund the construction of more than 7,500 affordable homes in the city, with a portion specifically for the formerly homeless. While 57.5 percent of voters said "yes" to the measure, it failed to pass the two-thirds threshold. There were almost 5,000 people experiencing homelessness in San Diego earlier this year, and while the need for affordable housing is dire, opponents of the measure say it would have placed an unfair burden on taxpayers, who would have had their taxes increase from $3 per $100,000 in assessed value in 2022 to more than $20 per $100,000 in assessed value from 2028 to 2068. 
Charleston, South Carolina: Affordable Housing Fund
Both parts of a major ballot initiative to create an affordable housing fund failed by slim margins. The first ballot question asked if voters would approve a $2 million tax to create a local housing trust fund, which lost by a 50.88 percent to 49.12 percent margin. The second ballot question asked if voters would allow Charleston County to borrow $130 million and have the tax money slowly pay it off over time, assuming that the first question was approved.