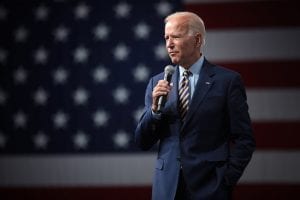 It was the moment affordable housing advocates had been waiting for: a housing policy conversation on prime-time television. At the Nov. 21, 2019, democratic primary debate, moderator Kristen Welker of NBC News asked Tom Steyer and the other nine then-candidates on stage about their plan to fix housing in America.
"Mr. Steyer, millions of working Americans are finding that housing has become unaffordable, especially in metropolitan areas," said Welker. "It is particularly acute in your home state of California, in places like Los Angeles and San Francisco. Why are you the best person to fix this problem?"
Steyer, the California billionaire, acknowledged that housing is an indicator of America's racial and class divides and highlighted the need for federal intervention on restrictive zoning that blocks new housing construction and federal investment to make that new housing affordable.
Sen. Elizabeth Warren also identified America's housing crisis as a supply problem, one born of the federal government's departure from public housing construction, restrictive zoning, and a history of discriminatory practices such as redlining, problems she hoped to address with a plan to build 3.2 million new housing units across the country. Sen. Cory Booker pointed to gentrification's role in raising rents in cities and the way that's pushing low-income families further and further from their communities, something he wanted to address with a renters' tax credit.
The debate cut to commercial before every candidate could weigh in. But by that point, all the front-runners except Vice President Joe Biden had released platforms addressing how they hoped to make housing more affordable for Americans. (Biden released his housing platform in late February.)
"After decades of chronic underinvestment by Congress, it is remarkable that presidential hopefuls are now using their platforms to elevate the housing crisis for the lowest-income people and its solutions," says National Low Income Housing Coalition President Diane Yentel. "This is historic—we've never had this level of attention to affordable housing and homelessness in a presidential campaign."
Though it may be historic, the attention paid by candidates to affordable housing isn't entirely surprising. The homelessness crises in America's major cities are ongoing humanitarian disasters that have garnered national and even international attention. The price of housing in the U.S. has risen far faster than wages, leaving tens of millions of households burdened by their monthly rent.
"For a very long time, rent burdens and the housing problems that low-income people face have been part of a national advocacy effort," says Noëlle Porter, director of government affairs at the National Housing Law Project (NHLP). "Now we're at a place where your average American is rent burdened and that forces it to become part of 'kitchen table' conversations. At that moment it becomes an issue that candidates have to address."
With no other candidates left in the primary race, Biden is now the presumptive Democratic nominee. He has proposed an ambitious housing platform to spend upward of $640 billion to increase federal funding for the construction and maintenance of public housing, and access to Housing Choice Vouchers and other rental assistance. His plan would also expand the Low Income Housing Tax Credit program, bolster the Fair Housing Act, and more.
If Biden wins and is able to implement his housing goals, it would mark a significant shift in how America tackles housing affordability. But with Democrats fairly unlikely to flip the Senate and Senate Republicans even less likely to sign on to sweeping affordable housing reforms, Biden would face a steep uphill battle for any idea that required Congressional approval.
So what could a future Democratic president accomplish on affordable housing if they can't get their bills passed? Perhaps not enough to create paradigm shifts. But according to housing advocates and policy experts, the executive branch has a lot of leeway within administrative rulemaking to increase access to housing, protect vulnerable communities from discrimination, and potentially even increase housing supply.
Near the end of his time in office, President Obama took a significant step to address housing segregation with the creation of the Affirmatively Furthering Fair Housing (AFFH) rule, which requires that cities and towns examine patterns of housing discrimination and come up with plans to address them in order to receive federal funding for projects. Housing advocates celebrated AFFH as an effort to finally put some teeth behind fair housing enforcement. With a rule like AFFH, the administration had to issue a draft proposal and accept public feedback. But it did not need to take the question to Congress.
Obama's HUD used that rulemaking authority to pass other measures meant to bolster low-income Americans' access to housing and increase the quality of existing public housing. In one of Obama's last acts on housing, HUD created the Small Area Fair Market Rents program to modify how rental voucher values are calculated. When HUD uses a metropolitan region's median rent to calculate voucher values, the vouchers don't cover the cost of rent in more desirable neighborhoods with better access to jobs, schools, and other resources. The Small Area Fair Market Rents program instead set voucher values based on ZIP code and gave larger vouchers in more expensive neighborhoods.
A study of the program's pilot implementation in six communities found that it had mixed results, but that in the best cases, the program did help low-income residents gain access to higher-opportunity neighborhoods, which tended to have higher rents that vouchers previously wouldn't cover.
Beyond HUD, NHLP's Porter says a thoughtful secretary of the treasury could implement rules in the Low Income Housing Tax Credit program to ensure LIHTC-funded projects have guaranteed protections for their tenants. 
The problem with relying on executive authority to address housing, however, is that a new presidential administration can undo prior rulemaking and program implementation. President Trump has made this clear in his first term in office.
HUD Secretary Ben Carson has been working to roll back AFFH for more than two years. In January 2018, HUD announced that local governments would no longer be required to analyze housing segregation in their communities in order to qualify for Community Development Block Grants. Later that spring, the agency eliminated a mapping tool meant to help municipalities gauge neighborhood segregation.
In August 2018, HUD began the process to formally eliminate the Obama Administration's AFFH rule. In January of this year, the agency published a draft of a proposed new rule, which focuses on housing supply and eliminates any requirement that municipalities collect racial or ethnic demographic data to analyze discrimination. The 60-day public comment period for that new rule ended in early March.
During Trump's first term, HUD also attempted to end the Small Area Fair Market Rents program. Civil rights advocates sued the administration and a U.S. District Court judge ruled that HUD must keep the program in place. The agency revised the existing "disparate impact" rule, significantly raising the bar for plaintiffs in cases where they allege housing discrimination against a protected class. Last fall, HUD proposed a rule barring families who live with undocumented relatives from receiving public housing assistance including Section 8 housing vouchers.
There are processes the administration must still abide by in order to implement its rules, but it doesn't need Congressional approval. To make the substantive investments in housing production or the expansion of programs such as housing vouchers, however, an administration will need votes in the House and Senate.
"There is nibbling around the edges that administrative policy can do with funding," says Charles McNally, external affairs director at NYU's Furman Center. "You can tie competitive grant applications to preferred policies and programmatic strategies and that can make a real difference.  . . .  But it's hard for me to see how any administration increases production dramatically without additional resources."
So where does that leave a President Biden?
Much of the candidate's housing platform will require hundreds of billions of dollars of investment approved by Congress. Biden wants to bolster the Housing Trust Fund by $20 billion to construct low-income housing, make Housing Choice Vouchers an entitlement (meaning they would reach everyone who is eligible, instead of the current 1 in 4), allocate $5 billion a year for a renters' tax credit, expand LIHTC and Community Development Block Grants by $10 billion each, invest $13 billion to address homelessness, and more.
That is sure to be a hard sell to a Republican-controlled Senate. But there are elements of his plans that can be done administratively.
Biden wants to reimplement AFFH and other elements of the Obama administration's fair housing rules that Trump is rolling back. He also wants to establish a rule that HUD can only contract with housing providers willing to house formerly incarcerated individuals, part of his pledge to end homelessness for people who leave prison.
None of those administrative actions would drastically increase affordable housing supply, of course. But they are signals that Democrats are taking affordable housing seriously and advocates and experts are hopeful about what that could mean in years to come. 
"One of the biggest things a president can do is outright say that housing is the highest priority," says Vincent Reina, a University of Pennsylvania city planning professor. "Having housing be an active part of the policy narrative reinvigorates HUD and incentivizes investment in the agency. Allowing them to really staff up and feel like they have the support to pursue their existing mission and even go beyond it, that would be a really big mark a president could make."
For NHLP's Porter, the momentum from the campaign is an opportunity for a Democrat in the White House to really make the promises of the Fair Housing Act a reality.
"We don't want to just see them restore [what Obama's HUD implemented]," says Porter. "We want to see it go further. This is an opportunity with any next president to create more tools and more expectations from folks committed to AFFH. To establish disparate impacts as law. To be even more progressive on issues of discrimination in housing."
NLIHC and its coalition partners have led the push to make housing and homelessness key issues on the campaign trail. NLIHC's Yentel says they have a tick list of priorities they want to see the White House take up, including significantly increasing the national Housing Trust Fund; creating an annual block grant to states for the creation, preservation, or rehabilitation of low-income rental housing; and increased investment in housing vouchers, rental assistance, and public housing.
"We have pushed all candidates to share their plans to address the crisis, and 15 candidates responded," says Yentel. "Now, we'll work with partners across the country to register and get out the vote of renters and people experiencing homelessness, because affordable homes are built with ballots. Ultimately, we want to ensure that the next president, whomever it may be, prioritizes ending homelessness and housing poverty once they're in the White House."