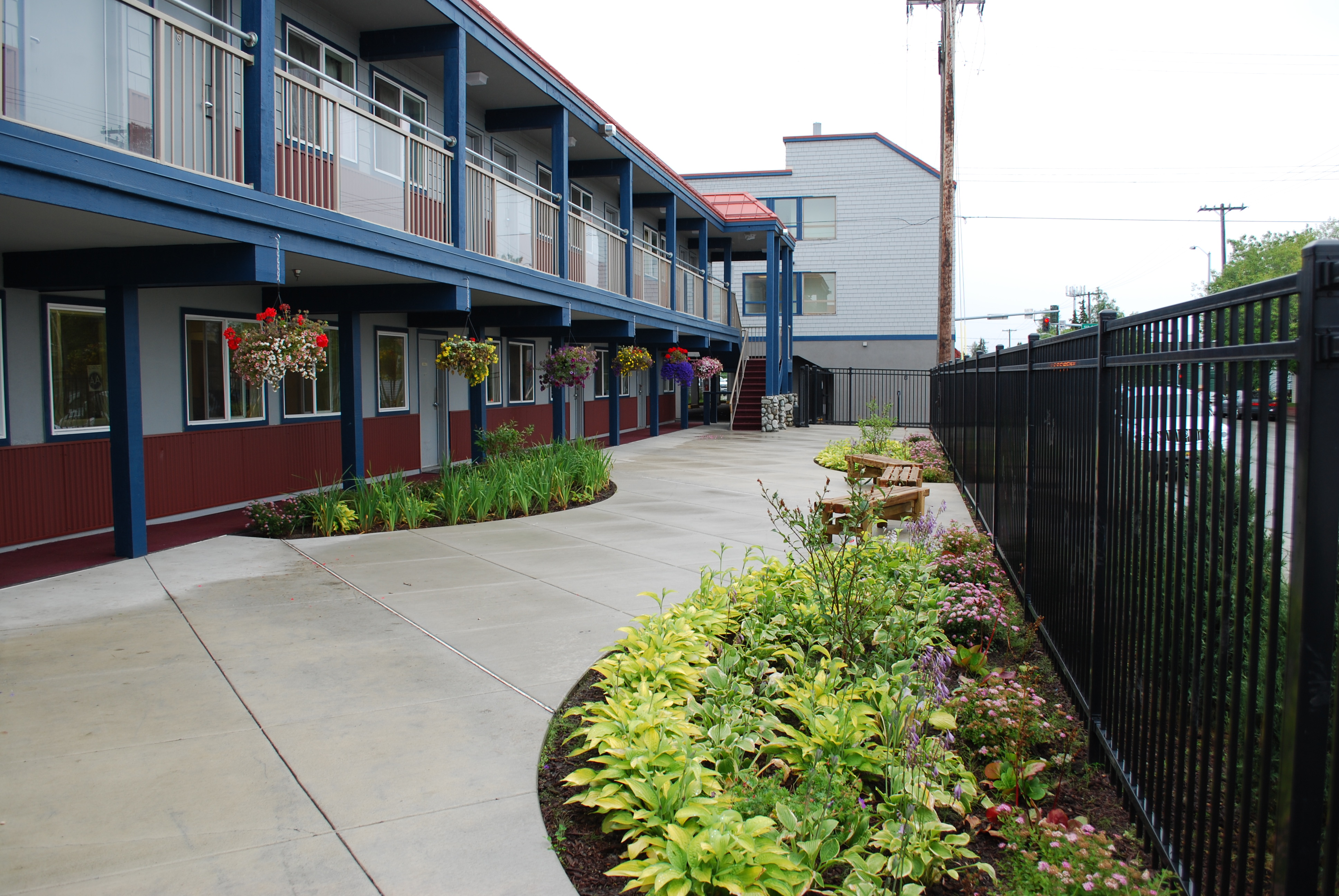 It's hard to overstate the impact the opioid crisis has had on the United States. In 2016, over 11 million Americans misused prescription opioids and more than 850,000 used heroin. In 2017, over 47,000 Americans died from overdoses involving opioids. While the problem has been largely viewed as a rural issue, usage in cities has been quickly growing in recent years. Entire neighborhoods and towns have been ravaged by the disease.
Whether or not they've planned to get involved, community development organizations in affected areas have often found themselves involved in efforts to address the emergency. "Nobody who cares about where they live and sees this wants to be on the sidelines," says Jim King, CEO of Fahe, a community development financial institution (CDFI) that focuses on alleviating persistent poverty in the Appalachian region.
'I'd love to say we have this well-thought-out strategy and we're following a 20-point plan, but that's not it at all . . . We're learning together.'
In some ways, dealing with the opioid epidemic is a natural fit for community development groups. At heart, it's often a problem of poverty: a lack of jobs and opportunities. For example, researchers have found that for each percentage point increase in a county's unemployment rate, emergency room visits for opioid overdoses increase by 7 percent.
But many of those organizations have been surprised to find that they have particular expertise that's useful in addressing the epidemic. The problem, after all, cuts across a range of subject areas: physical health, mental health, economics, financial security, education, child development, public safety, justice. Addressing the crisis requires bringing together a wide range of players in order to craft a comprehensive, multidisciplinary solution.
And that's where community development groups come in. In the countryside, says Nadia Villagrán, a program director with Rural LISC, "community organizations are used to collaborating with nontraditional partners at every level," like churches, sheriffs' offices, community colleges, and civic groups. That's mostly because they have to: everyone knows everyone. But it's also true in metropolitan areas. Housing and community development staff tend to be comfortable working in coalitions in which they aren't the only experts; they're used to reaching across boundaries and interacting with a range of partners.
Katy Martey, executive director of the Community Development Finance Authority in New Hampshire, says that as the state has been deeply damaged by opioids—it has one of the highest rates of opioid-involved deaths in the U.S.—she's seen a number of intriguing new partnerships facilitated by community development groups. "It's not just about housing needs, not just thinking about job training, but looking at all of the needs of the family at the community level and how to bring together a bunch of partners who work in the same space but haven't been together," Martey says.
Some community development groups have used those skills to design multifaceted housing-related programs that target some of the trickier aspects of the opioid epidemic. But others are finding that to be truly effective, they have to go beyond their traditional line of work and really challenge themselves: to think even bigger and more creatively, and in some cases to venture into entirely new fields.
But this new role shouldn't be surprising. Ultimately, community development groups are simply doing what they do best: using community solutions to answer complex problems.
Not an Expert, but an Experienced Convener
Fahe is a prime example of a community development group that's gotten involved in addressing the opioid crisis and, along the way, found itself stretched far beyond its typical activities.
Since 1980, Fahe has worked to eliminate poverty across the Appalachian portions of Kentucky, Tennessee, West Virginia, Virginia, Alabama, and Maryland. A CDFI, it makes loans to its 50-plus member organizations and helps with programming in areas like housing, education, health, and social services. When the opioid crisis accelerated, Fahe became involved in helping to build recovery centers throughout the area. "The financing and residential portion is what we have some expertise in," says King. "We play kind of a consulting or grant administration role and help do tax credits."
Fahe has helped finance seven recovery centers in eastern Kentucky that have a total of 500 beds. The centers offer participants life-skills training programs lasting 18 months, with over 80 percent of participants completing the programs, says King. The organization is working on several more outside the state.
But those brick and mortar accomplishments aren't what King wants to talk about when he discusses the opioid epidemic. The problem is so much bigger than beds and treatment centers, he points out: it's also about kids who don't go to school because their parents are using drugs; it's about adults who, because of their criminal records, can't get jobs even when they're clean. And Kentucky has been one of the hardest-hit states in the country. In 2017, there were 1,160 opioid-involved deaths in the state.
"We were totally on our heels and reacting, with no clear path for what's next," said King of Fahe and its member organizations a few years ago. "The one thing really needed was a broader spectrum of people who could talk about what should happen."
In response, Fahe looked into pulling together a task force to address some of those bigger issues. In 2016, the organization won a $1 million grant from the Appalachian Regional Commission, and used some of that funding to assemble a diverse group of people who could focus on workforce development, employment, and housing.
The task force, which was established last year and is still active, consists of elected officials from both sides of the aisle, health care experts, representatives from the construction industry, drug policy experts, and others. Fahe acts as the convener.
"We're not experts in opioids," King acknowledges of Fahe. "What we are experts in is what it takes to have a livable community, how you piece different disciplines together. We know how to administer money, how to find partners, how to find multidisciplinary solutions."
In some ways, the task force is still figuring out its role. "I'd love to say that what we have is this well-thought-out strategy and we're following a 20-point plan, but that's not it at all," admits King. "We're learning together." Right now, the group is looking at some of the unaddressed issues in the epidemic, responding to requests for proposals that come down from Washington, and thinking about innovative models that might be too risky for on-the-ground groups to try.
So far, those efforts have borne some fruit. With the help of its partners, Fahe is starting to implement a $3.7 million voucher program throughout Kentucky that will pay for transportation, housing, legal support, and basic needs for people in recovery for six months, helping them get back on their feet. And together with its allies, Fahe is also launching a new program that it's dubbing the Second Chance Employment initiative, thanks to another $1 million grant from the Appalachian Regional Commission. The program provides paid internships to 30 people in treatment programs, increasing their chances of eventually being hired.
Fahe is still engaged in its traditional community development work, but King says he envisions maintaining the task force for as long as it's useful. "We'll continue to stay involved where we think we add value—but we're not trying to be everything. There's a limit."
Bringing Multiple Services Under One Roof
In the medical world focused on opioid abuse, silos are common, says Anna Lembke, a Stanford psychiatry professor and one of the best-known researchers on the epidemic. "Right now we have addiction treatment separate from mental health. Pain treatment, which is particularly relevant to the opioid crisis, is located in yet another location," she says. What's needed is to bring it all under one roof, "so that people can get integrated care in one location with one interdisciplinary treatment team."
The same is true outside of the medical sphere. Effective treatment and post-treatment options require collaboration between a number of practitioners. And that's been increasing, often with community development groups as the facilitators. But the degree of buy-in, coordination, and time demanded by that kind of model requires a particular level of devotion to new solutions.
At the Southwest Minnesota Housing Partnership (SWMHP) in Mankato, founder and CEO Rick Goodeman had that kind of devotion. "He never shied away from something different and out of the box," says Jenn Lamb, a housing specialist with the organization. Goodeman died this spring, but not before the organization's new housing development, Solace Apartments, opened and quickly filled to capacity.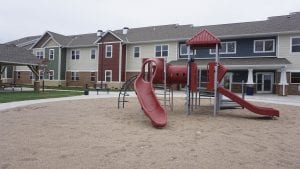 Solace is a 30-unit apartment complex designed for people coming out of drug treatment or the court system who are at a high risk of homelessness. For those looking to restart their lives, the development is a one-stop shop, with a number of supportive services under its roof. At least initially, residents have just about all of their basic needs taken care of so that they can focus on moving forward.
It's an innovative model that took years to come to fruition. In 2012, Judge Allison Krehbiel commented to Dr. George Komaridis, a psychologist, about the revolving door she observed among offenders who came before her: so many wound up back in court or jail because they didn't have a stable place to live when they were released. Together, the two began brainstorming about a possible residence for former drug offenders that would include services to help them reintegrate into society and reunite their families.
Eventually, an architect pointed them toward Goodeman and SWMHP. "They came and said, 'Hey, this is what we want to do; what can you make happen?'" says Lamb. Goodeman—who was already very interested in supportive housing—"was really committed to working with them and figuring out what kind of model would work, and how to fund it."
To flesh out the concept, the three partners decided to invite other players to the table. Stakeholders from across Nicollet County were invited to give their input: representatives from the probation and public defender's offices; public health officials; school authorities; mental health professionals; county commissioners; child development experts; and the property managers who would be in charge of the complex.
That broadminded approach paid off. Once the real planning for Solace was finally underway, there was virtually no NIMBYism, says Lamb—something she attributes to the early inclusiveness. "[The initial meetings] helped garner support for the project," she says. "Even people who had questions or concerns, they were still there, bringing their concerns to the table; and we were trying to address and validate them throughout and keep an open dialogue."
Those folks, as well as future residents, were also there when staff architect James Arentson presented his plans for the complex. "The people that would actually be utilizing that space had a lot of input and helped dictate how it looked," says Lamb.
The final product is a complex of subsidized one-, two- and three-bedroom apartments. Basic living necessities are provided, and the complex has space for children to play. Just as important, there's a wealth of on-site supports: therapists who see individuals and groups; adult rehabilitative mental health services to help residents with setting goals and managing their lives; trauma-focused therapy for the children who live there. And SWMHP employs a navigator who works at the site, helping new residents complete vital paperwork and connect with—or "navigate"—the various options available to them in their recovery.
Solace's funding was cobbled together from a variety of sources. Built using low-income housing tax credits, TIF, and HOME funds, the complex's operating funds and maintenance are covered by rental subsidies paid by the state. Services, meanwhile—which were budgeted at $445,000 for the first year—are mostly paid by Medicaid, grants, and various insurance plans. The balance, including the navigator's salary, is paid for by the state.
The first residents arrived at Solace in November last year, and there's a long waiting list to get in. For the housing organization, the entire project has been a learning experience. The complex is much bigger than the group's past projects, and becoming involved in service provision has been a little bit daunting—especially because the model is unusual. "There's not necessarily others we can ask to figure it out," explains Lamb.
But city and county officials have been incredibly welcoming and have helped out with problems that have arisen. "When we've reached out, people have offered support and whatever they can," she says. All of which makes the project—and the years it took to come to fruition—worth it. "Just the results we've seen in the past six or seven months [have] been really incredible to witness," says Lamb.
Going in Brand-New Directions
New partnerships are one thing. But some community development groups are seeing that to truly address issues around opioid use in their regions, they need to not only cultivate new relationships, but to also break out of their patterns and think in a wholly new way.
Take the Tamaqua Area Community Partnership (TACP), for instance. Located in east-central Pennsylvania, the organization is used to doing a little bit of everything in Tamaqua: strengthening neighborhoods, teaching life skills to young people, promoting financial security. But when director Micah Gursky really thought about how the town could support recovering substance abusers, he realized there was a gaping hole in the town's social infrastructure. There wasn't anywhere for them to hang out in public that was fully drug and alcohol free. Plus, says Gursky, "Tamaqua wasn't a very recovery-friendly community; the prevailing thought was 'It's those people.'"
The outcome of that thought process is Hope and Coffee, a downtown coffee shop built, staffed, and frequented by recovering opioid users and other addicts. Space is available there for recovery meetings, but TACP simply runs the business, with the help of an angel donor. Since the café opened last July, four baristas have "graduated" and gone on to better-paying jobs.
Gursky says the coffee shop's overt effort to normalize recovery has helped shift the public mentality about drug addiction. "The mindset about what a person in recovery is and whether you want to live next to them—that's completely changed."
In Anchorage, Patrick Anderson, CEO of the Rural Alaska Community Action Program, is going in a very different direction. His 54-year-old organization has a robust housing-first program that serves formerly homeless substance abusers who are some of the neediest people in his community. But like Jim King at Fahe, that's not what he wants to talk about when he's discussing the opioid epidemic.
Instead, Anderson describes how his perspective has shifted over the 15 years he's been working in the field. Housing first, after all, isn't a magic bullet. "[People] do eventually decline in their usage and a few actually rehabilitate and make it out to the general population, but often not with the skill set that allows them to live independently," he explains. "It's very expensive for people to make it, and they have very high relapse rates."
Over time, he says, he began to feel "that we needed a different approach than we have now."
After all, there's often a deeper reason people become addicted to drugs or alcohol and spiral downward. For many, it starts with trauma they experienced as kids that they now feel as toxic stress. That concept has gained prominence and growing acceptance over the last decade: that adverse childhood experiences, or ACEs, can stay with adults and deeply undermine their mental and physical health.
"Toxic stress is the basis of a multitude of actions that alleviate feelings of fear and anxiety; it doesn't necessarily matter what you adopt as long as it gives you relief," says Anderson. He believes that addressing these deeper issues is the next step if practitioners really want to help people move beyond addiction.
In response, Anderson is on the verge of proposing what he's terming a "breakthrough initiative" to his board: a project that would encourage genuine, lasting community healing.
The initiative would have four parts. First, participants would be encouraged to find ways to understand and then accept what happened to them as children and how it's currently influencing their behavior. The second component would be a comprehensive nutritional supplementation, because substance abuse often leads to key vitamin deficiencies that can affect mental health. Third, participants would focus on somatic exercises that have a "trauma releasing" component. And finally, they'd be encouraged to meditate regularly or try other therapies that have the potential to retrain the mind.
It's an effort to address the issues that often lie at the core of addiction, and something that could potentially be piloted in a small town or village, a place where people already have supportive bonds and could go through the program together.
The program is a bit of a radical idea, Anderson admits, "but the potential for overcoming some of these negative issues is in front of us, and just hasn't been put together."
The real challenge, though, is finding a group that would fund such a radical, cross-cutting endeavor. Federal dollars, for example, tend to go to predictable, tried-and-true models. "Government funding all [follows] best practices—I don't know how this will fit in," says Anderson. Maybe private foundations would be a better fit, he thinks.
That's the problem: funders, governments, and many individuals like clean, easy solutions. But humans are complicated. And it's increasingly clear that for a complex problem like the opioid crisis, there's no substitute for a multivariate, systemic, cross-cutting approach.