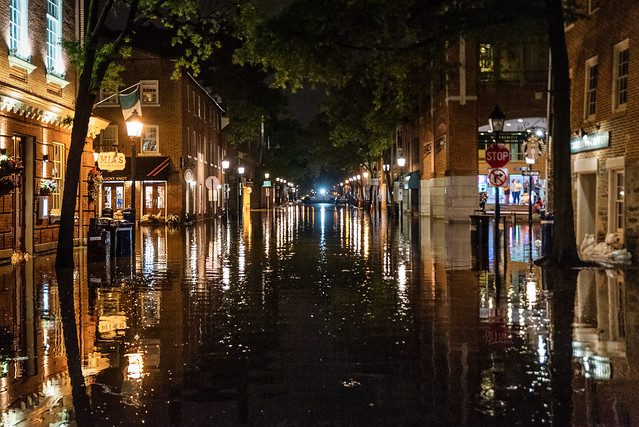 HUD has proposed a rule that would prohibit "mixed-status" families—i.e. those who have some members who are eligible for federal assistance and some who are not, mostly for immigration reasons (and not necessarily being undocumented)—from living in federally supported housing. (Housing assistance is already prorated for mixed-status families to not cover anyone who is ineligible.) Families could be evicted within 18 months, including many who qualify but cannot produce the required documentation. "The cruelty of Secretary Carson's proposal is breathtaking, and the harm it would inflict on children, families and communities is severe," said National Low Income Housing Coalition President and CEO Diane Yentel. "Tens of thousands of deeply poor kids, mostly U.S. citizens, could be evicted and made homeless by this proposal."
Regional HUD secretary Lynne Patton has gotten some side-eye for things she's said and done since her appointment to the role, but in an in-depth radio interview this month on WNYC focusing on the state of the city's public housing, she seemed quite protective of its residents. In response to questions about the publicity-stunt vibe some got from her short stays in NYCHA buildings, she pointed out that building management knowing she was coming got things that had been neglected done, and that issues of mold, elevator maintenance, heat, and vermin were a priority to ensure that units were safe.
A major city with a plan. As climate change worsens and cities try to weather its effects, D.C. officials have proposed a plan to remove and retrofit flood-prone buildings by 2050. According to this piece in Bloomberg, it's the first city to do so. This news comes at a good time—our new issue, out to subscribers this week, is all about resilience in the face of climate change. We take a look at how disaster aid perpetuates inequality, as well as things cities can do to address climate change and institutional racism, build affordable and green homes, and design for climate change (and lots more). Get the issue here.
Ginnie Mae is concerned that homeowners with VA loans are being aggressively targeted for risky refinancing loans, and is looking into further changes to its rules to limit them. Equity-stripping refinance loans were a major factor in the foreclosure crisis's effect on African-American home equity, so it's worrisome that the same process could be at work for the nation's veterans. (And not the first time veterans and active-duty military have been targets either.) While Ginnie Mae sounds like it's almost more concerned with the investors who don't like so many prepays, we're concerned with the value the VA gives to those who served getting siphoned away by shady lending practices instead of providing ongoing stability.
You had to ruin it, didn't you? The story of the real estate developer who offered an in-law suite in his home in a rich neighborhood in Oakland to a homeless couple could have been another feel-good story (not a systemic-change story or a reason-not-to-interrogate-real-estate-development-practices-that-allow-such-wealth-accumulation story). But nonetheless, a moment of compassion and human connection that we could use more of. Until the neighbors started calling the police because a Black couple not dressed in expensive clothes was in their neighborhood. It's like some people enjoy being a stereotype. The heartbreaking part of this story is that the couple, despite the relief of having a home, is wondering if they should leave so their host doesn't get bothered by these calls.
It might be getting harder to be an unscrupulous landlord in New York City. Crain's New York reported that the city council passed over a dozen bills this week aimed at preventing tenant displacement. Several relate to the hot-button issue of construction eviction.
The Consumer Financial Protection Bureau's structure has been found constitutional yet again, in a case that doesn't appear likely to make its way to the Supreme Court. Nevertheless, Sen. Ted Cruz is moving to try to abolish it, yet again. Why is it that certain legislators seem concerned about the existence of an agency whose job is to protect the consumer?
Following Philadelphia's decision earlier this year, San Francisco voted this week to ban cashless stores. Citing discrimination, the Board of Supervisors voted unanimously, and a second vote next week will pass the ordinance. The stores' inherent exclusion of millions of unbanked consumers is often an argument against them, but in cities with high homeless populations, advocates say their growth is a direct response, and designing of spaces—public and private—that are unwelcoming to them is becoming more commonplace.
A day-long strike of Uber and Lyft drivers, focused in several large cities, gained a lot of attention in its run up. Sens. Bernie Sanders and Elizabeth Warren and Rep. Alexandria Ocasio-Cortez spoke out in favor of striking drivers, and social media was full of calls not to cross the virtual picket line. While reports showed that the strike didn't manage to shut down functional ride-hailing in most places, it was still a major organizing feat for gig economy workers. We can hope there was a measurable effect to the companies' (still-unprofitable) bottom lines, but it seems like there's more work to be done, especially given the revelation that at least Uber's goal is explicitly to destroy public transit.
Let this sink in: In just 10 years, more than half of middle-income seniors—an often overlooked demographic—won't be able to afford housing. To help address this dire situation, a recently released study in Health Affairs suggests interventions in federal housing policy and on the consumer side to allow more seniors to access programs that "encourage long-term care financial planning." There are also programs like this one in Minneapolis, where an organization has helped homeowners at risk of losing their properties—most typically seniors—in place by bringing their home into a land trust. It definitely seems like one answer to this issue.
Environmental impact: A 31-acre campus that was donated to the Urban Land Conservancy (ULC) is getting a $3.2 million sustainable energy upgrade. The improvements are expected to reduce the "campus' electric consumption by 1.28 million kWh annually, once the facility is fully occupied. That is equivalent to over 1 million pounds of burned coal per year. The solar grid alone is estimated to produce a 106 percent positive offset at the campus' current electric use," according to a release from ULC. The campus, which houses AmeriCorps NCCC, will be preserved for permanent community benefit.