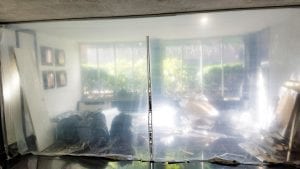 A May 2017 article in The Real Deal documented a Bronx real estate bubble in which land prices skyrocketed well above what would be supported by the income that properties were currently generating. The article analyzed Bronx land transactions from 2010 to 2016, labeling deals speculative if prices grew at least three times faster than buildings' incomes. Of those speculative transactions, 83 percent were for rent stabilized buildings.
Rent stabilization laws have kept harshly expensive New York City livable for some, but residents of rent stabilized units are disparately affected by predatory real estate.
Mayor Bill de Blasio has called these residents "the soul of our city" and the reason he is pushing what he calls the country's the most progressive housing plan. Yet, in neighborhoods slated for rezoning under his housing plan, existing tenant protections do not go far enough.
The waterfront in Flushing, Queens, was one of the first areas announced by the mayor to be rezoned in November 2014. With projects like F&T Group's $850 million Flushing Commons breaking ground, the market in Flushing went from smoldering to wildfire.
In spring 2016, I was in an urban studies class that explored how different aspects of the community would be impacted by the Flushing rezoning. We attended meetings of the Flushing Rezoning Community Alliance (FRCA), a coalition of local churches and nonprofits, and engaged with its base. I was drawn to tenant organizing, with the mentorship of one tenant leader proving invaluable, and reported back to my classmates on the issues.
Targeted
Treetop Development snapped up seven rental buildings in downtown Flushing and another in Elmhurst in December 2015 for $139 million. By April 2017, two of the buildings were flipped for $57 million—a $26 million gross profit in a year and four months.
In each building, notices were posted that read, "We are starting construction in the building that is scheduled to last over the next several months. We apologize in advance for any inconvenience this may cause and will do our utmost to minimize the renovations [sic] impact on your quality of life, if any. Construction will take place Monday-Friday, 9 a.m.-5 p.m."
ACORE Capital provided a $118 million, three-year loan for the 610 apartments in this portfolio. Treetop allocated $10 million for upgrades to the apartments, common areas, and exterior facades. To cover a loan that size, Treetop could not hold the properties for 40 years at the current rental income like the previous owner had. Rent prices are controlled by the Rent Guidelines Board and are typically less than market-rate housing.
Adam Mermelstein, co-principal at Treetop, outlined their formula in a 2012 interview with the magazine, The Real Deal: "As the units turn [over], we'll be doing significant interior—renovations—pretty much a gut renovation of each apartment—that we hope will bring the apartments to market value. We're not going to be harassing the rent-stabilized tenants or pushing them out, but as they leave, we'll be upgrading."
A Permanent Construction Site
Community members initially organized for a voice in the rezoning, but found neighbors in other buildings with similar issues who also had the same landlord. Treetop's construction practices soon became the focal point, uniting its tenants across different ethnicities and languages spoken. What Treetop called "improvement" was actually eviction, and construction was the first crucial step in the process. As soon as the remodeling began, the quality of life for tenants deteriorated.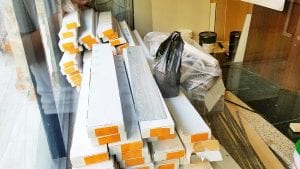 White dust regularly greeted tenants in the hallways and lobby. Construction workers seemingly became permanent tenants. Metal beams adorned the stairwells, hallways, and ceilings on every floor. The hallways were narrowed and the ceilings dropped down. In the common areas, drywall panels, flooring, and construction materials sat beside full garbage bags and demolition debris. Residents were furious about their homes being treated like a storage locker and dumpster.
The FRCA continued to pressure Councilman Peter Koo for more affordable housing in Flushing. In March 2016, the alliance held its most-well attended meeting, with a diverse crowd of over 100 people. Large showings of community support provided morale to Treetop tenants, and previously uninvolved community members were motivated to attend meetings and consult legal services. Most importantly, the FRCA facilitated conversations about how the waterfront's development was related to displacement, using what was happening in Treetop's buildings as a prime example.
The FRCA's white paper explained why stronger tenant laws were needed: "Rezoning[s] will dramatically increase the value and price of land, and many landlords could easily raise rents of longtime residents as a result." By the end of May 2016, the rezoning was paused by Councilman Koo's concerns over infrastructure and the cleanup of Flushing Creek. The FRCA found itself in an odd position—they agreed with the councilman, but knew the stock of affordable housing would continue to be depleted without the rezoning and the mayor's Mandatory Inclusionary Housing program. The rezoning was expected to produce between 516 and 619 affordable units, and Treetop's presence in the neighborhood alone threatened 488 existing units.
Treetop's tenants actively reported problems with living conditions in their buildings to the city's 311 hotline and collectively wrote to government agencies, accusing Treetop of construction beyond permitted hours, creating an unsafe living environment by improperly containing dust, and doing more work than what was filed with the Department of Buildings (DOB). The letters to elected officials spurred the Mayor's Office to call for inspections from the DOB's highest enforcement unit.
When inspectors in white and blue work shirts appeared, tenants were thrilled—especially when their complaints yielded a violation—each one carrying a hearing date and fine. Treetop consistently defaulted, however, and let unresolved fines accumulate. For example, a severe class-1 violation for "unlawful acts" carried a $2,430 penalty. It was ignored for six months and swelled to $12,000. 
Renovations Make Way for Evictions
After the rezoning was shelved, turnout to FRCA meetings slowly declined as burnout took hold of the group. Meanwhile, Treetop's improvement program began to be surgically executed. By May 2016, DOB permits showed 63 apartments had been vacated and approved for renovations to the kitchens, bathrooms, and plumbing with "No change to use, egress, or occupancy." Senior tenants warned that major capital improvements (MCIs), or building-wide upgrades that bring permanent rent hikes to all tenants, would soon follow.
Rent increases due to MCIs are not subject to the Rent Guideline Board's (RGB) rent freezes and caps. The RGB does, however, require tenant input before approving rent increases based on MCIs, and in this case it would have been difficult to get approval for them with so many disgruntled tenants. Prior to Treetop, Algin Management presented numerous MCIs, and longer-tenured tenants had accepted them, expressing that they felt Algin maintained the buildings well.
Treetop said it hadn't applied for any MCIs, though it noted that "the previous owner, they replaced the boilers, [and] they replaced the elevators." No MCIs were filed under Treetop, but they nonetheless appear to have relied on charges justified by MCIs in their accounting when they brought in eviction cases.
In one such case, a tenant of over 35 years was served a five-day notice for two separate unpaid balances—one from Treetop for $3,997 dated December 2015 to June 2016 and one from Algin Management for $3,829 from 2013. In their affidavit, they stated no rent was owed to Algin and their rent payments verified this.
With help received from the Senior Citizen Rent Increase Exemption (SCRIE) program, the rent the tenant owed was $923. Not only was that rent regularly paid, but because Treetop raised and then lowered the rent again, and SCRIE was delayed in adjusting, the tenant was actually overpaying for several months. In order for Treetop's ledger amount to match up to Algin's, a $1,193 security deposit, late fees, and many "retroactive" MCIs worth $18 to $57 were tacked on. The tenant's lawyer argued that the unpaid rent demand was "defective and unclear" as both rent ledgers contradicted each other. Security deposits and late fees are not considered rent in nonpayment of rent cases. Additionally, Treetop ignored the tenant's requests to have faulty plaster and a broken stove repaired. The court agreed and dismissed the case before trial.
With every FRCA door-knocking session, our group found more empty apartments left unlocked and occasionally still containing bedding, toys, and dirty dishes. Children in the building were using the empty units to play hide-and-seek. The danger was clear to inspectors, as the unsecured apartments were an open minefield of unapproved electrical and bathroom work.
Tenants became suspicious of unfamiliar faces who came and went. During one door-knocking, there was a couple and a man no one recognized entering an apartment, each holding luggage. In conversation, one of them said he was there temporarily. In another incident, inspectors discovered an illicit "ongoing gaming operation" on the building's first floor.
Tenants' grievances resulted in full or partial stop work orders in seven of Treetop's eight buildings for activity past working hours, unaccepted plans, and work without permits. To reduce expenses and speed turnover, entire units were secretly renovated without oversight. While the inspectors validated tenants' complaints, conditions barely improved, and Treetop proved to be above enforcement.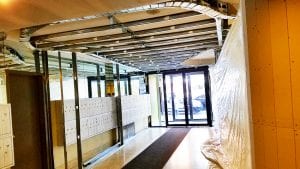 The full stop work orders failed to provide relief. Apartments without permits posted were still covertly gutted. For a fine to be issued, illegal work had to be caught in the act, and Treetop caught on to this loophole. Operations tightened, sloppy mistakes were covered up, and sometimes inspectors were outright denied access. Tenants contended that the work in progress was shoddy, rushed, and unnecessary; and once completed, their safety was further undermined—Treetop's final goal was illegal conversions.
Various inspections indicated that the certificate of occupancy was inconsistent with DOB records, and that Treetop was creating SROs, or Single Room Occupancy units. In the event of a fire, such illegal conversions can be deadly. Department of Buildings inspectors discerned flammable partitions and unsafe flexible electric and gas cords were being used. In 2013, a Treetop-owned rent-stabilized building in Williamsburg, Brooklyn, went up in flames, which tenants attributed to a history of electrical problems and disrepair. In 2007, a Daily News investigation found similar issues and tenant complains against Treetop. 
Divide and Profit
In as little as two months after a tenant moved out, the apartment was gutted, finished, and re-leased. Online rental sites showed that studios were turned to one bedroom units, one bedroom units were turned to two bedroom units, and on. Photographs showed white french doors separating rooms. Floor plans from real estate brochures confirmed this pattern at 132-40 Sanford Ave and 41-40 Denman Street. Some listings even advertised a converted two-to-three bedroom unit with all utilities included, a free television, and move-in fees waived.
In December 2016, a Queens Tribune article announced the formation of the Treetop Residents Association, which tenants said they formed in response to the unfair and hazardous living conditions in their buildings. When asked to comment, Treetop responded that 86 units had been renovated, and that "there has been no work done in the apartments or common areas at night or on the weekends, other than maintenance or emergency work done by a superintendent."
The bulk of those 86 units were illegally converted, and that number continues to grow. Using popular apartment-listing websites and permits or violations that named a unit, I found that 127 out of the 610 units in the eight-building portfolio are suspected to be illegal conversions, meaning at least a fifth of the tenants under Treetop were most likely displaced.
StreetEasy marked 41 apartments rented as of September 2017. On average, it took 26 days for an apartment to be leased, with the shortest in just three days and the longest at 66 days. Below are the average monthly rental prices found for each type of unit.
| | |
| --- | --- |
| Average Studio | $1,634 |
| Average One Bed | $1,801 |
| Average Two Bed | $2,224 |
| Average Three Bed | $2,713 |
| Average Rent | $2,036 |
According to Treetop's most recent reports to the Department of Finance as of January 15, 2018, the mean net operating income (NOI is the gross income minus expenses) on the eight buildings was $665,000 and the average rent was $1,397. When compared to Algin's last statement, rents climbed on average 14 percent, even though the Rent Guidelines Board had frozen rents and recently voted for 1.25 and 2 percent increases. The NOI is the number most looked at by investors and Treetop proved themselves to be a worthy investment—their methods resulted in a 20 percent NOI growth through the forced displacement of families.
A rent stabilized apartment is deregulated once a tenant whose rent exceeds the $2,700 threshold moves out. However, with passage of the Rent Act of 2015, if a vacating tenant was paying a preferential rent (a rent lower than the maximum rent allowed under the rent regulations), the vacancy lease rent increase that can be applied to the vacating tenant's legal rent will be limited to 5 percent if the last vacancy lease commenced less than two years ago, 10 percent if less than three years ago, 15 percent if less than four years ago and 20 percent if four or more years ago. Apartments may be rented to higher income individuals at 20 percent increases, but new residents become equally vulnerable to harassment, as there is more incentive to push them out in pursuit of higher rents.
The status of renters is hazy in three Treetop buildings receiving J-51 tax abatements,132-40 Sanford, 132-57 Sanford, and 132-25 Maple. J-51, like the controversial 421-a program, provides tax breaks to developers but requires rent stabilization in exchange.
In a historic pro-tenant victory, Roberts v. Tishman Speyer set a huge precedent, finding that properties under J-51 are rent stabilized through the length of the tax break, regardless of whether other conditions for deregulation are reached. Tenants in the case won a $68.75 million settlement and another $76 million in back rent.
From Bad Actor to Worse?
Flushing is undoubtedly still hot, but the paused rezoning dampened the market. Treetop's rental income was insufficient for its $118 million mortgage, and it needed to sell off some of its portfolio.
Since acquiring their Flushing portfolio, Treetop had amassed 71 DOB violations and 106 complaints. Forty one were categorized as "immediately hazardous to life" in class-1, followed by 29 class-2 offenses, and a lesser class-3. Fines total $225,000 and $177,500 has been satisfied. Thirty one violations were in default, totaling $196,000. The Department of Housing Preservation and Development documented 414 complaints and gave 139 violations—39 class A, 86 class B, and 14 in the worst class C.
Before Treetop could sell or refinance any of its buildings, open violations needed to be corrected, so suddenly in December 2016, it started to pay. It settled $99,000 in Department of Buildings fines on December 31 for the most heavy violations, and other fines were paid off after half a year; Another $8,200 in fines was ultimately dismissed.
An off-market sale of two of the buildings we had been following to Pinnacle group officially closed on March 30, 2017, but the two LLC's owned by Pinnacle and named for each building's address were created on December 20, 2016.
Pinnacle itself is notorious for its penchant to induce tenant turnover. In an interview with The New York Times, principal Joel Weiner detailed a familiar strategy of passing major improvements onto tenants. Pinnacle holds an extensive record on tenant harassment and expertise in rent stabilization deregulation.
An article in The Nation titled "How Banks and Developers Collude to Get Rid of New York's Affordable Housing" questioned how Pinnacle Group received a mortgage much greater than the income backed by a rent stabilized building in Harlem. The author surmised that these "aspirational" loans hinged on displacement. While Treetop specialized in illegal conversions to boost rents and property values, Pinnacle specialized in converting residences to condos.
Directly across the street from 132-40 Sanford are the Infinity 8 Condominiums, which boasted a projected $118 million sellout. Before Pinnacle purchased it, it was a 204-unit rent stabilized complex. Pinnacle also recently picked up two more Flushing rent stabilized properties at 136-07 Cherry Avenue and 142-20 Franklin Avenue. Plans to turn the Franklin Avenue property into another Infinity 8 brand building are already underway on a non-eviction basis, in which condo conversions are contingent on vacancies—a plan well-suited to the company's strengths.
The Pinnacle deal allowed Treetop to pay off its liabilities and then refinance the debt on 41-40 Denman, 132-25 Maple, and 132-57 Sanford with $54.7 million from ACORE Capital.
Treetop and Pinnacle's joint efforts gravely threaten 709 stabilized Flushing homes, and another 122 in Elmhurst, with deregulation and displacement.
In a possible pivot from Flushing to the Bronx, Treetop is now preparing to construct two large residential towers in Mott Haven for an estimated $160 million. How Treetop behaves as a builder is yet to be seen, but the project will be another gamble bolstered by waterfront views, rezonings, and the revival of 421-a subsidies.
Lawmakers should be hesitant to hand taxpayer dollars for constructing affordable housing to firms like Treetop that have questionable reputations in actually keeping homes affordable. In the gold rush to the Bronx, companies seeking quick flips and cheap land will undeniably turn to harassment and displacement tactics perfected by Treetop and Pinnacle.
In August 2017, a package of bills named the Stand for Tenant Safety (STS) passed the City Council. The legislation aimed to cut construction harassment of tenants by expanding the DOB's enforcement powers. Three of the bills bump up the penalties for infractions, but as Treetop demonstrated to speculators, penalty costs are accounted for as part of doing business, and so tenant harassment will continue as long as the payoff to deregulating units remains very profitable.