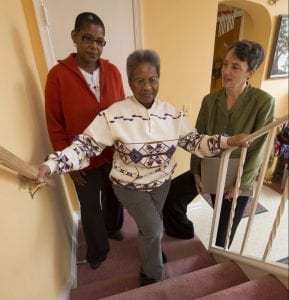 Three years ago, Lisa was in trouble.
The Minneapolis homeowner had fallen victim to several recent misfortunes, including a divorce and diagnosis of a chronic illness. But it was the attention of a particularly punitive city housing inspections department that almost did her in.
"They did very brutal inspections," remembers Lisa (her name has been changed for privacy reasons). "You'd be ordered to paint your house and trim, and if you didn't paint the trim, the fines would double."
Lisa was required to paint the trim around her own house, add handrails to the front steps, and fix the roof. Later, the city also pointed out that two elm trees in her yard were diseased and had to be cut down. The fines she was assessed had a steep interest rate and the total grew rapidly; within a few years, she owed $24,000; plus, she needed another $4,000 to cut down the elm trees.
Lisa, then 65, didn't have that kind of money, so the amount was added to her property taxes, putting her ownership of the house at risk. The home, a two-story duplex in an ethnically diverse North Side neighborhood, was paid off, but Lisa was unable to refinance it or otherwise raise the funds. "I went from place to place, and they all said, 'While you're in the middle of a divorce, you can't borrow money.'"
She was desperate. "I was losing my home," she says now. "It was really frightening. I would've been homeless."
Lisa's story sounds dramatic, but it's not a particularly unusual one for low- and moderate-income seniors around the country. According to experts, the United States is about to face a giant wave of aging baby boomers who are hoping to remain in their houses as they age, but who are often one outstanding tax bill, major repair, or medical crisis away from losing their homes altogether.
The statistics are daunting. According to LeadingAge, a national association of not-for-profit aging services organizations, in a little over 10 years, one in five Americans will be older than 65, and over half of them will need some sort of paid long-term care services. The organization recently released the results of a poll showing that at least 60 percent of seniors hope to remain at home as they age, even if they have a physical disability.
But elderly Americans tend to have low incomes, as their life spans outstrip their savings. Roughly 20 million senior households pay over 30 percent of their incomes for housing, according to the AARP Foundation; almost 10 million pay over 50 percent. And those struggles are particularly prevalent among a younger cohort that is moving toward retirement age now.

"For younger baby boomers, their economic situation is much worse than the older ones—they got hit in '08 [by the financial crisis] and were unable to recover. There's a growing number of baby boomers retiring with mortgages, so they don't own their houses outright," says Robyn Stone, co-director of the LeadingAge LTSS Center @ UMass Boston. "And they have much higher rates of childlessness and divorce, so moving in with a family member isn't necessarily a possibility."
But there are far too few affordable housing options out there for low-income seniors, either in institutional settings or in their homes with services added on.
Stone herself is worried. "There are big subgroups of folks who are housing poor or housing burdened. I don't want to be too dramatic, but we could see the day when large swaths of elderly people literally have nowhere to go," she says. "Where is the investment for this going to come from?"  
'if we're able to keep an older adult in their home rather than a facility, there's significant savings.'
Dan Soliman, director of housing impact at the AARP Foundation, agrees with Stone that a crisis is looming, but he's more optimistic about the options for addressing it. "It's a really, really big math problem. It's happening now: we can either be part of it, or deal with the result of it," he says. "We need to work together, highlight innovations, and map out what does it mean to age, and with dignity."
There are definitely innovative programs out there, Soliman says. One is the Community Aging in Place—Advancing Better Living for Elders (CAPABLE) initiative run by the Johns Hopkins School of Nursing. The program sends a nurse, an occupational therapist, and a handyman to modify and improve the home environment of low-income seniors who want to age in place. Initially piloted in Baltimore, it's a modest program that can have a real impact—and save money for Medicare and Medicaid. 
"They get that if we're able to keep an older adult in their home rather than a facility, there's significant savings," says Soliman. The program is now being expanded to several states.
AARP Foundation itself has developed a new program called Property Tax-Aide to help older homeowners gain better access to property tax refund and credit programs; currently only about 8 percent of low-income seniors benefit from these initiatives. Participants could ultimately receive an average of $1,100 in tax credits or a direct refund. The program will launch in Minnesota, New Hampshire, and Washington, D.C., this spring, with the goal of expanding to 27 other states by 2021.
And many cities have programs that help elderly residents retrofit their houses to make them more user-friendly. Washington, D.C., for example, offers grants of up to $10,000 to low- and moderate-income homeowners and renters for home modifications that reduce the risk of falls and improve mobility.
But those programs don't get at some of the bigger issues, like out-of-control tax bills that can eventually lead to foreclosure, major repairs costing tens of thousands of dollars, or medical crisis that interrupt mortgage or tax payments.
Project Sustained Legacy
There is a small program currently being implemented in Minneapolis that addresses just about all of the key problems, and then some. It funds housing retrofits and pays off outstanding bills so that seniors can age in place, and could cover some services as well. And it keeps the homes affordable to low and moderate-income buyers in perpetuity, so that when seniors no longer live there, the houses don't fall into the hands of investors or negligent landlords.
The program, called Project Sustained Legacy, was created by Minneapolis' City of Lakes Community Land Trust. It takes advantage of the land trust model—but tweaks it slightly. Rather than buying the land underneath a house in order to lower the initial purchase price for a new buyer—the traditional CLT approach—the organization takes over the deed to the land belonging to an existing homeowner. In return, City of Lakes addresses outstanding tax liens, mortgage payments, and deferred maintenance.
"When you talk about anti-displacement and retaining affordability in a community"—not to mention helping people on a fixed income—"this makes so much sense," says Staci Horwitz, City of Lakes' operations director. "I think it's incredibly innovative."
The program isn't explicitly about helping seniors. Rather, it's focused on keeping existing residents in their homes. But because City of Lakes requires that homeowners' total debt be less than $50,000, the participants tend to be older adults who've lived in their homes long enough to have little or no primary mortgage.
The participants in Project Sustained Legacy so far—12 since 2010—have several other characteristics in common as well. Most are low income; their average income is 31 percent of area median income. Almost all have been referred to the program because of tax liens on their property, and the majority would likely have fallen into homelessness without some kind of intervention.
But City of Lakes picks its participants carefully. The program targets people who've experienced a recent catastrophic event—divorce, major medical issues, death of a spouse or other relative—that sent them into a tailspin. That is, the organization works with people who, but for a bad series of circumstances, would be doing OK.
"So it's not just that we helped someone and a year later they imploded," explains Horwitz. "That's part of our due diligence: do they have the wherewithal post transaction to sustain the home with its taxes and everything else? We've had to have some tough conversations: 'Is this the best route for this household?'"
Once a homeowner has been approved, City of Lakes does a comparative analysis to estimate the house's market value. The organization emphasizes transparency and clear communication with participants throughout—about the amount they might get for their home if they sold it outright, about the land trust process and exactly what's involved—and urges them to get legal representation, whether through Legal Aid or another provider.
Horwitz and her colleagues use that market analysis, coupled with an assessment of the resident's needs, to determine the land's worth. "I'll usually back into a price, based on what we need to satisfy, in terms of the tax lien and how much [is needed] for rehab. We'll find our sale price that way and put it in front of the homeowner," says Horwitz. That number tends to be around $50,000.

When the deal is done, City of Lakes takes title to the land and the resident signs a ground lease, often just a few dollars per year. And then, instead of giving the purchase price directly to the homeowner, the land trust uses it directly to address outstanding debts, make repairs, and ultimately stabilize the resident.
That's what saved Lisa, the Minneapolis homeowner in trouble. After struggling to find funds to cover her enormous tax bill, she was referred to City of Lakes, which recognized that she was a good fit for the program. That was the start of a new chapter in her life.
The house was appraised at $178,000, and the organization agreed to pay about $48,000 for the land. "They bought the land, and then they came in with rehab funds. They paid off my roof loan. They paid off my tree removal, my back taxes," she remembers. "They've given me more than the land was worth. It's been absolutely life changing."
'They've given me more than the land was worth. It's been absolutely life changing.'
Thanks to City of Lakes and Project Sustained Legacy, Lisa is still in her house. And the process isn't done yet. The organization is helping her rehab the second floor of her three-bedroom house; they're hiring contractors and paying for a substantial portion of the repairs. Eventually, Lisa plans to rent out those rooms, but in the immediate future, she's going to move her elderly mother in.
And of course, like all land trust homes, the house will remain affordable even when it's eventually sold. That's important in a community like Lisa's, which has seen several cycles of investment followed by purchase by delinquent landlords and subsequent disrepair. But it would also work well in neighborhoods facing gentrification and spiraling housing prices, keeping costs reasonable for young families looking to buy their first homes.
"A land trust creates tremendous stability in the neighborhood," says Lisa. "It's an amazing program."
Project Sustained Legacy is a program that could potentially help far more people than it does. Even without advertising the program, City of Lakes currently receives three or four inquiries per month from households that have exhausted every other option. "It is very realistic to assume there are hundreds of households with similar challenges and situations who exist in the city of Minneapolis who could and should be assisted," staff members wrote in a grant application in March.
But Project Sustained Legacy isn't without its challenges. For one, it's a complicated process with several moving parts that usually takes a significant amount of time and staff to manage. "These are some of the more vulnerable, fragile households in our community. There's often an underestimation of the amount of human resources that need to go into making these [deals] work," says Horwitz.
Additionally, not all of City of Lakes' funders are enthusiastic about using their scarce resources to pay off residents' personal debt. They're fine with funding rehab and repairs, but don't want to get into questions of residents' personal responsibility. And that, naturally, limits City of Lakes' ability to help more older homeowners in need.
John Emmeus Davis, founder of Vermont's Burlington Associates in Community Development, has been promoting a model like City of Lakes' for several decades. "I've been trying to persuade my community land trust colleagues that community land trusts should get into the middle of this conversation about an intergenerational transfer of owner-occupied housing," he says.
But out of roughly 250 community land trusts in the United States, City of Lakes is the only one that's successfully implemented the model.
"Certainly community land trusts and community development corporations are intrigued by the idea, but no one has really figured out how to do it at scale," says Davis. "The capital that's required to jump start or subsidize a program like that has not been forthcoming."
For example, Champlain Housing Trust in Burlington, Vermont, seriously considered the prospect in 2013 in an effort to support the many elderly homeowners in the area—and as a way of bringing new single-family homes into the organization's portfolio. In the end, however, the team concluded that they'd need more staff members and funding to get the program up and running, and would have to develop new expertise in overseeing rehab and repairs. Ultimately, it didn't seem worth it.
But the idea may be gaining new traction. Interboro Community Land Trust, in New York City, is one of a few organizations considering the idea. A new group currently in the process of launching, Interboro is a collaboration between four housing-related New York nonprofits— the Center for NYC Neighborhoods, Habitat for Humanity New York City, the Mutual Housing Association of New York, and the Urban Homesteading Assistance Board.
And the region's seniors are a constituency clearly in need of help. According to an October 2018 report by the Center for NYC Neighborhoods, senior homeowners in the area increased by 29 percent between 2008 and 2017, and three-quarters of them are low or moderate income. Many would greatly prefer to remain in their own homes, despite potential issues with taxes, utility bills, estates, or deferred home maintenance.
Meanwhile, even affordable neighborhoods and neighborhoods of color are seeing skyrocketing housing prices—and flippers who are poised to swoop in and make a deal with anyone ready to sell.
All of which makes City of Lakes' model seem like a natural fit, despite the differences between the housing markets in Minneapolis and New York. But Interboro is planning to take the model a step further.
"We'd combine it with services tailored to seniors, maybe a home health aide—plus home accessibility upgrades, financial counseling, and estate planning," says Leo Goldberg of Interboro. "So we'd have wraparound services, because usually there's not just one issue—for example, not just mortgage issues; maybe they also have a health problem."
For Interboro, providing services to seniors who are part of the program wouldn't be a giant lift. "Between the four of us [organizations], we all work with seniors in some way," says Goldberg. Interboro is exploring partnerships with other organizations and neighborhood-based partners that will be part of the program. "The community land trust wouldn't do everything itself; it'll be some mix of coordinating and providing. We're figuring that out right now."
Not incidentally, when they're back on the market, the still-affordable homes could eventually serve as anchors in rapidly changing New York neighborhoods, allowing at least a few lower-income households the opportunity to own their own homes.
Interboro doesn't yet have a timeline for the initiative, but says it's very serious about moving forward. Like City of Lakes' program, this one would necessarily start small. But if it works, given the enormous need around the United States, there's no reason it couldn't scale up and be implemented around the country, helping older Americans age in place without the constant threat of losing their homes.