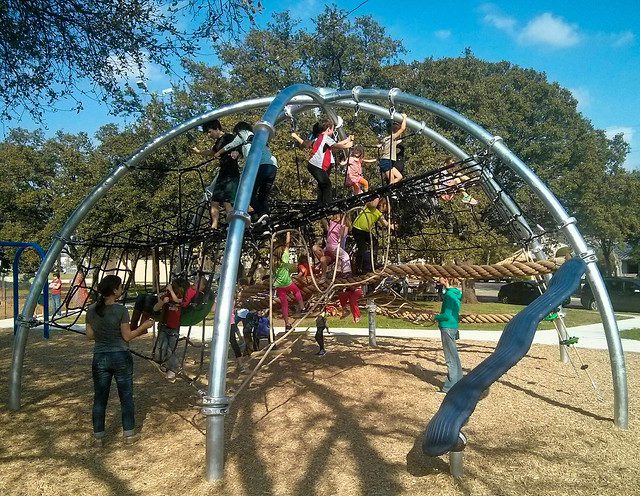 Seattle, like San Francisco (another West Coast, high-cost city) had become known as an unwelcoming place for families with children, but new Census data show that's changing. For the first time in a half-century, Seattle counted over 100,000 children (people under 18) in its population. After peaking with the baby boom of the 1960s, the number of children fell, along with other cities that experienced similar declines as cities gained bad reputations and suburban populations grew—but we know that's reversing. What we're sure of is the income level of this growing population—they are likely wealthier, because in order to live there, you have to be. As Millennial populations stay in, or return to, cities, they will eventually have children, and so it will be important to make sure we are designing them to be as welcoming (to the whole income spectrum) as possible.
We hear more often about "climate refugees"— people who cannot afford to move back to and rebuild in places they've called home after extreme weather-related disasters—but there is also something called "climate gentrification." In Miami Beach, real estate developers looking for solid, long-term investments are moving beyond that icon of beachfront property, which scientists believe will be underwater by the next century due to rising sea levels, and looking at areas inland. The problem with areas inland, once much more affordable to rent and buy in, is that prices are increasing and will create a financially unsustainable situation for the low to moderate-income residents who have lived there for generations. Despite Florida's reputation as a retirement and vacation destination, the majority of its residents are not well off, and many are susceptible to climate gentrification. Because of this, the city has plans to study climate gentrification, and this article discusses the efforts of residents in Miami's Little Haiti neighborhood who are bracing for change and taking land matters, and ownership, into their own hands.
In New York City, because of lack of oversight and the many unplugged holes in its housing system, unscrupulous landlords don't really have to be that sneaky. A Crain's article details just a few of the instances in which tenants have vacated or been removed from rent-controlled units, landlords have made renovations and then inflated the value of those improvements and used that to raise rent—oftentimes all the way up to market rate. Advocates believe this is the case for thousands of units, but they're only discovered if a tenant takes a landlord to court. In high-cost cities, residents must be vigilant in their battle against the many tactics landlords use to increase their rent revenue, and it's clear that the fight for stronger rent control must include keeping existing rent-controlled units that way.
One piece of designing cities for families involves units with more bedrooms. But another piece might be including children in planning and design. This fascinating interview with the author of Placemaking with Children and Youth: Participatory Practices for Planning Sustainable Communities describes the ways in which children's approaches to design are often different from adults' and what benefits we all can gain from that. Reading this made us think we'd particularly like to hear from children in disinvested neighborhoods and communities of color.
For a historically African-American city that is still two-thirds Black, what does a state-designated Black Arts and Culture District mean? In Baltimore, it means recognition and preservation of history, but it also means development and revenue for the artists and business owners who have maintained the place over decades. This Next City article details the goals and process of those determined individuals and organizations to get the designation.
"Hudson Yards ate Harlem's lunch," is how Kriston Capps at Citylab succinctly describes the financing for the widely hated new development on Manhattan's west side. Located in an extremely wealthy section of the city, the development was nevertheless financed with a program intended for high unemployment areas, through some truly absurd gerrymandering that connected it to public housing in Harlem. EB-5, the investor visa program, has been used for good, as we've written about, but it's shenanigans like this (not to mention moral qualms about trading visas for money in our current immigration climate) that give it a bad name.
Housing politics in California remain personal with a mailer from the AIDS Healthcare Foundation comparing SB-50, the revised statewide upzoning bill to urban renewal, to "Negro removal." In response, state Sen. Weiner called the organization a "fake nonprofit," and Walter Thompson, former city editor of Hoodline, noted on Twitter, "Equating SB50 with explicitly racist urban renewal programs that decimated SF's black population isn't just false; it demeans the real social and cultural displacement urban renewal inflicted . . . This bullshit mailer panders to white progressives by invoking James Baldwin's moral outrage, but I doubt most recipients will have more than a passing familiarity with his work. I'd encourage @healthy_housing to shape more effective arguments to support its opposition of SB50 and keep James Baldwin's name out of their mouth." (For background on some of reasons why the bill is so contentious, see our long read "YIMBY: Friend, Foe, or Chaos Agent?")
Meanwhile, let's hope the fights over SB50 don't overshadow some of the other important legislation coming up in California, like the one supporting tenant's right to organize. There was some impressive organizing around affordable housing legislation last year—may that momentum continue!
New York City purchased several private buildings that had been being used as shelters at great expense in order to create 1,200 units of permanent affordable housing. Though some criticized the amount of money going into the pockets of owners many felt had been taking advantage of the system and the residents, homeless advocates felt the trade-off was worth it. In fact, Picture the Homeless would like everyone to remember that, as they said in an email to supporters, "the city didn't simply decide to do the right thing. Homeless people made this happen. Families living in unspeakably awful conditions made this happen. By building power between homeless 'cluster site' residents and the low-income tenants who had been there before the program started, we forced the city to do the right thing."
In hot markets, one of the consistent struggles for those developing affordable housing is competition from cash buyers. Even when an organization is prepared to offer a bid that might be appealing to a seller, the simplicity of cash offers is often hard to turn down. San Francisco has just taken a step toward changing that with its Community Opportunity to Purchase Act. Jared Brey explains in Next City, "nonprofit groups would have a right of first refusal to buy buildings containing more than three units. . .  Landlords who want to sell their buildings would first need to notify qualified nonprofit groups of their intent to sell. Nonprofits would have five days to express interest in making an offer and, if they do, another 25 days to work with tenants in the buildings and structure a deal. If the sellers then receive a higher offer from a private buyer, they would need to give nonprofits a chance to match the offer." Acquisition funding will still need to come from somewhere (and there are multiple funds working on that), but COPA should at least level the transactional playing field.
Stockton, California, is rolling out a basic income trial that will provide $500 a month with no strings attached to 130 residents for a year and a half. Universal basic income has been gaining more legitimacy and supporters over the years, though it's far from mainstream. Some of the opposition causes some headscratching though. The LA Times article quotes concern from a labor leader. We'd think they'd realize that if people have some basic safety net income to fall back on, they'd have more leverage for organizing for better working conditions.