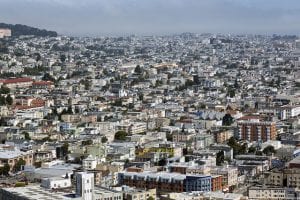 In August 2016, there was a rumor that the philanthropy the Chan Zuckerberg Initiative (CZI) was looking to make moves to address affordable housing. Fast Company spoke to me as editor of Shelterforce for an article about what sorts of things the foundation might want to consider. While I still regret that our most ambitious proposal—hire one of the country's top lobbyists, the sort that represent the defense industry, and have them go for broke pushing huge increases in federal spending on rental assistance and affordable housing construction—didn't make it into the article, the writer did pick up on the idea that funding production should probably be accompanied by some attention to policy.
Apparently that's what stakeholders in the Bay Area told them too, albeit with a focus on local policies rather than federal.
The Partnership for the Bay's Future grew out of CZI's interest in housing and an initial funding commitment. This "collaborative regional effort" is being supported by the San Francisco Foundation, the Chan Zuckerberg Initiative, the Ford Foundation, Local Initiatives Support Corporation (LISC), Facebook, Genentech, Kaiser Permanente (which has also recently announced its own separate $200 million housing and health initiative), the William and Flora Hewlett Foundation, the David and Lucile Packard Foundation, and Silicon Valley Community Foundation.
Last week, the Partnership announced the launch of two funds to address the housing crisis in California's Bay Area—one $500 million investment fund dedicated to alleviating the capital constraints facing affordable housing development, and one $40 million grant fund focused on moving forward both tenant protection policies and policies to enable more housing construction.
Conversations that led to this project started in December 2016, says Judith Bell, vice president of programs at the San Francisco Foundation. CZI then put a $50 million initial investment on the table, which she says really "brought people together." In an extensive community engagement process, partnership members heard not only about market gaps in financing that needed filling, but that it would take policy change for investments like the ones under consideration to have the desired effect. That led to the two funds.
Responding to Market Gaps
The investment fund will be managed by LISC. With below-market funds from philanthropy, CDFIs, and individual impact investors, the fund's aim is to offer products that don't currently exist to make possible the affordable housing projects that were not possible before.
The first six products include a financing tool aimed at churches that want to enable housing construction on their properties, financing for mixed-income projects that will serve a wide range of incomes, a product aimed at preserving affordability where previous restrictions are expiring, and a supportive housing product.
Some of the unusual things about the fund include its long time frame of 18 years, and the acceptance of nontraditional collateral, including developers' fees. Maurice Jones, LISC's CEO says the fund's products will be available to nonprofit and for-profit developers, "as long as we are aligned on the mission." He says they will be looking to cultivate small developers, especially companies owned by women and people of color, which are often shut out of access to capital.
The beauty of this fund, says Jones, is its flexibility. "It's not inhibited by government regulations or things traditional financial institutions have to adhere to make the economics work. It can respond to actual market demand."
The investment fund intends to continue the type of community engagement process that led to its inception, says Jones. "As one of the Fund's goals is to advance racial and economic equity, we are committed to making sure we are responding to and addressing the needs and opportunities identified by community leaders and residents," he explained. "We therefore . . . will soon begin another round of community engagement by setting up 100 one-on-ones with community partners across the five counties on which the fund focuses."
Community engagement will also go both ways. "We will be trying to make sure that people understand the rationale behind the need for more housing and more housing that's affordable," says Jones. "Every place we work, we have to confront the issue of folks who are fearful of housing and more development. That's what the process is about—making sure people have a chance to voice their fears and concerns, and address them. That voice should be in the mix. It will keep us on our toes."
Complementary Policy
The Policy Fund will be making awards of a two-year policy fellow and other technical assistance to local governments based on competitive applications. The first two years will focus primarily on anti-displacement and tenant protections, to be followed up by policy changes that might allow more affordable housing construction. The order is important. "Investment and production takes time," says Bell. "In the meantime we need to protect tenants."
The RFP for the program will be going out for public comment before it is finalized and accepting applications, to ensure that it will be helpful to its target audience (a practice more funders might want to consider). That audience includes some jurisdictions that actively want to have better policies in these areas, but need some help crafting them, aligning with state initiatives, and building community consensus around them. It will also include some jurisdictions that Bell describes as "on the fence," which might make some progress toward commitment given incentive and encouragement.
Bell acknowledges that there are communities that actively don't want to change or become more welcoming to low-income tenants or affordable housing. This fund is not going to take them on, she says. "This is all carrot, no stick." However, she thinks the fund will be complementary to other efforts. "The governor has already started implementing a set of strategies that maybe will move some of those jurisdictions," Bell says. "There's plenty of thought and strategy being developed in the field about exclusionary jurisdictions. But we don't think the policy fund is a strategy for solving that problem."
The fund will be taking the recommendations put out by the regional CASA process as its starting point, so applicants seeking to implement those policies will have a leg up. Under tenant protections, for example, this will include just-cause eviction protections, right to counsel for tenants, and anti rent-gouging measures. Applicants can propose other ideas not covered by CASA, says Bell, but that will be a "higher hurdle," as they will be asked to give evidence that those policies are effective. Applications will also require community participation and political buy in.
Working Together
One of the most exciting parts of the launch of Partnership for the Bay's Future is that the two funds will share an advisory board and be administered together. Places that successfully make policy improvements through the work with the policy fund will likely get some kind of priority for investment from the investment side, though the specifics have yet to be worked out.
Similarly, policy obstacles encountered by borrowers working with the investment fund may inform the second round of policy work.