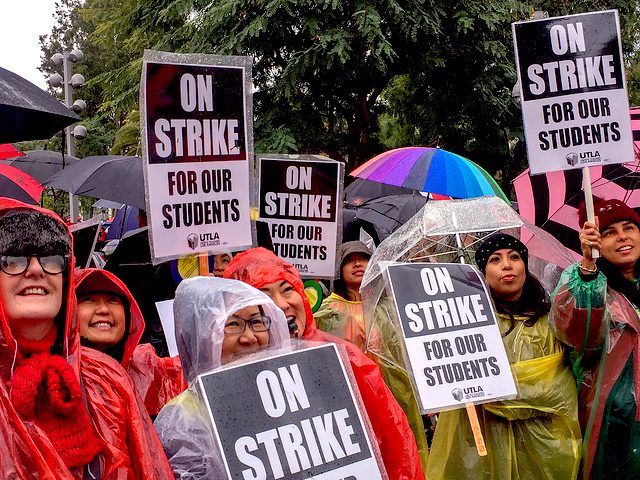 Los Angeles public schools are operating on day five of a teachers' strike that approximately 30,000 United Teachers of Los Angeles members joined after negotiations with the school district failed. To us, this article encapsulates how issues of poor funding, immigration, and mental health support all intersect in the LA school system, and have boiled over to create a very difficult environment for teachers and other school staff. And this New York Magazine article on the tension between LA teachers and the district on what teachers feel is its too-favorable treatment of charter schools highlights the issue of their steady growth, despite widespread opposition.
Sightline Institute reports on policy changes in 2018 that advanced the practicality of ADUs, or accessory dwelling units—essentially additional smaller rental units on existing lots, often in single-family neighborhoods. From reducing fees to reducing parking and owner-occupant requirements, policies like these are what's needed to take ADUs from technically allowed to actually feasible at scale, Sightline says.
In 2001, when we compared the state of several New Jersey cities, many people found it hard to believe that Newark would ever be facing cost pressures and fears. The city is still far from from becoming a wealthy playground, but the cost of surrounding areas, and its easy access to New York City has started to make the idea seem not so impossible. In fact, a recent zoning change in the Ironbound neighborhood is prompting talk of gentrification. We hope this will prompt a look at gaining community control of enough land to buffer future changes while it's still possible.
An Urban Institute study of five cities found that rates of landlords refusing to rent to voucher holders ranged from 15 percent in Washington, D.C. (which has a strong source-of-income protection law plus education efforts around it) to 78 percent in Forth Worth, Texas. Along with anti-discrimination laws, the researchers say that rent setting procedures and communication with landlords on the part of the housing authority seems to be a factor in participation.
Most of the time, narrative change is a long, slow, painstaking process. But sometimes that behind-the-scenes accumulated pressure bursts forth with the right messenger. Alexandria Ocasio-Cortez seems to be that messenger for a lot of things, progressive tax policy among them. She has broken the strange stranglehold that has marked the past couple decades whereby trickle-down economics was treated as something reasonable; while something that economics and history shows works, like a high marginal tax rate, has been treated as "radical" and "unpractical." "AOC's message, far from impractical, is fully in line with serious economic research, wrote Paul Krugman in the New York Times. "Her critics, on the other hand, do indeed have crazy policy ideas— and tax policy is at the heart of the crazy."
Former HUD Secretary and San Antonio Mayor Julian Castro has launched his 2020 presidential campaign with a promise to focus on issues of health care and housing. After Elizabeth Warren unveiled her comprehensive national housing plan, then subsequently announced her campaign, many housing advocates are hopeful that housing policy will move to the forefront of debate among candidates and elevate the issue. Castro joins an already-crowded pool of Democratic candidates who will undoubtedly have to weigh in.
Preventative Care: New York City will spend $100 million to create a universal health plan for low-income residents, says Mayor Bill de Blasio, and it's not expected to raise taxes. The plan, called NYC Care, will expand the city's MetroPlus plan, and create another program that will cover those who are currently ineligible for insurance. De Blasio says the program will cut costs for the city's public hospital system by allowing people to get preventative care services instead of primarily relying on more expensive emergency room care.
"You get a demo permit, and you get a demo permit!" Philadelphia experienced more demolitions than it ever has over a 12-month period in 2018, according to a Plan Philly article. Interestingly, it was also the first time that private demolitions eclipsed public ones. While the subsequent development is likely welcome by some who lived through decades of neglect and economic decline in the city, where that demolition is happening is troubling for two reasons: it highlights the poor protections the city has in place for historic structures, and the majority of demolitions are happening in the city's poorest neighborhoods and those that are gentrifying. When a feeding-frenzy type atmosphere appears to be in place and profit is on the line, we know that rules can be loosened, and we wonder not only about the future threat of displacement, but the current consideration being given to air quality and health of the people who live in areas where so many buildings are being torn down at once.
Health and gentrification: Have you seen the story in blackpressUSA that focuses on gentrification in D.C. neighborhoods, Oakland, California, and elsewhere, and the impact it has had on resident health? It's worth the read. While it's difficult to drill down on the health effects on displaced residents, there are studies that show the correlation, including one from New York that finds hospitalization rates for mental illness are twice as high for displaced persons than they are for people who are able to say in their neighborhoods. The piece also gathers some suggestions for solutions to address gentrification, including several from us. We appreciate the share.
A win for Airbnb: New York City officials had intended to crack down on home-sharing sites like Airbnb and HomeAway by passing a law that require the companies to regularly disclose information about the identities and addresses of hosts, but that's not going to happen. This year, a judge ruled that the law violated the Fourth Amendment, which guarantees against illegal searches and seizures, the New York Times reports. This is a big blow to officials who had hoped the law would help address rising rents in the city. There's plenty of evidence that shows Airbnb and other home-sharing sites raises rents, and you'll be able to learn more about that in the next issue of Shelterforce magazine when we feature this very issue in The Answer column. If you're not a subscriber, make sure you get a subscription before the issue comes out.
On the issue of housing, California's new governor Gavin Newsom did not come to the job with any carrots—only sticks, apparently. In the unveiling of his state budget proposal, Newsom presented the idea that state funds should be withheld from communities that block the production of more housing. He also proposes over $2 billion in additional funding for housing and homeless initiatives.
The clock is ticking: Hundreds of thousands of rural housing units across the U.S. are at risk becoming unaffordable as they are set to leave a USDA affordable housing program in the next 25 years. "We have these units, we have this stock," says David Lipsetz, the Housing Assistance Council's CEO. "If we don't fund it well enough to even keep what we have, we're going to continue to depopulate rural places." If no changes are made to the funding of the program, 15,000 rental units will leave the program in 2028, Huffington Post reports. That number will rise significantly through 2040.