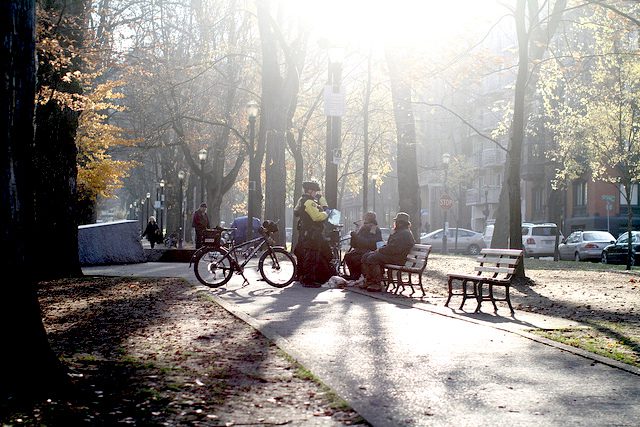 HUD has taken its third swipe at Affirmatively Furthering Fair Housing, this time a frontal assault: beyond delaying and avoiding, now it has issued an advanced notice of proposed rulemaking, signaling its intention to rewrite the decades-in-the-making regulation. Although according to CityLab, the rhetoric surrounding the notice is a wee bit . . . strange. Diverging from simplistic anti-regulation libertarian perspectives, Carson has apparently made noises about wanting the regulations to somehow encourage the lifting of exclusionary zoning not directly for integration reasons, but to increase overall housing supply.
Thousands of homeless people in Los Angeles with longstanding open bench warrants for quality of life offenses may have them eliminated with a proposal to help unclog the city's criminal justice system. Because the nature of living on the streets means sleeping and loitering in public spaces, homeless people receive many of these citations, but don't have the means to pay the fines associated with them. LA police department chief Michael Moore has proposed a kind of amnesty for such offenses, for which tickets go unpaid, add up, become warrants for arrest and typically result in imprisonment and court appearances. A similar program has been done on a smaller scale in the city, and on a larger scale in San Francisco, but whether or not it comes to fruition, homeless advocates see it as a step in the right direction toward a change in thinking on the criminalization of homelessness and poverty.
We talk a lot about housing as a social determinant of health, but it's not the only one. Access to transportation, for example, also affects your health, whether you need to access health care, food, or necessary supplies. And mobility is particularly challenging for low-income folks in rural areas. This Health Affairs article looks at ways that philanthropy and tech are trying to tackle that challenge.
Sen. Cory Booker (D-NJ) has introduced the Housing, Opportunity, Mobility, and Equity Act of 2018 that would require recipients of CDBG money to develop a strategy to support inclusionary housing policies. We don't know yet how the details would work, but we're intrigued.
Chicago's draft consent decree for its police department—the result of calls for reform after public outrage over highly publicized police shootings and other violent interactions—also includes rules for police who work in public schools as armed school resource officers. The rules include a stronger vetting process for officers applying to work in schools and limiting their physical interaction with students. But critics, citing an outsized number of cases of violence and force against children of color in schools, say it doesn't go far enough. The suggestion period ends today, and rules must be finalized by the 2019-20 school year.
Anti-gentrification advocates in the L.A. neighborhood of Boyle Heights seem to be winning at least one battle: against gallery spaces. According to an LA Times article, possibly resulting from strong and at times unorthodox opposition from local groups, several galleries have closed up shop. Citing galleries as bellwethers of displacement, local groups have focused their animus on their proliferation over the past few years, but the article notes that rewriting of the zoning code that's underway includes an "innovation" zone in an industrial part of the neighborhood as well as increased density for new housing. Large, market-rate development projects are also in the works, worrying advocates that this bigger battle may be hard to even wage, let alone win.
In an effort to balance disproportionate real estate speculation, maintain presence, and reap the benefit from oncoming change, a few groups in the historically African American community of Englewood, Chicago are encouraging residents to buy property and assisting them in the process. In workshops that include local banks and explain financing options and landlordship, residents are being informed on how to "Buy the Block."
In the densely populated area of East Portland, Oregon, a rare form of cooperative ownership—specifically for residents of several nearby zip codes—is underway. Through the East Portland Community Investment Trust Group, ownership of a strip mall-style of businesses is democratized in this majority-renter area, investment amounts are reasonable, and encourage savings and investment, not only in one's personal financial future, but that of the community.
Anyone involved in attempting to access disaster money for homeowners post Katrina will recognize some of the struggles going on in Puerto Rico with FEMA claims. Longtime owners with affidavits but not physical deeds, or deeds that don't specify addresses are having their claims denied. Others say inspectors don't speak Spanish, or otherwise have not made an effort to connect for inspections. On the devastated island where full electric service is still not restored (despite the power company's claims) and residents are battling the effects of disaster capitalism FEMA being uncooperative about claims is adding injury to injury.