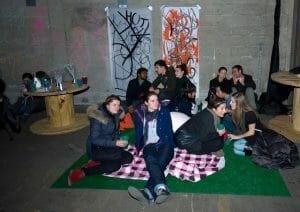 I am an accidental placemaker. When I moved to Washington, D.C., in the early 2000s, I practiced law, which was significant for two reasons: One, I was bored and wanted creative outlets. I fancied myself a modern day Gertrude Stein and started hosting salons in my home, inviting artists and art lovers to drink wine and talk about art. Two, my legal training taught me to spot issues and find creative solutions to problems.
I looked around my neighborhood at 14th and U, a neighborhood on the cusp of development after years of deterioration following the 1968 riots, and I saw lots of empty retail spaces. Several art galleries had taken advantage of the inexpensive real estate. Everywhere I walked, I'd run into friends involved in the art world, many of whom had studios in the affordable neighborhood. I also saw that the city was growing by thousands of new residents each month, with people who would likely seek more artistic and creative stimulation in their lives.
My first foray into creative placemaking entailed teaming up with a friend who managed a local art gallery to organize an art party in one of those empty retail spaces. The commercial real estate agent who represented the owner of that space was my neighbor, and mentioned that he was looking for ways to activate the space to attract potential renters. My friend and I programmed performance artists, video artists, and a band.
Everyone's equipment plugged into long extension cords snaking out from four outlets, and guests stepped over the cracks in the concrete floor. Hundreds of people showed up, even before the advent of social media. A tapas restaurant with a great Spanish wine list opened in that space not long after.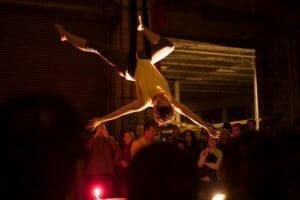 A few months later, we organized a similar event in a space down the street that had been a brake service garage. Oil stained the concrete floor and tools still hung on the wall. This time we charged $10 a head and didn't give away the booze. The brake shop has since been turned into a coffee shop and design studio.
Once I saw that I could make a living producing art events, despite the significant decrease in salary, I quit my law job and started organizing arts events in raw spaces all over the city. I cultivated relationships with developers who would let me temporarily occupy their buildings, which were usually located in less developed parts of the city.
My pitches for space usually centered around the developer's needs and not the needs of the neighborhood or its residents. I didn't pay much attention to what impact those events would have on the surrounding neighborhoods. I believed that the neighborhoods would be improved if I could convince people to come visit neglected sections of the city and see their potential.
I was undeterred even when Black residents sent me subtle, and not-so-subtle, messages to let me know I was an outsider—like being shoulder-checked while walking down the street on more than one occasion. Other times, when residents would tell me how many generations back their family had lived in D.C., they were identifying me as a newcomer (and maybe one who didn't have a right to be in their neighborhood doing art projects).
I once led a panel discussion about the how the arts could be an economic driver in a community, and an audience member said, "Black children are being shot and killed in our neighborhood. We should be talking about that instead of art."
Hastening The Inevitable?
Looking back at projects we completed and departed for the next free and raw space, I see that I had not improved the neighborhood for those who had lived there. I had, in fact, paved the way for more unwelcome newcomers. Few locals could be found among the sometimes thousand-plus people who attended my events—because they weren't programmed with the lasting benefit to nearby residents in mind.
Over time, I started seeing changes in the neighborhoods where I'd organized events. An old police evidence warehouse in a predominantly Black neighborhood called Anacostia became a glass and steel office building. An electrical supply store's warehouse next to the city's original central food market became a shared workspace, across from a busy restaurant incubator, next to an art house movie theater. My own neighborhood transformed into a night life destination that had restaurants with hour-long wait lists. I stopped running into my art friends because they could no longer afford to live in the neighborhood.
Had I unintentionally contributed to the gentrification of my neighborhood and other neighborhoods around the city? I thought I was doing good for the city by helping underserved neighborhoods develop and become places with coffee shops, art galleries, yoga studios, and restaurants, but I hadn't given much thought to the people who would be displaced from their homes due to rising prices, or made to feel alienated in their own neighborhood. And if they weren't displaced, would these shops serve their needs? I hadn't considered whether my actions helped to "art wash" neighborhoods in preparation for the development that would make living unaffordable. The gentrification of D.C. felt inevitable under the Comprehensive Plan that was adopted in 2006, but had I helped accelerate the process when I could have, at the very least, guided the city's development toward a more respectful approach to the people who already lived there.
When I first started doing this work, there wasn't an abundance of literature or conferences about creative placemaking to curtail my ignorance, and there weren't many people doing the same types of projects from whom I could learn. In more recent years, I have become aware of people like Roberto Bedoya and his work in placekeeping and spatial justice, Laura Zabel at Springboard for the Arts, and many others. I have since learned concepts like displacement, gentrification, and inclusion.
I began implementing some of the things I was learning in 2016 when I won a grant from the D.C. Office of Planning to do a project under an initiative dubbed "Crossing the Street." They assigned me to a neighborhood they called Lower Georgia Avenue (the people who lived there called it Pleasant Plains and Park View).
Georgia Avenue was a major commuter thoroughfare lined with vacant and abandoned properties. Young, white residents had begun moving to the neighborhood in search of less expensive housing, and they weren't saying hello to older Black residents who'd lived there for generations, and in a sense, were unconsciously ignoring the older residents' presence and stake in their newfound neighborhood. New businesses catering to the newcomers had recently opened, like a yoga studio, doggy daycare, and a coffee shop called the Colony Club, (which seemed to flaunt its intent to gentrify in its name). A new and controversial mixed-income redevelopment also threatened to displace hundreds of families.
Though I'd lived only a few blocks away from the project site for years, I knew I needed to spend time learning about the neighborhood and meeting people. I researched the history in public records. I met with 58 individuals, including leaders of the various community groups, business owners, and some residents of the neighborhood's public housing. I asked them about their homes, their feelings about the changes that were taking place, what they wanted to see happen in their neighborhood.
The one thing I heard over and over in almost every single conversation was, "I don't know my neighbors and I want to know them." At the core, what I heard was a basic human desire to be truly seen and heard. Based on this, I devised SEE/CHANGE, in which I made cinema-quality video portraits of residents. One of my inspirations came from an odd place: a 2015 "Modern Love" story in The New York Times about an experiment in which two people asked each other 36 increasingly personal questions and then stared at each other for four minutes. The object was for them to fall in love by having made themselves more vulnerable through the act of looking. I was also inspired by the street artist JR's Inside Out Project, which encouraged anyone in the world to share their portraits as wheat pasted street art.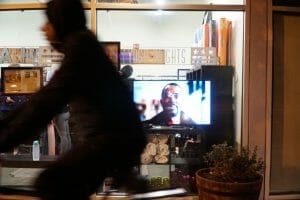 I chose to create video portraits instead of still photography because I wanted the images to feel alive. With video, you could see the subjects blinking their eyes or their hair blowing in the wind. I wanted to show the faces of people who were often unseen and unheard, and so most of those portrayed were not the people who showed up at the community meetings and spoke the loudest.
I projected the portraits in vacant storefronts along the main thoroughfare and on the sides of buildings every evening for a week. In this way, the portraits played a duel role in enlivening and filling dark spaces with light, while also introducing neighbors to each other. Projecting the faces in a large format captured the attention of pedestrians. Even drivers passing by would pull over to stare. I wanted people to literally see each other, as neighbors and as humans.
I stationed myself with assistants near the projections to engage passersby in conversation about the neighborhood. Groups of people gathered around us and we asked questions like, "What is your favorite memory or experience of the neighborhood?" And, "How do the changes in the neighborhood affect you?" and recorded their responses.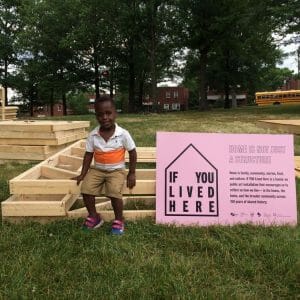 I also organized several artist-led gatherings throughout the week of projections to provide a space for community members to speak to one another once they'd "met" each other on the street. Artist Holly Bass devised a workshop called Welcome to DC, which asked the question, "What does it mean to be a good neighbor in a rapidly changing community?" This program brought together longtime D.C. residents with newer residents to discuss the changes they observed during their time in the District, and to share things they wished the other group knew. Participants then paired up to create wood-burned, decorative door signs with welcoming themes pulled from the group discussion.
Shortly after SEE/CHANGE ended, I returned to Anacostia to begin a new project. Again, before I proposed any ideas, I met with many community stakeholders and researched the history of the neighborhood. I learned that the 150th anniversary of the first sale of land to a free Black family in that community was approaching. A historian at the Smithsonian Anacostia Community Museum provided the bill of sale, which outlined the materials that were required to build a house, as well as a picture of the last of these houses—destroyed less than 15 years ago. Around the same time, tensions continued to rise as public housing residents in the community fought displacement, and some conversations concerned the meaning of "home."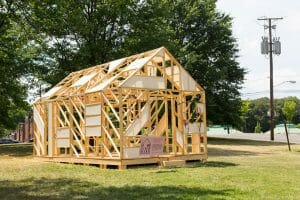 Based on this, I decided to build an artistic reproduction of that first home with assistance from the community in the construction, led by artist Peter Krsko. Unfortunately, we were unable to obtain the National Park Service permit in enough time before the anniversary date to construct the house onsite. To meet our deadline, Krsko built the structure alone in modular form in an artist studio several miles away and then assembled it onsite. My greatest regret with this project is that we were unable to construct the house in collaboration with the neighborhood.
Within the walls of the home, we hosted a series of artist-led events centered on the meaning of home. Artist and Anacostia resident Amber Robles-Gordon led a workshop in making talking sticks, a symbol of democracy and a sacred object that ensures all voices in a discussion will be heard. Participants fashioned unique talking sticks that represented a personal memory or pressing issue on the theme of "home," and were led in a guided conversation that provided an opportunity to put their talking sticks to use, sharing inspirations and reflections on what it meant to call D.C. home in that particular moment.
Much more information about creative placemaking is available now than when I first charged forward with blind enthusiasm. That, plus the lessons I have learned from personal experience and intimate conversations that improved my emotional intelligence, have made me more mindful of the impact creative placemaking can have on a community. I don't turn down new opportunities to work in gentrifying neighborhoods—despite the possible negative effects—because I have learned to approach these projects with greater humility and respect, which less experienced placemakers may possibly lack.
We can mitigate the potential negative affects when we focus on listening to what people say and design creative and customized mechanisms that allow deep personal expression, as opposed to imposing preconceived methods that dance around the surface of big, weighty issues. As creative placemakers, we can design the built environment in a way that inspires a sense of place and geographic identity. As a self-described Social Sculptor, my goal is to design innovative, site-specific experiences and installations within the built environment that bring together people who might not normally meet, in dialogue that forms the basis for meaningful, lasting relationships.
There are no placemaking templates that fit every community. And there is no place without the social bonds between the people within that place. The challenge is to actually be creative and to devise projects that truly reflect the essence of a community by digging in with curiosity, and speaking with vulnerability.