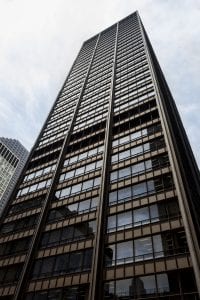 From Monday through Friday, 52 weeks a year, thousands of tenants, landlords, and attorneys make their way to the Daley Center in downtown Chicago. Everyone has to empty their pockets to go through security, take the elevators up to the 13th and 14th floors, and check the lists posted on bulletin boards outside five courtrooms to see where their case is on the court roll call.
Inside the wood-paneled courtrooms, tenants filter into long wooden seats under the light of fluorescent bulbs. Some grip the hands of family members or friends; others wait alone. Toddlers and babies sit on laps. Lawyers recognize each other and wave across the room as they set down briefcases and flip through papers.
At the front of the room, clerks announce the day's cases and call out names to see who is present. Many defendants do not show up; they may not be able to miss work, find child care, or figure out transportation. Tenants are often unfamiliar with what defenses and resources are available to them, or that not attending court could result in a default judgment against them. In fact, 33 percent of completed eviction cases in Cook County resulted in a final judgment on the first court date, and this may be the only opportunity a tenant has to keep their home.
When a case is called, the tenant almost always approaches the bench alone. While 81 percent of landlords appear with legal counsel, an overwhelming majority of tenants—88 percent—are self-represented in Cook County eviction court. This puts them at a serious disadvantage. Even with legal representation, renters may be thwarted by confusing procedures, legalese, and the quick pace of the courtroom. The last study done on the issue, published by the Lawyers' Committee for Better Housing in 2003, found that trials often clock in at less than two minutes, and this does not appear to have changed.
During this extremely short time period, judges make decisions that shape lives and futures. In three out of five cases, the judge rules in favor of the landlord, and the tenant is given a date by which they must vacate their home. Most leave voluntarily by this day; others are forced to leave by a court order, carried out by the sheriff.
This is the story of a formal, court-ordered eviction in Cook County. Similar scenarios play out in courtrooms and communities across the nation. But people are often forced from their homes through an informal eviction process—such as a landlord telling a family to leave, changing the locks, or threatening to call immigration or family services.
An Eviction Filing is an Obstacle 
Whether an eviction is formal or informal, it can affect a person's ability to get or keep a job, care for their family, stay in good health, create a community, or get future housing. While decisions in eviction court are made at a rapid pace, the ramifications of an eviction trickle out over time and spread into all aspects of individual, family, and community life. It can kick off or deepen a spiral of financial instability.
Add all that up and it's hard not to conclude that eviction is a cause, not just a condition of poverty, as sociologist and researcher Matthew Desmond emphasizes repeatedly. Desmond sparked widespread interest in this issue in 2016 when he published his Pulitzer Prize-winning book Evicted: Poverty and Profit in the American City. While putting a human face to the problem by profiling families in Milwaukee, Desmond collected data to contextualize the issue, since little to none was available. Without a database of eviction data, it has been difficult to understand the scope and complexity of the problem or to enact policy solutions.
But Desmond promised to tackle this knowledge gap after publishing his book, and he recently delivered. In April, the Eviction Lab—a research team helmed by Desmond and based at Princeton University—launched the nation's first-ever eviction database.
Based on 83 million records, the team found that 2.3 million evictions were filed in the U.S. in 2016. That comes out to a rate of four evictions every minute. Nearly 1 million households were actually evicted during that year alone (and remember, a household often includes more than one person), which helps us compare the eviction epidemic to other statistics about the housing crisis. For example, during the peak of the foreclosure crisis in 2010, Reuters reported that banks seized more than 1 million homes in that year alone.
What's more, these calculations are conservative. They include only households drawn into the legal process, and there are acknowledged gaps in the team's data where they haven't been able to collect all available eviction records.
Hoping to place the eviction crisis in local context, Housing Action Illinois, where I work as communications manager, and the Lawyers' Committee for Better Housing also released a report this spring to shed light on the impact of eviction filings within Cook County, the second most populous county in the nation. Our report, Prejudged: The Stigma of Eviction Records, analyzes data from more than 100,000 evictions filed in Cook County between 2014 and 2017 and presents local perspectives from tenants, legal aid lawyers, and a landlord.
[RELATED: Absence of Eviction Court Recordings Leaves Tenants Vulnerable]
Our report focuses not on the 61 percent of cases that end with the judge ruling in favor of the landlord, but instead on the remaining 39 percent. In these cases, the tenants have a "good" outcome: the judge will not make a negative determination against them. Available court data provides little or no information about what happened in these cases; the landlord may have decided not to pursue the case because the tenant moved, both parties may have resolved the issue, or the judge might have found that the tenant did nothing wrong.
These tenants often breathe a sigh of relief and think they can put this experience behind them. Unfortunately, this is often untrue. As soon as a landlord files an eviction case, it becomes part of the public record. The mere fact of a past eviction filing can be a serious obstacle when a tenant later looks for housing. Too often, people do not understand that an eviction filing does not mean someone was actually evicted. Many landlords will refuse to rent to someone if they see an eviction filing on their record, regardless of a case's context or outcome.
While working on this report, our team collected stories of tenants such as Phyllis, a senior living with a disability, whose rent was stolen by a property management employee, leading her landlord to file for eviction for nonpayment of rent. Despite a settlement in court, the filing on her record led to rejections in response to 10 apartment applications, and she was able to find a home only after having her case sealed.
We spoke with a man named John, who told us, "I've never even been served an eviction notice." His landlord filed for eviction after he fell behind on rent, but John paid what he owed and stayed in the apartment without ever going to court. Eight years later, he was still living in that unit and only learned about the eviction filing on his record when his application for a new apartment was rejected.
We estimate that each year more than 15,000 people in Cook County end up or will end up like Phyllis and John, with a public eviction record despite having no eviction order or other judgment against them. They are, in effect, presumed guilty.
A Fix—Sealing Records
There is a clear way to address this problem: pass legislation to seal eviction case records at the point of filing. The records would only become available to the public after a case resulted in an eviction order or other judicial finding against the tenant. Such a law would protect tenants whose cases could eventually be sealed from ever appearing in the public record and potentially create barriers to accessing housing. We understand that sealing records could lead to data gaps similar to what the Eviction Lab faced in California, where eviction records are sealed at the end of a case. However, depending on the kind of legislation that passes and how the process is enforced, it may be possible to see the total number of records that are sealed, though not the details of each individual case.
Housing Action Illinois and Lawyers' Committee for Better Housing recently helped draft and advocate for a bill in Illinois that has precedent in a long-standing California law, as well as other state and local policies limiting the use of eviction records by other means. The bill included the ability for a person who had specific information about a tenant, like their name and the address of the rental unit involved in the eviction filing, to access eviction filing records. This would allow tenants, landlords, and lawyers directly involved in a case to obtain the record, and it would also allow landlords screening an applicant the ability to look up the record. Though the proposed bill included tenant protections and responded to the argument that prospective landlords deserved to know whether an applicant has an ongoing case, the bill unfortunately did not move out of committee during the 2018 legislative session.
Of course, sealing eviction case records at the point of filing is just one step toward tackling the broader issue of eviction, which is rooted in the affordable housing crisis. Most evictions are filed for nonpayment of rent. Rising rents and utility costs, stagnant wages, and most importantly, a lack of investment in federal and state housing programs, have led us into a situation in which far too many families are unable to afford both rent and basic necessities. Most low-income renting families spend more than half of their income on rent and utilities, which means they are just one financial setback—a medical emergency or broken-down car—away from an eviction notice. While addressing our nation's eviction epidemic, we need to return housing policy to the center stage of the poverty debate. Good, stable, affordable homes are not a sideline issue; they are the foundation on which we build our lives.