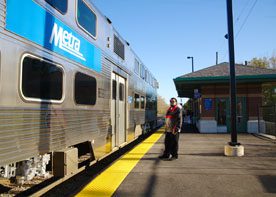 Editor's Note: This article contains an addendum, "Despite Missing Out on NSP2, There's Still much Work to Do in Chicago," accessible here.

Chicago's southern suburbs, nestled between Lake Michigan, the Calumet River and canals, rail lines, swaths of forest and wetlands, are often overlooked by the general public, legislators, and policy advocates more focused on the famous city to the north.
But these towns have long harbored a wealth of diversity and cultural and economic potential while also facing economic challenges long-preceding the current economic crisis. Now, south suburban community leaders and elected officials are hoping a novel collaborative approach to the federal Neighborhood Stabilization Program (NSP) and other stimulus dollars can help them realize a wider plan for regional collaboration and forward-thinking urban planning, based around transportation corridors and job creation.
South suburban communities including, Harvey, Dolton, and Robbins have suffered severely from high rates of foreclosure for decades. In the past, this was largely because these low-income, largely minority suburbs had many faulty Federal Housing Administration (FHA) mortgages. Moreover, many residents lost jobs as major employers pulled out. But since foreclosure rates were already high, the increase has not been as dramatic as it is in other areas. Meanwhile, solidly middle-class and predominantly white southern suburbs have also suffered many foreclosures in the past two years.
In fact South Cook County has the highest level of REO (real estate-owned) auctions per property in the region at 22 per 1,000 mortgageable properties, according to the Woodstock Institute, with 3,552 foreclosure filings in the first nine months of 2009.
Town officials hope they can find relief through NSP funds targeted for foreclosed properties, and also leverage those funds to fulfill larger plans for reshaping the area. Any one community would have been challenged to obtain NSP funds on their own, since most of them don't have the staff and resources key to navigating the lengthy, complex application process. This challenge was compounded by the reality that both the State of Illinois and Cook County received direct allocations of NSP dollars to regrant to eligible communities. This positioned dozens of devastated communities in southern Cook County to compete with each other — and area developers — not once, but twice for these federal resources. Instead, south suburban communities banded together under the South Suburban Mayors and Managers Association (SSMMA) to create a plan for the stabilization of their communities. Of the nearly $4 billion of federal dollars which is currently being doled out through the first round of NSP (NSP 1), the State of Illinois itself received approximately $53 million and Cook County another $28 million. By the time the state's application was due in May 2009, 17 towns were part of the newly formed South Suburban Housing Collaborative and submitted a joint NSP plan. In August, when Cook County's application was due, Collaborative membership had reached 28 towns.
The Collaborative's overall plan submitted to the county would cost $72 million to fund, surpassing the amount the county had to allocate, but combined with other funding sources. Ultimately, this plan calls for the acquisition, demolition, land banking, or redevelopment of nearly 700 homes or abandoned lots. Much of the proposed demolition is targeted for areas that can later be redeveloped into larger-scale mixed-use and transit-oriented development. By the time the County proposal was due, Collaborative members knew that the County might receive additional resources through an NSP 2 award, and that unfunded proposals submitted through NSP 1 would likely get first preference.
SSMMA and the Metropolitan Mayors Caucus worked with the nonprofit Metropolitan Planning Council (MPC) to craft the joint NSP applications as part of a broader housing and economic development strategy and to hire the Director of Housing Initiatives, with funds from the Chicago Community Trust. Both applications actually requested funds for only a portion of the communities involved in the Collaborative, with others weighing in with letters of support. The specific plans for NSP funding not only address problem areas hit hard by blight and foreclosures, but envision revitalizing the area by building affordable housing, mixed use developments and public space around train stations and bus routes; and attracting new employers and employer-assisted housing near freight corridors, as the area is criss-crossed by barge, rail and truck lines.
In other words, these communities hope to convert the region into a more stable and thriving place than it was before the crisis.
The first round of NSP of roughly $4 billion was part of the Housing and Economic Recovery Act (HERA) of 2008, with the the second round of $2 billion made available through the American Recovery and Reinvestment Act (ARRA), or "stimulus." Applications for NSP 2 grants opened in July 2009 with funding awards slated for December 2009 and distributed by February 2010.
An analysis of the ARRA by the Brookings Institution lauded the Chicago collaborations, saying, "The efforts are already yielding rewards. The communities have…realized valuable efficiencies through the process. The state, county, and area developers (who may redevelop areas devastated by foreclosures) are enthusiastic about having a single point of contact — the collaborative coordinators — to reduce the challenges of dealing with the 270 municipalities in the metropolitan area."
Working Together
The joint proposal required the communities to work together to prioritize where limited federal dollars would be most effective. This was a true feat of cooperation, since any given community could not ask for as much funding as they might have were they to apply on their own. But Janice Morrissy, the coordinator overseeing the south suburbs' collaboration, noted that community leaders realize they will all benefit if the most struggling or blighted areas in neighboring suburbs are addressed. For example the villages of Lansing and Olympia Fields participated in crafting the state proposal even though they won't get any dollars from it. Lansing has a median household income of $49,000, Olympia Fields $95,000, making them better off economically than south suburban communities like Robbins (median income $24,000) and Harvey (median income $39,000), which are seeking NSP funds. As ethnically diverse, solidly middle or upper-middle class communities, Lansing and Olympia Fields are demographically the type of development regional planners want to preserve.
"Olympia Fields has said that what's important for this first joint funding opportunity is that Harvey gets what it needs and the support to spend it well," said Robin Snyderman, vice president of housing and community development for the Metropolitan Planning Council.
Working together also allows the suburbs to think bigger and take advantage of economies of scale in terms of acquiring, redeveloping and selling or renting properties and attracting private sector investment.
The south suburban communities' plan as a whole calls for acquiring property for the creation or preservation of 474 homes. Once those homes sell, more money will be available for ongoing similar efforts. Building on a study by the Regional Transit Authority (RTA), the south suburbs also plan to acquire then demolish and land-bank about 200 units for future redevelopment in support of mixed-income, mixed-use activities that help spark development near mass transit and help people live closer to work. These developments will attract private sector investors, and the nonprofit Chicago Metropolitan Housing Development Corporation (CMHDC) is overseeing the acquisition and construction activities of these private sector partners.
Local players say the collaboration was possible largely because of a long history of cooperation among the suburbs.
"It's about caring about our neighbors, what positive impact can we have on our neighbors," said Dolton village administrator Bert Herzog. "The way Riverdale goes is the way Dolton is going to go, and the way Dolton is going to go is the way South Holland is going to go. I have never seen the spirit of cooperation we have now."
"The notion of collaboration isn't new, but the model these towns created together in time for NSP 1 was pretty striking," added Snyderman.
National housing advocates who toured the south suburbs during a National Housing Conference symposium in Chicago in July said other regions are on the same track but have a ways to go to build the Chicago suburbs' level of collaboration.
"I'm hoping to see more regional examples, but it's tough to make it work politically," said Maya Brennan, a New Jersey resident and research assistant for the Center for Housing Policy. "There's NIMBYism, people have this idea that working with the town next to them will somehow change their town's character. It's an odd psychology that exists in some communities."
Big Plans
The NSP proposals focus on communities and projects that are near transit, along the Calumet River, a long-standing industrial waterway, and/or part of successful redevelopment that has already been set in motion, according to the NSP 1 proposal to the state of Illinois.
Blue Island, a working class town of 24,000 with large Mexican, African American and white populations, though hard hit by the deindustrialization of the latter part of the 20th century and the recent economic crisis, is the type of vibrant and entrepreneurial community perfectly suited to development incentive and subsidy programs. The state NSP proposal calls for demolishing one blighted property and then redeveloping a larger site with mixed-use rental as part of a joint transit-oriented development with neighboring Robbins. Blue Island community development director Jodi Prout notes that the project itself is dwarfed by the potential of the relationships formed or solidified during the NSP process.
"The actual project and amount of money won't be that significant, I don't know how much it will make an impact on foreclosures," she said. "But the whole project is working with the other communities and having inter-jurisdictional efforts that help everyone."
Robbins' share of the project would include demolishing and land-banking 32 homes and redeveloping 109 units. Robbins is known as the first incorporated African American municipality in the north, was home to the country's first African American-owned airport and was once known as the "Harlem of the Midwest " for the cultural and academic achievements of its residents. The town of about 6,600, still almost entirely African American, has fallen on hard times as factories have closed, social institutions have collapsed and a third of residents live below the poverty line. But community leaders hope the regional collaboration can help it recover, especially since it is close to multiple train and bus routes and one of Chicago's major airports.
In Dolton, a working class majority African American town, planners want to revamp the aging, deteriorating infrastructure. The winding streets are too narrow to safely accommodate emergency vehicles, according to Herzog, and sewage infrastructure is outdated. "This is a new opportunity to address some of the underlying problems," said Herzog. The village will acquire 25 homes to be land banked and rehab 40 more for homeownership. This activity will take place near the border of Riverdale and its rail line. The areas planned for renovation include many foreclosed or otherwise abandoned properties, as well as houses that are largely rental, inhabited by mostly transient occupants.. He notes the brick in houses slated for demolition will be recycled in new homes.
In Riverdale, also largely African American in its demographic makeup, is a village of 15,000 just south of Chicago's border, 10 homes near the train station will be rehabbed and resold. Morrissy, who previously served as director of economic and community development for the Riverdale mayor's office, noted that many Riverdale residents commute into Chicago to work and socialize, and are unaware of what their own community has to offer. She hopes revitalizing the area and improving public transportation within Riverdale, a move which could be sparked and facilitated by the NSP development, will encourage Riverdale residents to feel more of a connection to their home. "A lot of the citizenry don't even feel like it's their community," she said. "They go back into Chicago to worship and shop. Part of our plan is to bring that community stability."
Housing and Jobs
The collaborative is working with the Washington, D.C.-based nonprofit Self-Help Ventures Fund/Self-Help Credit Union to help lower income people buy homes in the new developments. And anticipating that the ongoing credit crisis may make it hard to find the desired number of homebuyers, they are preparing for long-term rental situations which still fit into the vision of forward-looking, stable communities.
Planners realize structural redevelopment can only go so far, and they hope their use of NSP funds can also help attract new employers and retail. The area's cargo transport corridors and industrial history also make it a good candidate for green manufacturing, perhaps making wind turbine or solar panel components or weatherization materials, meaning manufacturers and developers could benefit directly or indirectly from the ARRA's allocation of Weatherization and Energy Saving funds. Developers and homeowners could get stimulus funding for weatherization; and manufacturers of energy efficient building components who could potentially open factories in the area would also see healthy demand for their products thanks to the stimulus.
Planners also hope to entice existing or future employers to participate in employer-assisted housing, which they describe as a win-win situation wherein employers could subsidize employees' housing. Porras points out that such situations mean lower turnover, hence lower costs, for both the housing management company or developer and the employer.
"At the end of the day everybody wins because the housing being built stands a better chance of success, and the employer reduces turnover and has their HR costs reduced," said Porras. "It's a no-brainer."
To date, the two Collaboratives were awarded over $12 million in NSP dollars through Cook County (more than $9 million for South Cook and more than $3 million for West Cook).
For the highly competitive NSP 2 application which is submitted directly to the federal government, the south and west suburban Chicago communities are part of a larger regional application drafted by the Chicago Metropolitan Agency for Planning (CMAP), a regional governmental agency. In this case the official collaboration between the south suburban communities isn't key to getting the funds, but the relationships and plans that were built for NSP 1 will be key to effectively carrying out projects with NSP 2 money and beyond.
"NSP is just a catalyst for this type of work to be done," said CMAP senior housing planner Lee Deuben." The intent wasn't that these relationships would simply dissolve once NSP funds were gone, but rather that we have now built capacity and established a system to bring in other resources, create more partnerships, and increase staffing. I think NSP was really the spark for something greater."