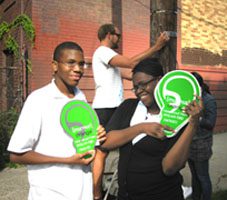 Ida Woody Wells grew up in the house her father built in the backyard of her family's funeral home. The business, Woody Home for Services on Oakwood Avenue in Orange, N.J., was started by Wells' grandmother, and has a long-standing reputation for being a historic institution in very much the community sense.
Residents know this business whose involvement in the most intimate details of a family's loss have only elevated the business's profile beyond simply a storefront. It's why Wells, after graduating college in 1974, decided to return to Orange to help run the family business.
But that's the official line. The real history emerges in the backstory.
In 1968, for example, Wells describes the time when her father watched from the steps of the funeral home when Dr. Martin Luther King Jr. came to town to speak at the church across the street.
"He saw him, and he described the look on his face and he just had a resignation and he knew he was going to die." In fact, Wells says several people contacted the funeral home in case "something should happen" while King was in town. Just days later, the civil rights leader was dead.
Recollections like Wells' are undeniably what allow for a community to thrive. The memories, perceptions, associations with people, places, and landmarks are what draw residents into the history of a place and allow for them to document their own history.
And in Orange, a city of roughly 30,000 residents just 16 miles west of New York City, documenting that history just got a little easier.
Murmur, a new project that is ostensibly an audio tour of the city, was recently launched, providing cell phone access to the little nuggets of history that give a community its flavor, ranging from intimate to obscure to obvious. Participants simply walk down the street, look for the telltale Murmur sign in front of a building or a landmark, and dial in. The stories, produced by nine students at Orange High School, and in partnership with the collaborative learning project at the University of Orange, Valley Arts, ORNG Ink, and the community development corporation Housing & Neighborhood Development Services Inc., provide a look at a town that has, like many of New Jersey's urban areas, seen its highs and lows.
"I wasn't born here, but my children were born here," says Deborah Allen as she stands in front of the Orange Memorial Hospital on South Essex Avenue, "and that was a positive." But then Allen discloses a more difficult memory of the hospital as she reveals that it was also there where doctors informed her that her mother had terminal cancer.
At Orange Park, Glenwood Robinson begins his narrative with a robust and joyous "Hi, I'm Glenwood Robinson," and discusses his experiences with the park and its improvements to the playing fields, as well as free music in the park during the summer. "That's nice for the public," and when Robinson's friendly baritone informs the listener that "I'll be coming to Orange Park for a long time to come," it's hard not to imagine a thriving, verdant park, replete with community activity.
Orange is the most recent addition to the Murmur portfolio (and first in the U.S.), which includes aural projects in Toronto, Montreal, Kenora, Sudbury, Vancouver, Edinburgh, Dublin, Galway, São Paulo, and San Jose. Launched in 2003 as an oral history project in Toronto because "we have an inferiority complex that nothing important happens here," jokes Murmur Creative Director Shawn Micallef, the stories reflect personal history: windows into the individual experiences of residents, rather than a rigid history of the area.
Old School Journalism
"We need someone out there to make that one-on-one interaction," Micallef says. "The person standing on the street out there with the recorder in his or her hands is the most important part of this."
Employing "old school journalism techniques," Micallef describes the process as simply stories recorded with nothing more than a microphone and an mp3 recorder, and edited for clarity's sake, as well as for the removal of the interviewer's voice. "When somebody listens to the story, it's as if somebody is standing next to them and talking to them, so we're basically taking out the intermediary to establish this really intimate connection between story teller and listener," Micallef says.
All of the stories are then stored on a server (a "glorified answering machine," Micallef notes) in Toronto and each of the access phone numbers for each of the different cities accesses the server, and based on that call-in number, the server is able to identify where the caller is located and which sound file to access.
Murmur has been funded both through grant monies as well as pairing up with community partners, as was the case in Orange. Launched as, in Micallef's words, "a weird arts project" in Toronto's Kensington Market worrying that it would be too low-tech and too simple, but the reactions people have had to it has been overwhelmingly positive: "It turns out, simple and low-tech were major assets," Micallef adds.
Once Murmur trains its partner groups to begin recording stories, it's basically hands off at that point. While Micallef travelled to Orange for a workshop, as well as for the Murmur launch in September 2009, the local stakeholders, by design, are running the show.
Untold Stories
To date, there are roughly 20 sites with 30 stories, all offering various glimpses of the city's history, says Molly Rose Kaufman, a community organizer at HANDS. "We were so lucky to get the kids involved because they were eager to help. Orange is smaller than some of the other Murmur cities, and because of that, we had anticipated it taking a long time to get the stories, but it wasn't difficult at all."
Kaufman credits a "love and passion for the city," but also the personal ties that span generations in the overall city narrative. "We have people who work in Orange, people live in Orange, people who are running the businesses that their grandparents started."
Micallef says there is a trust factor in the accuracy of the reports, because it is, after all, the narrator's perception of history: "We've never had a problem with someone challenging the narrator's version of history, but I will say that I'm adamant that we are not a historic plaque project — we're an oral history." As such, it is not a tourism tool, and not all of the accounts are necessarily good memories.
Take the construction of Interstate 280, a spur that connects Interstate 80 and the New Jersey Turnpike, for example. When construction for the road began in the early 1960s, the result was a wide throughway right through Orange — a devastating blow for many residents, and the neighborhood. Resident Anthony Monica, who filmed the construction of the interstate, remembers:
"The construction of 280 took quite a toll on the citizens of Orange, and of course it caused a lot of them to move out of town" when the state purchased those homes. "It took quite a chunk of Orange away."
Murmur organizers hope to retrieve that chunk of lost history. "Other cities have so much of their history told," HANDS' Kaufman says. "In Orange, it's all untold stories."