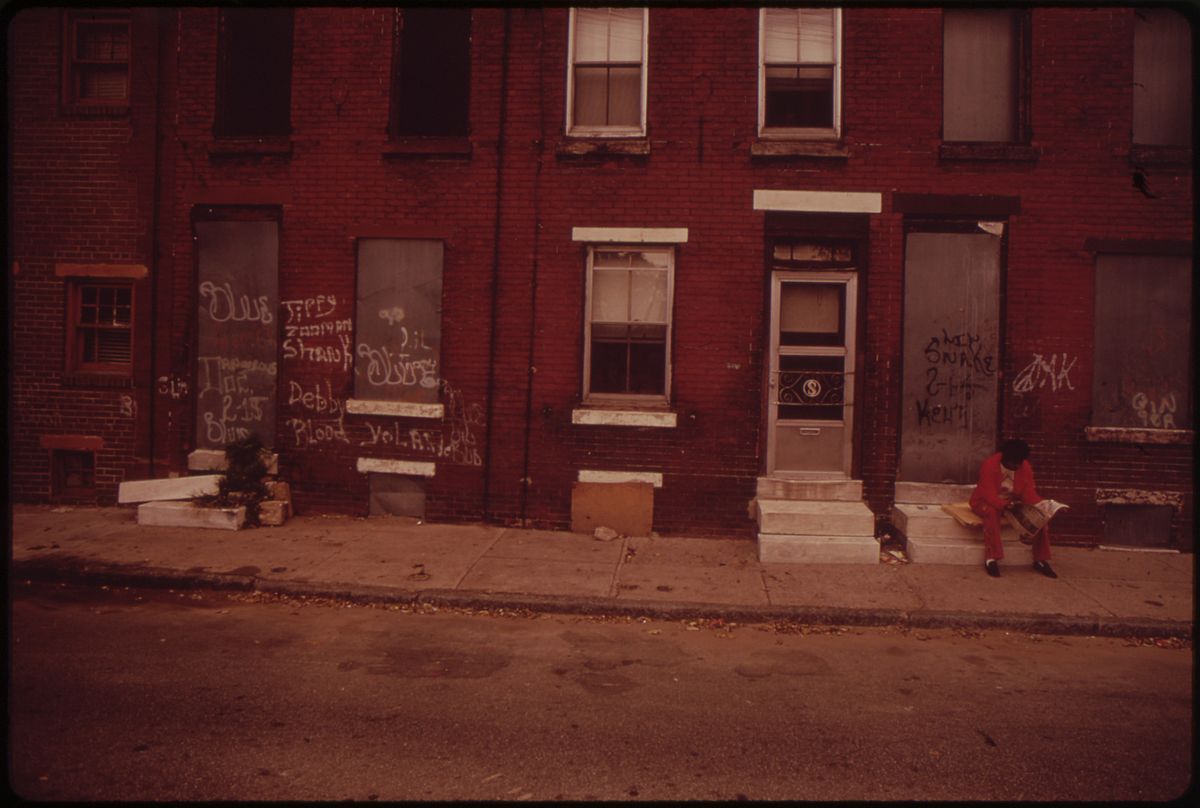 In Philadelphia, the factors driving today's shortage of affordable rental housing differ from those in the 1970s: back then, high interest rates meant mortgages were difficult to obtain, and the city was losing residents to the suburbs. Blight and abandonment of housing were the big fears. Now interest rates are low, the property market is "white hot," and Philadelphia's population has been increasing since 2010. Today tenants are more likely to worry that their landlord will sell the property for a tidy profit than abandon it—and that the new owners will either refuse to renew their lease or hike the rent to an unaffordable level. And that's before we add in a multi-year pandemic and the courtroom now packed for eviction hearings.
In June 2020, City Councilmember Kendra Brooks introduced a set of six bills known as the Emergency Housing Protection Act, which included a waiver of late fees and the popular Eviction Diversion Program. Five of the bills passed. The bill that failed would have prevented landlords from raising rents during the pandemic, but didn't receive enough votes from housing committee members to move forward. (Bills must first receive a majority of affirmative votes in committee, and then nine votes from the full council. If the mayor vetoes the bill, it goes back to the council, where it must receive at least 12 votes to override the veto.) In November 2020, measures that would have extended these protections for a longer time also died in committee—council members simply dropped off the conference call before it could even be voted on, meaning there was no way to move forward.
Although advocates have won local victories like the Renters Access Act and the extension of the Eviction Diversion program, rent control currently remains out of sight. It's a good time to reflect on the history of the tenants rights movement in Philadelphia, and especially the three different rent control bills that were in play between 1974 and 1979. The main grassroots organization advocating for them was the Tenants Action Group (TAG). Though the rent control bills didn't pass, TAG accomplished other important wins—it pushed the city council to establish landlord-tenant court, and to pass bills including one that allowed renters to make repairs and deduct the cost from their rent, and one that prevented landlords from turning away potential tenants on the basis of family makeup, an especially important victory for single mothers.
Assembling the Tenant Action Group
The tenants movement in Philadelphia emerged in the late 1960s to address deteriorating conditions and fight the slumlords who let buildings fall into total disrepair. People organized the tenants in their buildings to go on rent strike, which in some cases led to mass evictions, then appeals contesting the evictions, and then to collective bargaining agreements with landlords. But some leaders began to look for ways to change the system rather than taking on landlords one by one. City Wide Tenants Council had a legal victory in pressuring the city council to pass a landlord registration bill—that's why landlords in Philadelphia today are required to have a rental license, which (in theory) can be revoked if the Department of Licenses and Inspections finds that the landlord isn't maintaining a habitable residence.
In 1969, Stan Shapiro arrived in Philadelphia as a newly minted movement lawyer working for Community Legal Services (CLS), a nonprofit founded in 1966 to provide legal services to the poor. Through City Wide Tenants Council, Shapiro met Rudy Tolbert, an effective organizer who could mobilize community members and also understood the city's power brokers. After some internal conflict, Tolbert left the City Wide Tenants Council and formed the Northwest Tenants Organization. Shapiro soon followed.
[RELATED: Activists Win Control of Vacant Philadelphia Buildings: Now What?]
In early 1974, Tolbert wrote to an organizer in Cambridge, Massachusetts, about a plan to convene a group of tenant leaders, first from the tenants councils that had formed in the northwest and then from all sections of the city, to form the Tenants Action Group. "We have not been able to produce a situation in which the tenants' activities proceed from one level of struggle to another level of struggle," he wrote. "In order to do direct action or political work, we have to create an entity outside of Northwest, because of the nature of our funding. … We would like to revive some of the techniques Northwest used in 1968-1971, including 'direct action' around landlords."
In July 1974, the TAG steering committee held its first meeting. Maisha Jackson (also referred to as Brenda Jefferson and Brenda Jackson in news reports of the time) became the spokesperson of the new group, and one of the most visible faces of the rent control movement.
Jackson didn't come to TAG out of a desire to work on policy or legal minutiae. "I didn't come at it from the housing perspective," she said. "I came at it from the political perspective." She had been a movement organizer for years by then. The goal was to move oppressed people toward organizing themselves, becoming politically active, registering to vote, and advocating for what they needed. And one of the things that nearly everyone had in common was the need for better housing.
Eva Gladstein, another early TAG member who would be with the group through its fight for rent control and for a number of years after, described the strength that came from the economic diversity of the coalition for rent control. Many tenants organizing against slum conditions were poor or working class. But there were middle-income tenants on rent strike as well, including in apartment buildings along Benjamin Franklin Parkway. Middle-class renters had more time and resources to volunteer—and better connections with elected officials.
Back then, rent control would not have seemed radical to longtime city residents. In 1942, the Office of Price Administration, a wartime creation that handled rationing and price controls, began establishing "defense rental areas" in populous parts of the country, including Philadelphia. In these areas, rents were frozen at 1942 levels. Federal rent controls were relaxed in 1947. Citizens immediately complained, and the city council passed a rent control ordinance, creating the City Housing Rent Commission, which—many name changes later—lives on as the Fair Housing Commission. The municipal rent control ordinance lasted until 1955, when the Pennsylvania Supreme Court declared it void. When free market advocates act as if regulating the rental market would be unheard of in Philadelphia, we might remind them that it was the norm for 13 years.
Bill 1657: The Model (1974-75)
Shortly after that first TAG meeting in the summer of 1974, a committee, including Shapiro, formed to draft their dream rent control bill: a rollback of rents to the previous year's levels, a freeze at that level for the next three years, and no more than a 3 percent annual increase allowed after that. They knew it was unlikely to get through the city council without major amendments, but "the strategy was to 'shoot for the moon' and settle for something reasonable," Shapiro said.
[RELATED ARTICLE: Now and Then—Rent Control, Rental Assistance, and Universal Vouchers]
In December, the committee learned that a councilmember already had plans to introduce her own rent control bill: Dr. Ethel Allen, who had joined the council in 1972. Hastily, TAG members arranged a meeting with Allen in order to persuade her to use their moonshot bill instead of drafting something new.
Allen was the first Black woman elected to the city council; she was also the last Republican elected who hailed from anywhere other than the conservative stronghold of Northeast Philadelphia. It might seem odd today for a Republican to have introduced the bill, but Allen's political idol was Harry Truman, who had supported rent control at the federal level, and during Mayor Frank Rizzo's administration, Democratic party affiliation was no guarantee of progressive politics. So Allen introduced not just any rent control bill, but a forceful one designed by tenant organizers, in December 1974. She collected six co-sponsors, and TAG held a citywide rally and multiple public forums.
The first sign, though, that things weren't going as well as they might was when Council President George X. Schwartz assigned the bill to the Law and Government Committee, chaired by a councilmember who was also a landlord, rather than Public Health & Welfare. Suddenly, the chances of the bill getting out of committee looked much lower. Furthermore, the city solicitor announced that he considered the bill itself unconstitutional. TAG members realized too late that they had alienated powerful members of council by not meeting with them and getting buy-in before Allen introduced the bill.
In April 1975, TAG organizers disrupted the city council meeting, accusing members of dragging their feet and letting the bill languish in committee without a vote, even though TAG had proposed amendments to pacify the city solicitor. Finally, Schwartz agreed to speak at one of TAG's rent control forums in Wynnefield. He promised that he himself would introduce a new rent control bill—a fair one, he said. Any hope of passing the model bill was gone.
Bill 1982: The Compromise (1975)
Council President Schwartz enlisted Lynne Abraham as an attorney for the city council to draft his much more moderate bill, which TAG found to be disappointing on many levels—it excluded subsidized housing and the rent rollback. It would have frozen rent at the then-current level, and landlords would have to petition the Fair Housing Commission to raise or lower rents. The commission would also have had the power to make individual or "general" adjustments, and there was no stated cap on the increases it could allow. But the organizers still threw their support behind it, hoping to get sympathetic council members to strengthen the bill with amendments during the legislative process.
Schwartz introduced the bill in July 1975; there were hearings through August. Rather than send it to a standing committee, Schwartz held hearings before a "Committee of the Whole"—the entire city council. Several council members had resigned in hopes of running for mayor, so the group had shrunk from its 17 normal members to only 13. TAG would need seven votes in favor of the bill for it to pass to the next stage.
For the most part, council members' votes could be predicted based on whether they were allied with Mayor Rizzo or with President Schwartz (Schwartz and Rizzo were both Democrats, but represented dueling factions of the local party machinery). But the one wild card was a new council member, Francis D. O'Donnell. "Nobody understood how he'd gotten elected in the first place. He was completely unknown. And he got elected for one term," Shapiro said.
Although O'Donnell had expressed no interest in the finer points of the bill, and had no amendments to suggest, he announced that he could not support the bill since it was too lenient on landlords. And so it failed to pass out of the Committee of the Whole: six in favor, seven against.
Gladstein cautioned against reading the closeness of this vote as a near victory. For one thing, a council member's vote is not necessarily an indication of their true ideals. It is a political calculation. It's much easier to cast a vote in favor of a bill your constituents support but your major donors don't when the bill has no chance of ultimately passing. Had the rent control bill crossed Mayor Rizzo's desk, he would undoubtedly have vetoed it, and it would have returned to council in need of 12 votes. The 12 votes weren't there. Schwartz and his allies got to have it both ways: appearing to support rent control in public, while privately assuring the real estate lobby that nothing would actually change.
Bill 1207: Tenants' Bill of Rights (1977-78)
After the downfall of Bill 1982, TAG then turned its legislative focus to a broader vision: a Tenants' Bill of Rights. It published a booklet describing an array of ideas to improve conditions for renters: not just rent control but also fair leases, reforming security deposit practices, improvements to the housing code, the right of tenants to make repairs and deduct the cost, ending discrimination against single parents and people on public assistance, and good cause eviction laws.
TAG staff and volunteers met with nearly all council members to get feedback and test the water for support of bills relating to the proposed tenants' bill of rights. They developed four bills around model leases, rent control, fair housing for women and children, and repair-and-deduct (the ability of tenants to pay for their own maintenance and repairs, and legally deduct the cost from their rent). Then they asked for sponsors.
Allen and Lucien Blackwell were willing to sponsor three of the bills, Joe Coleman would come out for two of them, Charles Murray and Louis Johanson would put their names on fair housing only. But no one was willing to sponsor rent control. Hearings moved forward on the three bills in the fall of 1977, with the Women's Law Project as a prominent supporter of the fair housing bill, lending it a more moderate image. The three bills were sent to the rules committee.
After continued meetings, TAG finally got an agreement to co-sponsor rent control from Allen, Blackwell, Coleman, and Cecil Moore. Bill 1207 was introduced in February 1978. President Schwartz sent it to the Rules Committee with the other three bills. There were no hearings.
The TAG leaders faced a choice—they could push for the most politically feasible bill, the one concerning fair housing, and put others on the back burner, or insist that the four bills be considered together at the risk of losing on all of them. To complicate matters, a statewide landlord/tenant reform bill was being debated in Harrisburg, and Rizzo was attempting to change the city charter by referendum so that he could run for a third term as mayor.
Ultimately, TAG made a tactical decision and pushed for the fair housing bill to move forward on its own. In June 1978, Jackson and Gladstein acknowledged in a letter to Schwartz that they didn't have the administration's support for the rent control bill, and would accept his decision to postpone any action regarding it—why push now, and possibly lose fair housing, when they knew Rizzo would veto rent control anyway? They might as well wait until they knew whether they would have a new mayor.
Even then, the fight for the fair housing bill wasn't easy. It was finally enacted in July 1980 as a Fair Practices Ordinance. After this point, rent control is mentioned in TAG committee notes, but never developed into a full-fledged campaign again. And rent control was never the group's only goal or reason for existence; in the 1980s, its campaigns broadened into unseating municipal court judges, organizing public housing authority residents, and sponsoring a public hearing on L&I's notoriously lax code enforcement. The Rizzo era finally ended, but nationally, the Reagan era had begun. In the time of trickle-down economics and widespread deregulation, rent control seemed like a relic.
Looking at TAG Today
Though the conditions driving Philadelphia's housing crisis have changed, the landlord lobby's arguments against rent control have not. Most rely on a simplistic Econ 101 "supply and demand" framing, claiming that the only way to reduce rental prices is to build more housing, and that landlords' inability to extract ever-increasing profits will lead them to abandoning properties and reducing the supply of rental units further. But the housing market is more complex than that analysis allows—it's not one market but a collection of submarkets, and people don't have the option of not participating in it. More recent and nuanced studies have shown that the supposed ill effects of rent control are often myths, and when they have occurred are due to exploitable loopholes in the legislation.
Rent control has begun to seem, once again, like a mainstream idea. It's part of the national Homes Guarantee campaign. Reports from PolicyLink, One PA, and a panel convened by Pew Charitable Trusts all recommended some form of rent control for Philadelphia specifically. A report released by the city itself in 2016 cites rent control as a concern for residents.
Even before COVID hit, tenant organizing was on the rise. The Philadelphia Tenants Union was founded in 2014. Keeanga-Yamahtta Taylor wrote in May 2020 about how the pandemic had energized the movement further. Though it's a far cry from World War II–era rent controls, the CDC eviction moratorium is the closest thing we've had to federal protections for renters since the 1940s.
At a recent general meeting for Lilac, a member-funded socialist organizing group doing local work in the Philadelphia area, the opening reading came from Mariame Kaba's We Do This 'Til We Free Us, a text on prison abolition. In it, Kaba shares the advice she gives to young and impatient organizers who reach out to her: "Your timeline is not the timeline on which movements occur. Your timeline is incidental. Your timeline is only for yourself to mark your growth and your living."
Those of us who are fighting for any type of change are part of a larger timeline. It's important to understand not only the movement ecology around us today, but the movement's genealogies as well.
If the time has come—and it appears to me that it has—to seriously revive the fight for rent control, we can look to TAG and apply some lessons, ones that TAG members sketched out themselves in a 1978 document that reflected on the history of the three bills.
We must be careful about our timeline. Rushing a bill to be introduced too quickly can backfire. Election timelines matter too, and with many council members, pressure will be more effective around the primary than the general.
We must understand how power works, both in public and behind the scenes. Council members often vote in blocs, similar to the way the rent control votes broke along whether  someone was aligned with Rizzo or Schwartz. It's worth remembering, too, that we may not be able to learn the details of every alliance through campaign donation data alone: Schwartz was later implicated in the "Abscam" sting—he accepted a $30,000 bribe from undercover FBI agents in 1980, telling them he had enough sway with five or six council members to get their hotel project approved.
And we must not give up ownership of a bill to a lawyer who works for the city. Tenants need to be involved in the writing of and the hearings for any rent control legislation.
In the end, after all the research and analysis, the methodology of bringing about change remains the same, Jackson told me: People who are suffering need to be out front. "It's really simple," she said. We should be mindful of the basic principle that "people in power won't give it up."
Not unless we make them.
Special thanks to the Temple University Special Collections Research Center which provided a wealth of research material for the article, and where the records of the Tenant Action Group are held.