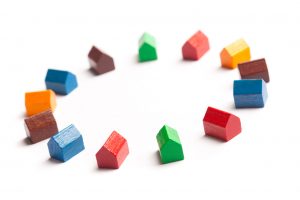 Of the nation's biggest cities, which are doing a better job advancing residents' health and well-being?
CityHealth recently rated 40 of the largest U.S. cities on their progress adopting several health-advancing policies, including those related to earned sick leave, food safety inspections, accessible high-quality prekindergarten, and affordable housing/inclusionary housing.
While most cities earned a gold, silver, or bronze medal in various categories, only 13 cities medaled in the housing category, and only 3—Chicago, New York, and Los Angeles—earned a gold medal.
For the housing category, cities have been evaluated on the presence of an inclusionary zoning (IZ) policy and on its quality.
IZ policies provide incentives and/or requirements for developers of residential projects to set aside a share of the units to be income-restricted affordable units. Policies vary from city to city: for example, some are voluntary, others mandatory; some allow developers a choice of building the affordable units onsite or offsite; some target rental, others homeownership; and requirements vary on what size projects are subject to the rule and what level of affordability is mandated. But all aim to increase the supply of newly built affordable housing.
From its first year in 2017 through 2021, CityHealth gave cities positive marks if a mandatory IZ policy exists and if it requires program evaluation, applies to projects as small as 10 units, and requires at least 20 percent of units be affordable.
This year, San Jose was alone in showing improvement over the previous year, rising from bronze to silver because it lowered the minimum project size that would trigger the IZ policy from 20 or more units to 10 or more.
As it spurs new affordable housing, IZ can also have a positive impact on resident and community health.
"Housing is health," says Catherine Patterson, co-executive director of CityHealth. "We've seen so much evidence showing that access to safe, stable housing improves mental health, reduces exposure to environmental toxins, and avoids homelessness. So we believed IZ would be a strong policy to stand up in that domain of health."
In a recently published study, researchers at George Washington University found an association between the presence of an IZ policy in a municipality—especially when mandatory, prioritizing rental development, and dictating a larger set-aside of affordable housing—and better local cardiovascular outcomes. The study bolsters support for the idea that affordable housing policies could help reduce socioeconomic and racial/ethnic disparities in cardiovascular disease, and that housing is a key social determinant of health, as the American Heart Association stated recently as well.
Gregory Squires, a George Washington University professor of sociology, public policy, and public administration, is co-author of the study and of an op-ed that highlights its key findings. (He also serves on Shelterforce's board.)
Squires notes that one of his study's limitations is that cities instituting IZ policies may also be more likely to have other policies or characteristics that contribute to population health. Nonetheless, he sees IZ improving health and well-being in ways beyond simply adding housing stability.
"Inclusionary zoning is helping households access different neighborhoods they've traditionally been excluded from—neighborhoods that may be lower poverty and may have more access to health care and healthy conditions," Squires says. "People moving from high-poverty to low-poverty neighborhoods are more likely to be moving away from pollution and toward more health services, more guidance within the schools, less stressful living conditions, which leads to fewer cardiovascular issues."
More Cities, Expanded Policy Criteria
While IZ's housing affordability results bring housing-related health benefits, CityHealth has discovered drawbacks to using IZ as the sole criterion in a nationwide evaluation.
First, some cities are limited or pre-empted by states in creating IZ policies, leaving them ineligible for a CityHealth housing medal because of external forces.
IZ policies also tend to be concentrated in coastal cities with hot real estate markets where affordable housing can be added as new market-rate development is happening.
In addition, the majority of IZ policies specify set-asides for low- to moderate-income households earning 51 to 81 percent of the local area median income (AMI), with only 2 percent targeting very-low-income households that make 50 percent or less of AMI.
"If you're not targeting affordable housing toward deeply low-income communities, will [rating cities on IZ policies] have the health impact we are anticipating?" says Katrina Forrest, co-executive director of CityHealth.
Now, as CityHealth looks ahead to the next five years, it will be evaluating an additional 35 cities and has revamped the policy solutions it advocates (and uses to rate cities) starting in 2022. In CityHealth 2.0's housing category, IZ will be replaced by three new criteria: affordable housing trusts, healthy rental housing, and legal support for renters.
"We realized there is no singular policy intervention that can address the whole of affordable housing," says Forrest. "We decided we needed to take a more comprehensive approach, both because no one policy is a panacea and because IZ was so heavily pre-empted."
The new criteria provide cities greater flexibility in funding affordable housing and place new emphasis on housing safety and stability for renters.
The healthy rental housing medal will be based on the extent to which a city requires rental property registration and periodic inspections.
"This is a clear example of how we can prevent health problems before they start," Patterson says. "If we can avoid exposure to mold, to pest debris, to lead paint, we can stop asthma in its tracks, we can stop neurotoxins in their tracks. It offers immediate returns for the health of individuals and families and kids."
The legal support medal will be awarded to cities that offer legal representation to tenants who face eviction and/or other housing issues.
[RELATED ARTICLE: Right to Counsel Movement Gains Traction]
"When landlords bring tenants to court, the landlords have representation 81 percent of the time and tenants have representation 3 percent of the time. It's really unequal," Patterson says. "When you think about not only homelessness, but eviction's impact on credit scores and ability to secure future housing, it can have profound effects. It's psychologically stressful, it impacts mental health. This is a targeted way to make sure that renters could potentially avoid eviction—but even if they are evicted, they have time to make a plan, avoid homelessness, avoid some of the stress associated with eviction. It expands the time period."
Assistance and Growth
Besides rating their policies, CityHealth offers cities technical assistance to encourage and help municipal governments implement health-promoting, equity-centered policies.
"It's a combination of rewarding what's already been done and pushing cities to do better. It's not a zero-sum game," says Forrest.
"We definitely take a carrot approach," adds Patterson. "We want all cities to get to gold."
Patterson says it's been gratifying to see cities add and improve policies.
"In 2017, the year of our first report, 47 percent of the largest cities earned an overall medal, meaning they earned medals in five or more policy categories," she says. "This year, 92.5 percent earned an overall medal. It speaks to the relevance of [these policies] to local innovation and will, and that we're ready for new challenges, because most of the cities have met the bar."