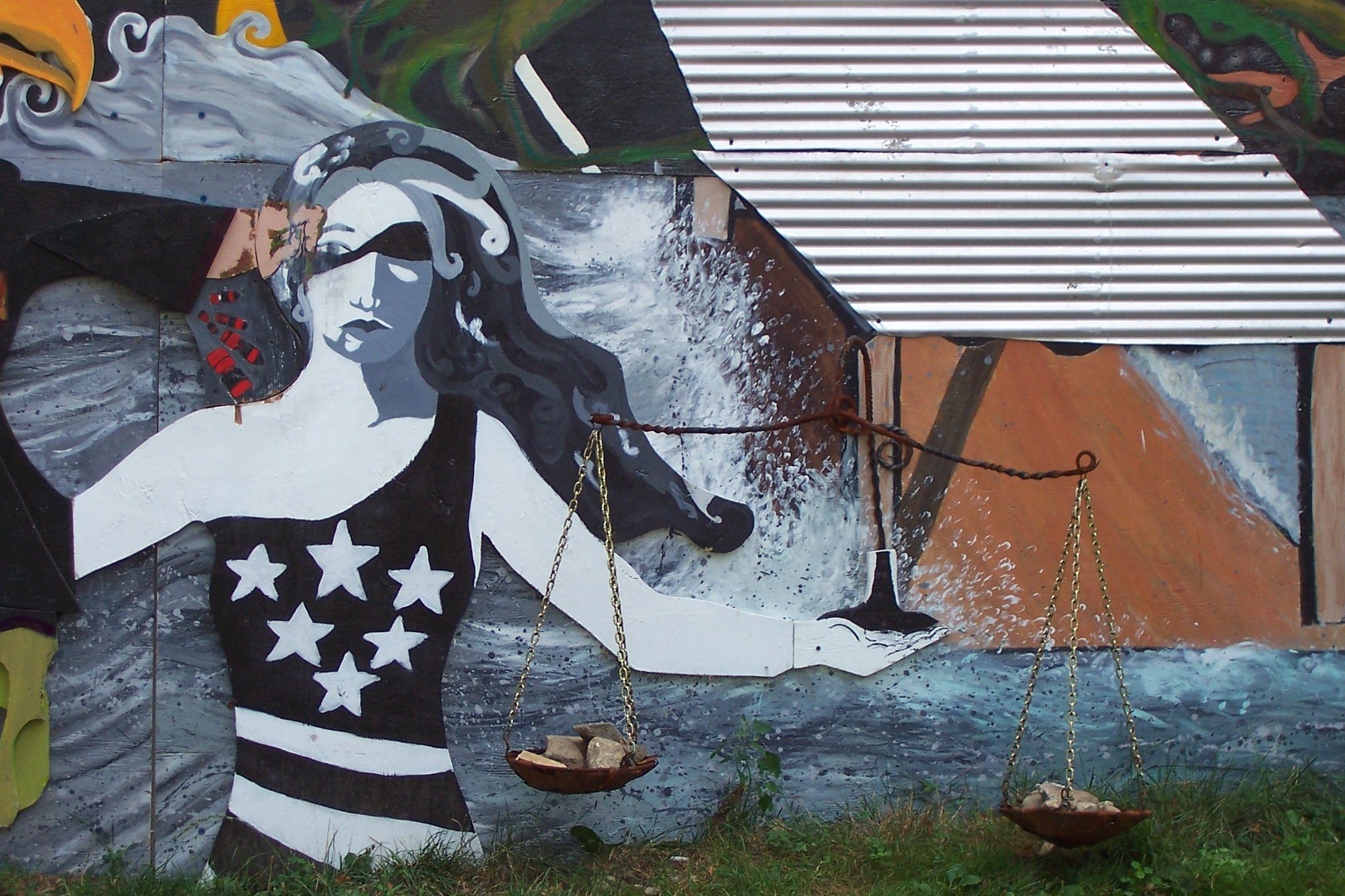 UPDATED Dec. 22 | Free access to legal representation is a cornerstone of the U.S. court system—at least it is when the defendant is accused of committing a crime. In courts nationwide, public defenders line the benches during criminal arraignment hearings, ready for the presiding judge to assign them to represent defendants who can't afford to hire their own attorneys.
Renters facing eviction don't get free access to a public defender; the constitutional right to legal counsel only extends to defendants in criminal cases. Because of that, 9 out of 10 tenants who receive an eviction notice won't have a lawyer with them in court. Instead they'll face the daunting task of representing themselves in front of a judge and prosecuting attorney, and they'll likely lose.
Eviction hearings are often likened to cattle calls, with names called in rapid succession while tenants are summarily booted from their homes.
"The eviction process was designed for a system in which tenants don't have any right to legal representation," says Eric Dunn, director of litigation at the National Housing Law Project. "So the expectation is that most tenants aren't going to show up."
Landlords, on the other hand, nearly always appear with a lawyer to represent their interests.
'It's not fair because it was never designed to be fair. It was designed to be fast and cheap and easy for landlords.'
But that imbalance is changing: Several cities, counties, and states have passed or are considering right-to-counsel legislation. For example, Kansas City, Missouri, recently passed an ordinance guaranteeing full representation for all tenants facing eviction, regardless of income; the program will be implemented in June 2022. Philadelphia, Pennsylvania, passed a right-to-counsel ordinance in 2019 that covers low-income tenants, and the city recently approved $1 million in funding to pilot the program over the next several months.
While these changes haven't come fast enough to protect the thousands or renters who've been evicted since the moratorium ended in August 2021, the progress already made may have mitigated some of the worst effects in some places. And although the issue has become increasingly urgent during the COVID-19 pandemic to keep with the CDC's stay-at-home orders, the right-to-counsel movement isn't new. Housing advocates and activists have been fighting to secure civil court defendants the right to free attorney representation for decades—winning several major successes over the last few years.  
New York City in 2017 became the first large metro to codify the right to legal representation for low-income renters facing eviction. Since then, several other counties and cities—such as San Francisco, Baltimore, and Boulder—have either passed similar legislation or have drafted bills in the pipeline. Connecticut and Delaware are in the process of finalizing right-to-counsel bills, and several other states have legislation pending. According to John Pollock, coordinator for the National Coalition for a Civil Right to Counsel, the pandemic is just one of the factors that has ramped up interest in the existing movement to establish the right to civil counsel.
"The organizing community has made this a priority. Tenant organizing has been around for a long time, but the right to counsel wasn't really a focus," says Pollock. "I think [tenant organizers] started seeing it as a tool, not only to change the way evictions happen, but really to change the power dynamic altogether between landlords and tenants."
Granting tenants the legal right to counsel is an incredibly effective tool for keeping renters housed. For example, in fiscal year 2020, New York City renters who accessed the right-to-counsel program were able to remain in their homes 86 percent of the time.
In San Francisco, which passed Proposition F in 2018 granting tenants the right to receive free legal counsel, landlords filed 10 percent fewer eviction cases between 2018 and 2019. Of the San Francisco tenants who received legal representation during their eviction trial, 67 percent were able to stay housed via the program. Additionally, 80 percent of Black tenants who accessed the program were able to stay in their homes.
In Cleveland, Ohio, which launched a right-to-counsel program in mid-2020, 93 percent of tenants who received legal representation successfully fought their evictions.
A System Designed to Be Unfair
The tenant-landlord power dynamic has played out in courtrooms across the country in the months since the eviction moratorium ended, leaving tenants—millions of whom are still unemployed and owe thousands in back rent—vulnerable even with federal emergency rent assistance money on its way. The power imbalance impacts disproportionately heavily on communities of color and on low-income women—especially Black women—who are more than twice as likely as white people to have evictions filed against them. Overall, 35 percent of eviction filings are made against Black renters, even though only about 21 percent of renters are Black.
Black and Brown families are far more likely to rent than own: just 45 percent of Black families and 49 percent of Latinx families own the homes they live in, compared to nearly 74 percent of white households, according to first-quarter data from the U.S. Census Bureau.
"It's not fair because it was never designed to be fair. It was designed to be fast and cheap and easy for landlords," Dunn says. "Being an unrepresented tenant, you don't know how the law applies in your situation, so you don't know what rights and defenses you might have."
[RELATED: Fixing the Harms of Our Eviction System]
Not only that, but landlords illegally evict tenants all the time. When they get away with it, it's often because tenants don't know they have a defense, says Emily Benfer, a law professor at Wake Forest University, chair of the American Bar Association's COVID-19 Task Force Committee on Eviction, and co-creator of The Eviction Lab COVID-19 Housing Policy Scorecard.
"Many landlords engage in serial eviction filing . . . with the intent to collect rent, control behavior, and assign fees to the tenant which increase their monthly rent amount by as much as $180," Benfer says. "We often see cases of tenants facing eviction solely because they reported unsanitary, unsafe, dangerous living environments."
Most tenants don't have the knowledge or resources to raise a defense in illegal cases. An attorney could easily identify retaliatory or otherwise illegal evictions and connect tenants with the proper fair housing organizations. But even when they're represented, tenants remain at a disadvantage, Benfer says. This is especially true in states that allow no-cause evictions, such as Oregon, or states like South Carolina, where landlords can collect back rent and boot the renter anyway for breaching the original contract. And renters behind on lease payments are treated significantly harsher than homeowners who fail to make their mortgages.
"[Landlords] can just file an eviction complaint … and have someone out within the month, whereas if you're a homeowner, the foreclosure process can take a year, easy," says Matt Hill, an attorney at the Public Justice Center in Baltimore, and team leader of the Human Right to Housing Project. "And then when you layer on the ways in which America through public policy for centuries has denied Black people in particular access to homeownership and building equity and the security of homeownership … this really is a racial equity issue, and when we talk about disparate impacts on Black people, that's why."
Right to Counsel Reforms in Maryland
Hill of the Public Justice Center in Baltimore and others are working on Baltimore-specific right-to-counsel laws, while the state of Maryland became one of the first (along with Washington state) to enact right-to-counsel bills ensuring that low-income renters have access to legal representation. Maryland's law, which took effect in October, created a program to provide attorneys for households with an annual income at or below 50 percent of the state's median income—which was about $95,500 in 2019. However, Maryland's bill lacks dedicated funding: the General Assembly failed to adopt HB 31, which would have raised eviction filing fees to help pay for the program.
Right now, Maryland landlords pay $15 to file an eviction—less than the cost of a parking ticket. HB 31 would have increased the filing fee to $57. The increase was also meant to reduce the glut of eviction notices Maryland landlords typically file—the state had at least 120,000 and as many as 180,000 pending eviction cases at the end of September. There are only 700,000 to 800,000 rent-paying households in all of Maryland, according to Deb Seltzer, deputy director at Maryland Legal Services Corporation. With such a low fee, Maryland landlords can file an eviction notice on a tenant each month.
"The dockets are very large, and very few tenants actually show up to their hearing, whether that's because they can't get off work or they think it's not worth it to attend because they don't know that they have a defense to their eviction," Seltzer says. "There are certain tenants who are getting a case filed against them every month. Right now, landlords don't have to give tenants notice that they're filing an eviction. They just file and the tenant gets served."
As part of Maryland's legislation, landlords will be required to provide tenants with 10 days' written notice before they file the eviction. The notice must include a list of legal providers and information on how to contact them. Seltzer says the hope is that tenants will be encouraged to ask for help.
"The idea is to reach people and give them the knowledge and the tools up front so they can reach out if they have a dispute and hopefully get assistance to prepare for any sort of case," Hill says. "It's not perfect, but there's provisions in both the state and city laws for money to be spent on outreach and education by tenant associations and community groups."
Right to Counsel Reforms in Boulder, Colorado
In addition to keeping tenants in their homes, outreach efforts help keep eviction cases out of the court system, persuade landlords to negotiate other solutions, and connect tenants to social services and financial assistance. Attorneys can persuade landlords to work with tenants much more effectively and can negotiate deals to give tenants time to move out without the burden of carrying an eviction on their rental record, says Bruce Wiener, a Boulder, Colorado-based attorney who's the founder and executive director of Bridge to Justice, a nonprofit that worked with local activists to pass the city's right-to-counsel legislation in November 2020.  
[RELATED: Evicted—Navigating the Eviction Process and Its Lasting Impact]
Boulder's program, unlike Maryland's, has a dedicated funding source. It will eventually be funded by a $75 annual licensing fee landlords must pay starting Jan. 1, 2022, to rent out property within the city limits, Wiener says. But city officials knew they needed to act immediately.
"It was just fortuitous that it was placed on the ballot at the height of COVID. City council and the city attorney, once it passed and COVID was raging, decided they didn't want to wait until the funding went into effect," Wiener says. "So they borrowed money from their general fund. The initiative passed the first week of November [2020], and the program was up and running the first week of January."
Right to Counsel Reforms in Denver
Just down the road, Denver City Council in June passed a bill giving tenants who earn 80 percent or less of the area median income ($54,950 for a single-person household) the right to free attorney representation in eviction cases. Once it's signed by Mayor Michael Hancock, the legislation took effect on Sept. 1. The city has offered free legal services since launching a pilot program in 2018. The bill codifies the existing program and adds a provision requiring landlords to tell tenants help is available.
While the ordinance and legal defense program prevents some evictions among lower-income renters, Wren Echo, a housing activist who works with No Eviction Without Representation (NEWR) Denver, says it's not enough.
"The legal resource services are really overburdened and underfunded," Echo says. "It's only the poorest people who are getting access, and the city's program creates administrative hurdles renters need to jump through, which is going to exclude people who can't verify income in the way they need to. Independent contractors are going to be left out. Undocumented workers are going to be left out."
NEWR Denver, which got its start in the Denver-area Democratic Socialists of America chapter, filed its own initiative for the November ballot that called for a $75 annual per-unit fee on landlords. Beginning in 2022, landlords will have to apply for per-parcel operating licenses that must be renewed every four years. Echo, who's worked in local housing activism for years, says the pandemic added momentum to the tenant advocacy movement.
"We're absolutely looking at organizing tenants' unions, we're working on an eviction defense outreach program, and a lot of us were lobbying for SB 173 that reforms the eviction process and puts limits on late fees," Echo says. "There are a lot of people in Denver lobbying for that kind of legislation. Until now, it's been a really landlord-friendly state, and there are finally a lot of people in Denver working to change that."
A Cost-Saving Tool
Right-to-counsel programs are also significant money-saving tools for states, counties, and municipalities dealing with the secondary costs of homelessness. A 2020 analysis conducted in Baltimore found that an approximately $5.7 million investment in a right-to-counsel program could reduce "the current cost of disruptive displacement caused by eviction or avoid costs related to disruptive displacement" by $17.5 million each year. Among the cost savings is $10.6 million for emergency shelter and housing programs, nearly $5 million related to public school funding and transportation costs, and $2 million on Medicaid and foster care, according to a report.  
"It's a very cost-effective and proven way of really preventing the worst of the displacement and eviction cases," Hill says. "So, when you have really good data like that, it's very helpful to make that case that here's this one small thing we can do to really make a huge dent in the eviction crisis, and actually save the city."