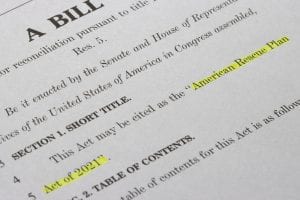 When President Joe Biden signed his $1.9 trillion coronavirus relief package into law in March, it came with significant funding to stanch the housing emergencies created by the pandemic. The American Rescue Plan Act (ARPA) has $21.5 billion for emergency rental assistance, $10 billion for mortgage relief, $5 billion for housing choice vouchers, $5 billion for homelessness services and shelter acquisition, $750 million for housing assistance for Native Americans and Native Hawaiians, and $100 million for rural housing assistance.
But it turns out that is only a fraction of the funding in ARPA that could be used for affordable housing.
The act contains more than $350 billion for states and local municipalities—a fairly open-ended pot of money that can be used to fund a huge swath of needs, such as development, social safety net, education, public health, and more. In mid-May, the U.S. Department of the Treasury published guidance for how states and cities can spend the billions coming their way, and it makes clear that affordable housing development, housing vouchers, housing counseling, and other programs are approved uses when spent in Census tracts with high concentrations of low-income residents or on people disproportionately impacted by the pandemic.
Preservation Working Group, a Pittsburgh coalition of housing advocates, developers, public health workers, and others, is lobbying Pennsylvania state officials to use ARPA funds for affordable housing and to bolster the participation of developers of color in the affordable housing industry. Preservation Working Group includes members from Neighborhood Allies, Rising Tide Partners, University of Pittsburgh Medical Center's (UMPC) Center for Social Impact, Regional Housing Legal Services, Bridgeway Capital, Action-Housing, the city of Pittsburgh's mayor's office, Pittsburgh Urban Redevelopment Agency, City of Bridges Community Land Trust, Allegheny County, and the Heinz Foundation.
'For places that already have something like an affordable housing trust fund either for preservation of existing affordable housing or new development, put the money in the fund … this is free funding.'
The coalition faces something of an uphill battle, with a Republican-controlled state legislature deciding how to spend Pennsylvania's $7.3 billion share of ARPA funds and a nearly endless number of other needs competing for the funds. But the group says it is essential for Pennsylvania to use this rare opportunity to address the pressing housing needs created by the pandemic, as well as the long-standing affordable housing needs of cities such as Pittsburgh and Philadelphia.
"Pennsylvania has not been heavily impacted [by a lack of affordable housing] previously, therefore our consciousness is different," says Larry Swanson, executive director at Action-Housing, a Pittsburgh affordable housing developer and a Preservation Working Group member. "States that did not have affordable housing on the forefront before COVID now do."
The Preservation Working Group has asked the governor and legislature to include $200 million for affordable housing development and preservation as part of the ARPA-funded Pennsylvania Rescue Plan—on top of a proposed $250 million state Democrats want to spend on rent and mortgage relief. Of the $200 million the group has requested, $100 million would supplement the existing Pennsylvania Housing Affordability and Rehabilitation Enhancement fund. That $100 million could be used as gap funding that enables housing developers to use 4 percent Low Income Housing Tax Credits for new development. The funds would also be used for the preservation of existing subsidized and unsubsidized affordable housing. Another $50 million would be used to provide women- and minority-led developers access to the capital they need to act as the lead developer on LIHTC projects. And the final $50 million would fund community development financial institutions to make low-interest, long-term loans for both preservation and new development. The coalition is asking the city of Pittsburgh to spend its ARPA funding in a similar way.
[RELATED: How LISC, Enterprise Hope to Bring More Capital to Developers of Color]
The Working Group says the statewide funds could lead to the development of at least 1,000 new units of housing and the preservation of tens of thousands of units of existing affordable housing over the long term. Swanson says that in Pittsburgh alone, there are 18,000 units of regulated affordable housing and upwards of 80,000 units of "naturally occurring affordable housing" the group wants to preserve in perpetuity.
"These preservation deals have the most impact from a dollars and sense perspective," says Kevin Progar, senior project manager at UPMC Center for Social Impact and a Working Group member. "Preservation doesn't get you a big new building. But if we're only adding 250 new units every new year and we're losing 1,000, that loss creates a larger strain on the community."
The Republican-controlled state legislature may be hard to convince. House Majority Leader Kerry Benninghoff told City & State that the House Democrats' vision for the Pennsylvania Rescue Plan is "wishful thinking not based in reality or the law." Still Swanson remains hopeful because Gov. Tom Wolf, a Democrat, has line-item veto power on the budget, which gives him "tremendous bargaining power," he says.
Asked for comment on the Preservation Working Group's proposal, the governor's office was noncommittal. A spokesperson provided a statement saying, "The Wolf Administration is committed to working with the General Assembly to implement a plan that helps all Pennsylvanians move forward from the COVID-19 pandemic, which includes assisting our schools and small businesses in recovering from unprecedented disruption, as well as much needed relief to Pennsylvania's residents through housing support, whether they rent or own. It is vital to the future success of our commonwealth that additional funding be allocated to address immediate and long-term infrastructure needs."
If Wolf does sign on to the Working Group's proposal, he will be in good company among states and municipalities earmarking ARPA funds for affordable housing investment. Oregon's Department of Housing and Community Services has proposed using $300 million to preserve and repair existing affordable rental housing, $125 million to build new affordable rental housing supply, and $25 million to build new homeownership supply. Colorado has proposed spending up to $550 million on increasing housing supply and addressing homelessness. California's governor has dedicated $1.75 billion of ARPA funds to "shovel-ready affordable housing projects" in his proposed budget. California also wants to spend $500 million on housing projects that further its climate goals, $300 million on affordable housing preservation, and $100 million for first-time homebuyers.
'Assume just 10 percent of $350 billion goes into housing, you'd have $35 billion for housing in one year . . . That's just a game changer.'
Vermont has proposed $200 million in affordable housing development. North Carolina's governor has proposed $575 million for housing investment including first-time homeowner funds and rental housing development funding. Washington, D.C., wants to bolster its Housing Trust Fund with $40 million in ARPA funds. The City of Minneapolis set aside $28 million from ARPA, $4 million of which will be used to reduce racial disparities in homeownership.
With relatively few strings attached to the ARPA funds states and municipalities will receive, the door is wide open for governments to make a dent in their housing needs. But there's also the risk that funds won't be put to their best use, especially in places with little existing government infrastructure for doing affordable housing work.
Jenny Schuetz, a senior fellow at the Brookings Institution's Metropolitan Policy Program, points to the fact that many cities and states had to create rent relief programs from scratch during the COVID-19 crisis, and those programs have had mixed success in getting money to renters and landlords.  
"For places that already have something like an affordable housing trust fund either for preservation of existing affordable housing or new development, put the money in the fund," says Schuetz. "For them this is free funding. It's great to use it as equity in a development deal then leverage as much cheap debt as you can get your hands on."
For places without the existing infrastructure, Schuetz says it will be critical to form partnerships, whether it's a few cities or counties working together to build a functional development and acquisition program, or governments working with intermediaries such as the National Conference of State Legislatures or the National Association of Counties.
"The first thing they should be doing is coming up with a plan for how they want to spend it and try to align it with longer-term goals. That sounds basic, but it's not actually clear to me that states and cities necessarily had a checklist of things to spend their money on if they had more money, and now they have a bunch of money," Schuetz says.
Kate Reynolds, senior policy program manager at Urban Institute, wants to see states and cities invest in the rehabilitation of unsubsidized affordable housing units. Some studies have found naturally occurring affordable housing accounts for as much as 63 percent of the moderate- to low-income housing stock in the U.S. But, Reynolds says, there isn't much in the way of financing available for those landlords to do maintenance and upgrades, and rents often don't cover those costs either.
Urban Institute recently surveyed a nationwide sample of small landlords who typically own 1-4 units and found many have deferred maintenance for the duration of the pandemic without rents coming in.
"You don't want to see these units coming offline and losing them," says Reynolds. "Across the country there aren't that many robust programs dedicated to preservation and rehab of this type of stock. If I had my dream, that sort of [ARPA] spending would be really helpful based on what we're seeing in the data."
The National Low Income Housing Coalition (NLIHC) supports and encourages states and cities to use ARPA funds for housing needs. But the group has concerns about some of the vague language in the treasury's guidance. NLIHC submitted a letter to the agency requesting that it define affordable housing, specify how long that housing must remain affordable, allow ARPA funds to be used for ongoing operation costs, not limit the use of funds in Qualified Census Tracts to mitigate the risk of concentrating affordable housing in high-poverty areas, and more.
There are plenty of loose ends to be tied up and budget fights to be hashed out in state capitols and city halls before any of the ARPA money can be put to use. But housing advocates have a deep optimism about the impact this could have, even if only a fraction of the $350 billion goes to affordable housing development and preservation.
"Assume just 10 percent of $350 billion goes into housing, you'd have $35 billion for housing in one year," says Michael Bodaken, former head of the National Housing Trust, who's been consulting on the Preservation Working Group effort. "That's just a game changer."