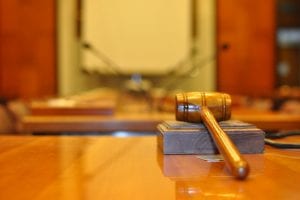 Bang, bang, bang! It sounded like someone was trying to break down the door of my rented condo. I nearly jumped out of my skin. Who could be knocking so aggressively? Why did the doorman let them up? 
I opened the door and standing in front of me was a short, older white man who I did not recognize. He asked my name, said, "You've just been served," and handed me a yellow slip of paper. I was being sued by my landlord for nonpayment of rent and I faced eviction.
In August 2015, just two weeks after I moved into my Washington, D.C., condo, I came home from a beach trip to feel that the air conditioning was not working. I went to the front desk and asked whether the issue was unique to my unit or if it was building-wide, and, naturally, how quickly it would be fixed. I was told that a full HVAC renovation had begun and would leave the building without heat or air conditioning through much of the fall. I was also told that residents had been aware of this planned renovation for years.
I contacted my absentee landlord to ask what accommodations she would make because I was not, in fact, aware of the planned renovation and needed to be able to heat and cool my unit. I cited housing codes and the warranty of habitability. We went back and forth, but we were unable to agree on a solution. On Oct. 1, 2015, I chose to withhold rent. By the 15th, my landlord filed to evict. The filing fee to evict a tenant in D.C. is $15.
What followed was a time-consuming, costly, emotionally draining, and ultimately unnecessary process. I'm sharing my eviction story now because my privilege allows it. I have a master's degree in urban planning with a concentration in housing and community development. I am an affordable-housing professional with a focus on energy efficiency in multifamily affordable housing. My parents, brother, and sister-in-law are attorneys who provided invaluable, and most importantly, free, legal advice. I could also afford local legal representation.
And still, five years later, the choice my landlord made to file to evict follows me.
What I Learned from the Eviction Process

Once I received my summons, I vented to family and anyone else who would listen, and then I called a local law firm that provided affordable legal services for tenants. Given their caseload we decided that I would represent myself and that they would work in an advisory role.
I was required to appear in the Superior Court of the District of Columbia Civil Division Landlord and Tenant Branch in early December 2015. I showed up with a formal answer provided to me by my attorney, a PDF checklist to present to the judge that preserved all of my defenses against my landlord's allegations, asserted a counterclaim for what my landlord had failed to do, and invoked my right to a jury trial. I also brought with me a file full of supporting documents—printed out emails, the receipt for the portable air conditioner I purchased, photos of the construction, etc.
What I encountered in that courtroom was shocking. It was a cattle call; a room so large that if you sat at the back you might not hear the judge call your name, miss your case, and receive a default judgment. 
The most striking thing I noticed was that I was one of the few, if not the only, white defendant in the room. There were many Black and Brown residents, mostly women with small children who urged the young ones to behave. Data for 2010-1016 provided by the Eviction Lab and analyzed from the American Civil Liberties Union reveals that on average, evictions were filed by landlords against Black renters at nearly twice the rate of white renters.
While I brought a formal written answer, filled out with the advice of an attorney and supporting documents, most of my fellow defendants had just that yellow piece of paper. As cases were called, mostly white, male attorneys stood up on behalf of landlords reciting violations. The residents were all "pro se," representing themselves and doing their best to explain their situations. Some outlined reasons for nonpayment or late payment. Others attempted to cite health and safety violations, but without pictures, receipts, or knowledge of code they were unable to mount a defense.
This scene is not uncommon. Nationwide data show that in eviction proceedings, 90 percent of landlords have legal representation, while only 10 percent of tenants do. In an attempt to provide support, defendants appearing in D.C.'s Landlord and Tenant branch have the opportunity to consult students from area law schools getting their clinic hours, but there are roughly 200 eviction cases heard every day. Four students cannot fully address the needs of  every unrepresented defendant, each with only their yellow summons.
When it was my turn, I stood in front of the judge opposite my landlord's attorneys, both white men from a firm that specializes in representing landlords in eviction cases. Landlords are not required to be present. I requested my jury trial and a scheduling conference was ordered. The value of requesting a jury trial is threefold:
You are able to stay in your rental unit while the case is pending (provided you continue to follow the rules of the protective order)
Prior to jury trials, courts require a court-administered mediation between the two parties, and
You get discovery rights, but it will cost you.
Requesting a jury trial costs $75 in D.C., and filing a counterclaim costs $10, to be paid immediately in the clerk's office. While the case was pending, I was required to pay an amount equal to my monthly rent into a protective order account. Protective order payments must be made in person at the clerk's office on the first of the month and must be paid in cash or by cashier's check.
Grateful for an understanding employer where being 15 to 45 minutes late would not jeopardize my job, I made my way to the clerk's office the first of every month. Uncomfortable carrying $1,500 in cash on the metro, I paid $7 to have the bank issue a cashier's check. What a privilege to be banked and have an additional $28 (over four months) to record these transactions while awaiting resolution. If you violate the terms of a protective order in any way, you may lose your right to a jury trial and to present a defense.
A jury trial provides the opportunity for discovery, a process whereby you can ask questions of the other side. In my case this was beneficial to learn more about the housing condition concerns I had raised. For a non-attorney, it is difficult to know what questions to ask to get the right information to persuade a judge or jury. I spent hours going back and forth with my attorneys, and my family of attorneys, to craft questions and format documents correctly. I worked late into the night on my office computer, and using the office printer and scanner, to meet this deadline.
I was well supported by my job, my legal advisers, and my family in April, 2016 when I showed up to a court-mandated mediation where I came face-to-face with my landlord for the first time in the process, though I negotiated through her attorney. Her attorney had reviewed the discovery and after two hours, made excruciating by the power dynamics, my unfamiliarity with the process, and the uncertainty of the outcome, – we agreed that I was not required to pay the amount of rent I initially withheld, my landlord was granted the money I paid into the protective order account, and I was to stay in my rented condo for the remaining five months of my lease according to its original terms.
Once the ink was dry on the settlement agreement, I relaxed a little. There is an ongoing, insidious anxiety that comes with living in a unit when you know the landlord doesn't want you there. Often in the months that followed, I would look at the settlement agreement to remind myself that I was legally allowed to live in the condo through the end of the lease. The long ordeal was over, or so I thought.
Then I tried to move.
An Eviction Filing Remains on the Record
When I applied to rent a new apartment, I was shocked when I was denied due to the eviction on my record. I was reeling, and the familiar feeling of anxiety swept back in. I had gone through a six-month legal process to settle the dispute. There was no monetary judgment against me. I stayed through the end of my lease. I wasn't evicted!
Unfortunately, tenant screening reports do not tell the whole story. The summary report includes a bright red flag icon next to the heading "Eviction History: 1 record reported," and lists the filing date, judgment amount, address, and plaintiff. If the rental company chooses to read further, the report does include additional information including the "case disposition" (the outcome), which in my case was simply listed as "case filed." What's worse, evictions show up on tenant screening reports for seven years.
[RELATED: Eviction Filings Hurt Tenants, Even If They Win ]
Fighting through my feelings of hopelessness and fear, I pleaded with the new rental company to reconsider my application. I emailed them a scanned copy of the settlement agreement and was told that, while they understand that there are always unique circumstances in eviction cases, unless the information on the tenant screening report changed, they would not accept me as a tenant.
I filed an appeal with the tenant screening agency because I knew that was an option and had the time, resources, and copies of all the files related to the case readily available. Within the week, the tenant screening agency did amend my report to reflect that the case had been settled. But it still appears as a red flag on my tenant screening report for seven years.
My application was then accepted by the new rental company. And now, I can lay my head down at night knowing I have a legal claim to live in this house.
I am still working through the trauma of fighting through the eviction process. I don't like it when people I am not expecting knock on my door. I usually do not answer and sometimes hide until the person leaves. I am uncomfortable calling my property manager for small repairs or upgrades. I am constantly worried about where I would move if I had to. But I know just how fortunate I am to have been able to put up the fight and to land on my feet.  
Researchers have estimated that between 19 million and 23 million renters are at risk of eviction by the end of September. Earlier this month, the Centers for Disease Control issued an agency order halting eviction through Dec. 31. The moratorium applies to renters who meet specific qualifications and provide their landlord with a legal declaration form. The moratorium is a good step for public health. However, the CDC order fails to provide long-term protections or rental assistance. Renters will continue to owe unpaid rent amounts as well as any fees or penalties accumulated during the moratorium, which simply delays the looming wave of evictions.
What Can be Done?
There are actions that can be taken now at the federal, state, and local levels to mitigate the enduring impact of this looming eviction crisis. Congress should act quickly to pass key provisions included in the HEROES Act, including the authorization of a national, uniform moratorium on all evictions for nonpayment of rent due to COVID-19 and, most importantly,  $100 billion in emergency rental assistance to stem the crisis and protect renters from the eviction process.
As some evictions inevitably do move forward, action should be taken to require courts to seal eviction case records, especially when the case is ultimately dismissed or settled. This would eliminate the red flag on a renter's tenant screening report for simply being named in an eviction case and preserve the renter's future housing opportunities. According to the Eviction Lab, only four states currently seal eviction records under certain circumstances, California, Minnesota, Nevada and Oregon.
In Washington, D.C., the City Council should move forward with legislation originally proposed in 2018 that would require judges to seal all eviction records three years after a proceeding is resolved in court. The bill would also allow judges to seal or expunge eviction records if the proceeding does not result in a judgment in favor of the housing provider or at the request of the defendant in instances where certain settlement terms were reached or the judgment amount was $500 or less.
One of the highest-impact solutions for renters facing eviction is the right to counsel. Without the advice of my attorneys I would not have known where to begin to challenge my eviction. I likely would have shown up with just my summons. Tenant representation in eviction proceedings more than levels the playing field. Eighty-four percent of renters with representation through New York City's right-to-counsel law were able to stay in their homes and researchers found that the number of overall eviction filings decreased.
If no action is taken millions of renters will have to navigate a costly and inefficient system. The few who have the time, resources, and support that I had may come out the other side stably housed and relatively unscathed. If my experience taught me anything, most will likely show up to court with nothing but their yellow summons, and be put on a path to increasingly informal housing situations and possibly homelessness. They will leave behind support networks in their old neighborhoods. Their children will be forced to switch schools, often in the middle of a school year. They may lose most of their possessions. The implications of their eviction can last decades, well after the red flag disappears from their tenant screening reports.
[Want to know more of what's being done to fight evictions? Check out "As Moratoriums Start to Lift, Preparing for an Eviction Wave" or "Tenants Block Evictions By Any Means." Or subscribe to our newsletter to get the latest.]