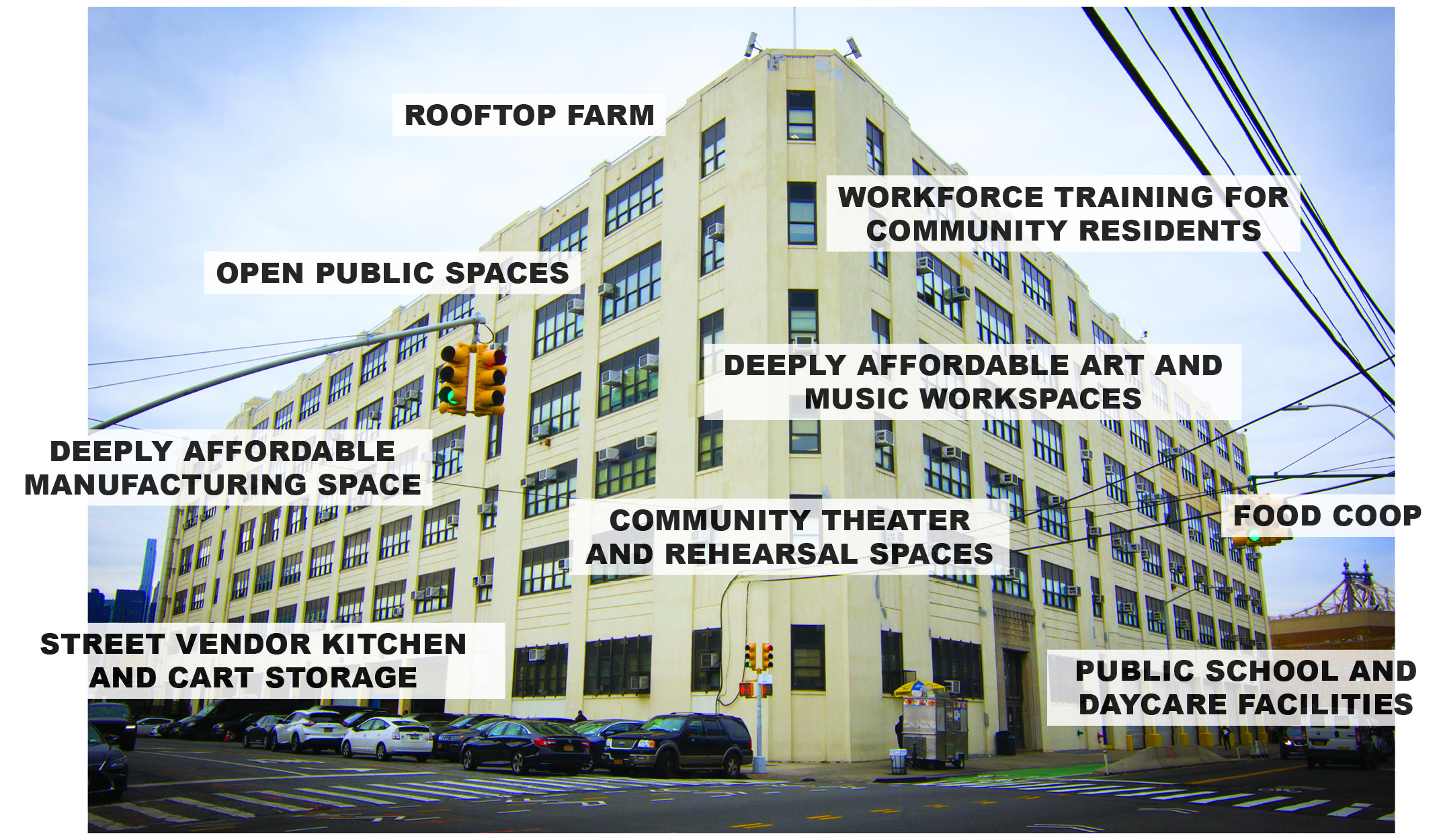 Western Queens Community Land Trust (WQCLT) was founded in 2019 as the result of a fight against Amazon, which had been eyeing Queens for a potential 250,000-worker campus. The world's largest online retailer ultimately decided to abandon the campus project in early 2019, which was good news for activists, who worried that it would have ushered in a massive wave of displacement.
But western Queens was already experiencing escalating rents and resident turnover, and WQCLT formed with the goal of helping to "slow and eventually stop gentrification and act as a stabilizing force for communities across western Queens, from Hunters Point to Flushing."
A typical CLT response to these conditions would be to try to develop affordable housing, but WQCLT is taking a different route, looking at community control over a prominent building in ways that can offer both employment and cultural connection. People can, after all, feel displaced by neighborhood changes even when they are still living there.
For Jenny Dubnau, co-chair of the WQCLT, the struggle to secure the CLT's first building offers people a way to resist displacement. "I think we could use a little bit of that for people's hearts," she says. "To show a different model of how we can build community and use land, and who benefits, and how we create a community that is much more equitable."
When she gets people talking about what her organization hopes to achieve, Dubnau says people's eyes light up—they understand how New York City is being managed, who it's benefiting, and who is being left out. "They get it in their bones, because they live in New York City," she says. "They know exactly what it's like."
After the Amazon plan fizzled, Dubnau says, a group of five developers approached the city to build luxury buildings on the site. These buildings would have included a tiny smattering of affordable apartments, which would have been out of reach for many people in the neighborhood.
"We had to fight back," Dubnau says.
These proposals by corporations and developers are what prompted grassroots organizers and activists to form Western Queens CLT. Rather than starting small, WQCLT's first campaign is trying to acquire the state's underused 600,000-square-foot Department of Education building. Sitting along the East River waterfront, the property is prime real estate for developers, who are hoping the city will turn it over to them, Dubnau says. "We believe the land should remain public," says WQCLT's website. Along with fear of household displacement, there's also a lack of affordable commercial/manufacturing space for people who live in the area. That's why WQCLT wants to develop its first building acquisition into affordable space for small manufacturers (who will create jobs for residents), artists, and other community uses.
Later projects could include residential properties.
The building sits only a few blocks away from Queensbridge Houses, a public housing development in Long Island City. Dubnau says if they acquire the building, it could provide a space for music rehearsal and community gatherings for Queensbridge residents, too.
Still in its early days, Western Queens CLT hasn't yet secured much funding. It was awarded a $20,000 grant to undertake an architectural feasibility study from Enterprise Community Partners. Over the next year, Dubnau says, the CLT will be taking a detailed look at potential uses for the building. The next step is drafting a full proposal to submit to the city. If the proposal is successful, and New York City turns over the building, WQCLT will need additional financing to cover renovation costs.
Getting Governance Going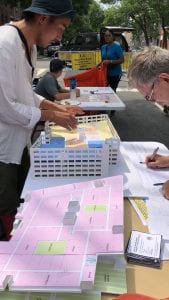 Western Queens CLT is in the process of building out its dues-paying membership within the community. It is run by a five-person interim board that has been in place since it incorporated. Dubnau says that according to the bylaws, the interim board structure will be replaced by a permanent board elected by the membership, either two years after the adoption of its bylaws, or three months after acquiring its first property.
As long as the interim board is in place, membership consists of the founding activists and members who are invited by word of mouth, email, and community outreach. Once Western Queens CLT transitions to a permanent board, it will offer three membership categories: community members, i.e., people who live within its geographic boundaries and who are approved by a membership committee; lessees in one of the properties; and general members, who live outside the geographic boundaries, represent nonprofit groups, or are supportive experts. General members will not have a vote, unlike community and lessee members.
Keeping the community engaged and in control of the organization is a top priority, says Dubnau. She says the CLT plans to achieve this by creating a board that is representative of the membership. At least one-third of board members must be able to act as representatives of low-income interests, and if this is not the case, the board can appoint sufficient additional qualifying board members.
Equally important will be keeping members engaged, and continuously pulling in more people from the community. "We're coming out of activism, so I think that our commitment to that is pretty secure," Dubnau says. The question is how to sustain that initial energy.
Organizing First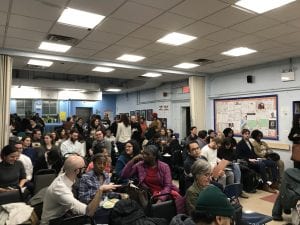 Many of Western Queens CLT's members are longtime activists with ties to other organizations, like the Justice for All Coalition, the Long Island City Coalition, and Woodside on the Move. Dubnau says actions like trying to secure the Department of Education building come down to political battles over who gets publicly owned land, which has historically been given to real estate developers who then build market-rate housing.
Western Queens CLT's members aren't afraid to organize, Dubnau says. It's that spirit that helps keep them grounded as a CLT instead of a more traditional housing development nonprofit. That, and the fact that they have virtually no funding yet.
While its deep expertise in organizing is one of Western Queens CLT's biggest strengths, Dubnau says, that skillset won't be enough if the group is successful in acquiring the building. It will need to hire a management company, collect rents, fix roofs, keep the electricity going, and keep the building up to code. It's a full-time undertaking that needs to be professionalized. Dubnau understands that the organization, currently composed of a collection of unpaid activists, has little experience with running such a large building.
What will change when Western Queens CLT becomes a property owner? Dubnau thinks about that—and how it relates to the founders' goal of staying planted in grassroots activism—a lot.
"That is definitely an issue. I think that [even] with the best of intentions progressive activists [and] organizers, once they start getting funding, feel a little bit muzzled," she says.
To realize its long-term goal, WQCLT will need to figure out how to keep its voice and combine its principles with eventually being a large-scale property owner.
But as the first item in the organization's mission statement reads, "We aim to reclaim as much land as possible within the geographic area of Western Queens to be owned by the CLT and in partnerships with various local communities, always keeping the principles of economic, racial, and environmental justice and equality in the forefront."