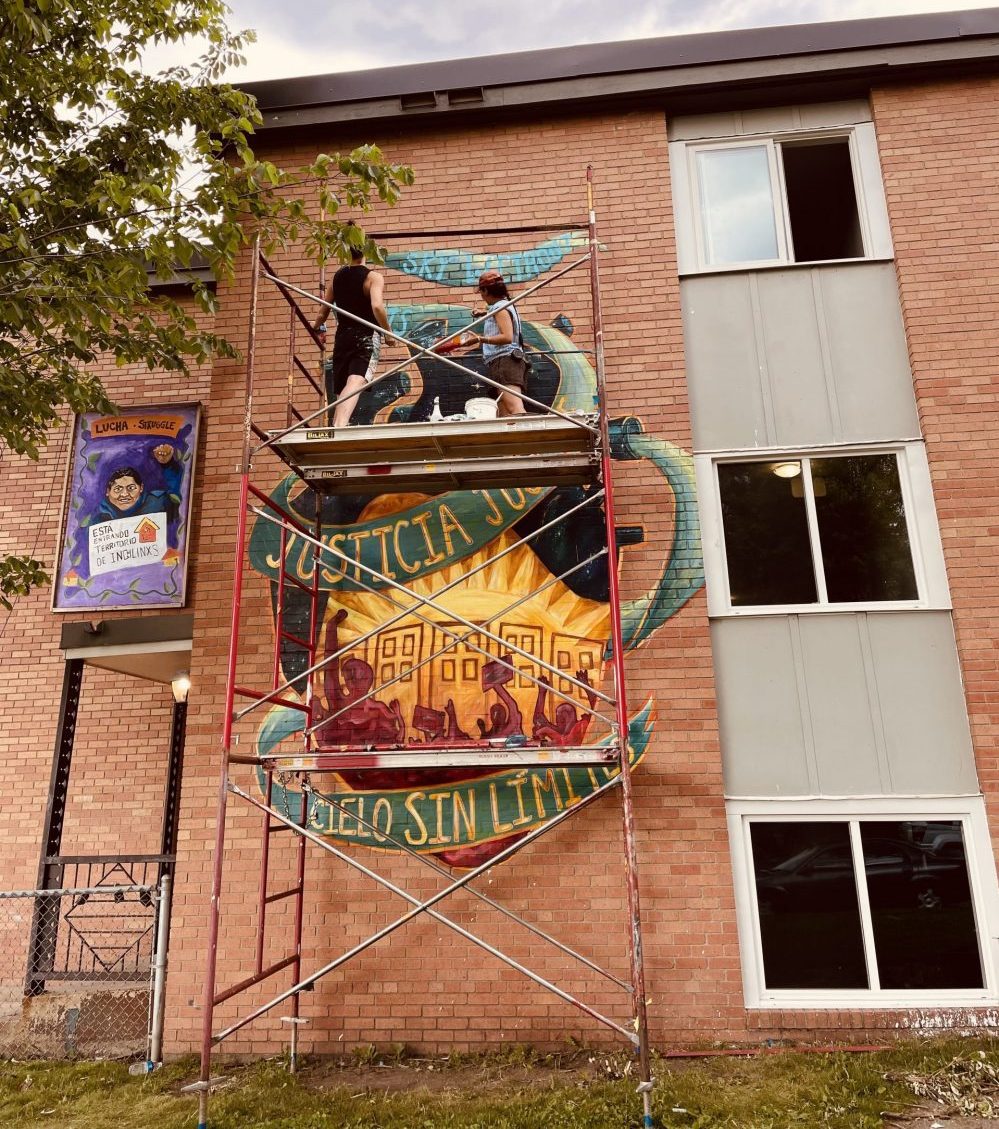 A little more than a year ago—while the pandemic raged and the economy cratered—a group of 38 low-income, mostly Black and Brown families won an unprecedented, years-long battle to buy five neglected multifamily buildings, dubbed the Corcoran Five, from a notorious Minneapolis, Minnesota, slumlord.
Signing the May 2020 purchase agreement with then-owner Stephen Frenz, who'd already paid out $18.5 million to the tenants in a record-breaking class-action lawsuit, was another monumental victory. Closing on that contract also marked the beginning of a new and ongoing challenge: turning a group of lifelong renters into property owners and managers while also creating and maintaining an inclusive, tenant-led housing community that prioritizes safe and stable housing over profits and the private market.
The Corcoran Five project has blossomed from a grassroots movement to oust a single abusive landlord into a city government-sponsored, long-term experiment that officials hope can be replicated as a way to increase Minneapolis' stock of quality affordable homes.  
How It Started
While the project has some big-name contributors and powerful support today, the inspiration and the heavy lifting came from fed-up tenants who were paying market-rate rents for dilapidated, pest-infested apartments. The fight to buy the five buildings began in 2017 when Roberto de la Riva, co-director of housing advocacy group Inquilinxs Unidxs Por Justicia (United Renters For Justice, known as IX), contacted existing tenants and suggested they organize to fight Frenz, who had just been banned by the city from holding any rental licenses.
None of the Corcoran Five tenants set out to become housing activists or building owners. When IX began organizing, many tenants were facing eviction notices from Frenz, and others were terrified to complain, justifiably fearing (illegal) retaliation.
"It was extremely stressful. He left those apartments not rentable; they were destroyed," says Denise Herrera Bello through an interpreter. Herrera Bello is a six-year Corcoran Five resident and one of the tenant organizers. "He was oppressive. Most of the people felt intimidated, especially the Latino people. He didn't do repairs."
But IX helped the tenants come together to find their voice and the conviction to fight back. The campaign took them to the streets, to Frenz's church, and inside city council chambers. Victory was earned in May 2020, when ownership of the 69-unit Corcoran Five buildings transferred to the nonprofit Land Bank Twin Cities (LBTC), which agreed to temporarily purchase the five properties for $7.1 million.
"We got ourselves on the map, and everybody's organizations supported us—uncomfortably or comfortably," says de la Riva.
A group of supporters, including the city of Minneapolis and the Local Initiatives Support Corporation (LISC) Twin Cities, provided the initial financing. LISC funded the full purchase price, and the city of Minneapolis provided LISC with $3.45 million to offset the full amount. LBTC is the interim noteholder, and is acting as an intermediary between the lenders, the current property management company, and the tenants during the transition phase.
[RELATED: Lessons from the Last Housing Crisis—How to Get Control of Properties]
"An organization like LISC is out there to provide capital … so that groups like the land bank and other nonprofits can get properties under contract when they become available and we don't just lose them and they don't get scooped up by investors," says Dean Porter-Nelson, housing stability specialist for the city of Minneapolis.
How It's Going
Once LBTC purchased the Corcoran Five buildings, they each underwent complicated and necessary $1 million-plus remodels that started first in the vacant units (only 34 of the 69 units were occupied when the sale went through). After the vacant units were fixed up, existing tenants moved into them temporarily while their home units were rehabbed.
Like a typical land bank, LBTC is holding the land temporarily for later purchase, but LBTC is not a typical quasi-governmental land bank agency; it's a private nonprofit that is also a community development financial institution that purchases properties, lends money for development projects, and brokers mission-driven real estate deals like this one. LBTC's goal with this project is to use it as a model for future tenant-controlled multifamily building acquisitions.
The tenants are currently exploring financing structure options. The most recent plan is to create an official, legal cooperative that will own and control the buildings and improvements, while the City of Lakes Community Land Trust will own the land the buildings sit on. So far, the tenants have incorporated with the state as Sky Without Limits Cooperative, which will be the business entity that will hold title to the buildings once they're purchased from LBTC. The fledgling cooperative members are still working through the process of creating a legal membership basis and a board of directors.
Using a land trust partnership model of ownership builds an extra layer of permanence into housing cooperatives, preventing, for example, co-op members from deciding to sell the building in a hot housing market, pocket the profits, and move on, says Mark Fick, director of lending at Shared Capital Cooperative, a CDFI providing advising services to IX and Sky Without Limits (which also goes by Cielo Sin Limites).
LBTC will retain ownership for at least two years from the purchase date while the tenants raise capital to buy the buildings, organize their community governance structure, and learn how to be owners. "This whole last year has been a lot of figuring out what our next step is going to be with the people, how to create the business, and how we're going to finance this thing," says de la Riva.
[RELATED: Are Limited-Equity Cooperatives Making a Comeback?]
Securing financing to buy the buildings from LBTC is one of several challenges the project organizers are working through. Sky Without Limits has so far raised less than $1 million of the $10 million de la Riva expects they'll need to come up with.
Securing a Co-op Advocate
After a year of organizing, remodeling, leasing, and building community, in June the tenants took the next step toward ownership: entering into a consulting agreement with Northcountry Cooperative Foundation (NCF), a Minneapolis nonprofit whose mission is to help mobile homeowners buy the land where they live and form resident-owned communities. This will be Northcountry's first foray into the field of urban, multifamily cooperatives, which differ from resident-owned communities. (Editor's Note: We'll have more about this next week.)
Now that NCF is a contracted consultant for Sky Without Limits, NCF Executive Director Victoria Clark says her team is working (free of charge) with the tenants in two phases. During the first part of the consulting agreement, NCF is meeting with tenants to learn what their top priorities are.
"They don't want huge rent increases that are going to heavily impact financing," Clark says. "They're not going to be able to do it with a simple blanket mortgage. They're going to have to have some subsidy in the mix, some 'free money,' as it were, to keep those rents low. Our job is to provide them with the options and tell them what the different increases might be with those options."
The first step is for NCF to canvass for financing options, advocating for the tenants' wishes while "not overpromising and being realistic" about what it will take to close the transaction, Clark says. Once Sky Without Limits' governance board decides which financing plan best meets the co-op's needs, NCF will move forward as the group's transactional representative. "Our role is walking that line between what the lenders want and what the co-op wants, and advocating for the co-op," she says.
Building Community
Delia Spencer and her family, including two young children, moved into one of the renovated Corcoran Five units in January. They'd lived in the complex while the buildings were under Frenz's management, but moved out because the unsafe, unhealthy conditions exacerbated her daughter's asthma.
"It was horrible back then, I'm not gonna lie to you," Spencer recalls. "Now, I love it. Like, I love my new apartment. It's really calm, everybody's nice, communication-wise, and everybody has more of an understanding of what a community is supposed to be like."
Spencer pays $935 for her unit, including utilities. Herrera Bello pays $750 per month for her renovated apartment, earning a $200 discount for her organization and community support efforts. She's been actively helping with the takeover for the last two and a half years. Herrera Bello and Spencer, like many of Frenz's long-term tenants, previously paid upward of $950 per month for units with faulty or non-functioning utilities that were infested with roaches, ticks, and even squirrels.
[RELATED: History Shows that in Times of Crisis, Housing Activists Get Radical]
The tenants are determined to raise financing and create a structure that will allow them to keep the units both habitable and affordable. "We're at the hotbed of resisting deep-market capitalism, and we want to be able to finance it to lower our rents—and not even have the term 'rent'; we want 'user fees,'" de la Riva says. "We want an understanding that we're all paying into community, and we're getting community back. … To think collectively is a whole new piece, and a whole new way of being, and we have to clarify that."
Understanding what the community is supposed to be like is precisely what IX and Sky Without Limits are taking the time to do, and de la Riva says determining the community's culture is the most important piece of the equation.
"Community is built at the speed of trust. It's a slow process, and it's messy," de la Riva says. "We have a lot of people here who know how to fight tooth and nail, who know how to organize protests in mansions and churches, who show up on city blocks and know what's up. But we don't necessarily understand what it means to create decommodified territory, and what it means to live together during that process."
Doing Things Differently
The tenants' management work has already started: Once the buildings were habitable, Sky Without Limits learned to market and lease vacant units to like-minded potential cooperative members­—most of whom were low income, and many who'd been laid off because of the pandemic. And deciding how to recruit and screen tenant applicants has been an early example of how Sky Without Limits wants to do things different than standard property management procedures dictate. For instance, Sky Without Limits wanted mostly character-based screenings, but the property management company follows a landlord-centric tenant screening process, which looks back as many as seven years at applicants' criminal records, and requires three times the amount of monthly rent as income. Tenants not yet having the final say has sometimes been a sticking point between Sky Without Limits and LBTC.
LBTC, while committed to impact investing, is mindful of its bottom line. And the company LBTC is working with to manage the Corcoran Five property is not used to allowing personal relationships to outweigh perceived financial risk.
"To be honest, it makes our property manager nervous because they've never done this before," says Eddie Landenberger, vice president at LBTC.
LBTC held firm on screening out everyone with felony convictions but negotiated a compromise on the income front—one-and-one-half times the monthly rent as an income requirement.
Barbara Jeanetta, executive director of Alliance Housing Inc., a nonprofit housing solutions organization that's been providing advisory services to IX, Sky Without Limits, and LBTC, says that using traditional tenant screening criteria such as conviction records and income parameters in projects like the Corcoran Five is inappropriate for this type of community-led, tenant-focused project.
"Roberto will call me and say, 'Eddie tells me no, and that during this period of time where they're the interim management and they're managing the loans and the rehab that [LBTC] gets the final say,'" Jeanetta says. "Eddie will call me, and I'll say, 'Here's what I told Roberto, and here's why I know it works.' [Eddie] just takes a different philosophy to it and it's like, you know, I think you're worrying about the wrong things."
The tenants—including de la Riva, who moved into one of the Corcoran Five units during the pandemic—say that this is a revolutionary project that should be held to a revolutionary set of standards. Standards that the tenants are figuring out as they organize and plan their co-op model.
"We need to prove that it can be done," de la Riva says. "People need to understand that we're organizing all across the city against big-time landlords, not only this landlord. The lesson is that it can be done, and hope is there. Because if we can demonstrate that the skeleton of the model works, that's fine, but you still have to work with the people, and you still have to build a constant construction of community. Because we're dealing with trauma, with years of abuse, and years of joy, too."
Transformative Ownership
Even tough decisions in projects like the Corcoran Five should favor housing humans over making money, says Dominic Moulden, a resource organizer at Organizing Neighborhood Equity (ONE DC), a Washington, D.C.-based organization that promotes tenant ownership and "builds people power." Moulden has offered advice to IX and Sky Without Limits during the ownership transfer process.
"This is a shift in power," Moulden says, "which means the land bank should be the one being uncomfortable about the financial structure . . . because now the property manager reports to these low-income people, these immigrant people, who are the property owners."
The Sky Without Limits Cooperative's evolution from vulnerable renters to empowered owners will continue as the group learns more about the obstacles they're facing and how to overcome them, but LBTC has said it's committed to extending the loan term past the two-year mark if needed, and the project's other backers, including NCF, are committed to fulfilling the co-op's vision.
"They are the ultimate deciders, and they have to be," NCF's Clark says. "The only way that co-ops are successful is if the tenants have honest-to-goodness ownership over the whole process. That is when ownership becomes transformative."