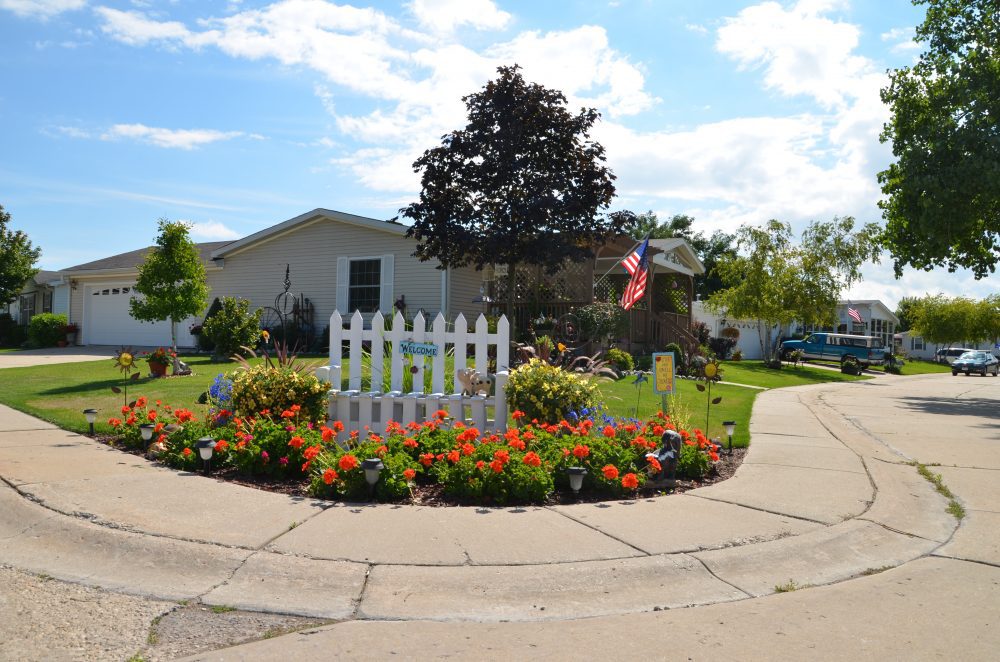 In 2018 when Sean Moran heard that the Lakeview Mobile Home Park in Shelburne, Vermont, was being put up for sale, he knew it could be a recipe for disaster.
Moran was one of dozens of residents on a tract of land in an extremely desirable location—a spit of waterfront property, just steps from Lake Champlain. The larger region is a hot destination for out-of-state vacationers and Moran could already see the condos rising in place of the scattered trailers he has called home for decades, if the land were sold to the highest bidder.
"It's got these beautiful lakefront views. And where we live, they'll develop anything. And it's not for Vermonters, it's for New Yorkers," Moran said.
Some 22 million Americans live in manufactured housing communities like Lakeview. With an average household income of $30,000, these homes are the largest source of unsubsidized affordable housing in the United States. But many of these communities are similarly under threat both from rising property values or, in less desirable areas, buyers of last resort.
Most residents rent the land their homes are sited on and, while sometimes misidentified as trailers or mobile homes, the vast majority of these residences have long since been immobilized. Deep-pocketed developers can displace low-income residents by literally buying out the land underneath them. Private-equity firms or predatory investors sometimes look to buy aging parks and squeeze tenants by jacking up lot-rental fees.
Lakeview was as vulnerable to developers or investors as any other manufactured housing community. Moran described Lakeview's residents as an eclectic mix, from "cops, lawyers, and nurses to actors." But he estimates that 60 percent of Lakeview residents are working class, most retired or on the cusp, with an average age of around 50. For people like these, the community is an oasis amid rising housing costs fueled by tourism, nearby universities, and a shortage of new construction.
In Shelburne, residents were concerned that condo developers would simply wipe their small community off the map, which could have driven many of them out of the county or the state altogether. Census data indicates that 51 percent of all Vermont renters are cost burdened, with median rent already unaffordable to minimum-wage workers in every county.
"I looked at the rents outside Lakeview and said 'I can't afford this,'" said Moran, who paid about $250 a month in lot rental fees at the time. "You can't get a two-bed, two-bathroom here for less than $1,850 a month."
'There's more stigma to overcome when you're talking to a banker about a loan.'
As pressures on manufactured housing communities have grown, so have resident-led movements to keep these homes intact and affordable. Moran and his neighbors knew they had to organize and take a radical step if they wanted to keep the Lakeview they knew.
"We knew we had to buy the park," Moran says.
Sales like these are a challenge that is increasingly common for communities around the country. Many manufactured homeowners lease their sites from longtime mom-and-pop landowners. As these owners age or land values increase, so does the pressure to sell.
Lakeview has been owned by the same family for three generations, a family who had kept rents low and had become a part of the community. They were getting older and their son wanted out of the business, but they didn't want to see their tenants displaced by vacation homes.
"They really wanted to sell it to the residents," Moran said. "They could have sold it to other companies for a lot more. But I think they thought of this park as their pet project."
While this might seem like a godsend for residents, these landowners are not philanthropists. The park was valued at over $2 million. How could a mostly low-income community ever afford a price tag like that?
That's where ROC USA entered the picture. The nonprofit—whose name includes an acronym for "resident-owned communities"—is one part of a growing movement to transform turnover in manufactured housing into an opportunity to form cooperatively owned communities, like Lakeview. ROC was founded in neighboring New Hampshire, where one-third of manufactured housing communities have gone co-op, and similar efforts are underway in states like Minnesota, Delaware, Oregon, and New York.
ROC USA offered residents a new option: a line of credit that would let neighbors buy the land their homes were situated on. Rents would have to go up in the short term to cover the mortgage and new maintenance costs, but it would stave off displacement or possible rental increases in the long run.
"So there was a meeting. They said you have three options. You can do nothing or you can buy the parks and go co-op. And in Vermont, there is a not-for-profit entity that can try to buy the land. But then we wouldn't own it. We'd still be paying a landlord," Moran recalled.
The neighbors decided to try and buy Lakeview.
Eyeing Investments
The market is tightening for manufactured housing residents. In 2018, average lot rents increased 3.9 percent nationally, reaching about $530 per month, a trend driven in part by increased interest from Wall Street.
While Lakeview residents saw the multimillion-dollar price tag on their park as a major roadblock, money is no object for private-equity firms. The Washington Post recently reported on one company, Stockbridge Capital, that had recently secured $1.3 billion in financing from the government-affiliated lender Fannie Mae specifically for the acquisition of mobile home parks.
And there are numerous other firms eyeing similar investments across the U.S. as the middle class shrinks and more people search for cheap housing. These firms made up 17 percent of the $4 billion in manufactured housing sales in 2018, up from 9 percent five years earlier.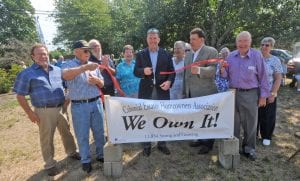 Mike Bullard, ROC USA's marketing manager, says these firms are sometimes interested in squeezing vulnerable residents.
"And as private equity buys more communities, they control your home, because they control the land underneath your homes," he said. "Eighty percent of these homes can't be removed once they've been set down."
About one-third of all manufactured housing residents lease the unit they inhabit and one-third of all residents lease the land their unit is situated on. But while these types of rental arrangements are relatively common, this type of housing occupies a legal grey area that does not always have the same renter protections as a traditional apartment. In Iowa, for example, one mobile home community bought by an equity firm saw a near-immediate 69 percent hike in lot fees.
This and similar stories across the country have sparked calls for legislative reforms. Oregon and New York have seen a recent expansion of some rent control protections to mobile homes to cap annual rental increases. Other states, like Massachusetts and Connecticut, have long-established "right-of-first-refusal" laws that grant residents of manufactured housing communities first dibs on any sales, which some residents want to see replicated in other states to slow the encroachment of investors.
However, most states still have no such laws on the books. In Vermont, the state requires that landowners give residents advance notice of sales and negotiate in good faith, but Moran's community benefited from having a seller interested in turning over the land to residents.
Because protections are uneven, Bullard says his group monitors mobile home communities for impending sales, and tries to get ahead of transactions well before they happen. The idea is to offer equitable financing arrangements to help make seemingly unaffordable sale prices obtainable, and stem the tide of private-equity firms eyeing communities like Moran's.
"They see it as a tradeable asset. They're looking at it as an investment, whereas the people who are living there view it as their home," Bullard said.
Financing Manufactured Housing Communities
ROC USA was spun off from New Hampshire Community Loan Fund, which was itself created in 1983 with a charitable endowment aimed at providing low-interest loans at favorable terms to state residents. Today, ROC USA and a related financing arm are one of the largest organizations in the field, growing to a network of nine affiliate offices covering 16 states. To date, the organization has established 237 resident-owned communities covering about 15,500 homes and Bullard says ROC USA is adding 15 to 17 new communities annually.
While this growth is something new, he says the core principles are not much different than the solutions ordinary people searched for when housing markets tightened in decades past.
"Our mission is to bring the best financing we can or at least find more affordable financing," Bullard said. "It's a co-op, just like a New York City walk-up can be a co-op. Except this is manufactured housing, instead of a brownstone."
Bullard said the communities ROC USA has worked with have seen average annual rental increases of less than 1 percent.
The group works exclusively in low- and moderate-income communities, building relationships with parks so that, ideally, residents come to them when they want to go co-op. They support residents in organizing ahead of a purchase—usually going door to door to make the pitch.
Bullard says the ROC USA model works by eliminating the need for a profit margin, keeping prices down over the long run and ensuring that surplus value from rents gets pumped back into improvements. But these resident purchases are made possible by a separate financing arm, called ROC USACapital, that's certified by a community development financial institution. ROC USACapital establishes lines of credit while keeping buy-in affordable for residents.
Over the past 11 years, ROC USACapital has leveraged about $240 million through a combination of government grants, philanthropic donations, and other community development funding. The model is similar to other CDFIs, but takeovers of low- and moderate-income mobile home communities often involve little to no equity. ROC USACapital covers a higher than average loan-to-value ratio (the ratio of a loan to the value of an asset purchased)—typically 100 to 110 percent––to make deals happen.
However, while the public popularity of resident-owned communities has grown, they've struggled to tap into financing from lenders like Fannie Mae, the largest source of financing for manufactured housing communities nationally. The lender has recently expanded its Duty to Serve financing to cover certain kinds of factory-built housing in an effort to encourage low-income individuals to take ownership of individual lots. (The Duty to Serve program requires that Fannie Mae and Freddie Mac serve three underserved markets—manufactured housing, affordable housing preservation, and rural housing.) But bigger deals involving multiple manufactured-housing communities, like the sale of Lakeview, are still regarded as risky.
Michael Sloss, managing director of ROC USACapital, says these government-affiliated lenders are still leery of sales with high loan-to-value ratios––something he hopes will soon change.
"They want the combination of our money and their money to not be over 90 percent loan to value," he said. "That would make a big difference to us to have access to that big pot of money."
Sloss said it was important for ROCs to walk the fine line between qualifying for such financing while keeping sale arrangements attractive enough to get as many residents as possible on board by keeping buy-in costs low. In some states, like Florida, some resident-owned communities have been created through models that saw homeowners put up more of their own cash to assuage investors––an anathema to groups like ROC.
"Most of our clients shouldn't have to and most can't come up with $20,000 or $30,000," he said. "The ones who can would be members. The others wouldn't. It would be undemocratic."
Sloss said there can be less tangible barriers to financing, too.
"Manufactured housing communities have had a stigma attached to them for as long as they've been around. That they're poor quality or on the 'other side of the tracks,'" Sloss said. "It's a steeper learning curve than financing low-income rental housing because it's not as well known. There's more stigma to overcome when you're talking to a banker about a loan."
While ROC USA works behind the scenes to line up financing, residents have their own duties. Moran described the task of transforming Lakeview into a cooperatively owned community in Herculean terms. Although ROC USA provided technical support, residents had to form a board and prepare to take over maintenance and other tasks once delegated to a landlord. They had to convince their own neighbors that increasing lot fees would be worth it in the long run.
It's not always easy. Moran says his board needed to deal with holdouts and, eventually, the reality that a few residents would simply never be persuaded to join the effort to buy out the park. This, Moran said, was the most painful process in a tight-knit community that spans just seven and a half acres.
"There were three or four homes who didn't want this and didn't want to be involved. … I still don't know what else they wanted," Moran said. "Eventually, our lawyer forced them to sign a new lease, because, well, this is our land now. That was really tough."
Today, he says it was all worth it. When Lakeview neighbors finally closed on their purchase of Lakeview earlier this year, the $1.8 million sale made the local news. And the sale is a success story for Bullard, who likes to say that ROC USA has "never lost a deal, once we come to a sales agreement."
The rebranded park—Lakeview Cooperative—is still home to an eclectic mix of residents who Moran once worried would be displaced. Historic cuts to traditional federal housing programs mean affordable housing often comes from unexpected and often vanishing places in modern America.
Moran knows they were lucky. He wonders what would have happened if the Lakeview owners had been less interested in selling to residents. Or if Vermont law hadn't required tenants to be notified about the upcoming sale at all. He watched last year as low-income residents who had been renting in a nearby South Burlington motel were displaced for the construction of a service station.
"That was low-income housing, but they don't have the protection manufactured housing does, so they just tore it down."