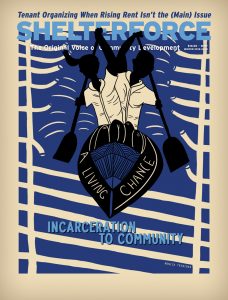 Mass incarceration is a major influence in American society. But like so many other things, its effects are not evenly distributed. Overpolicing and hyper-incarceration are unevenly wielded across demographics, especially racially, and geographically. Chances are high that community developers are working in areas and with populations that are being strongly affected by overpolicing and hyper-incarceration. Mass incarceration destabilizes the population; puts additional stress on households, both financially and otherwise; and reduces communities' political power by temporarily, or sometimes permanently, disenfranchising the formerly incarcerated. (Pick up the latest issue of Shelterforce for some insight on the voting rights of your constituents with records, and to read about all the other stories mentioned here.) People recently released from incarceration or subject to the restrictions of parole and probation are far more likely to end up homeless, and to face challenges in finding not only housing but also employment.
In the new issue, we also bring you a small sampling of areas where the worlds of criminal justice reform and community development intersect. Reducing recidivism is one of the many beneficial side effects of affordable housing, and the Homecoming program is exploring an unusual way to provide a stable transition for people who have finished their prison sentence, while Chicago tries policy approaches to reduce housing discrimination against those with records. MacArthur Fellow Lisa Daugaard talks about how working with the homeless led her to promote programs to divert people facing poverty- and addiction-related charges out of the traditional justice system. Can the wide-ranging support for this approach translate into increasing funding for supportive housing?
Beyond housing, a couple of community development programs are helping people coming out of prison get into the trades by having them building affordable housing before their sentences are even completed, while some CDFIs are actively lending to people with records so they can start their own businesses.
Criminal justice reform and taking care of people heading home from prison are essential parts of achieving equitable communities. Are you doing work at this intersection?