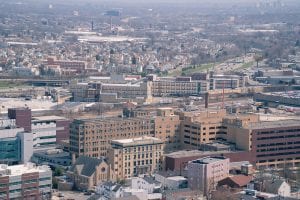 At the August 2018 Healthy Homes and Communities Summit, the New Jersey Housing and Mortgage Finance Agency (NJHMFA) made a groundbreaking announcement: it would begin partnering with hospitals around the state to encourage them to provide affordable housing in their communities. The first of its kind in the U.S., the initiative provides financial incentives to nudge New Jersey's health care systems to actively address some of the social determinants of health affecting their patients and neighbors. It's a model that overwhelmingly seems to make sense to everyone involved—and that's already garnering interest from state finance administrators around the country.
About six New Jersey hospital systems have since moved forward with plans to build housing. One, St. Joseph's University Medical Center in Paterson, is furthest along and is close to receiving formal approval from the agency; its 71-unit project is slated to be complete by mid-2021.
The initiative originated with Charles Richman, director of the NJHMFA. Like many good ideas, its concept bubbled up from similar programs already occurring at a smaller scale.
Helping Anchor Institutions Give Back
Richman was formerly commissioner of the New Jersey Department of Community Affairs (DCA), where he worked closely with groups focused on housing, planning, and development. In 2015, his department collaborated with the Camden Coalition of Healthcare Providers on a pilot program that offered housing vouchers to homeless residents and other frequent users of health care services. That program was so successful in reducing health care costs and stabilizing participants that it was broadly expanded.
That was one influence. Another was a DCA program that examines anchor institutions and helps them grow their footprints in order to benefit their neighborhoods.
"Those two things came together," says Richman. "Housing is health care. And hospitals are anchor institutions."
Shortly after arriving at NJHMFA in early 2018, Richman and his chief of staff, Katie Brennan, gathered their senior staff for a brainstorming session. "We said, we know hospitals are doing some amount of housing around the country, but we're not seeing that here in New Jersey," remembered Richman. "What can we do at NJHMFA to stimulate a market?"
The group concluded that it could provide a couple of forms of capital: first, a subsidy to fill a funding gap; second, it could offer permanent mortgages to help projects work. And as the state agency in charge of distributing tax credits, it could assist the hospitals with that part of the process.
After that, the concept came together pretty rapidly, with active input from statewide community development advocates at New Jersey Housing and Community Development Network. It works like this: NJHMFA will offer up to $4 million to a hospital that is willing to build an affordable housing development, and it will provide a mortgage and assist with the project's financing. In return, partnering health care institutions will match that funding and provide land or a building for the project, which should be affordable to families earning less than 80 percent of the area median income and must include some units affordable to people earning below 50 percent of AMI.
NJHMFA's guidelines aren't strict; the agency examines each application on a case-by-case basis. But staff say they would like the buildings to be mixed use, located near the hospitals, and hosting community facilities—urgent care clinics or doctors' offices, for example—on the ground floor.
What's not optional: the projects must also include 10-15 units set aside for individuals identified by the hospital as frequent users of its services, and must offer supportive services to them and other residents. After all, repeat emergency department users can cost a hospital mightily; the Department of Emergency Medicine at Mount Sinai School of Medicine found in 2010 that frequent visitors make up only 4.5 to 8 percent of all emergency room patients but account for 21 to 28 percent of all visits. 
Richman explained that NJHMFA is keeping the number of units for those with high health needs low because, although those rents will be covered by vouchers from the state, any more would make a project's financials difficult to work out. And giving a hospital's repeat users a safe place to live isn't the only goal of the program.
"The concept was three-fold," says Richman. "Help with frequent users; provide affordable housing in the neighborhood; and also, we heard from hospitals that they were challenged with having adequate housing in neighborhoods for their staff." The housing would likely help address that shortage, though because of federal fair housing laws (which apply to the developments because they'll be funded using tax credits), units can't be earmarked specifically for hospital workers.
Hospitals probably won't earn a return on the projects or even recoup all of their investment, though they may see some savings as residents of those 10-15 units reduce their emergency room use.
After some initial conversations, NJHFMA tweaked its original idea slightly. "We fairly quickly realized that not all hospitals are the same," says Richman. Some are well-financed, multi-state operations; others are small, independent, and very community-focused. Richman and his staff were certain they wanted the latter involved as well, but they knew that assembling the $3 million or $4 million match that the hospitals are responsible for could be difficult for those organizations. "So an aspect of our program is that we're willing to lend the hospital their contribution," says Richman. It'll be an interest-bearing loan, of course, but the debt service on it will likely be considerably more manageable to a small hospital than a lump sum payment.
NJHMFA's board was wholly behind the concept, and approved a total of $12 million for the program—enough, Richman thought, to build around 220 units.
After that, Richman and his staff pitched the new program to the New Jersey Hospital Association (NJHA). NJHA, an informal partner on the program, was ripe for such an initiative. Its new president and CEO, Cathy Bennett, had formerly served as the state's health commissioner, and the organization had just adjusted its mission to reflect the growing focus on upstream factors that affect health. Like NJHMFA, it was beginning to think outside its traditional silos.
"We realized it's not just what we do inside our four walls. Some of the frequent utilizers that come into an emergency room—if they don't have stable housing, they can't have stable health," says Victoria Brogan, senior vice president of strategic initiatives at NJHA. "So this was a perfect fit."
NJHA convened a series of meetings where its members could learn about the program from Richman and his colleagues, and almost 25 hospital executives showed up. And then the association brought in an outside consultant, the Corporation for Supportive Housing (CSH), to advise the hospital administrators and answer their questions. A national organization, CSH provides residential services to vulnerable populations and assists other groups in doing so.
"We know nothing about building affordable housing," says Brogan, explaining why the association invited CSH. After all, pulling off the intricate puzzle that is an affordable housing deal—gathering financing mechanisms with a range of rules and interest rates, locating land, determining exactly how a space will be used, and constructing a building—is challenging even for seasoned industry professionals. And for many hospitals, whose community benefit activities might have formerly been limited to providing charity care, it's a giant step.
But Robert Friant, managing director of external affairs at the Corporation for Supportive Housing, says that perhaps the most challenging aspect for the hospital administrators was understanding the supportive housing and services that would be provided to the projects' most vulnerable residents. "It's the hardest part to finance, and the hardest part to see success," says Friant. "There are nuances. For example, supportive housing isn't time-limited—you meet the person where they are in life and it's open ended."
CSH worked with NJHA for eight months, answering questions and outlining processes. The organization also helped develop important resources and guidelines that could benefit members in the future, even if they weren't quite ready to build housing at this point.
As a result, interest in the program has been remarkably strong. "The hospital CEOs absolutely recognize that they are an anchor institution and have a responsibility to give back. We heard that repeatedly," says Richman. "Now that they have a partner in HFMA to share that responsibility, they've jumped at it. I've been in room where CEOs turned to staff and said, 'Let's make this happen.'"

Following some of the information meetings, Richman and his staff met individually with hospital executives, then sent letters last winter asking the executives to sign letters of interest. Those served essentially as applications; administrators were expected to give a narrative description of the hospital's vision, including supportive services it might offer; outline a project's possible location; and explain their institution's potential financial contribution and timeline.
Eight administrators responded, and the agency moved forward quickly with four of them. Today, several months later, the agency is working with a total of six hospitals, a mix of public, nonprofit, and for-profit institutions. Most are located in urban areas. At RWJBarnabas Health, for instance, executives knew they wanted to get involved in the initiative, spending considerable time to develop a methodology to determine which campus demonstrated the need and readiness to proceed. In the end, Newark Beth Israel Medical Center was selected, and the team is working toward site selection and next steps.
St. Joseph's Steps Forward
But the farthest along is St. Joseph's; its administrators have taken the first legal steps to apply for federal tax credits.
The hospital's executives say they had a head start. "We were a few steps ahead of the game," says Ken Morris, St. Joseph's vice president for external affairs. That was sheer serendipity. Administrators at St. Joseph's had been wanting to develop the area surrounding its Paterson campus for several years, and had already begun to acquire properties and gain the approval of local and state governments. As a result, when the NJHMFA opportunity arose, St. Joseph's was positioned very favorably, with a tract of long-vacant land that was shovel-ready and located less than 300 yards from the hospital's front door.
But the motivation was more than that. "Access to safe, quality, affordable housing constitutes one of the most basic and powerful social determinants of health," says Kevin Slavin, president and CEO of St. Joseph's.  "Our mission is to care for all in need, and we are excited to reach beyond our hospital walls and into our neighborhoods, because housing is health care."
The hospital submitted its letter of interest to NJHMFA outlining the potential project in early 2019. It wasn't an easy process: among other things, the agency asked St. Joseph's to get a "resolution of need" from Paterson's city council to allow some local property tax relief, which required several presentations and meetings with elected officials.
But Richman and his staff took a hands-on approach to working with the hospital. "[They] were extremely helpful in making sure we worked through the application. If we encountered any speed bumps, they helped us get over them," says Morris.
That approach was very intentional, says Richman. He and his staff made a conscious effort to shift their orientation from a top-down, client-centered manner to something more like collaborating with a partner.
In the end, the agency reviewed and endorsed St. Joseph's plan, issuing a formal letter of determination that stated it would provide a $3 million subsidy. And in this case, NJHMFA will also loan the hospital its $3 million contribution. Currently, the project is slated to hold 71 one-, two-, and three-bedroom apartments affordable to a mix of low-income and very low-income tenants; the total cost is roughly $20 million. The project is estimated to be completed by spring 2021—a relatively fast timeline, because NJHMFA controls most of the resources used to build subsidized housing in New Jersey.
But there's still a long way to go. Before NJHMFA will give its final approval to the project, St. Joseph's administrators must finalize the design and get a firmer sense of the financials. Currently, they're also determining the building's mix of services and amenities; they hope to have residential navigators working throughout the project, together with social workers, community health workers, and nonprofit partners.
But there are limits to what the project can include. "We just got a suggestion for a rooftop running track," says Morris. Paterson doesn't have a ton of open space for physical activity, so the idea is attractive. "But we'll have to evaluate it in terms of cost and how it changes the building's structure. The financing [of this project] is going to be tight—we'll have to think outside the box," he says, adding that administrators are looking into asking health insurance companies to fund it.
NJHMFA originally provided a list of possible developers the hospital could work with on the project, but St. Joseph's already knew who it wanted: the Paterson-based New Jersey Community Development Corporation (NJCDC), a nonprofit. "We wanted to work with a local partner that had an understanding about our population: high immigrant, high poverty," says Morris. "Working with NJCDC, we didn't have to walk them through 'How to Work with Vulnerable Populations 101'—they get it."
Bob Guarasci, the founder and CEO of NJCDC, was ready to partner with the hospital. For about a year before the program launched, he had been writing to Slavin, St. Joseph's CEO, to discuss the growing intersection of community development practitioners and anchor health institutions, and to suggest that the two companies find ways to work together. "So when HFMA came out with its hospital initiative, he already knew our interest in working collaboratively on an initiative of this type," says Guarasci. "It was a continuation of a conversation I'd started about a year before."
Together, St. Joseph's and NJCDC are determining the type of units in the building, as well as the ground floor space and the services that will be provided. NJCDC has a long history of offering services to in-need populations and will take the lead on service provision once the building is complete.
The partners hope to also take advantage of another NJHMFA funding source that was announced this past summer. To complement the hospital initiative, the agency is allocating roughly $5 million to strengthen the neighborhoods where the new buildings will be located.
"We didn't want to just build a single new housing project. One beautiful new building is nice, but we can do better," says Richman. "In visiting the neighborhoods that the hospitals are proposing to build in, it was apparent that some kind of neighborhood rehabilitation program or something related to health outcomes ought to be developed."
The plan is still in its nascency, but Richman anticipates that the agency will work with colleagues in the N.J. Department of Community Affairs to identify community-based organizations as potential partners; those groups will help NJHMFA communicate with neighborhood residents and identify needs that it can help fill. And as those local organizations gain capacity, Richman guesses that the funding may also grow.
But ultimately, it's designed to complement the hospital initiative—which appears to be resoundingly successful. Besides the six hospitals currently in the pipeline, several others have expressed interest in getting involved later. As a result, Richman is going to ask the NJHMFA board in November to double its initial $12 million allocation.
He believes the initiative will continue for a while, and that some hospitals might be repeat customers. "I don't think it'll be 'one and done.' I think we'll get some of the larger hospital groups doing more than one. The larger ones will do more housing over time," he says.
Meanwhile, word of the program has gotten out to other state finance agencies and hospitals in other regions. Richman has taken calls from executives in Washington state, Oregon, Pennsylvania, and elsewhere who are interested in learning more about it. He said he's happy to be an ambassador for the concept. "It's a message we'd love to get out, because more hospitals can do this."
[Update: This piece has been updated to reflect the role of the Housing and Community Development Network of New Jersey's role in shaping the policy.]