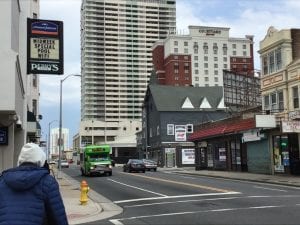 This past June, the U.S. Congress opened a hearing to consider a bill that would create a commission to explore options for reparations for the descendants of enslaved people. Central to this conversation is the question of what is owed to African Americans, and what reparations would look like.
Many Americans believe reparations are unnecessary, agreeing with Senate majority leader Mitch McConnell, who said that he believes the harms of slavery were made right by the civil rights movement and the election of an African-American president. This view serves to bypass the deep, systemic ways that wealth has been taken from the majority of African Americans.
It's a history that shapes—and disempowers—Black, largely urban, neighborhoods to this day. The legacy of that history can be seen in places like the Northside neighborhood of Atlantic City, New Jersey, where—as an ethnographer from nearby Stockton University—I recently interviewed longtime residents.
Described as the "World's Playground" at the beginning of the 20th century, Atlantic City centered around the glitz, glam, and exclusivity of the boardwalk for white, middle-class tourists. With desegregation of the late 1960s, white middle class residents moved in masses to the suburbs, and from the 1960s to 1980s were the largest racial group to leave the city. As tourism declined, Atlantic City's infrastructure deteriorated, and the city became increasingly stigmatized as a dangerous and dirty place. Casinos were brought to Atlantic City in the 1970s to resuscitate it, but over time they economically polarized the city further.
For Black residents, Atlantic City had always been a Jim Crow town, as they were prohibited from being on the boardwalk and "white beaches," except for work. These residents were forced to create their own community in neighborhoods that were substandard and designed through waves of government-sanctioned exclusionary policies of redlining, racial covenants, racial steering, racial zoning, and urban renewal. While these practices are illegal today, they formed a narrative linking Blackness and Black people with financial risk and deleterious effects on neighborhood development that remains.
Today in Atlantic City, many Black residents still pay a "segregation tax" in the form of economic and social penalties brought about by these exclusionary practices. Penalties include lower property valuations, inadequate public amenities, poorer quality of life, stigma, and isolation. And while some Blacks have "made it" and moved into Atlantic County outside of the city, many have not. The fragility of Black wealth, even for those who own their home or possess other assets, is greatly misunderstood by society at large. And the cost is measurable. According to a recent Brookings Metropolitan Policy Program study, discriminatory practices have devalued homes owned by Black families by an average of $48,000 per home as of 2018.
Consider redlining, a practice that enforced segregation and denied mortgages to African Americans via the 1934 Housing Act until it was officially outlawed in 1968 by the Fair Housing Act. On maps drawn by the federal Home Owners' Loan Corporation, predominantly Black neighborhoods were deemed "hazardous" to lenders, and marked with red lines. (White neighborhoods, marked in blue, were typically designated "best.") Redlining left a legacy of segregation and inequality. According to a study by The National Community Reinvestment Coalition: 
[T]wo thirds of the neighborhoods deemed "hazardous" are inhabited, typically by Blacks and Latinos [today], researchers found. Cities with more such neighborhoods have significantly greater economic inequality. On the flip side, 91% of areas classified as "best" in the 1930s remain middle to upper income today, and 85% of them are still predominantly white.
There is no "past" effect of redlining, as the effect of its impact is clear today. In Atlantic City, segregation and redlining confined Blacks to the 80-square-block Northside section of the city. Today, the still-predominantly Black neighborhood is one of the poorest in the city, and has a concentration of its remaining low-income housing units and abandoned lots. The map below visualizes the median household income in Atlantic City in 2017: the darker the blue, the higher the income is. The whitest part of the map is the poorest area of Atlantic City, which includes the Northside.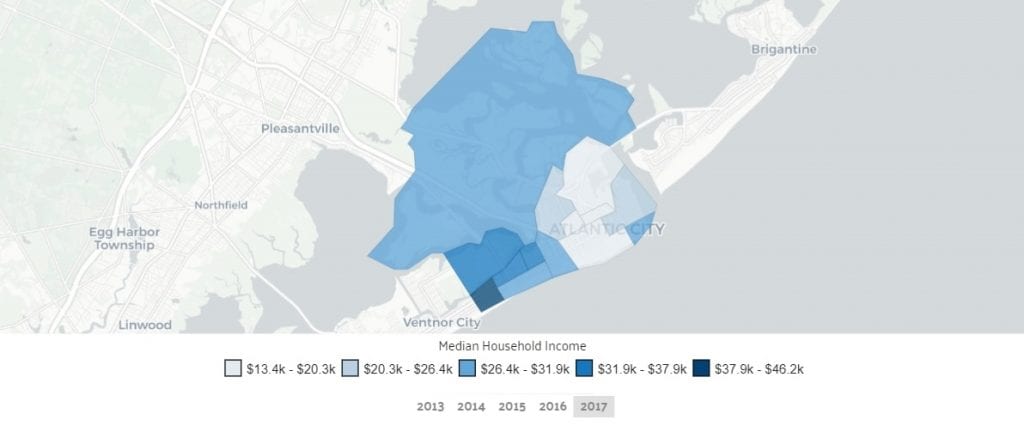 But the story of resilience of the Northside is a nuanced one that includes triumph and disenfranchisement. Out of exclusion, families in Northside created a close-knit community that residents remember fondly. To them, redlining created a "Black world," where one lived next door to their doctor, their dentist, and their teachers, and was empowering. From the perspective of many residents, integration and casinos destroyed their community's connectedness and locked residents into a spatial caste-like status.
With desegregation came policies, technology, and initiatives that kept Black people to one destabilizing part of the city. Urban renewal plans, the deterioration of the famous boardwalk, increasing air travel, and the 1968 protest of the Miss America pageant all negatively affected tourism to Atlantic City. In the Northside between 1968 and 1972, a large-scale 80-block urban renewal project executed by Atlantic City Housing Authority director Pauline Hill decimated the South Inlet section. The project used eminent domain to seize land and displace residents, only to remain vacant for decades—it was later nicknamed "Pauline's Prairie."
As one resident noted, the official segregation of the Northside morphed in the late 1960s into the unofficial clustering of low-income and poor families. Black-owned businesses were replaced with public housing or were bulldozed. When I asked a resident who grew up in the Northside if the area was still affected by redlining, she first said "no," but then described a process that repeats the same disenfranchisement. "I grew up in a single-family home…but [on] either of my corners were a lot of low-income, or HUD assisted housing…they would bunch [people] all together in the projects. And a lot of those got torn down. Now they're rebuilding them so they're new, but it's still the same concept."
Today, Atlantic City is a majority Black and brown city with a 40 percent poverty rate whose residents are harmed by the compounding effects of racial discrimination, age, economic instability, and environmental vulnerability. Many feel that new amenities and social services for non-tourists tend to be an afterthought, as the city seizes lower-valued land and sells it to developers for new businesses and condominiums that longstanding residents cannot afford.  
The city also faces new threats from rising sea levels and the stronger storms of a changing climate. Many residents are still impacted by the detrimental effects of Hurricane Sandy in 2012. A 93-year-old resident who grew up on the Northside said, "I'm very concerned now about Atlantic City proper because of the flooding. I have friends who were in the area that was flooded… they're required to take the flood insurance … they're really struggling to try to be insured. And taxes are very expensive." 
And structural racism's effects carry over to residents' children and grandchildren. Having parents who have not owned their own home lessens their ability to buy a home themselves or have help from their parents to cover down payment costs. Segregated housing has led to underfunded schools, and less access to quality amenities and neighborhood networks, affecting job prospects, earnings, and wealth accumulation. Even if residents were not displaced during urban renewal and managed to buy a home, the value of that property has drastically declined due to the ghettoization of the neighborhood over time.
Today, quality of life for many Black residents remains poor in the city. According to the Brookings Metropolitan Policy Program, children who grow up in disinvested neighborhoods such as Atlantic City have less upward mobility as they get older. They lack wealth to draw on for travel, education, or to start businesses in their neighborhoods. As Hank, a 48-year-old longtime resident, said, "We used to have a lot of African-American businesses in the Northside. And if you go to Atlantic City now. .  . the only African-American businesses they have now [are] the churches and barber shops. We own nothing. So we can't support each other financial[ly] or social[ly]."
Despite its legacy as a city battered by past racial and class segregation, Atlantic City can also show us how cities that have high poverty rates can heal with the input of resilient communities of color. Over time, residents that I have spent time with through Black Lives Matter Atlantic City, National Action Network, poetry groups, local churches and senior citizen groups envision reparations in their neighborhoods in the form of investment in the community networks and organizations that already exist—not displacing longtime residents by creating "new" neighborhoods, but on engaging them in decision-making processes.
Atlantic City should distribute resources and promote development that includes amenities that its communities and families desperately need but can't afford. Placing residential security at the center of the conversation would focus on food accessibility, affordability, job creation, mixed-income housing, and mitigation plans for future storms. In this way, the Black residents of Atlantic City can grow stronger roots in the community they have long helped to maintain.
The author would like to acknowledge residents, research assistants Sarah Mount and Yasmine Payano, and the Stockton Center of Successful Aging.