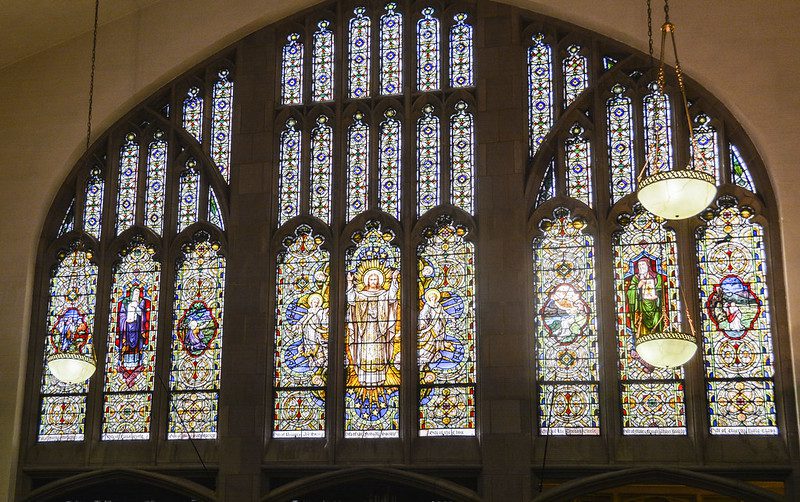 As the religious and urban landscape changes in North America, churches have had to adapt and evolve. In many communities, houses of worship find themselves with dwindling congregations, dilapidated church buildings, and underutilized and expansive church property that is difficult and expensive to maintain. At the same time, cities across the country are experiencing a housing crisis with the rising cost of housing and property values. All these factors can affect whether a congregation loses members and whether a church stays open or closes its doors.
Black churches are responding to these shifts in religiousness, population change, and lack of housing by working to change land use regulations and asking how church property can serve a different function in the community. Black churches in Seattle; Oakland, California; and Washington, D.C., among others, are building coalitions and working with city government and other organizations to create pre-development studies, participate in capacity-building programs, develop housing on their own properties, and advocate for changes to housing policy and zoning regulations. These efforts and initiatives are intended to soften the impact that gentrification and displacement have on low-income neighborhoods and communities of color as the cost of housing increases.
Historically, the Black church has been instrumental in advancing racial equity and community development through social service provision and property development. In the 1960s, Lyndon B. Johnson's Great Society legislation and programs aimed to eliminate social and racial injustice. One of the programs of the Great Society, the War on Poverty, worked with faith-based organizations including Black churches to implement federal policies and address racial and economic unrest at the local level. Black churches offered shelter and other community support. By the 1970s and 1980s Black churches, like New York City's Greater Allen African Methodist Episcopal Church in Queens and Abyssinian Baptist Church in Harlem, were creating separate community development corporations to provide social services to the neighborhood. Through its nonprofit arm, the Abyssinian Development Corporation manages more than 1,200 units of affordable housing in Harlem in addition to providing other services.
[RELATED READING: Our special issue on faith-based development from 2001]
By the end of the 20th century, the nonprofit sector was providing even more in social services to the public, as the receding of the welfare state meant that government provided fewer services for those in need. In 1996, the Personal Responsibility and Work Opportunity Reconciliation Act enacted under President Clinton included a provision known as "Charitable Choice," which made faith-based organizations eligible to compete for and receive federal money to provide social services without changing their religious identities or practices. In 2001, President George W. Bush established the White House Office of Faith-Based and Community Initiatives (now known as the White House Office of Faith-Based and Neighborhood Partnerships), which allowed faith-based organizations to apply for funding from federal programs. In 2005, more than $2.1 billion in competitive funding was awarded to faith-based organizations by seven federal agencies, including the Department of Housing and Urban Development. The Black church provided services that included child care, emergency food distribution, clothing distribution, drug and alcohol prevention, as well as shelter and housing development.
With the dismantling of the welfare state, the third sector, including faith-based organizations, continues to provide social services to the public. As some churches transition their properties from institutional uses to include housing, that can have an impact on the services a community receives. Advocating for land use systems change at the state and local level, Black churches are continuing their work to advance racial equity and community development by changing zoning regulations, becoming educated on affordable housing construction, and organizing support for faith-based property development to keep residents from being displaced.
I have been studying faith-based affordable housing advocacy and construction for over a decade. Here are some current examples of how they are navigating a shift to developing housing on their own properties.
Navigating Neighborhood Change 
In Seattle, the Nehemiah Initiative is a faith-based community development initiative that works with Black churches and other Black organizations in the Seattle area to develop their property. The Nehemiah Initiative has found that Black churches in Seattle own property with total appraised values in excess of $100 million. Founded by Donald King, Bishop Garry L. Tyson, and Aaron Fairchild, the initiative aims to empower the community by keeping Black capital, assets, and people from being displaced, and does so by providing the knowledge, training, and resources that Black organizations need.
The first thing the Nehemiah Initiative asks congregations to do is look internally through a discernment process to see what they are capable of doing as an organization and how it pertains to their mission. The discernment process is a spiritual assessment but also a strategic one. Congregations that are a part of a larger church hierarchy are usually asked by the governing body to undertake this planning process when deciding what to do with their church property. Does the decision to develop property and the type of development (housing, community use, sell to a developer, etc.) fit with the larger spiritual mission of the congregation? What are their core values? What are their goals? The money must align with the mission.
Any property development process will require a strong congregation that can make decisions together to fulfill a common goal and purpose. The discernment process moves through creating a common understanding of the vision of the congregation, reflecting upon the role and history of the church in the community and what its members are called to do for others, making a decision, and figuring out how to act upon that decision. 
In 2020 and 2021, members of the initiative worked with graduate students at the University of Washington's College of Built Environments, in a set of studio courses called the Nehemiah Studio. They conducted a feasibility analysis of church-owned property in Seattle's Central District, which has experienced significant changes over the years. The Black population there declined from 70 percent in the 1970s to 16 percent in 2018. And between 2000 and 2010, almost half of the Black churches there closed. As part of the work Nehemiah Initiative did with the graduate students, 9 Black churches in Seattle's Central District were able to learn about affordable housing development, urban design, and planning and real estate processes, as well as what might be possible on their own property. The students' findings were shared with the Seattle Office of Planning and Community Development, which has worked closely with the Nehemiah Initiative. Findings from the students' work show that hundreds of units of housing could be built, including workforce and affordable housing, along with community facilities. Four of the churches that participated in the Nehemiah Studio will be entering the predevelopment process in the next six months. Taking part in the studio provided the churches with the planning, design, and financial analysis they needed to apply for construction financing. The goal is to provide affordable homeownership opportunities to those who are threatened with displacement from Seattle's Central District.
Right before the Nehemiah Studio was held in 2109, the Washington state legislature passed a bill that allows municipalities to provide a density bonus to religious institutions that build affordable housing on their property. Seattle's Office of Planning and Community Development, working with the University of Washington through the Nehemiah Initiative, gave Black churches the ability to workshop the new density zoning regulation, see how it might be implemented, and provide feedback to city planners.
In Oakland, California, according to the Bay Area Equity Atlas, the number of renters who were burdened by housing costs increased from 44 percent to 51 percent between 2000 and 2019. Black and Latinx residents were most likely to be cost burdened. More than 50,000 Black residents moved out of the city between 1990 and 2010. Pastors there have long worried about the impact of population shifts on their congregations and wondered what to do with large, empty church buildings.
Since 2019, the Local Initiatives Support Corporation (LISC), a nonprofit community development finance institution that partners with community organizations to provide financing and other resources for affordable housing, has been working with faith and community-based organizations in Alameda County (which includes Oakland) to build affordable housing.  LISC Bay Area created the provide these organizations with technical support to build their capacity to create affordable housing on their property. Now in its second year, the program has worked with up to 20 faith and community-based organizations in the county to receive training and resources to determine whether they want to use their property to build an affordable housing development. Working with a development coach and networking with other faith-based organizations that are in a similar position provides churches with opportunities for engagement and support.
Genesis Worship Center in East Oakland, which participated in the capacity-building program, is one example of a church that completed a successful housing development project on its property. Hoping to combat displacement and gentrification in its neighborhood and serve those in need, in 2021 the church constructed 12 units of affordable housing by redeveloping its Fellowship Hall. Through the program, the church was able to partner with New Way Homes and later with Envision Housing to develop the property. In addition to being paired with a development partner, the church also received training in the development process and learned about planning, housing, and construction regulations. It also received a stipend of $10,000 to use toward the development project, and additional loans from New Way Homes, the United Church of Christ Church Building & Loan Fund, and the Cornerstone Fund. The church still owns the property and is providing supportive services to residents through Alameda County. Being a part of the program gave the worship center structure, support, and partners to move through a development process that provided the community with much-needed housing. 
Black churches are also advocating for larger changes in housing policy and land use policy that allow Black people to continue to live and work in their communities. When faith-based organizations try to build housing, they often find that current zoning regulations do not allow for the type of use or density they are hoping to construct. Often they will need a zoning change, especially if they want to build multifamily housing. Going through a zoning change can be a time-consuming and expensive process that can sometimes include community opposition from people who do not want to see an increase in density in their neighborhood. Other times, historic preservation regulations can stop a house of worship from developing or redeveloping if the historic preservation board deems the current buildings or property to have historical significance. For these reasons pursuing a development project can be difficult.
In Washington, D.C., the Department of Planning has been working with the faith community to respond to the high cost of housing. The city has partnered with Enterprise Community Partners to provide a technical assistance program to faith-based organizations who want to develop housing, changed the designation of 13 faith-based properties in its Comprehensive Plan's Future Land Use Map to allow for housing, provided guidance to houses of worship on rezoning efforts, and offered grants from the City's Housing Preservation Trust Fund. In Ward 4, Emory United Methodist Church partnered with The Community Builders to construct the Beacon Center, a 99-unit affordable housing building that includes supportive housing units, as well as retail, commercial, and community space. A portion of the $60 million project was funded by the Housing Preservation Trust Fund. Focused on racial and economic justice, the Emory Beacon of Light Inc.—the nonprofit arm of Emory United Methodist Church—is hoping to address the issue of food insecurity and open a restaurant/café for culinary arts training for returning citizens to Washington, D.C.
Black churches are also members of the Washington Interfaith Network (WIN), a multifaith, multiracial organization of dozens of religious institutions in the D.C. area that advocates for social and racial justice. WIN recently launched the Black Equity through Homeownership (BETH) program that is led by churches, and advocates for land use policy changes that would provide opportunities for Black homeownership. The program focuses on stopping the displacement of Black residents and works to close the racial wealth gap by holding workshops on homeownership, obtaining land for free or at a reduced cost to build housing on, providing funding for home repairs, and advocating for affordable housing. Through the BETH program and WIN's strong network, Black churches are educating, organizing, and advocating for larger land use systems change. 
As Black churches repurpose their properties and engage in development, their actions affect land use, zoning, and housing policies, and thus they become strong activists in the fight for affordable housing. But they have faced challenges. Not all congregations have the capacity to build housing or the experience to complete a development project. Others do not understand complex housing policies and zoning regulations. Creating larger land use systems change can be daunting, but Black churches are combating neighborhood displacement and gentrification while keeping their congregations together, through visioning, capacity building and partnerships, and advocacy efforts. 
The research for this article was funded by The Louisville Institute. Research assistance was provided by Kyle Cruz.