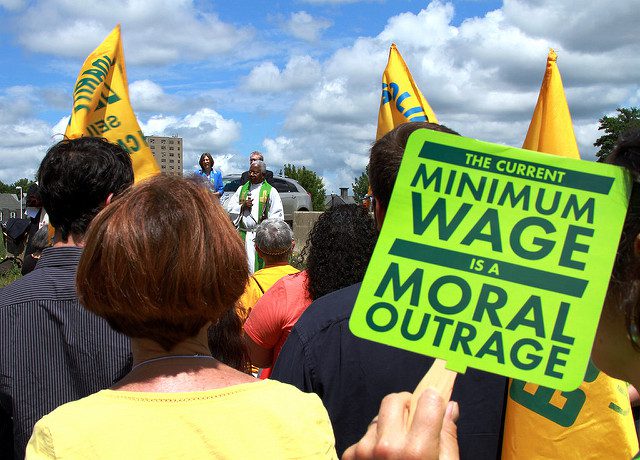 The Raise the Wage Act proposes raising the federal minimum wage (the "floor" by which other states base their minimum wages on) to $15 an hour incrementally by 2024. It would be the first increase since 2009, and a report from the Economic Policy Institute says that the raise would affect Black workers disproportionately, as they not only tend to hold minimum wage jobs, but they also reside in states that have the lowest minimum wages in the country.
It's good to see that the idea of buying buildings to make them affordable, instead of building them from scratch, is gaining some traction. Since Alan Mallach proposed the idea in Shelterforce a few years ago, we've written about groups making it a reality in Chicago and Minneapolis and Coon Rapids, Minnesota. Now the Washington Housing Initiative (h/t to City Observatory) is trying to take this approach in D.C., at some scale, with involvement from outside the nonprofit development world leaders involved. Though we quibble with their use of the term "workforce housing," it looks like an exciting, ambitious project.
So About Those Opportunity Zones… The long-anticipated IRS hearing about Opportunity Zones finally took place last week. The standing-room-only meeting went on for five hours and from the looks of it, there are still plenty of questions remaining about a program that could bring private investment to low-income communities. Forbes reported on the three major takeaways, which didn't look promising; and Bisnow reports that a second round of regulations is expected to be released next month.
Two interesting bits of research have come out on on housing supply and housing cost that will be challenging, perhaps to different groups—one finds that upzoning does not necessarily correlate with either increased supply or lowered housing cost and one finds that new construction does not necessarily correlate with increased rents in the immediate area. For context in thinking about these and other studies, see our roundtable of researchers talking about development and displacement, and Rick Jacobus on why voters haven't bought the case for building more.
Utah is trying to encourage more housing construction before it becomes California, but the state is trying to do it in a way that won't get people's hackles up. CityLab describes how a currently proposed bill would require towns to plan for affordability and housing supply or risk losing access to highway funds—but it would allow them to select from a menu of policy options that would increase housing supply and density instead of prescribing exactly how they proceed. Sounds like good policymaking strategy.
Land installment contracts—where a buyer doesn't receive a title to a property until their whole purchase price is paid off even though they have all the responsibilities of an owner—are very often predatory, and take advantage of those excluded from traditional mortgage credit. Officials in Youngstown, Ohio, are trying to limit the damage they do with a new ordinance that requires inspections and disclosure of tax information before purchase, and provides damages in the case of predatory behavior. Supporters say the move will cut down on distressed property (as part of Youngstown's do-it-all approach) and have their sights on predatory rent-to-own contracts next.  
The Tide Has Turned. For the longest time, it was cheaper to buy a home than it was to rent. Not anymore. In every single state in the U.S., homeowners spend more money per month than renters do, thanks to high property taxes, maintenance, repairs, and insurance costs. The greatest difference is in New Jersey, where homeowners outspend renters by more than $1,100 each month. We already know how much of a financial burden it is to come up with the downpayment to buy a home, and with the cost of owning a home rising each year, dipping homeownership rates are not far behind.
Moving to Opportunity. The Housing Choice Voucher mobility demonstration program, which is expected to help families move to safer neighborhoods with higher-performing schools, has $28 million in funding after Congress passed its 2019 funding bill. Yay! The Center on Budget and Policy Priorities compiled a list of important next steps for HUD, and what public housing agencies should consider.
The Airbnb Effect. Study upon study highlights the negative effects Airbnb has on home prices, renters, cities, and even employees. City officials have tried to regulate the short-term rental platform, but not with much luck. And there's no reason why policymakers should let the company avoid its tax or regulatory obligations, according to a new report by the Economic Policy Institute, which looks at the economic costs and benefits associated with the rental platform. In the latest edition of Shelterforce magazine, we too delve into the Airbnb effect by breaking down how much it causes rents to increase in New York City. Please share or print and distribute.
This capstone evaluation of the National Foreclosure Mitigation Counseling program by the Urban Institute finds that its impact will be felt for years beyond its 2018 end. Funded by Congress in 2008 as an emergency response to the foreclosure crisis, the program served over 2 million homeowners. Though the crisis level has lessened, the need for counseling services continues (and agencies attempt to innovate and morph to serve them), as large numbers of low-income homeowners and homeowners of color remain disproportionately affected by the recession's aftershocks.
Last week, Oregon entered the fast track to become the first state in the nation to adopt statewide rent control. Debate over the measure between state Senate Democrats and Republicans focused on whether it would scare investors and developers, but a democratic majority has blocked any amendments to the bill and is pushing it through quickly.
HUD has implemented a change to its inspection policy that will benefit . . . public housing residents. With what it calls "just in time" repairs that meet the minimum thresholds in order for a unit to pass inspection, HUD asserts that they compromise resident health and safety. The agency encourages property agents to shift to year-round maintenance schedules that are addressed within a much shorter period of time than before, namely, 14 days.
What We're Reading:
"When "Upstream" Public Health Efforts Fall Short," by Nashira Brasil
"New York's Ejection of Amazon Is the Start of a Movement," by Sarah Holder, CityLab.