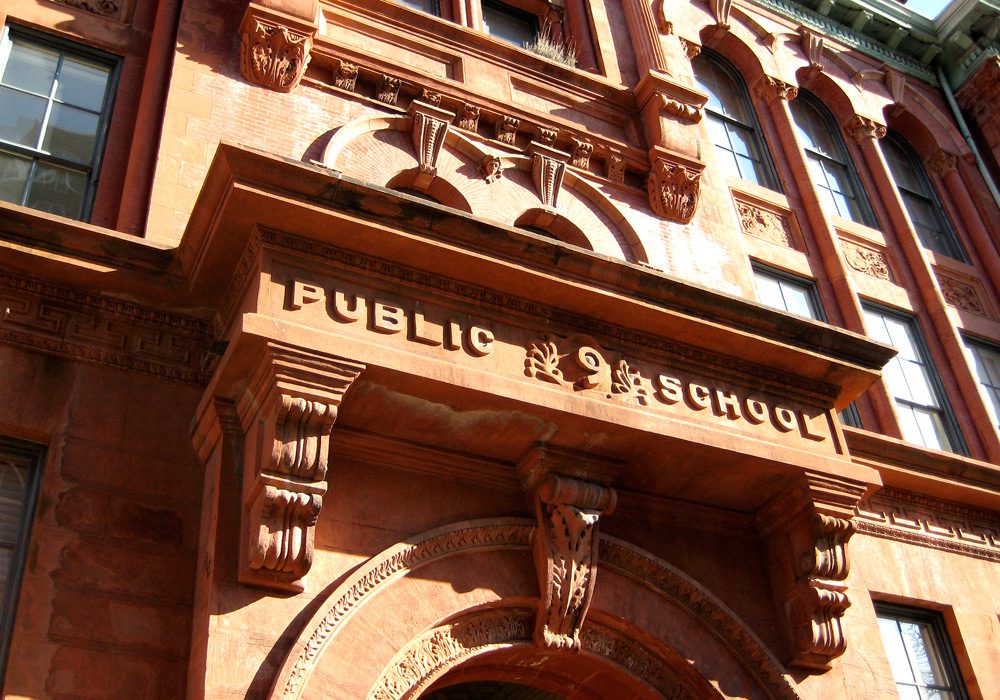 Corporate tax incentives are taking away funding from school districts at a tune of nearly $2 billion in 2017, according to a report by Good Jobs First. That money is enough to pay for almost 30,000 new teachers in 10 states, according to CityLab. The even sadder part is that these tax incentives are going to big companies like Amazon—companies that really don't need the tax break—instead of going to smaller companies that 1) need the help and 2) actually bring jobs to the community. Why are schools always getting the shaft?
Is the era of single-family zoning over? Violating the sanctity of single-family zoning was once considered a third-rail of planning and development. Even suggest it and you'd be swamped by irate homeowners who were very good at cloaking their racism and classism in concerns about traffic, noise, or drainage. But between the wider understanding of how zoning has been abused over time, and the affordability crisis, cracks are appearing. Provisions for accessory dwelling units are popping up all over the country, and Minneapolis has just passed a comprehensive plan that allows duplexes and triplexes (with no change in allowed footprint) in all single-family zones. Excuse us while we pick our jaws up off the floor. We're not the only ones who found this to be momentous, but local organizers caution that by itself that zoning change is not likely to bring integration. If one unit in every triplex had to accept vouchers, now that might be meaningful change, notes Russ Adams, executive director at regional equity group The Alliance.
Speaking of challenges to things that have seemed unchangeable, a measure challenging California's anti-tax Prop 13, which keeps properties from being reassessed until they are sold, has made it to the ballot for 2020. Mind you, the change would only affect commercial properties, but the fact that it's opening discussion at all is fascinating.
After losing his re-election race, Wisconsin Gov. Scott Walker looks like he actually might sign legislature bills that undermine the power of the incoming governor, Democrat Tony Evers (winner of a United States election in which voters chose him to govern over Walker). Among several, one of the bills presented in the lame duck session would prevent the governor and attorney general from withdrawing from a lawsuit that was challenging the Affordable Care Act. Power grabs like this by outgoing Republican leadership are also underway in Michigan and Florida.
If the bills are signed, the incoming Wisconsin governor also won't be able to reverse this stupid move. The state is moving forward with its plan to drug test SNAP recipients, even though study after study has shown that it's a waste of money to do so.
A video of a mother being forcibly separated from her baby in a social services office several days ago went viral, and sparked a conversation about how Human Resources Administration (HRA) employees are trained to interact with the people who come to its offices seeking assistance. In this case, the mother was there for child care help, and according to her attorney, had taken the day off from work to go, and had been there for four hours with her 18-month-old son when she was asked to get up from the floor where she'd been sitting. Witnesses said the situation was being handled appropriately until an HRA peace officer arrived and escalated the situation, to which NYPD officers were subsequently called.
Since Amazon announced New York City as one of its HQ2 locations a few weeks ago, media has focused on the not-so-warm reception it has received (Amazon has now hired a firm to manage its public affairs). But a recently released Quinnipiac poll paints an interesting picture of how—and which—city residents view the impending move negatively, and positively. Though the poll obviously provides no speculation on reasons why, differences in responses by borough and race present some interesting questions about how things like job prospects and traffic impact are prioritized by different city residents.
This is an interesting plan. San Francisco's transit agency has proposed building housing on top of a 103-year-old bus yard. The proposal is part of a plan to help raise money to repair the aging facility, which would cost "hundreds of millions of dollars." But will residents in the area support the high-cost plan, which won't include 100 percent affordable housing? We'll be following this story for you.
There's an IRS form that hospitals use to provide information on its activities and policies that have provided a benefit to the community. The problem is, hospitals are usually not held accountable for the information provided (or not provided) on the form.  "One could make an argument that the IRS never really made expectations clear about what a hospital should or shouldn't be doing, which is why so much variation exists," said Bradley Herring, an associate professor at Johns Hopkins Bloomberg School of Public Health, in Modern Healthcare. But the IRS is apparently taking a closer look now. This is why community development corporations should be paying attention to the news and how CDCs should organize for hospital community benefits.
It's a First Step, if a tiny one. Criminal justice reform is not a thing most of use would have expected to see meaningful bipartisan agreement on at this moment in history. But nonetheless, the First Step Act—which reduces mandatory minimum sentencing in some cases, makes the Fair Sentencing Act retroactive, and increases ways to earn credits for early release for non-violent offenders—seems like it has a shot at passing. If it seems too good to be true, here's are some critiques—it applies only to federal prisons, so a very small amount of people; it misses an opportunity by keeping those who have committed violent crimes from the programs that would help them; and it increases the use of electronic surveillance through things like ankle monitoring. Nonetheless, it's still more of a move in the right direction—or of having the right conversation—than we'd have dreamed we'd see right now.
Recently Thomas Silverstein argued in Shelterforce that, among other things, dead malls could be an opportunity to locate new social housing in places where it wouldn't reinforce segregation as public housing did in the past. Seems like live malls should be considered as well: just outside Albany, New York, Crossgates Mall, which took a lot of flack when it opened for building on the unique and endangered Albany Pine Bush, is considering building housing on an adjacent parcel. This seems like a perfect opportunity for at least mixed-income housing. Allowing the many retail workers at the mall (and other nearby office complexes and campuses) a walk to work rather than a lengthy bus ride from the city's more affordable neighborhoods, not to mention a home in a high-opportunity community, would be a win for everyone—including the mall.
What We're Reading (and Listening to)
'It's worse than murder': how rural America became a hospital desert, The Guardian
How Northern California's destructive wildfires could exacerbate the state's housing crisis, LA Times
We're also listening to this episode on Vox's podcast, "The Impact," which follows a woman working her way through a housing mobility program in Baltimore. It raises important questions about the good these programs do for people seeking safe, decent, and affordable housing, as well as the potentially negative messages they can perpetuate.