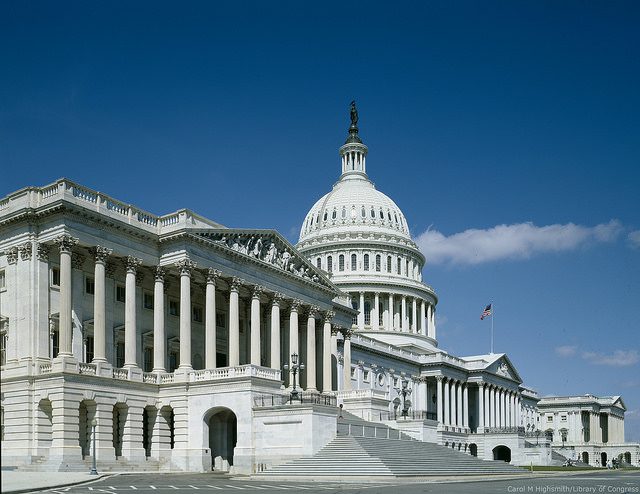 The top news of the week was of course Democrats taking control of the House of Representatives (and making it a better reflection of our gloriously diverse country), along with several governorships and state legislatures. But the midterm elections on Tuesday also had wide-ranging, and mostly positive, direct policy outcomes for people concerned with economic justice and affordable housing. We rounded up the housing-specific legislation on Wednesday, but there were many other important results as well. Voting rights were extended to returning citizens in Florida. Medicaid was expanded in three states, and the minimum wage raised in Arkansas and Missouri, providing direct material improvement in people's lives in Republican-leaning states. Anti-gerrymandering provisions that won in three states also point a way toward a future where election outcomes might more reliably reflect the people's will. Most transit-funding provisions passed.
Protecting our immigrant neighbors. Oregon voters declined to rescind their 31-year-old sanctuary law, Doña Ana County, New Mexico, elected a sheriff who has said she'll get rid of the local cop-Border Patrol cooperation program, and three new sheriffs will be taking office in Wake County, NC; Hennepin County, MN; and Ulster County, NY who have said they'll stop honoring ICE detainers at their jails.
Another outcome of the election that will be fascinating to watch is that Congresswoman Maxine Waters will likely chair the House Financial Services Committee. Waters, who wrote for Shelterforce about public housing in 2011, has vowed to halt the march of deregulation of big banks.
CityLab has called the effort by one area of Stockbridge, Georgia, to secede to form a smaller, wealthier, whiter town so can it could attract more upscale businesses one of the weirder forms of white flight. Codifying segregation, rather than trying to search for the ways we are interdependent seems like a bad precedent to us for sure. Luckily, that effort did not succeed.
In a purported effort to lessen the impact on its HQ2 host city, Amazon looks like it may be splitting its new second headquarters between two cities—New York's Long Island City and Crystal City in Arlington, Va. Though cities nationwide have been bending over backward to attract the online giant, it's known that Amazon's plan to both bring and attract 50,000 employees to its HQ2 will put a strain on the chosen city's housing market, and activists have been vocal in their distaste for how cities court corporations by offering oversized (and unnecessary) tax subsidies—without asking much in return. Amazon has said a decision will be made by the end of the year, and in the meantime, real estate investors are poised and ready to pounce. Hold on to your hats affordable housing.
Whether you're a homeowner or a renter, it's not a secret that high housing costs make it difficult to pay for basic necessities, especially with wages remaining relatively stagnant. But when compared, renters do have it worse. According to the Urban Institute, renters are less able to weather financial emergencies. And even worse, families are foregoing basic needs just to keep a roof over their heads. Even more reason to continue fighting for increased funding of rental assistance programs and other support services. 
Wells Fargo is still in repayment of its karmic debt, this time with an announced philanthropic partnership with Washington D.C. The bank is among several of the nation's biggest that have increased their philanthropy over the past few years, and their $1.5 billion investment will be in small business development, affordable housing, and community development focused in a few of D.C.'s lower-income wards, as well as grants to several existing nonprofit community organizations.
Can cleaning up vacant and abandoned properties reduce youth and family violence? There are various studies that highlight the positive effects of rehabilitating distressed properties and cleaning up vacant lots (more about this in our new issue, where we take an in-depth look at the vacancy crisis in the U.S.), but there hasn't been a study that specifically focuses on youth and family violence. That is until now. Tulane University received a $2.3 million grant to test the theory in New Orleans. We'll be keeping our eyes on that.
A public health crisis? Because of what's happened—and is still happening—in Flint, when we hear public officials announce that a municipality's water is safe to drink, we take the statement with a grain of salt. What's happening now in Newark, New Jersey, further proves why residents are wary of those types of proclamations. Top officials in the city denied there was a lead problem for more than a year until a new study found that to be false. And the news is getting worse: a potentially cancer-causing contaminant is also flowing through the drinking water. Newark, which serves more than 500,000 customers, sells its water to eight other municipalities in the state. While the problem might not be as serious as in Flint, it's still a health crisis that officials need to address immediately.
Now for some good news: Veteran homelessness is down nearly 50 percent since 2010. The U.S. Department of Housing and Urban Development attributes the drop to the VASH program, which enables housing rental assistance and provides essential case management and clinical services through the Veterans Administration. Read our latest piece about efforts to house homeless vets in housing cooperatives.  
Without digging deeper into the details of the country's low unemployment numbers, one might think things are fine—getting better, even. While it may be true that less people are without jobs, we know from our work that many within these numbers are either underemployed or working multiple jobs. And part of that larger number is the number that's always there, but spoken of less often—Black unemployment, which is historically several points higher than the national average. An Economic Policy Institute report found that even though the unemployment rate for African Americans is at or below pre-recession levels, it is still twice as high as the white unemployment rate.