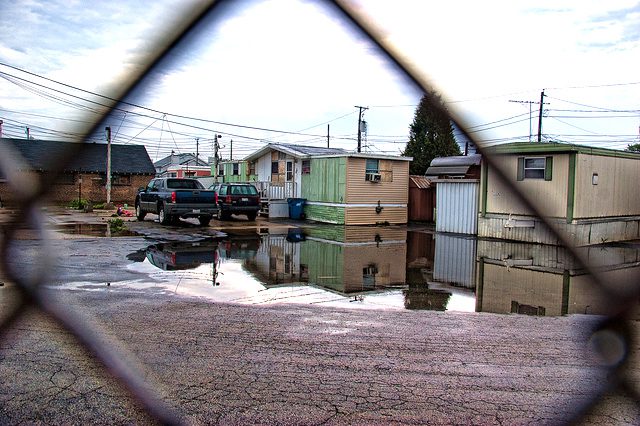 Mobile home parks provide a substantial amount of this country's unsubsidized affordable housing. But a new study of the Los Angeles metro area showed that just like other neighborhoods where the poor are concentrated, these developments have unequal access to public services and amenities—they tend to be located on the fringes of town, experience poor transit access, have poor drinking water quality, and exposure to many environmental hazards.
Back in 2016, when rumors first surfaced that Facebook founder Mark Zuckerberg might be interested in supporting affordable housing philanthropically, Shelterforce editor Miriam Axel-Lute had a long talk with Fast Company for an article they did on what sorts of solutions Zuckerberg might fund. Our primary recommendation—that he throw his money behind political will to prioritize affordable housing in public budgets, as opposed to, say the military and corporate welfare. We weren't too shocked that part didn't make it into the article, but we're delighted to see that the Chan Zuckerberg Initiative is dipping a toe in that direction anyway, with a $250,000 contribution to support a ballot measure in California that would authorize the sale of $4 billion in bonds to fund affordable housing. Next step, federal lobbying?
Providing a public housing and housing voucher priority for youth aging out of foster care sounds like a good thing. Unfortunately, the Fostering Stable Housing Opportunities Act of 2018 (HR 2069/ S 1638) includes work requirements of at least 35 hours/week to keep those benefits. The bill, which passed out of committee last Tuesday, is not as draconian as it could be—there's a year to get your feet under you, and exceptions for being in school or caring for an infant. But advocates like the National Low Income Housing Coalition still see it as a "troubling precedent," legitimizing the  trend of imposing conditions on people who struggle to find consistent employment anyway as a way to ultimately cut benefits. Alongside the fact that there's no evidence that work requirements help anyone, Civil Eats notes that when it comes to the work requirements for SNAP in the House version of the Farm Bill that is currently in reconciliation, these requirements are likely to harm the health of the most vulnerable. Homelessness won't help anyone's health either.
A real estate industry-backed push to undermine a rent-control measure in Mountain View, California, failed to qualify for the November ballot. The Mountain View Homeowner, Renter, and Taxpayer Protection Initiative didn't meet the signature deadline, though apparently its backers tried hard—paying signature gatherers $40, an unheard of sum that affected other initiatives' ability to recruit workers and sparking calls of misconduct. The failed initiative was backed by the California Apartment Association, and is not the first time the association has come under fire for misrepresenting its ballot initiatives to get signatures.
There's been a lot of talk about the high cost of housing lately. Democratic Sen. Kamala Harris recently proposed a bill that would create a refundable tax credit for tenants who pay more than 30 percent of their income on rent. But let's be honest, we know that bill will be dead on arrival. Then we have Republicans who are just now figuring out there's a housing crisis. Sen. Mark Rubio called for a bipartisan task force to take a look at affordable housing in the country. Great, that's exactly what we needed, another task force. But we guess we should be happy Rubio is at least talking about the housing crisis, right?
Buying down rents. More than 100 Denver residents who earn between 40 and 80 percent of the area median income will receive subsides so that they pay no more than 35 percent of their income on rent, thanks to a two-year pilot program the city and LISC are running. That's not all the only interesting part—5 percent of the household's rent payment will be put into a savings account for the family. We'll be curious to see what happens after the program ends.
A bipartisan group of citizens in the D.C. area is coming together to rally against Amazon's HQ2, and we're wondering if a larger, coordinated movement is brewing. After Seattle's city council attempt to tax large companies to fund affordable housing was met with swift and strong pushback from Amazon (where its HQ1 is located), several groups' anti-HQ2 message was solidified out of concern that the company would set up shop in their backyard as a black hole of taxpayer money. But no matter what happens (or where it happens), the fact is the company's drawn-out search process has raised community stakeholder antennae, and without a comprehensive community benefits plan, arms may not be as open the second time around.
Amazon's position as a bully only seems to grow. A report from the Institute for Local Self-Reliance describes how with little to no media attention, the company secured a national contract to supply office supplies, books, and electronics to schools and city and local governments. The report details a list of reasons why this contract is a problem; one being the official barrier to local procurement that is put up—allowing local vendors to participate only if they become infamous "third-party sellers" with the company. Over 1500 jurisdictions have already adopted the contract, and others are deciding if they will. The report will hopefully help them in their decision-making.
NYCHA joins federally funded public housing authorities nationwide in instituting a smoke-free policy in its buildings by July 30. For public housing residents, this means no smoking (of cigarettes, pipes, cigars, or hookahs) in apartments or within 25 feet of buildings, and published info says it will promote employee adherence on the policy, as well. Of course, health initiatives in low-income communities are a good thing—as long as resident health is the priority. Knowing that smoking rates skew higher among the poor and people of color (and that the social stressors that may exacerbate cigarette use are also higher for these groups), we are wary of such a policy becoming a tool for tenant harassment or eviction. We look forward to keeping an eye on how this improves quality of life for public housing residents.
While we don't know the full details of the deal struck between former owner of Seattle's famous Pike Place Fish Market and its new owners, we were happy to read that the new owners are employees. Four managers of the fish-tossing establishment will become equal partners, and the business will stay independently owned.
We all know the importance of credit scores, and we've reported about the ways the credit reporting system could be fairer to the unbanked or those who don't have a credit card. For instance, taking rent payments into account could significantly affect the credit score of the African American and Latino populations.  Well, three housing authorities in Oregon are implementing rent-reporting programs thanks to the help of Prosperity Now and the Credit Builders Alliance. We'll be keeping an eye on this program to see if it's something that can be implemented elsewhere.
What we're reading:
Crosscut: Seattle Could Make a Dent in the Housing Crisis with Its Own Property
Chicago Tribune: 'If I lived on the North Side': Neighborhood may matter more than race in breast cancer survival rates