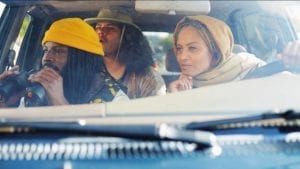 Gentrification is no laughing matter . . .
But in the web series The North Pole, a group of creative and talented artists present a thought-provoking and humorous take on the worst aspects of neighborhood change. North Pole is a tongue-in-cheek presentation of the invasion of the communities whose populations have lived there for decades, but their numbers are shrinking due to foreclosure, forced illegal evictions, harassment, and neglect by landlords.
Young, sharp, and witty roommates Nina, Marcus, and Benny cruise by familiar landmarks like the Crab Shack on Broadway and 40th, now closed after over 40 years in business. They comically search, in stereotypical "explorer/zookeeper" khakis, for endangered species and predators alike, and the metaphors for gentrification are easy enough to figure out.
Leaving drastic changes to Oakland's landscape in their wake, new residents are arriving by the thousands, converging on "Oaktown," the new nickname for Oakland, and bringing their sensibilities with them. Once a thriving community of Baptist churches, that aspect of Oakland life is struggling to stay alive. Recently, a West Oakland church was cited for "too loud" singing at its weeknight choir practice. There was outrage from the Black community, who felt their established presence was being threatened. In the upscale neighborhood of Piedmont, a new hamburger restaurant called Kronenburger destroyed a mural depicting the history of Oakland's railway system in order to install a large window. The owners said it was a mistake. As the character Nina says, "you should know something about a place you call home."
The North Pole presents displacement in a light and engaging way, even though historically it is anything but. California suburbs like Sacramento, Vacaville, Modesto, Stockton, and Tracey are filled with the descendants of those who have been victims of displacement since the tech industry descended on the region, and Black residents have been pushed out since the 1960s when factory work was still plentiful in the East Bay and homes were affordable. This has happened nationwide, starting after WWII when Black families sought to find a better life in suburbs throughout America.
Neighborhood scenes from The North Pole do not show the construction of high-rise luxury condominiums. In the opening scene, the expansive garden located on 51st & Telegraph is now gone. It's a race to get these buildings built and filled, and the City of Oakland's Planning Department is literally working overtime to pass through permits and begin construction in areas now known as "Uptown."  What is being built in its place is market-rate housing (read: unaffordable) in this congested neighborhood of high-end pizza shops and tapas bars.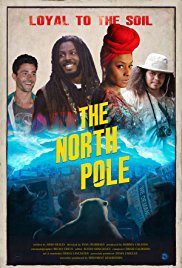 There's a great scene in which the leading characters interview prospective roommates in a scramble to avoid eviction by weathering another rent increase. In reality, some newcomers aren't nearly as friendly as the characters looking for housing. Numerous reports from longtime locals cite feelings of being dismissed by newcomers who don't know the cultural dynamics of living in Oakland. Questions like, "Are you lost?" and "Can I help you?" have been posed to residents. Some have also experienced being glared at, or witnessed defensive or other negative body language when in the presence of people new to the neighborhood, often white.
The North Pole doesn't really touch on the role of Uber, Pandora, Twitter, and other tech companies in the gentrification of Oakland, although thousands of those employees enter and exit the BART (Bay Area Rapid Transit) system everyday. Episode four, "Adaption" does correctly target one major corporation, Chevron, based in Richmond, California. Chevron has a notorious reputation for environmental neglect, worker abuse, criminal-level safety issues, and unacceptably low monetary compensation to the many homeowners and renters living around the Chevron facility.
The show's fictional "Green Gos" company is a nod to the proliferation of seemingly do-good organizations that are ignorant to the root causes of neighborhood inequity and gentrification.
The North Pole is a great tool to open up discussion between residents of gentrifying or threatened neighborhoods. It also elevates the stories of the personal tragedies and neighborhood memories within the fight for housing rights, respect, community, fair policing, and self-sustainability. The text of "issues" that accompany each episode highlight many of the actual concerns of residents.
Shout out to the brothers and sisters participating in this show: Ericka Huggins ("Grandma Loretta"); former leader of the Black Panther Party, rapper Boots Riley ("Polar Bear"); activist in Oakland Occupy, W. Kamau Bell (who makes a guest appearance); music by Fantastic Negrito from Richmond, California; and the Asian Pacific Environmental Network (APEN), located in Chinatown Oakland.
For non-people of color who are concerned with and willing to identify their role in displacement, The North Pole is a way to interact with people beyond simple curiosity and start a dialogue about how they can turn this sad reality into a positive, constructive, and educational guide for organizing in their community.