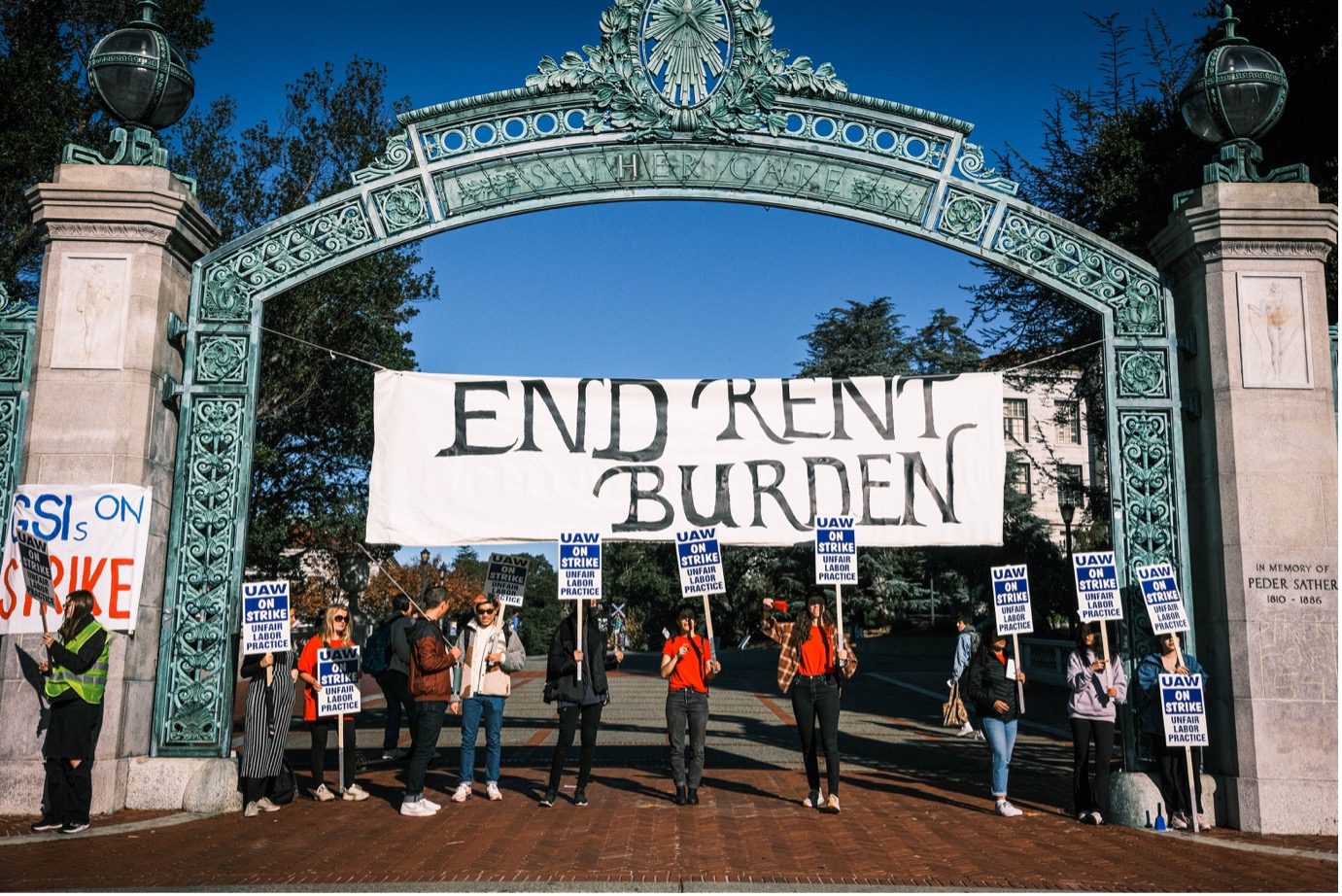 Below a banner reading "END RENT BURDEN," graduate students picketed at the turquoise Sather Gate at the University of California, Berkeley.
In late 2022, 48,000 UC system workers went on strike for six weeks to demand better wages and benefits. Rising rents had outpaced wage increases for years.
The mass action was the largest higher education strike in U.S. history—and the latest large-scale mobilization to address the high cost of living in California.
The UC workers won an increase in their nine-month base salary from $23,250 to $34,000 (or $36,500 at UCLA, UC Berkeley, and UC San Francisco, to be phased in by October 2024), but more ambitious demands like a cost of living adjustment (COLA), which would link future wages to rent burden, were conceded.
It's not the first time student grievances have intersected with the housing crisis. In fact, COLA served as a cornerstone demand in a wildcat strike initiated by UC Santa Cruz students in 2020. At the time, a collection of UCSC graduate students and faculty created a "rent burden calculator" to illustrate the gap between salaries and rents. Violent repression by UCPD led to nationwide media attention, expanding the strike to five other campuses. However, the strike faded with the onset of COVID-19.
Over the past decade, I have tracked a range of new actors and strategies within the housing justice movement, and their effects on housing policy, in the United States and Germany. The recent mobilization of UC graduate and postdoctoral workers—part of the class of renters—serves as additional evidence of growing tenant power.
Despite this win, in January 2023, the UC system announced plans to invest $4 billion into a corporate landlord: the Blackstone Real Estate Income Trust Inc. (BREIT). "We consider BREIT to be one of the best positioned, large-scale real estate portfolios in the US," said UC CIO Jagdeep Singh Bachher. The huge investment cements the UC's bifurcated role as both a public university and corporate landlord.
The UC workers aren't alone in their struggle against rent burden. Before the pandemic, half of California renters spent more than 30 percent of their income on rent, according to the California Budget and Policy Center. In early 2022, 33 percent of tenants surveyed said they either make late payments or feel unprepared for their upcoming rental bills. These figures are significantly higher for Black and Latinx families. Nationally, over 19 million households were rent burdened between 2017 and 2021, according to the U.S. Census Bureau.
A new politics of housing has emerged since the Great Recession, with increased tension between tenant coalitions and corporate landlords. Tenants have developed hundreds of tenant rights organizations to pressure policymakers to enact rental protections and build more affordable housing. National news coverage of the movement is also growing; New York Times reporter Conor Dougherty wrote that a "rent revolution is coming." Shelterforce published a series, Tenant Power Returns, covering the resurgent tenants movement.
In October 2022, California assembly members Matt Haney (San Francisco), Isaac Bryan (Los Angeles), and Alex Lee (South Bay) announced the launch of a Renters' Caucus, a political alliance to advance the interests of the 44 percent of Californians who rent yet remain underrepresented in Sacramento. In the California state legislature, only 4 members of the Assembly or Senate rent their homes—out of 120. According to CALmatters, at least 30 of their colleagues are landlords.
"[Landlords are] getting creative," Bryan said on KQED's Forum, "and legislators have to get equally creative in making sure that the housing landscape remains affordable and equitable."
The assembly members plan to address statewide rent burden and vulnerability to evictions and improve access to rental assistance and protections. One example of the caucus's planned policies is creating a rental registry to document landlord information and prices, allowing for easier enforcement of existing renter protections, like the 2019 anti-rent-gouging law AB1482.
The mass student strike and Renters' Caucus demonstrate two recent manifestations of political power. Historically, tenants have changed policy through a range of channels.
In 1977, renters in the Golden State created the California Housing Action and Information Network (CHAIN) during a protest wave that led to rent stabilization expansions in Los Angeles (1978) and San Francisco (1979). CHAIN became defunct in the mid-1980s, when President Ronald Reagan cut its funding source. For years thereafter, landlords had the upper hand. In 1985, the California legislature passed the Ellis Act, allowing landlords to evict tenants when they choose to leave the rental business, and in 1995 Costa-Hawkins, restricting how cities can regulate rental housing.
After the onset of the Great Recession, tenant activists picked up where CHAIN left off, establishing new statewide coalitions like Tenants Together in 2008, the Alliance of Californians for Community Empowerment (ACCE) Action in 2010, Residents United Network in 2014, and Housing NOW! in 2017.
California renters benefited from a major nonprofit ally in the AIDS Healthcare Foundation (AHF), which poured $65 million into advancing two bills on the ballot aimed at reforming Costa-Hawkins—Propositions 10 in 2018 and 21 in 2020. AHF allied with key grassroots tenant groups across the state like ACCE and the Eviction Defense Network. Despite 60 percent of polled Californians favoring rent control, both proposals were soundly defeated after an advertising blizzard funded by $136 million in contributions, largely from landlords.
Tenants have faced similarly high hurdles in the legislature. In 2021, the Tenderloin Housing Clinic in San Francisco and the Coalition for Economic Survival in Los Angeles lobbied for AB 854, a bill to reform the Ellis Act, which has been exploited in recent years by corporate speculators who are buying and flipping properties. The bill survived a Housing Committee vote, only to die on the Assembly floor.
In cities across the state, tenant unions have also grown in numbers. In Los Angeles, newer groups like the LA Tenants Union, Ground Game LA, and DSA-LA complement older groups like LA Community Action Network and Union de Vecinos. Two years ago, Ground Game organizers recruited a pro-tenant candidate, Nithya Raman, for Los Angeles City Council. She won, although since, she is facing hardships. This year, Raman helped to negotiate an ordinance that increases the number of homes covered by the city's rent stabilization ordinance.
Despite opposition from organized landlord interest groups, the 2022 midterm election demonstrated that tenant power is continuing to grow across the country. In Los Angeles County, tenants won two measures. United to House LA helped pass a new "mansion tax" on sellers of properties sold for over $5 million that could raise up to $1.1 billion annually to finance affordable housing efforts. Pasadena voters also passed new rent controls and just cause eviction protections. Tenant voters in LA helped elect pro-tenant council members Eunisses Hernandez and Hugo Soto-Martinez, and controller Kenneth Mejia.
Will the new renter advances tip the scales? Perhaps not immediately, but the growing power of tenants, from the streets to the statehouse, will give them a better fighting chance.