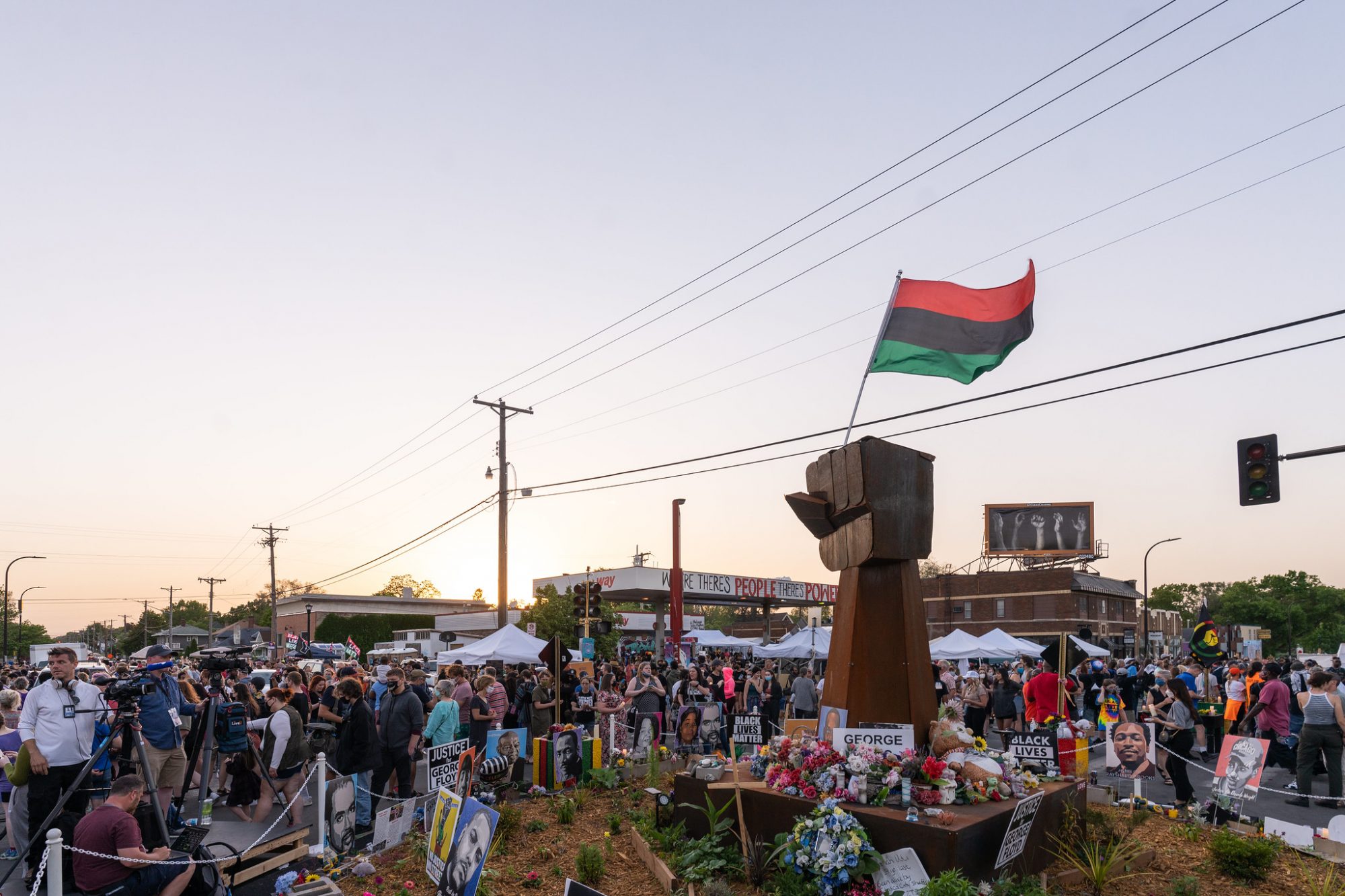 Amid the nationwide uprisings that sprang up after the murder of George Floyd at the hands of police in May 2020, protesters in several cities held their ground by occupying street corners, setting up tents in public squares, and even declaring entire city blocks autonomous zones until local governments adopted demands to defund police or take steps to dismantle policies and institutions that marginalize Black Americans.
More than a year later, many of these spaces have been cleared of the remnants of those occupations. While the demonstrators' demands—in most situations—were not met, the occupations did invigorate new life into spaces that had been sites or symbols of white supremacy.
According to a team of researchers at the University of St. Thomas in St. Paul, Minnesota, following Floyd's murder there was an explosion of anti-racist street art across the country, and these researchers believe it could be "the largest global explosion of street art addressing one single event or subject in history."
Two sites that received significant attention were in Minneapolis, Minnesota, and Richmond, Virginia. It's not surprising that the most notable art can be found in Minneapolis at the intersection of 28th and Chicago, the street corner where Floyd died. The area, which activists refer to as George Floyd Square, is bursting with art. The most noticeable piece is a black steel fist that was erected in the middle of the intersection. Gripping a Black liberation flag and surrounded by photos of victims of police brutality, the starkness of the sculpture forces people to slow down and take in the history and tragedy that took place there.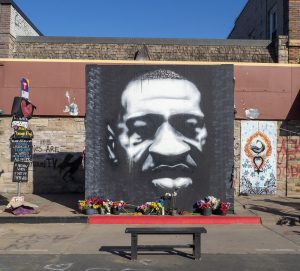 Just a few yards away on Chicago Avenue stands a 12 foot by 12 foot black-and-white mural of George Floyd created by Minneapolis native and street artist Peyton Scott Russell. At its steps are dozens of bouquets, handmade posters, illustrations, stuffed animals, and paintings left by visitors and community members.
A few more steps north, activists have commandeered a stretch of parking lanes and transformed them into a vegetable garden. Adjacent to it is a shuttered Speedway gas station that's been brought back to life by colorful portraits and geometric designs painted on the walls. On the side of the gas station shelter are big, bold letters painted in red and black that read, "Where there's people there's power."
The ground is covered with messages and hashtags written in chalk or paint. A bus station shelter has been modified into a community closet. A wall to the southeast side of the street corner is adorned by slogans that read "HEAL, INVEST, UPLIFT OUR COMMUNITY" and "ABOLISH POLICE" against flowery backdrops of red, pink, and blue blossoms.
"Look at the way in which people claim the space, how it became a kind of blank canvas, and they began to design it themselves. . . . Within people is an innate ability to create and imagine designs for themselves," says Jeanelle Austin, a volunteer caretaker at the memorial site. She grew up and lives just two blocks from where Floyd was killed, and believes that in the year following Floyd's death, the space has taken on a spiritual energy. "It was the people, the community, that came together and imbued it as a sacred space the day that George Floyd was lynched."
Austin sees the art found throughout 38th and Chicago as offerings. "What some people call art, I call expressions of pain." These expressions of pain, Austin explains, are important to addressing the institution of white supremacy. "People telling the story about what they are going through or what they have gone through with the Minneapolis uprising," is incredibly important, says Austin, "because when we look at the tie between racism and story, the history of racism is rooted in the stripping of story and the stripping of narrative."
That's why to Austin, art is so integral to the healing process for the communities around 38th and Chicago. Art is more than something to be put on display or consumed. It's an expression of emotion and grief, serving as an outlet for a community that has witnessed tremendous loss. Creating art puts agency into the hands of the creator to tell their own stories in contrast to being the passive subjects of someone else's narrative. "When we allow ourselves to release our emotions," she says, "oftentimes what is produced out of that is art."
[RELATED ARTICLE: Community Organizations Have to Talk About Police Violence Directly]
Marcia Howard, a local activist and schoolteacher, agrees. "Art has played a pivotal role, because from the very beginning, when people walked into the space, many of them were carrying handmade protest signs," Howard says. Whether it was temporary forms of art such as illustrations on the ground made from chalk or soluble paint to murals that adorn brick walls, Howard believes the widespread infusion of art is one of the reasons why the movement expanded worldwide. "The image of [George Floyd's] face was replicated in protest art," she says. "Time and time again, people started drawing his face in a way that was reminiscent of us seeing the Virgin Mary . . . You saw George Floyd's face glowing up all across the city, and in the square, it became part and parcel of the iconography of [George Floyd Square]."
The art that resulted from the protests became an integral part of the location's identity. "It became so integral to the city's perception of itself that the head of city artwork . . . would not open the square [to traffic] without finding something to do with the art," says Howard.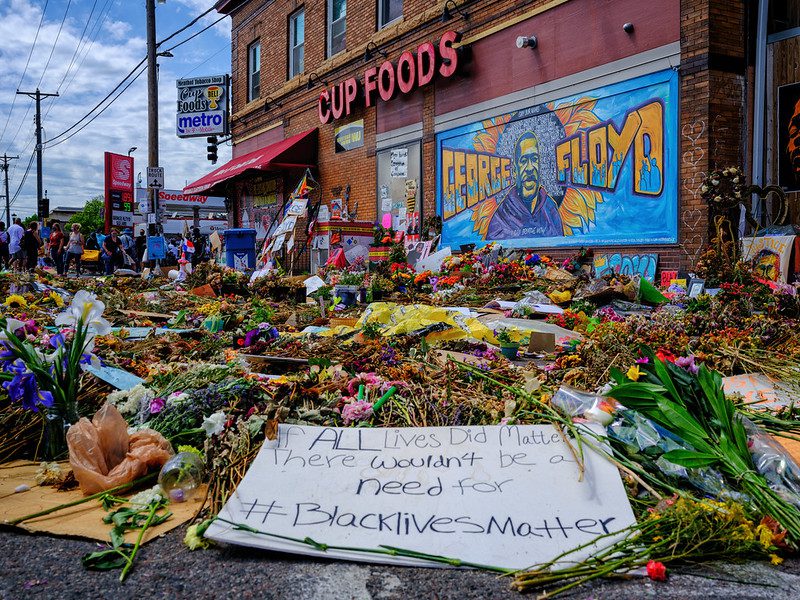 'This is Not the Space for Your Work'
A few works of art raised conflict and criticism from the community. For instance, a blue George Floyd mural that became an iconic image last year was painted by white artists from outside the community. The mural was commissioned by Cup Foods, the same business that called the police on Floyd.
"[The artists] didn't take the time to see if there were some Black artists who needed to be the ones to make this mural in this moment in time . . . and it created a lot of trauma within the Black muralist community. It took a restorative justice process to actually make right," Austin explains.
She recalls another instance when several other white artists from outside the community wanted to bring in large installations that would have taken up a large amount of space in the memorial site. "I had to tell them, 'No, this is not the space for your work because you're not trying to do your work out of your grief and process this uprising. You're trying to do your work to be seen.'"
Still, according to Howard, there is no formalized collective decision-making regarding what art pieces go up and what comes down. Art at George Floyd Square can be fleeting due to vandalism, rain, or simply other occupiers not liking it. "There has been artwork that came, saw the light of day for a day and someone in the cover of night or in broad daylight removed it because they [were] personally offended by it, or that they wanted to take it. So, most art in that space is in fact ephemeral," she says.
This does not mean that George Floyd Square lacks any form of organization. Community meetings led by local residents are held mornings and evenings to discuss general affairs from mutual aid to security. Communication takes place on cellphone group chats, and decisions are made in working groups that anyone can join. "You give services as your spirit moves you, so if you're a builder then maybe you'd be part of the building crew," Howard says. "We had chefs who'd become part of the crews that feed folks. We got a fashion student who just graduated from Minneapolis Community and Technical College as a fashion major. She's in charge of the People's Closet. . . . The only thing that we ask is that you don't do anything begrudgingly, people stay in their lanes, and they bring their gifts to the square."
The aim of the occupation has always been to pressure the city into meeting the protesters' list of 24 demands. "I live in America. I've been here 48 Black-ass years. America truly is dedicated to taking the easy route," Howard explains. "They are more than willing to give us a mural, a statue, a street name change, and still kill Black people on Martin Luther King Boulevard. So to be clear: in the more than a year that I stood on a barricade, it's been for justice."
A Responsibility to Engage
Not everyone is supportive of the occupation.
Amina Harper, an artist who lives a few blocks away from George Floyd Square, posted a long list of critiques of the movement on her Instagram page. "This so called 'movement' was always going to fail in this form," she wrote. "I'm just sick of my neighborhood being in the crossfire of its failings." In her post, she says that George Floyd Square organizers never went door-to-door to talk with residents about their needs, and have neglected the portions of the community that wanted them gone and the corner reopened to traffic. "They want people to come out to where they are and see what they do, but they are the organizational body with the organizational power. Meaning that it is their responsibility to engage the community as much as possible to make sure the entire community is getting its needs met. And if the community needs them to leave, then they need to leave. But clearly they have no intention of doing that."
Harper was also critical of the artwork that has become so prominent on the corner of 38th and Chicago, specifically the sculpture of the black fist. To her, the aesthetic design of a place speaks volumes about how the people in that space are treated and valued. "The chaotic aesthetic of George Floyd Square doesn't just tell you how the people who live here are valued, it tells you how the people maintaining the space value George Floyd. And that's heartbreaking." Harper opposes brutalist sculptures and architecture with harsh, angular designs that exude a very masculine and dominating energy.
"Aesthetics function to provide for the people who live in and frequent specific community spaces," Harper says. "They can be exclusionary or inclusionary; [they] can represent the culture of the people living in the area, or they can represent the cultures of people trying to colonize it. These things are extremely important to consider when building sustainable futures where the most marginalized feel like they have a place that takes care of them as much as they take care of it."
Harper is not the only one weary of George Floyd Square. Council Vice President Andrea Jenkins, whose ward includes George Floyd Square, supported the reopening of 38th and Chicago to traffic, saying that residents felt trapped in their homes and that businesses lost revenue with the intersection closed.
Additionally, standing guard among the municipal workers who cleared the barricades from George Floyd Square in June were members of The Agape Movement. The nonprofit community patrol group is composed of ex-gang members who had originally been a security force at the square since last year. In an interview with the Star Tribune, Marquis Bowie, co-founder of Agape Movement, said the reopening was about creating neighborhood-based economic opportunity. He called the protesters "outsiders" who were holding back a neighborhood that has already suffered for decades from a lack of investment and jobs.
Today, traffic is flowing through the corner, although at a limited capacity. The memorial, and the protesters who look after it, stand on the sidewalk now that the barricades are no longer there to protect them from traffic. The city plans to work with Floyd's family and allocate $4.7 million to build a permanent George Floyd memorial.
A Focus on Monument Removal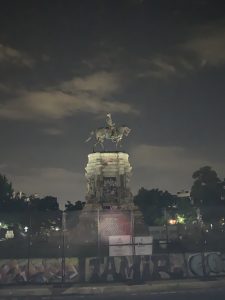 Richmond, Virginia, is a city where the echoes of slavery haunted the city skyline long after the end of the Civil War. Monuments dedicated to Confederate figures stare down menacingly, in a city whose largest racial group is its Black residents. It is therefore poignant that when the national wave of uprisings washed over Richmond, demonstrators marched down Monument Avenue—a street lined with Victorian-era mansions in the wealthiest and whitest neighborhoods—and began an occupation of the Robert E. Lee statue, which has stood since 1890. Their demands? Justice for Marcus-David Peters and the removal of Confederate monuments.
Floyd's death struck a nerve with a city that just two years prior had lost a community member to police violence. Marcus-David Peters was an unarmed 24-year-old Black high school teacher who was shot and killed by a Richmond police officer while suffering from a mental health crisis. It was here that the roundabout holding the Robert E. Lee statue gained its unofficial new name: Marcus-David Peters Circle.
From the beginning, art played an integral role in reclaiming the space. When protests first broke out, demonstrators painted slogans at the base of the Lee statue decrying police violence and racism, and commemorating victims of police violence. "The graffiti definitely helped dictate the terms of the space," says Lawrence West, the founder of Black Lives Matter Richmond.
West notes that the graffiti and protest art can help walk people through the process of challenging their own beliefs. People may come with a preconceived support for police, but art can challenge that opinion. "It creates the dialogue to be able to say, 'that particular job, you can't have good and bad ones. They gotta be good.'"
The space around the statue soon became a grassroots community space. Various groups held workshops and teach-ins over the summer of 2020. Tents were set up to hand out free snacks and water. Memorials popped up for victims of police brutality, each image accompanied by a brief description of the life lost. Basketball courts were wheeled in for impromptu pickup games, as were benches and chairs for places to rest. A vegetable garden was even started by a Southside Richmond resident nicknamed Bea the Gardener.
Much as at George Floyd Square, there was no formalized decision-making process. "It was just really organic," says West. "People who are natural leaders, they just lead. So for instance if I call an event, then it's just called. People show up or they don't." West can't name any particular conflicts that have broken out among community members. Even many of the neighbors in the surrounding area were supportive of the statue's removal. However, referencing Bishop T.D. Jakes, West said, "I see some of the neighbors as for what we're for, and some neighbors are just against what we're against. But I think only a very few neighbors are for us as individuals."
West explained that the mostly white and wealthy neighbors may share similar goals—police reform or the removal of statues—but there was little interaction between them and the occupiers, who were largely Black. "They're not used to our culture," he says. He juxtaposes the typical status quo on Monument Avenue—quietness, dog-walkers, and trimmed hedges—with those who make up the occupation, who come from all around the city. "Sometimes we talk loudly, sometimes we joke loudly, sometimes we play-fight with one another, sometimes we walk up to cars and just hang out by the side. They're not used to any of that. So they're against who we are as far as our culture and the way that we interact with one another."
On Jan. 25, the city of Richmond installed a fence around Marcus-David Peters Circle. While this has deterred many groups from returning to the area, West, along with a small group of others, still staffs a tent on the adjacent street, handing out flyers and water bottles and engaging onlookers. The base of the statue, decorated with graffiti, remains there along with now long-untended gardens, memorials, and furniture brought by demonstrators over a year ago. When asked about what he personally envisioned for the future of the space, West explained that it needed to be a community space that reflects all of Richmond. "It needs to stay somber, where people are able to reflect and bear witness to the plight of African Americans and all we've had to deal with."
"Community spaces deal with community issues," West says. "It's not made for just the people who are able to buy the property. A lot of times when the city does something, they do it for the tax holders that are closest in proximity. However, that doesn't deal with the issue of redlining, and people who want to be in that particular area." On Monument Avenue, most homes are worth over $1 million. It's one of the wealthier—and the whitest—areas in the city. And that's no coincidence. As in every other American city, the legacy of redlining policies is still evident in the racial and economic makeup of residents in the Fan District, as that part of Richmond is called.
"If they're public spaces, that means anybody from the public should be able to enjoy those spaces," West says. One way to make such spaces more inclusive is by providing amenities that different populations could use. "If you're giving out mutual aid to individuals, people who own million-dollar houses don't necessarily need mutual aid. However, the people that make $25,000 or less annually, those people are more apt to take the mutual aid and it attracts them."
When asked about the goals of the Richmond Black Lives Matter chapter, West replied that many of them had been achieved. His greatest hope was that it would spur a community organization to sprout up and lobby on the behalf of disenfranchised working-class people, and he believes that his group's inception and rising prominence in local politics, along with other major policy victories, has made serious progress. "The City of Richmond has started to ask [BLM Richmond] to be a part of various commissions and we are a Marcus Alert stakeholder." Marcus Alert is a statewide mental health alert system to ensure that behavioral health experts are involved in responding to individuals in crisis, including by limiting the role of law enforcement in such calls. The alert system officially was implemented on July 1 after legislation was passed by Virginia state legislature and signed by Gov. Ralph Northam in December 2020.
On Sept. 8, the statue of Confederate general Robert E. Lee was taken down from its pedestal, bringing a major victory to local activists who have long pushed for its removal. There is a noticeable gap in the landscape of Monument Avenue. But to many residents it is not an absence of anything; it represents a long-hoped for opportunity to build something representative of all Richmonders.