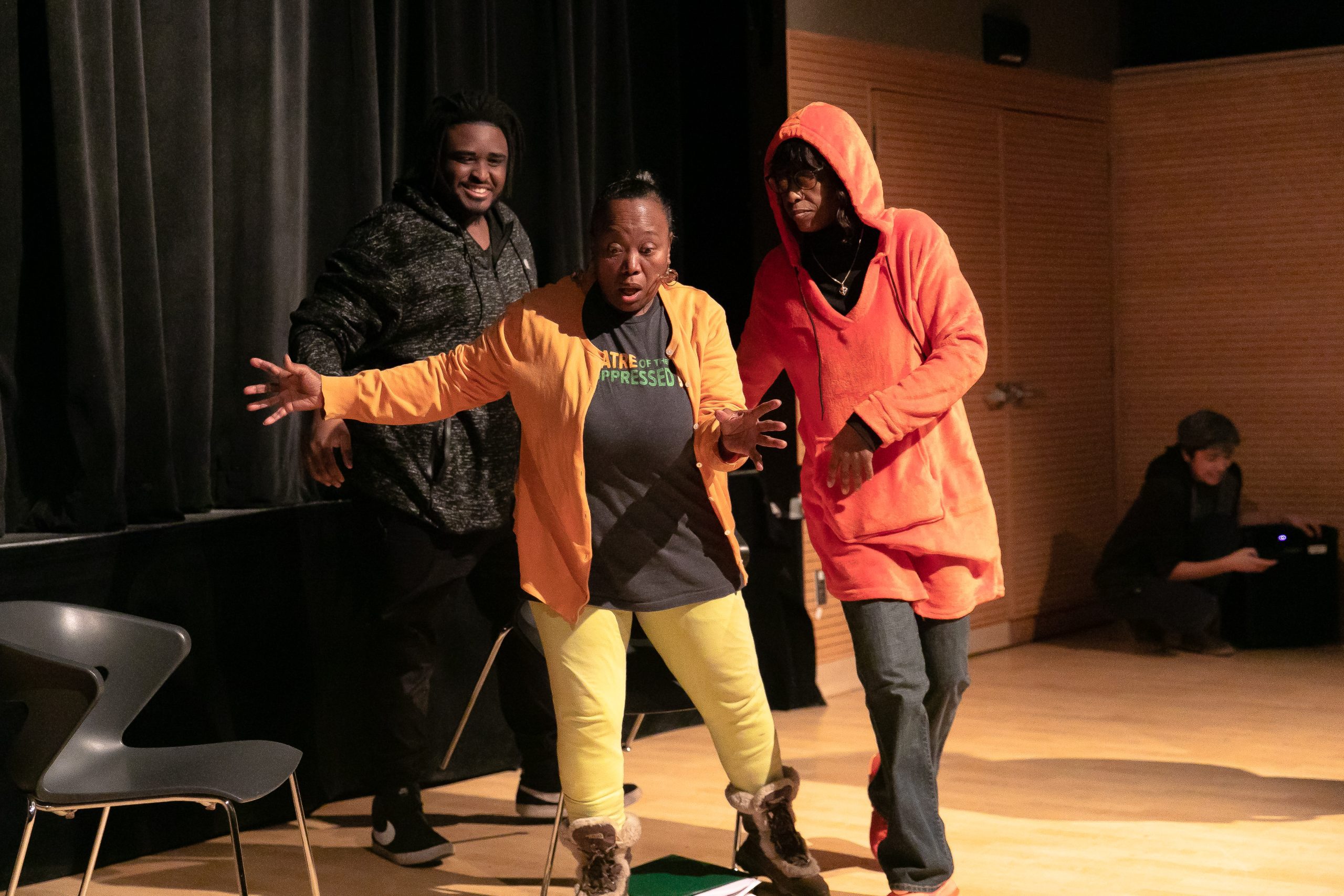 On a chilly Thursday night in early December, approximately 50 people file into the Upper West Side's Bernie Wohl Center, making their way past a welcome table on their way to the community center's neatly arranged folding chairs. Dim stage lights focus on two presenters at the front of the multi-purpose room: Sulu LeoNimm and Liz Morgan.
After introducing themselves they begin with an exercise, instructing the crowd to use the index finger of their dominant hand to draw circles in the air. "Now make it bigger," says LeoNimm. "Bigger! Take as much room as you need."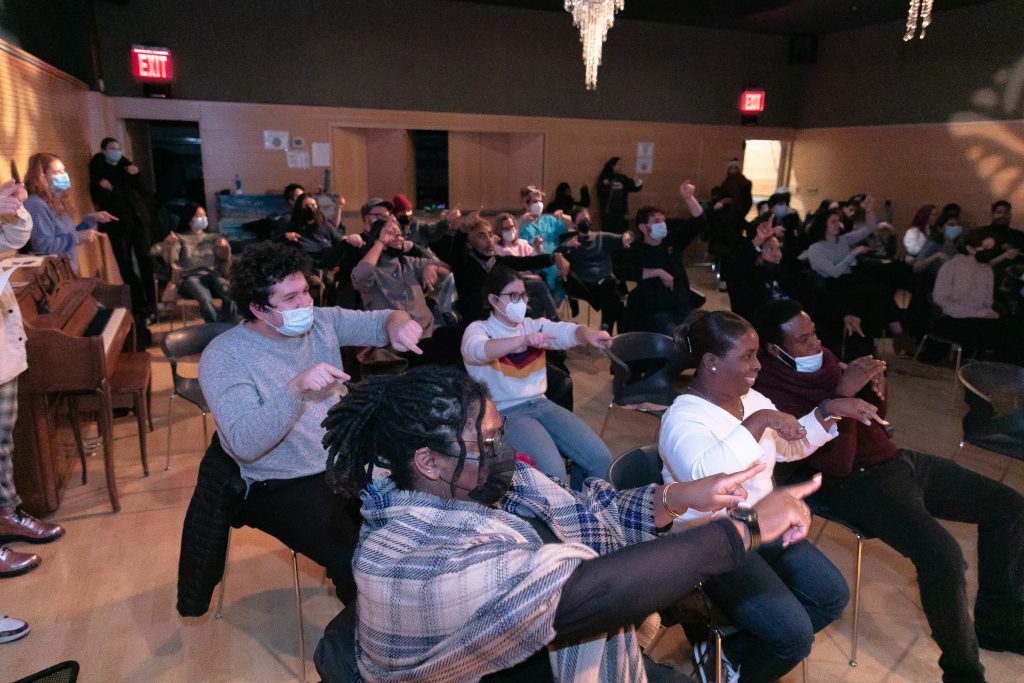 LeoNimm then instructs the audience to try to do the same thing with their nondominant hand. A few moments later, there is a mess of flailing fingers, drawing various not-quite-circles. This silliness breaks the tension, and those who were once strangers seated next to each other are at least chuckling and sharing a wry comment or two.
Energy established, the presenters move on to another exercise. It's similar, but this time the audience is asked to draw the price of the rent or mortgage they're currently paying. Audible groans and nervous laughter break out as invisible numbers fill the air. "Did you write them as big as they feel?" Morgan only half-jokingly asks. "It's the first of the month, y'all."
The exercises weren't just icebreakers. They were an introduction to the process of the Theatre of the Oppressed NYC (TONYC)—a nonprofit theater company that uses several methods of participatory theater, to engage in civic discourse about real-world problems—where LeoNimm is executive director and Morgan is director of training and pedagogy.
The organization breathes new meaning into the idea of "community theater," addressing real-world issues with the art of theater, in an attempt to arrive at some solutions. Most of the time, the solutions are derived directly from audience participation.
In contrast to the many classic holiday shows happening in the city this time of year, like The Nutcracker or A Christmas Carol, TONYC chose to discuss an issue on many a New Yorker's mind for the past year: the end of the pandemic-era eviction moratorium.
Early on in the response to COVID-19, eviction and foreclosure moratoriums were enacted on a variety of levels with federal, state, and city policies protecting tenants and residents from becoming unhoused. The federal moratorium ended Oct. 3, 2021, and the New York state moratorium ended on Jan. 15, 2022. According to reporting from City Limits, the New York City Department of Information reported 1,527 residential evictions from January through July 2022. Countless more tenants are still carrying a burden of back rent from the economic disruption, trying to navigate assistance programs, housing court processes, and conversations with landlords.
A series of scenes on the topic are being performed at this event by the TONYC Rapid Response Troupe, a group of actors that got involved with TONYC through past partnerships between the theater group and community organizations including Housing Works, Police Athletic League/Morrisania, and Fortune Society. TONYC performances are typically created in collaboration with a single organization on a specific topic usually related to what the partner works on. However, the rent moratorium affected so many people within the diverse troupe that the organization developed its own production on the topic.
The theater experience is titled 1-800-KEEP-UR-CRIB and loosely follows the plight of Jay, a single working mother who hasn't been able to pay rent for an entire year. She has a job at the local Target, but can't make rent with the few shifts she's been given.
The in-person performance was prefaced online with a trailer or teaser of sorts, labeled "Episode 1," which introduces Jay, played by Gariyana Williams, and her dilemma. Viewers of Episode 1 were surveyed for their ideas about what Jay should do, and invited to register for the in-person performance, which was pitched as both a play and a housing workshop.
The Dec. 1 performance plays out scenarios based on the popularity of answers received by the team through completed online surveys, but also incorporates feedback from the audience in real time. It begins with an interpretive performance of Jay's anxious thoughts about her current predicament. Since the end of the emergency eviction moratorium, she explains to the audience, her landlord has been constantly harassing her for back rent. She builds up the courage to knock on her landlord's door. Mr. Bourgeoisie, played by Amorarey Sandoz, who represents a stereotypical money-hungry trope of a landlord, answers.
Jay proposes a real-world solution that New Yorkers in similar situations can take: If her landlord would formally start the eviction process and go to the courts with an eviction letter, she could then take the letter to the New York City Human Resources Administration (HRA), and the HRA would pay the past due rent.
Mr. Bourgeoisie then presents a complication. The formal eviction process requires time and money. His time and his money. He doesn't agree to her proposal and sarcastically proposes another solution: "Pay your rent."
LeoNimm and Morgan turn to the audience for ideas. It's clear after a five-minute discussion that the audience is a mix of renters and landlords with varied levels of knowledge of the relevant bureaucracies.
That's the goal, according to Morgan. She says that TONYC will intentionally invite some experts to performances like these ("We want to know that there are at least a few really knowledgeable people peppered in"), but the rest of the audience members are spectators from all walks of life.
Lucy Block, the senior research and data associate for the Association for Neighborhood and Housing Development, a trade organization for housing and community development nonprofits in the city, is one expert member in the audience. Perhaps strategically, she is picked out of the crowd to stand in for Jay after LeoNimm and Morgan query the audience about what Jay should do. This is a central Theater of the Oppressed exercise, allowing audience members to try out their ideas by stepping into the scenario. Block had suggested strength in numbers, organizing other tenants of the same landlord.
So, on-stage, Block, as Jay, knocks on her neighbors' doors, ad-libbing with other actors from Rapid Response Troupe about shared experiences. She finds that one tenant has been served with an eviction notice, despite paying rent on time. That tenant however has been constantly complaining about the state of her apartment: a rodent problem, mold, all kinds of leaks that haven't been fixed, and she suspects this is the reason for her eviction.
There is a sigh of relief from Jay, who feels less alone and is starting to establish a pattern of bad behavior from their landlord. LeoNimm and Morgan again turn to the audience. What should be done with this information?
They pick on a random audience member this time, who suggests that the new information implies that attacking the landlord could actually make things worse for everyone because he is already resistant, or even retaliatory, to complaints. They suggest trying to empathize with him instead.
In contrast to previous interactions, this version of Jay doesn't raise her voice. In a calm tone, she explains that she knows navigating the end of the moratorium isn't easy on anyone. Her landlord has to be attentive to all the complaints of his tenants which Jay acknowledges can't be easy. She says she knows Mr. Bourgeoisie would have to use his money and his resources to navigate the court systems to receive the money he was owed, and start that process all over again for each tenant who wanted to use the HRA process. However, Jay says, for her part she is in a constant state of anxiety trying to field resources to help her pay her rent.
But Mr. Bourgeoisie maintains the same aloofness with Jay as he did in their first interaction, appearing unmoved by her anxiety and uninterested in reflecting on his own stress around money. Revealingly, Mr. Bourgeoisie still doesn't know Jay's name, though he knows the name of the tenant he's been trying to evict.
Jay comes back to the same solution—If Mr. Bourgeoisie starts the eviction process, he'll get his money. Mr. Bourgeoisie refuses again. This time he points out that if he does this for her, he'll have to do it for all the tenants.
The audience gets actively engaged. One theatergoer says he doesn't like how Jay leveraged the personal information of another tenant to help herself out. Another points out that they'd been through the process Jay is proposing, and that it took so long that they accrued more debt during the wait.
Gui Alicindor—a landlord and an outgoing employee of the HRA after 27 years (and husband to one of the cast members)—argues that it is in the best interest of everyone to tap into the established process. "The HRA will pay. You will get your money," he says, sparking debate among audience members about whose time and whose resources were going to be spent in the process.
Several other solutions are fielded, including Jay moving back in with her mother or Jay going to a nongovernmental organization for help. The actors run these scenarios. At home, she is confronted with a nagging mother who doesn't respect her privacy. At the outside spoof organization "Charity's Charity," she runs into an equal amount of bureaucracy and misses the deadline for funding.
Audience members are going back and forth with one another, approving bits and pieces of one solution, and disapproving parts of others. It is clear that there isn't one right answer, and different people approach different solutions with varying levels of skepticism.
"This is the solution that the government has given us. But the consequence is that in this system, neither party is feeling supported by the government," LeoNimm reminds the audience, drawing their attention to the bigger context.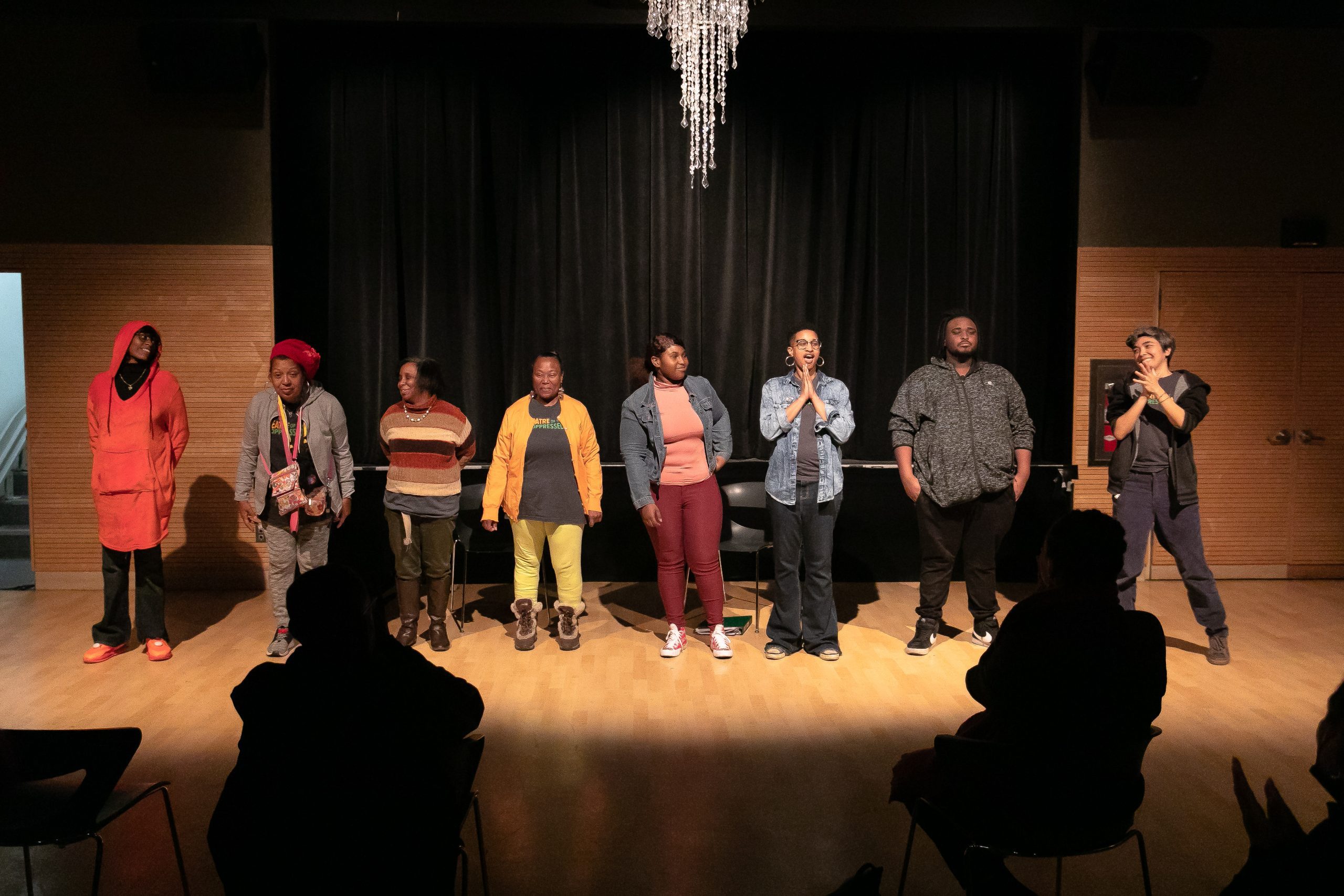 The end of the play doesn't stop the discussion. Audience members continue the conversation while helping clean up and at the resource tables. Though it is plain to see that different people walk away with different impressions and ideas, a balance of opinions, solutions, and emotions is the best kind of outcome for a TONYC event, according to Morgan.
"It's really easy to look at this kind of format and think 'Oh, this must be about solving a problem,'" she says. But "Augusto Boal, who created this methodology, calls this rehearsal for real life. So the idea is for folks to be more prepared the next time they're faced with a similar situation."