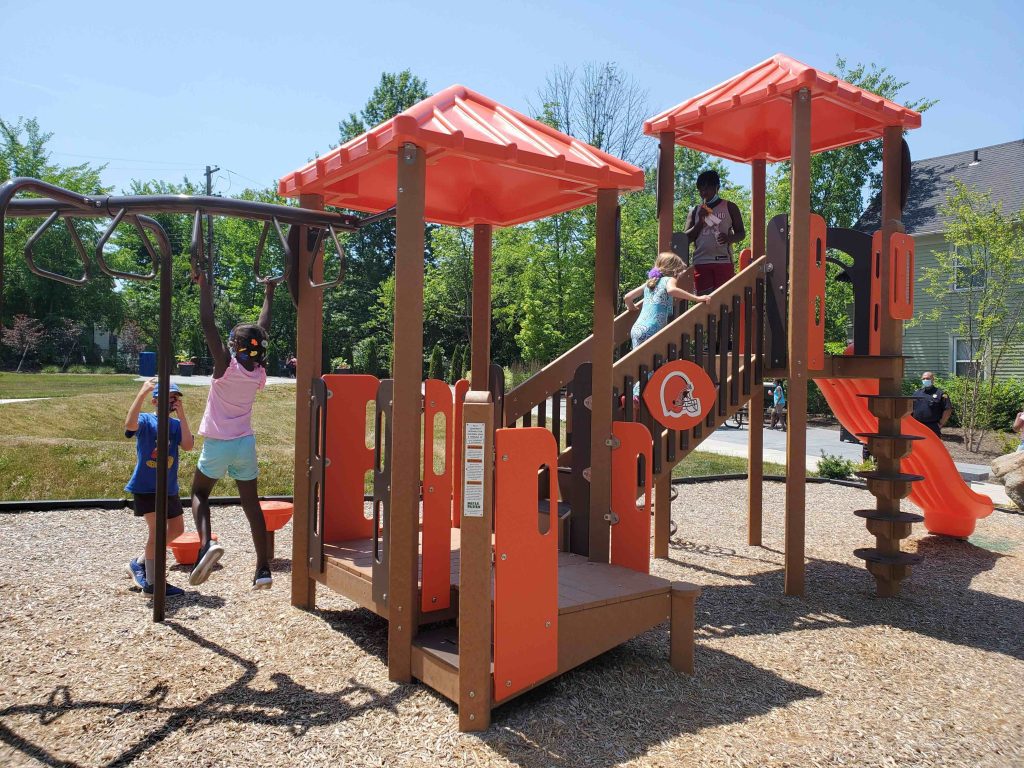 Cleveland, like many legacy cities, is a community of contrasts. Once one of America's largest urban centers in the early 20th century, reaching a peak population of nearly 1 million residents in 1950, the "Sixth City" experienced severe population loss due to suburbanization, deindustrialization, and white flight. Today, the urban fabric consists of several economically depressed neighborhoods and a few growing ones, surrounded by a nationally renowned regional park system, best-in-class cultural institutions, and one of the world's leading hospitals.
But when walking the city streets and speaking with residents who were born and raised in "The Land," the narrative you hear is more complex.
Depending on which side of the Cuyahoga River you find yourself on, you might hear stories of redlining and blockbusting, predatory lending and property foreclosure, and fears that any sort of private or public investment will not serve the needs of residents. As place-based practitioners in Cleveland, representing the Western Reserve Land Conservancy and LAND Studio, we grapple with these issues daily.
Trauma in the built environment can come from deforestation of city streets, pollution of waterways, the division caused by overbuilt highways, and disinvestment in public assets like parks and recreation centers. Trauma is also born out of discrete events or the actions of individuals, such as the murders of 11 women on Imperial Avenue, the killing of Tamir Rice, or the slaying of Officer Derek Owens, that leave neighborhoods stigmatized. Long term, a group of residents can also experience trauma from decades of disinvestment, vacancy and abandonment, and demolition.
Research confirms that the type of neighborhood you grow up in affects your physical and emotional health, not to mention your economic prospects. There is a collective understanding that a child who experiences trauma needs dedicated attention to heal and recover. But how do we apply those techniques to a neighborhood, or even an entire city?
Time and time again, the projects we work on confront the same issue: trauma.
The Garden of Eleven Angels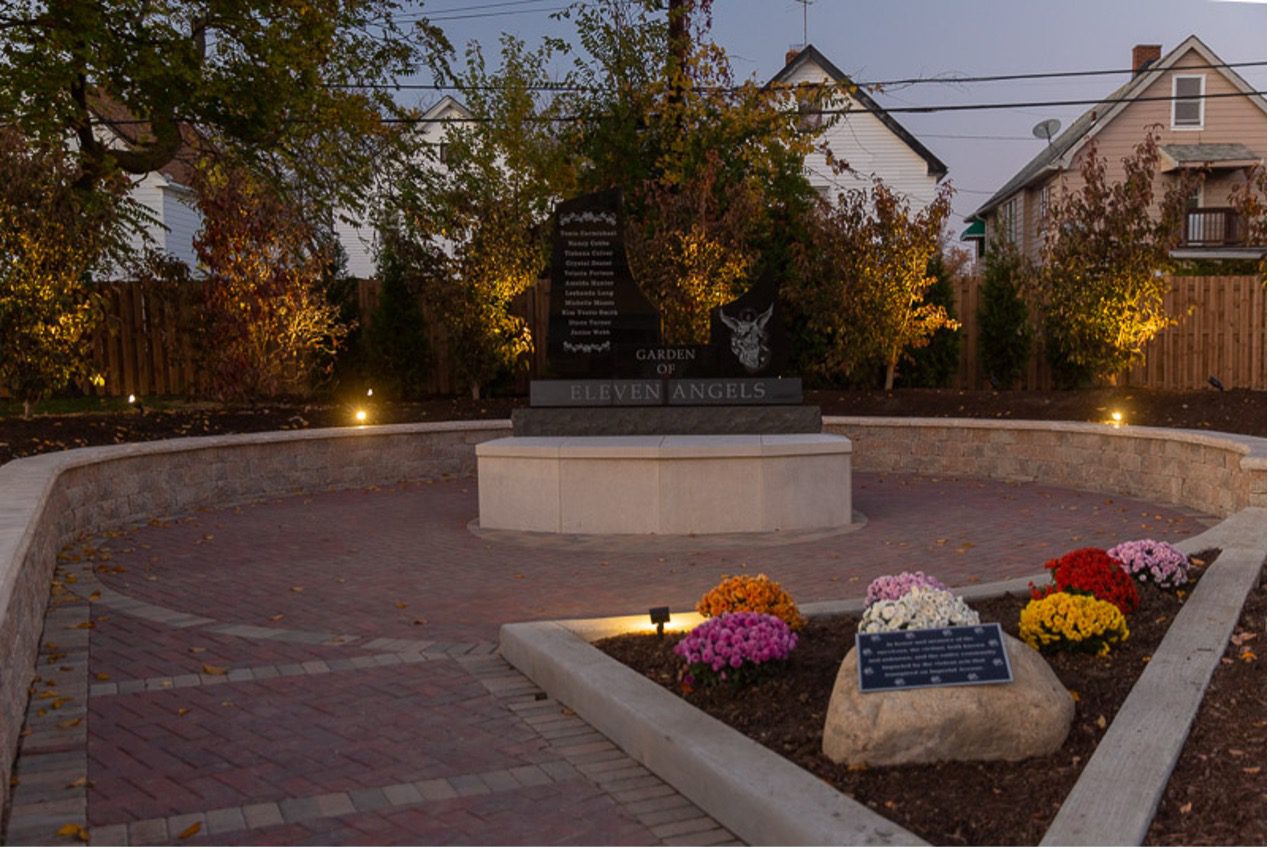 In 2009, the bodies of 11 women were discovered buried around a house near the corner of East 123rd Street and Imperial Avenue. Anthony Sowell's serial murders made national news and put a horrendous spotlight on the already overburdened community of Mount Pleasant.
The house where the tragedies occurred was demolished in 2011. A coalition was formed to design, fund, and build a memorial in the victims' honor. It represented the victims' and survivors' families, local places of worship, elected officials, city administration, and nonprofits. Kevin Robinette, an architect and former Cleveland AIA president, drew up a design for a memorial plaza pro bono. There were gatherings, ceremonies, and vigils, but years went by without any discernible action. Properties adjacent to the lot where Sowell's house once stood were slowly condemned and taken down one by one. Eventually, eight lots were left vacant, an open wound in the surrounding neighborhood.
In 2021, the council member representing the neighborhood and the director of a local community development corporation (CDC) became embroiled in political wrongdoing and were subsequently convicted under federal charges, further delaying the project.
The long wait for the memorial was an added tragedy for the families who were advocating for it. The Western Reserve Land Conservancy (the Land Conservancy) needed to establish trust with a community that had been disappointed.
Jacqueline Gillon, manager of community engagement and diversity at the Land Conservancy, made that possible. Beginning in 2016, she advocated for the families. She demonstrated to them that her priorities were in the right place: seeing the project come to fruition.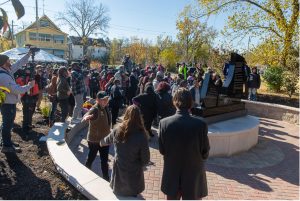 It took 12 years, but in the end, the Garden of Eleven Angels opened with a dedication on Nov. 6, 2021. The memorial includes flowering trees, shrubs, and perennials, and an infinity-symbol-shaped plaza that draws visitors into a space for reflection. The names of the 11 victims are inscribed on a stone memorial, along with a scripture passage and an excerpt from Maya Angelou's poem "And Still I Rise." Multiples of 11, in tree clusters and paving patterns, honor the memories of the victims.
Projects like this one are complex—not every affected individual wants the same results, and every individual experiences a traumatic event differently. In this case, even the name of the memorial invites debate: although 11 bodies were found in Sowell's house, the true number of victims is unknown. For this reason, a plaque on site acknowledges "both known and unknown" victims, and references "the entire community impacted" by the murders.
The garden is now a space that offers the victims' families, survivors, and the larger community a place to heal and reflect, and gives life back to a landscape previously scarred with trauma.
Ubuntu Gathering Place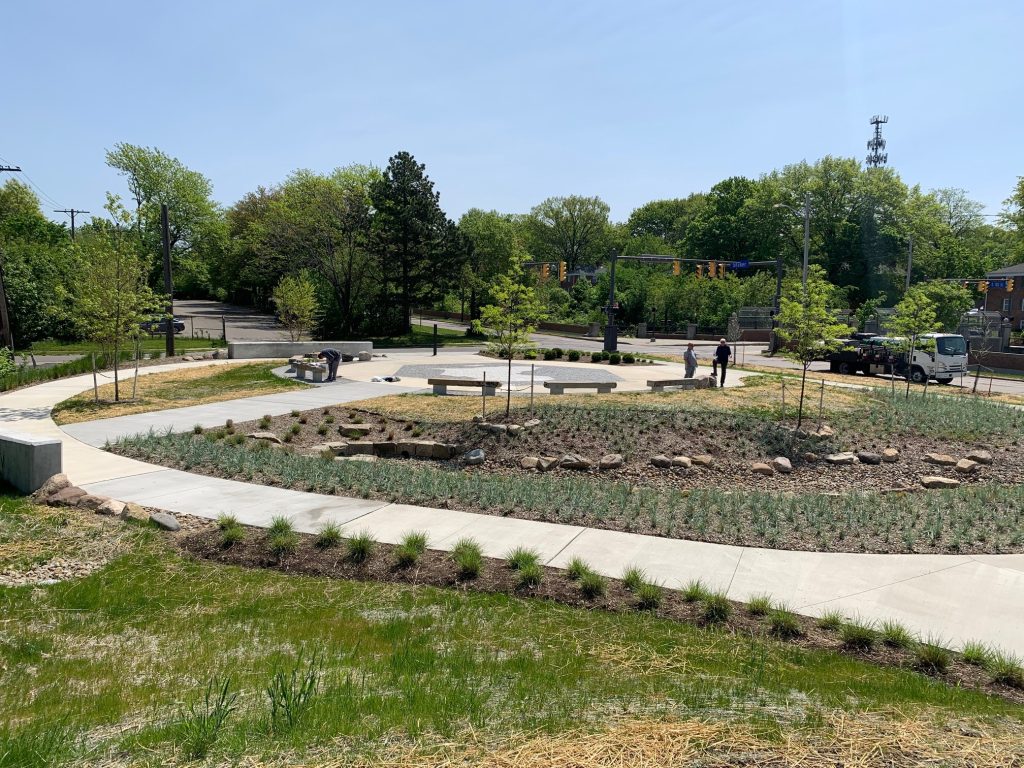 The Buckeye-Woodhill neighborhood has experienced a different kind of trauma: the long-term impacts of poverty and deteriorated housing conditions, the results of disinvestment and white flight that happened in Cleveland in the mid-1900s. Now, the majority of the neighborhood is made up of Black residents, and the median household income is just $18,185.
Throughout the community's changes and challenges, the East End Neighborhood House (EENH) has adapted to meet its needs. It provides wraparound support services to clients of all ages, including early learning enrichment, after-school programs, and services for older adults. Most recently, it started the Ubuntu Gathering Place, a project that restored an abandoned half-acre lot to create a vibrant outdoor space for celebrations, community gatherings, funerals, public performances, how-to programs, gardening activities, arts and crafts, and more.
[RELATED ARTICLE: How Much Time Does Trauma-Informed Community Building Take? It's Complicated]
Ubuntu, an African philosophy that means "I am because we are, therefore I am," is the central tenet of the project: it's intended to bring people together in the spirit of community and cultural heritage. The Ubuntu Gathering Place builds on ongoing efforts by the project team and other community members to alleviate racial and economic disparities and revitalize the neighborhood.
The space also addresses climate challenges faced by the neighborhood and wider region. Raw sewage discharge into Lake Erie, caused by combined sewer overflows from the outdated infrastructure that underlies much of Cleveland and the surrounding watershed, challenges the ecological health of our Great Lake. The lot once housed a car dealership that was demolished, leaving land devoid of vegetation aside from sparse grass. Compacted soil contributed to stormwater flooding issues that challenged the EENH campus and the surrounding area, a major commercial and transit corridor. The team made green infrastructure a central focus of the project. Bioretention cells, sometimes called rain gardens, are landscaped depressions that capture and treat stormwater runoff. On the Ubuntu site, these cells filter out 244,000 gallons of stormwater every year.
By working in this neighborhood for a number of years, the Land Conservancy and LAND Studio built trust among residents, local elected officials, and neighborhood-based organizations to coalesce around a shared vision of community strength and environmental justice.
Brighton Park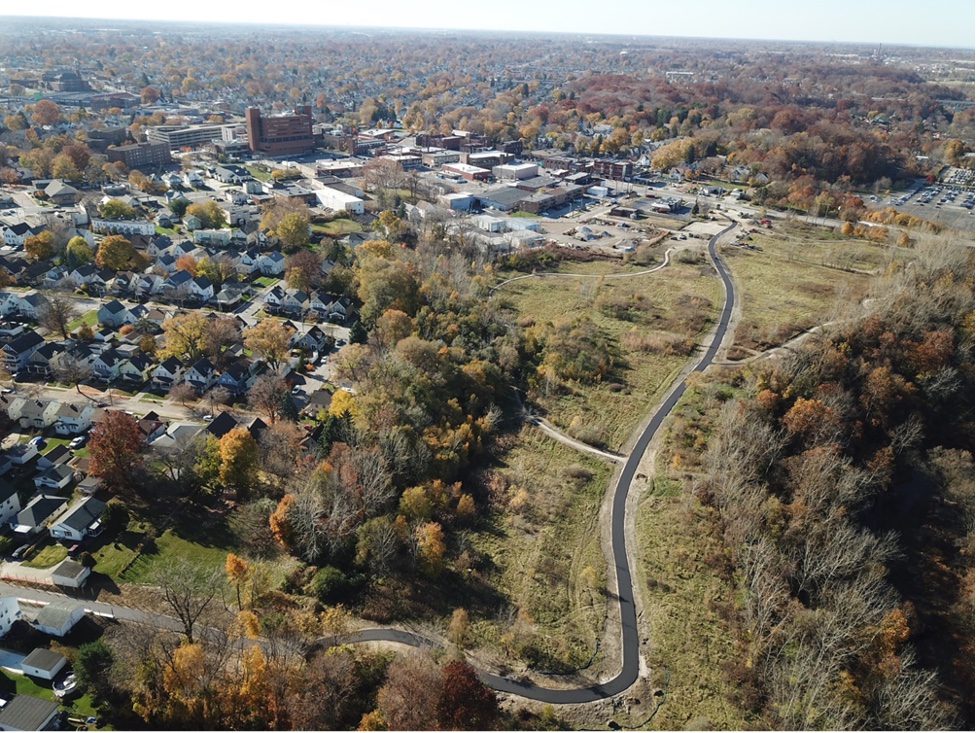 For decades, residents of the Old Brooklyn neighborhood lived next door to the defunct Henninger landfill.
The landfill hadn't been active since the '80s, but its proximity to Big Creek posed a problem. Throughout the history of Cleveland, many of our waterways have experienced extreme degradation due to their proximity to severe industrial uses. Community members told us that efforts to add more hazardous materials to the landfill were defeated by residents in the early 2000s. The site was chosen for restoration.
The Land Conservancy later held community meetings to determine the future of the space. A trail was planned to connect an existing route to the Cleveland Metroparks Zoo, but community members didn't want the park to just be a place for people to walk through. So additional trails were added to traverse the park itself.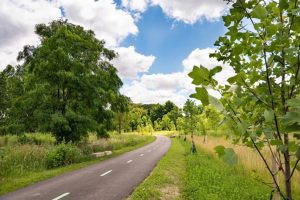 Trail construction finished in December 2020, and ecological restoration was completed in the spring and summer of 2021, including tree plantings, invasive species treatment, meadow restoration, and green infrastructure.
Today, Brighton Park makes Old Brooklyn more walkable and bikeable. The ecological restoration of the property additionally improves the quality of surface water runoff, increases the viability of habitat on the former landfill, and adds to the city's tree canopy.
Derek Owens Memorial Park
On Feb. 29, 2008, Patrol Officer Derek W. Owens was shot while responding to a call to a vacant house in Cleveland's Mt. Pleasant neighborhood. He died of his injuries on March 1, at the age of 36.
By all accounts, Owens was a loving, joyful person. He graduated from the Police Academy in Cleveland in 1999 and worked in the Fourth District for almost 10 years.
Nearly a decade after Owens' death, the Cleveland Police Foundation (CPF) convened a conversation with his family at the Saint Luke's Foundation, a community-centered philanthropy that serves the southeast Cleveland community and is located less than a mile from where Officer Owens fell. The idea was born that CPF would take ownership of the vacant lots where Officer Owens responded to the 2008 call, and transform the land into a living memorial.
Handling the complexities of rebuilding after trauma requires time spent listening to people in the affected community. This enables a better understanding of the stakeholders in the project, and why they're connected. Derek Owens' murder was a trauma to his family, to his colleagues, and to residents of the neighborhood where he was shot. But policing itself has also traumatized communities, and a memorial like this one is at once a public asset and a reminder of a violent event.
In 2017, CPF formed a partnership with the Western Reserve Land Conservancy and LAND studio, a nonprofit working in public art and other projects in Cleveland, to secure the properties and imagine a design. We wanted the space to honor Derek Owens's life and legacy while serving the community with aesthetics, recreation, passive contemplation, and gathering space.
As the project developed in earnest, support grew. The Cleveland Police Foundation worked closely with the Land Conservancy to acquire and consolidate the lots. A committed team of residents, foundations, nonprofits, designers, and contractors all came together to complete the vision. A variety of groups donated labor and equipment, including the Cleveland Browns and local unions.
The design incorporated three parcels of vacant land into a park that contains natural and built play features (including grass mounds and play equipment), benches, a concrete plaza with a stamped labyrinth, a Little Free Library, and a variety of trees and plants.
It truly took a village to build Officer Derek Owens Memorial Park. The dedication was held on Nov. 9, 2019.
Giving Residents the Pen: Community-Led Design
Land can be manipulated and scarred, but it holds our memories and stories: small moments like a family cookout or block party, or larger events like parades and holiday celebrations. These projects demonstrate how a community-led design process can revitalize a place that has experienced serious trauma.
These spaces aspire to honor the past while promoting imaginative ideas around land use and green space programming. Communities in the U.S. are often fixated on a growth mindset: if you aren't gaining population, you are falling behind. But existing residents are the greatest assets within a neighborhood, and where investment should occur. All neighborhoods deserve to be safe, healthy places where people can flourish.
If you are considering doing this work, certain questions may arise. How do you bring together varied entities—such as a public art nonprofit, community development corporation, and regional land trust—to collaborate? Addressing systemic issues requires bold leadership. What some would call mission creep—taking on a new project that does not align with old goals—could actually mean that an organization is stretching and growing in important, necessary ways.
When working in communities that aren't familiar to you, relying on partners is vital. It's important to be invited into the community, whether by a neighbor, family member, local elected official, or another project partner. No community is a monolith, however, and the visions of stakeholders vary. Keep an open-minded attitude—a memorial space doesn't have to look one specific way.
How do you determine when a site needs a transformation? Who will own and maintain the site in perpetuity, and which group will take charge of programming? There are no right or wrong answers to these questions, but each necessitates conversations. Trust develops slowly over time, through transparency, teamwork, and the sharing of different truths. We encourage you to consider how your work can foster healing in spaces that have experienced trauma in your own community.