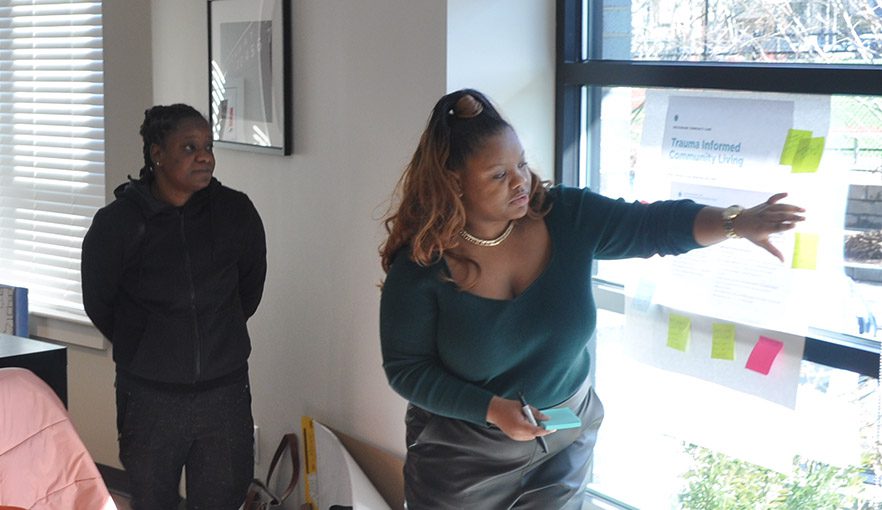 Since 2008, BRIDGE Housing Corporation has been the master developer for a multiphase project to renovate, expand, and revitalize San Francisco's Potrero Terrace and Annex public housing complex. The redevelopment effort, part of the city's HOPE SF initiative, ultimately will replace 619 public housing units and add 1,000 new units for a mix of incomes.
From the project's early stages, BRIDGE set about to employ a holistic community engagement approach. Its pioneering trauma-informed community building (TICB) model, developed with San Francisco State University's Health Equity Institute, acknowledges the impact of historic disinvestment and trauma on residents and the resulting lack of trust and cohesion. Using TICB, BRIDGE works to engage Potrero's 1,400 residents in healthy community-building activities and empower them to become leaders.
"While TICB is broadly applicable, a trauma-informed approach is particularly needed in public housing and public housing transformation, with communities that have been neglected by the larger society for a long time and that have been subjected to class and racial animus," says Damon Harris, BRIDGE's vice president of community development.
While trauma-informed practices are increasingly well-established for community building and for serving clients and staff, in the housing world, a variety of terms are emerging to describe methods of elevating resident voices in decision-making—resident-centered, people-centered, and healing-centered, to name a few. Regardless of the varied vocabulary, consensus seems to be emerging that if development projects are to create safe, livable communities and improve lives, residents must be heard and involved at every stage of planning, design, and ongoing operations.
And yet, construction projects have timelines. Authentic resident involvement clearly requires more time than the traditional "decide on a plan, present it, build it" approach. How long does it take to build trust, hear resident voices, and incorporate their input? Must all that be done before the project can start? And how can developers know when they've got enough residents on board?
Shelterforce asked housing development leaders to weigh in on how long trust-building takes, how they factor that into project timelines, and what recommendations they have for others seeking to shift to more resident-centered practices.
Know That TICB is an Ongoing, Iterative Process
Many leaders stress that there's no "beginning-middle-end" to building trust and fostering engagement.
"It's a bit of a misunderstanding to think of it as a sequence—that is, that you work through trauma and then get onto other activities," says Harris. "Obviously in real estate, the more time we take, the more it costs, and with the dire shape of housing stock, there's a dire need to move quickly. What we've learned is, building and maintaining trust is an iterative process. We're doing it along the way."
Emily Weinstein concurs. She's a housing, community development, and public engagement expert who pioneered the ideas of trauma-informed community building and authored both the 2014 paper outlining the TICB model and a 2018 case study of TICB implementation at Potrero Terrace and Annex.
"To think about it with a timeline is like asking, 'How long will it take you to heal?' or 'How long does it take to become a good friend?'"
"To think about it with a timeline is like asking, 'How long will it take you to heal?' or 'How long does it take to become a good friend?'" Weinstein says. "It's building an infrastructure, and that's an ongoing and iterative process. It has to move at the speed of the trust. It's constantly evolving, because the needs of the residents are constantly evolving. It's more like a lens with which to approach the community development work."
Sandra Serna, vice president of health and housing at Stewards for Affordable Housing for the Future, a national collaborative of affordable housing developers that has been exploring how resident voice and agency affect community health and well-being, says, "If you're in development, it's often 'Let's get the deal done, boom boom boom'—but a robust community engagement process takes time. It can be messy; it can be not linear."
Serna, who has a public health background, sees similarities between trauma-informed community building and efforts to engage and hear community members when formulating community health needs assessments or fostering discussion on pressing public health issues.
[RELATED ARTICLE: Insights for Health and Community Development Partnerships from People Who Have Crossed Sectors]
"Depending on what a community has gone through—if they've seen a lot of broken promises, if they've seen a property or project change hands many times with the conditions remaining abysmal—just because you start with goodwill efforts and the best of intentions, you may not win trust. It's going to take time," she says. "So the answer is 'both/and.' It's continual and you can do it simultaneously. You're continuously maintaining trust as you go."
Julianna Stuart, vice president of community impact at Preservation of Affordable Housing (POAH), says, "The sequence isn't 'Collect all this feedback before we get started.' That doesn't happen anywhere. We're all having to take action before we have all the research and insight. There's no one-size-fits-all, 'check the box, now you're done.' In terms of how long it takes and how long an organization needs to prepare, it's cyclical. You're never going to tie a bow on it and have it be done."
. . . But Start as Early as Possible
Even with no assured step-by-step timeline, leaders agree, engagement should begin as early in the project as possible, and the process must be revisited and refreshed continually.
"There absolutely needs to be best practices to build in room on the front end, so you're not starting without any community input," Serna says.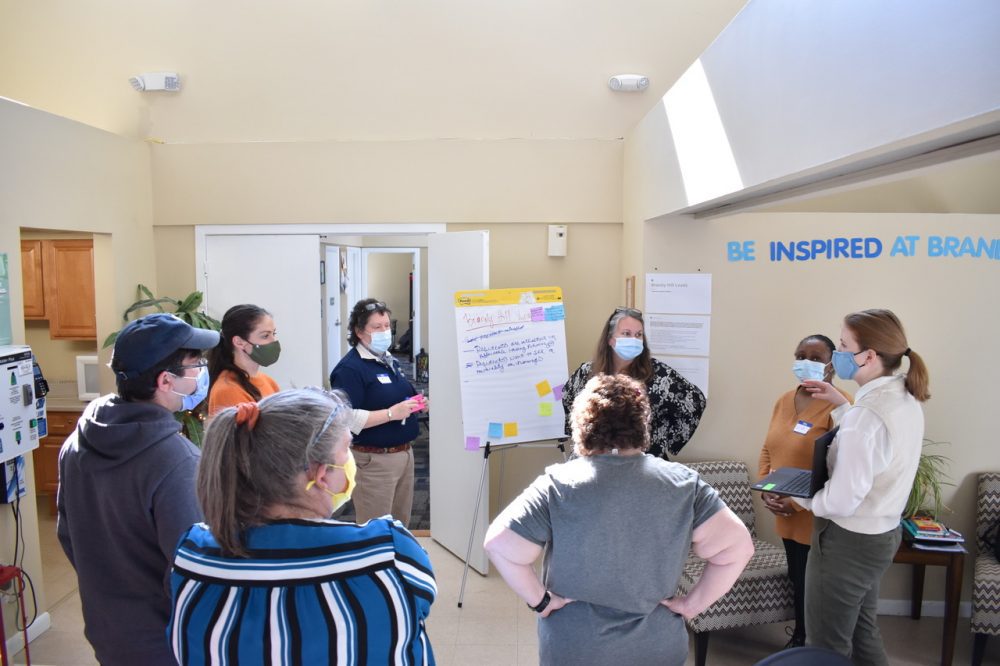 POAH won a 2020 Housing Breakthrough Challenge grant for its work to develop trauma-resilient communities and engage residents as solution "co-designers." After forming small teams of residents, staff, and sometimes community partners, the process slowly, over nine months, laid groundwork through conversations and focus groups.
[RELATED ARTICLE: Paying Community Members for Their Time]
POAH pays residents $200 a month to participate in the design phase, which consists of 3 to 5 hours a month, but up to 10 hours at critical parts of the project, says Stuart. Residents are asked to make a one-year commitment. "That feels like the right length of time in terms of asking residents for an ongoing commitment," Stuart says.
In another HOPE SF project, Mercy Housing and Related California are leading a plan that will ultimately replace 775 public housing units and add approximately 1,000 mixed-income and affordable units at Sunnydale, San Francisco's largest public housing complex.
Meetings with Sunnydale residents to gather input, supported by a two-year HUD Choice Neighborhoods Planning Grant, started well before the master plan was approved in 2017. "I was hearing what they wanted the future to look like and what they needed to help stabilize their families," says David Fernandez, Mercy Housing's transformation project director.
Based on early resident input, the design of the first new building was altered to include in-unit washers and dryers in larger units. Mercy's "service-enriched" engagement model includes pop-up meetings at outdoor tables with music and food that provide easy chances for residents and staff to meet and converse, and monthly "Neighbor Up" meetings where Mercy staff get to know residents and discuss design plans or house rules and residents engage in a marketplace to exchange skills, tasks, and goods to serve one another's needs.
'The lengthy zoning process may have worked against the development team, but it worked well for community building.'
"You have to build the trust along with developing your plans. It starts on day one, before you even look at plans for a building, asking what you are trying to accomplish and how you can involve residents to make sure you're building what is needed," Fernandez says. "That's a constant effort. We have to think about it in everything we do. There's so much misinformation, so much lack of trust. One small misstep can really blow up."
Funding and External Partners are Helpful
Simultaneous community-building, design, and construction, while challenging, can be aided by grant dollars and by partner organizations with expertise in engagement and wraparound support services.
The HUD planning grant certainly helped jump-start Sunnydale's engagement process. The funds allowed the resident services and developer teams to reach and engage many more residents to provide significant input, Fernandez says. "It allowed us to run multiple workshops and information sessions by age group, ethnic backgrounds, seniors, gender, and of course several mixed-group workshops. We were also able to reach out to several [community-based organizations] that provided additional services to our residents, to gain their perspectives regarding needs and future plans."
The robust engagement with Sunnydale residents, along with intentional inclusion of the surrounding neighborhood, he says, helped spur plans to build a new neighborhood hub with recreation, wellness, and early childhood education centers available for use by people within and outside Sunnydale.
For POAH, the Breakthrough grant dollars helped support development of resident-centered practices, Stuart says. She also recommends considering an outside facilitator, if feasible, such as the one POAH used, Design Impact. "You have to ask, can we authentically hold a mirror to ourselves and lead the process of reflection, or do we need help? Most organizations probably could use help. But if you don't have access to that, don't let that keep you from getting started."
BRIDGE has partnered extensively with the Shanti Project. A 2020 project impact report on the Potrero redevelopment describes how Shanti Project launched a relocation readiness campaign offering advocacy and assistance several months before residents moved into the first new building. Well before that, the nonprofit spent a year building relationships with residents through community events and activities, and assisted in outreach for a resident survey.
"This groundwork built trust between Potrero residents and Shanti staff," the report says.
Sometimes delays in getting a project off the ground become "found time" for engagement. Harris notes that while BRIDGE was designated as the developer for Potrero in 2008, construction didn't begin until 2017—and a lot of trust-building activity occurred during that lag. "The lengthy zoning process may have worked against the development team, but it worked well for community building," he says.
Be Open to Making Changes
When Community Housing Partners (CHP) was ready to upgrade its Cedar Crest Apartments in Blacksburg, Virginia, the housing provider took a resident-centered approach as the major rehabilitation project began. A pilot survey project that took about eight weeks from design to deployment to analysis helped the asset management team learn what tenants really needed and wanted in their kitchens.
Plans were altered based on resident feedback, leading to the remodeled kitchens having improved lighting, more cabinet and counter space, and larger refrigerators.
"We had to really pause, look at the feedback and rethink how we wanted to do some things," says Shaun Rai, CHP's vice president of asset management. "We were surprised at how much we had to move from where we were."
The new approach is helping further an organizational culture change, says Kimberly Strahm, CHP's vice president of strategic operations and co-chair of the equity and inclusion team. "It becomes a shift in thinking," she says, "about 'coming in and renovating a CHP unit' vs. 'upgrading someone's home.'"
Rai says his team took away lessons from the Cedar Crest project that they're now preparing to incorporate in another project. For instance, the survey was administered after they were already well along in planning for Cedar Crest; going forward, they aim to gather feedback earlier in the process. Other changes will include partnering with resident services or property management staff to create events that increase survey participation and doing more to cut through language and literacy barriers. In addition, they are incorporating more ways to mitigate construction impact on residents, such as working more closely around resident schedules when planning work in their units.
"What seems like an obvious 'right thing' for us can be interpreted and perceived differently by residents," Rai says. "If you want to put the residents at the center of what you do, you have to suspend thinking about it from the perspective of how you would do it."
Co-Design, Co-Collaborate, Start Small
Development timelines may make it seem impossible to add in the time and attention required for true resident engagement, but if the will is there, there are ways to do it, says POAH's Stuart.
"Recognizing that the development timeline doesn't necessarily create the space and the slack that lends itself to comprehensive community engagement," she says, "co-design and co-collaboration are so powerful. I think of the proverb, 'If you want to go fast, go alone. If you want to go far, go together.'"
One of the things POAH is trying to do, she says, is identify multiple moments in the development process to start engagement work even if time is limited.
"Engaging with a small number of people is better than with no one at all," she says. "Starting small, identifying even two or three resident leaders who are willing to collaborate with you—that's essentially how we started. And we eventually talked with 100 residents. So, start with a small group of stakeholders who are interested in thoughtful involvement, compensate those folks, and empower them to go out and talk to others."
[RELATED ARTICLE: Housing Design That Advances Health]
Not every resident has to appear at a big community meeting to weigh in, Stuart notes. "It's important to make lots of different opportunities available for people to give feedback. Maybe you get two ideas from this person at the mailbox and other insights from a sit-down interview or a focus group."
Other ideas: "You can ask property managers powerful questions, like how can we make this a more welcoming office for people to come to, and what do you hear from residents on a day-to-day basis?" Stuart says. "Maybe you can't access residents before you're pitching to them—but start from the pitch. Asking 'What do you think?' is a pretty basic and powerful question, especially when we are open and willing to change."
Be Transparent and Honest
Even devout believers in resident-centered practices acknowledge that not every decision can be subject to resident choice. But communication remains just as crucial, if not more so, in situations where a developer cannot satisfy resident preferences.
"Where we can't involve residents, we are honest," says Mercy Housing's Fernandez. "For instance, the actual structure of the building. At Sunnydale, they live in townhouse/bungalow style buildings now. We are both replacing the old and establishing new low-income housing, so we have to go vertical. We're going to four or five stories. They can't influence that. They'll be sharing a floor with other residents. They'll still be subsidized by HUD. And we can't influence parking—the city will only allow a certain amount of parking per building size."
Serna agrees. "You need to be upfront if there's no way you can get around it. We tell our members that all the time," she says. "Even if folks don't want to hear what you have to say, if you build a track record of showing 'I clearly communicate why a decision is made, in a respectful way, and when I'm able to change design features or house rules in favor of what residents want, I do so,' people appreciate that."
Weinstein likens trauma-informed engagement to post-war truth-and-reconciliation and healing efforts. She notes that the best listening means understanding not only what people want, but why. "You have to come back and ask, 'Did I get this right?' and understand what's important: Is the issue the number of stories the building will have, or about having voice?"
Don't Wait to Have Every Resident on Board
Most leaders say it's not realistic to wait for 100 percent resident engagement before starting, or even to expect it later. Instead, developers can double down on checking in and keeping lines of communication open.
"You're not going to get everyone," says BRIDGE's Harris. "In most communities, many people don't engage. What we want to do is reach people who have a network we don't have. What I've learned here at Potrero is, they are speaking for people who can't come to the meetings."
Stuart says, "Something we've learned at POAH is you can't wait to have complete and total trust among all your stakeholders to get started or move forward, especially when you're working in environments or communities where there's historical distrust, whether it's with a particular property manager or with landlords or systems in general."
She adds, "I know the developer community is hungry for these answers in terms of time frame and technical details. I think the more we're out there doing this work, the more we will learn and develop best practices. But in the meantime, we have to keep going. We have to lean into trying to build trust, being collaborative, offering choice, centering and prioritizing residents and staff. The more we do that, the more we build these muscles. The lack of a tidy checklist at this time is not reason enough for us to stop."