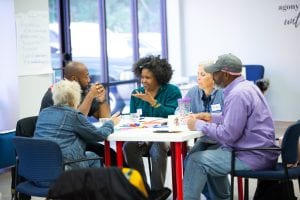 A little more than a year ago, the COVID-19 outbreak was declared a global pandemic and government officials across the country ordered residents to shelter in their homes. While there's been significant progress in the fight against the coronavirus with the development of advanced health treatments and the growing distribution of COVID-19 vaccines, many people are still spending most of their time indoors. However, data from the National Center for Healthy Housing shows that homes are one of the most dangerous places to be. Nearly 40 percent of residences have at least one health or safety hazard, and these issues tend to be costly to repair.
Among affordable housing advocates and health professionals, it's commonly understood that removing health hazards like mold or lead can positively affect a residents' health and well-being, but there are other, less familiar ways in which affordable housing can be designed to promote good health.
Shaping Healthy Affordable Housing
Dr. Lynne Dearborn, an architectural researcher and professor of architectural design at the University of Illinois at Urbana-Champaign, studies how housing and residential environments affect health. Dearborn and Dr. Sherry Ahrentzen of the University of Florida recently studied the extent that Low Income Housing Tax Credits (LIHTC)—the largest source of funding for affordable housing—helps shape healthy homes. They did this by reviewing Qualified Allocation Plans, or QAPs, which states develop annually to establish eligibility for receiving LIHTC funds.
Dearborn and Ahrentzen found that most states offer incentives to developers who site affordable housing in neighborhoods that have amenities to improve healthy living, but rarely do they require it.
Also, while most states have a least one criterion for addressing indoor air quality in their respective QAPs, few require multiple measures. For instance, only 4 percent of states required that affordable housing developers use materials that won't exacerbate asthma, and just one state required that moisture-preventive backing material be used for tubs and showers, both fairly low-cost items to implement to improve indoor air quality, according to the Dearborn and Ahrentzen's research. "When moisture builds up on windows or walls, it can lead to supporting mold growth, and for people who have allergies and asthma, mold in the environment is a trigger," says Dearborn.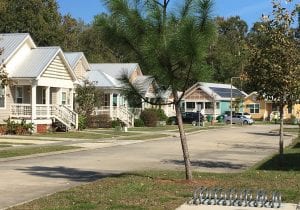 There are, of course, more costly building improvements that can improve indoor air quality, such as enhanced ventilation systems. Increasing the ventilation rate in buildings can not only reduce asthma symptoms and respiratory infections, it can also reduce sick-building syndrome, a condition where people who reside or work in a building suffer other health discomforts and/or illness. The cost of enhanced ventilation systems are based on a project's size and scope, Dearborn says, though cost shouldn't necessarily be the only thing to consider when seeking to improve public health. "We've been more concerned with the first cost of construction as opposed to the longer-term costs, and health-related costs for people who have been using those environments," she says. From 2008 to 2013, the annual economic cost of asthma in the U.S. was more than $80 billion, which includes medical expenses and missed days from work and school, according to the Centers for Disease Control (CDC).
[Related Article: Why Organizations Should Invest in Home Repairs to Improve Health]
There are other healthier design choices that have minimal costs, and one in particular merely consists of educating architects. "We know that being exposed to more daylight over the day has positive mental health outcomes," Dearborn says. Research shows that exposure to natural and bright light in the morning can significantly improve mental health issues such as depression, insomnia, and seasonal affective disorder. Something as simple as adding more windows for natural light can make a difference.
Unfortunately lighting for health is rarely included in QAPs, Dearborn and Ahrentzen found.
Trauma-Informed Housing
Julianna Stuart is vice president of community impact for Preservation of Affordable Housing (POAH), a nonprofit housing developer, owner, and operator of more than 120 properties in several states. Stuart says one of her organization's goals is to design and manage trauma-informed housing, an approach that recognizes the symptoms of trauma to create environments that empower residents.
"What features can you include in the space that might make someone feel safe or give them choices when they walk into a space?" says Stuart. Having plenty of natural light, arranging places to sit so that a person's back isn't to the door, and providing indoor space to walk around can greatly improve health.
Trauma-informed care is integral to health because childhood trauma and toxic stress have a long-lasting impact on a person's life, says Stuart. "If we don't, at a minimum, recognize the impact of trauma on our residents, on our staff, on the environment that we work in, we may actually be making things even harder for our residents to be successful."
POAH's Designing Trauma-Resilient Communities project was recently awarded a $2.5 million grant from Enterprise Community Partners and Wells Fargo. The project aims to develop and implement changes to resident service programs, property management practices, and the physical design of spaces within partner properties to cultivate trauma-informed care in affordable rental housing.
Stuart intends to bring together stakeholders and funders to inform the affordable housing industry about trauma, identify opportunities for changes, and ensure the work is scalable within the next two years. "Our goal is to ensure that there are zero-cost ways for organizations to embrace trauma-informed care right now," says Stuart.
Stuart also hopes to collaborate with policymakers to look at existing policies that may make it harder for folks to live and work in their respective communities, with the goal of changing those policies.
Enterprise Green Communities
In 27 states and in Washington, D.C., housing developers that receive public funds are required to comply with Green Communities standards, the only national green building certification program designed for affordable housing construction. To become Green Communities certified, projects must meet several eligibility criteria, such as reducing water consumption, mitigating contaminants, using native or climate-appropriate plants, and more.
The Green Communities Criteria, introduced by Enterprise Community Partners in 2005, was developed with input from community development–based partners and affordable housing owners across the country, who tested out design strategies for new construction and determined the most crucial aspects to include.
Enterprise recently worked with the International WELL Building Institute to update its Green Communities Criteria to include, among other additions, healing-centered design, which has many overlaps with the physical design aspects of trauma-informed housing. "This is about ensuring that the spaces that folks are living in lift people up and contribute to healing from various stressful experiences," says Krista Egger, vice president of national initiatives at Enterprise Community Partners. It's imperative that spaces promote social connection and feel safe and welcoming, says Egger. For example, simply putting benches outside on walking paths can give folks an opportunity to chat and connect with one another.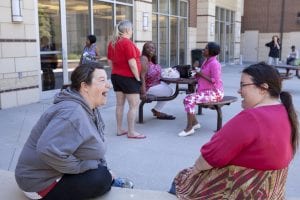 Another way that Green Communities is advancing health is by including smoke-free policies in its updated criteria. The goal is not necessarily to get smokers to quit, Egger says, but to protect those who don't smoke from secondhand smoke. According to the CDC, exposure to secondhand smoke causes an estimated 41,000 deaths in the United States each year. "There's really no way that you can build a building in such a manner that smoke cannot travel from one room to another," Egger explains. "So the only way to eliminate the possibility of folks being impacted by secondhand smoke is to remove smoking from the building."
However, implementing that criterion was no easy task. While many partners and stakeholders were in favor of a smoke-free policy, depending on how they were worded, they could have left tenants who broke the policies unhoused. "We worked throughout the development process with tenant rights advocates," says Egger, and the end result was that the standards require policies that prohibit smoking in common spaces of buildings, but not policies that extend into individual units. Though eviction would be a last resort result of violating those policies, Enterprise's criteria focuses on instead providing resources for cessation programs and ensuring that developers are providing spaces to smoke outside the building.
Center for Active Design
Users of the certification system have access to over 50 evidence-based design and operational strategies they can use to advance their residents' health. Fitwel has scorecards for a range of sites and building types, including residential buildings, commercial buildings, and senior housing, and looks at seven areas of health, including sense of well-being, supporting social equity, access to fresh food, physical activity, and how the development promotes health in the surrounding community.
Fitwel users include real estate investors and developers such as Crescent Communities, a real estate investor, developer, and operator of mixed-use communities.
One area of focus is a building's surroundings: access to green spaces contributes to better mental health outcomes for tenants. Spaces that include gardens, accessible drinking fountains, and well-maintained vegetation areas promote activities for residents and the surrounding community.
"The walkability of the neighborhood has a measurable impact on your physical activity, on your mental health," says Joanna Frank, president and CEO of the Center for Active Design. To measure walkability, Frank uses Walk Score, a well-recognized and researched aggregate of all of the elements that make a neighborhood walkable. Elements include access to sidewalks, crosswalks, benches, lighting, benches, and (incongruously) lack of graffiti.
Designing Senior Housing for Safe Interaction
Nursing homes have become COVID-19 hotspots. As of early March, residents of long-term facilities accounted for 34 percent of COVID-19 deaths, according to the COVID Tracking Project. One study found racial disparities in COVID-19 nursing home deaths overall, with non-white residents experiencing death at 3.3 times the rate of white residents.
Even in ordinary circumstances, living spaces for the elderly are extremely important in promoting, or deterring, health and safety. MASS Design Group (MDG), a Massachusetts organization that prioritizes the healing potential of architecture and interior design, offers design guidelines for infection control in senior housing that allows for safe and meaningful social interactions. Like the Center for Active Design, MDG proposes strategies for public, semi-public, and private spaces. For public spaces, which include entrances and waiting areas, MDG proposes designating areas for staff, residents, packages, and vendors in order to reduce the number of people interacting in a given area. It also suggests using outdoor spaces as waiting areas in order to limit COVID-19 or other disease transmission. Thirdly, because COVID-19 can possibly be transmitted through direct contact with droplets or particles on surfaces (and flu definitely can), MDG suggests touchless doors to reduce surface transmission.
The semi-public and private components of the proposal suggest spatial adaptations such as one-way hallways and strong cleaning and check-in protocols.
MASS Design Group hopes its proposal will catalyze a cultural shift in the way nursing homes are designed. And as COVID-19 continues to underscore, the value of design elements such as outdoor spaces, generous entryways, and strong telecommunication services have become increasingly important in infection control. As with the Green Communities Criteria, cost would also be a factor in implementing all these recommendations, but the proposal has the potential to inform state and building policy to establish infection control measures.
Design has the potential to transform spaces for the betterment of communities: it can contribute to decreasing infection spread, decreasing rates of asthma triggers related to mold, and improving mental health.
"Our home is really the place where we can relax and hopefully feel safe," says Dearborn of the University of Illinois at Urbana-Champaign. Therefore, housing should be safe for all communities, especially those most vulnerable to housing conditions that aren't conducive to healthy living.